Nicole Kidman flaunted her big feet in silver Aquazzura Shine 105mm embellished sandals at the Australian premiere of 'Being The Ricardos' at the Hayden Orpheum Picture Palace in Sydney.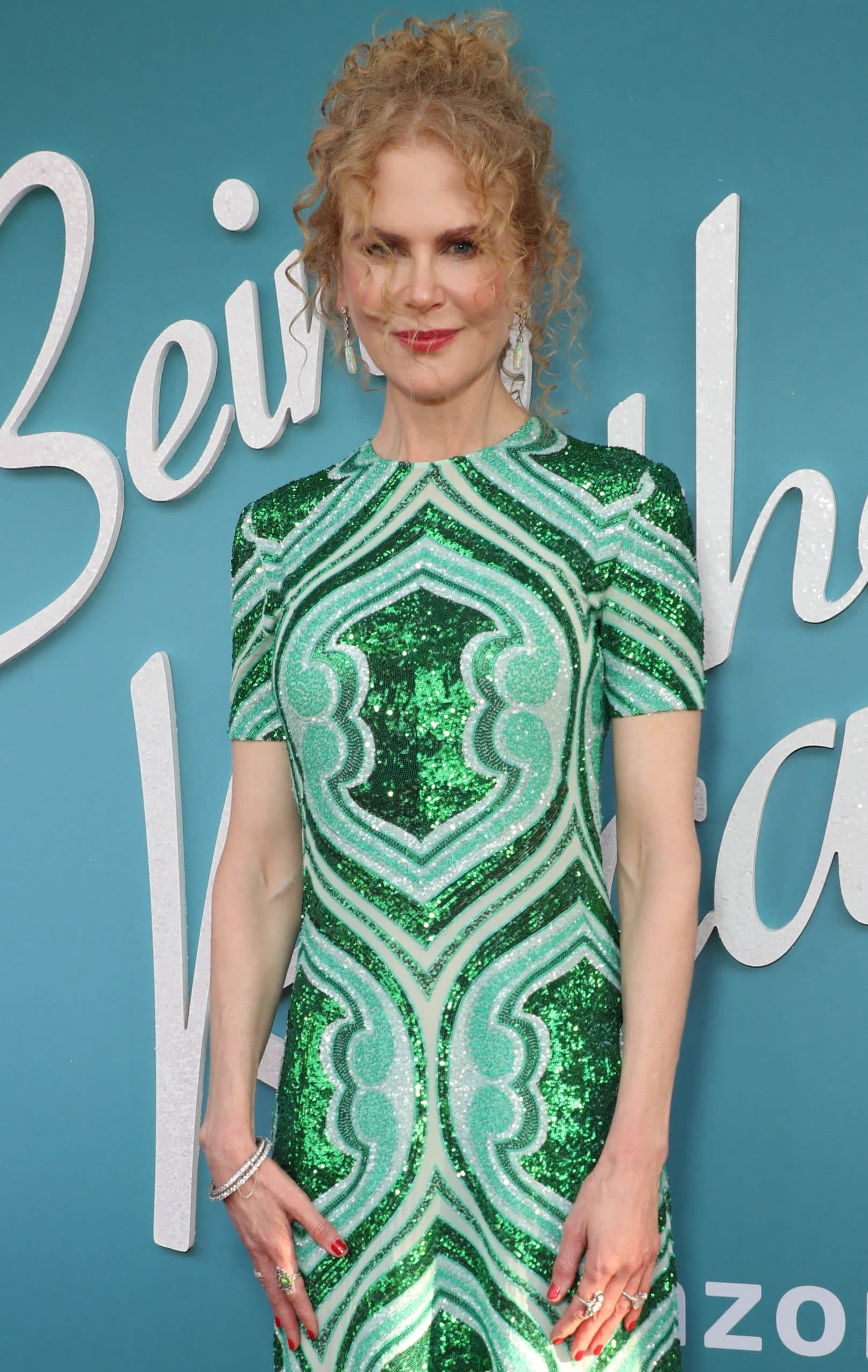 Nicole Kidman in a sequined aquamarine and emerald green Etro dress (Credit: MEGA / WENN)
Joined by her husband Keith Urban, the Oscar-winning actress styled her shoes from the popular women's footwear brand with a geometric Etro Spring 2022 maxi dress and a matching Roger Vivier Broche Vivier Buckle clutch.
How do you like her aquamarine and emerald green dress? It retailed at Moda Operandi for $20,100 but is no longer available.
During her appearance on Today on December 20, she talked about the negative criticism towards her performance in the Aaron Sorkin-directed movie that she almost dropped out of.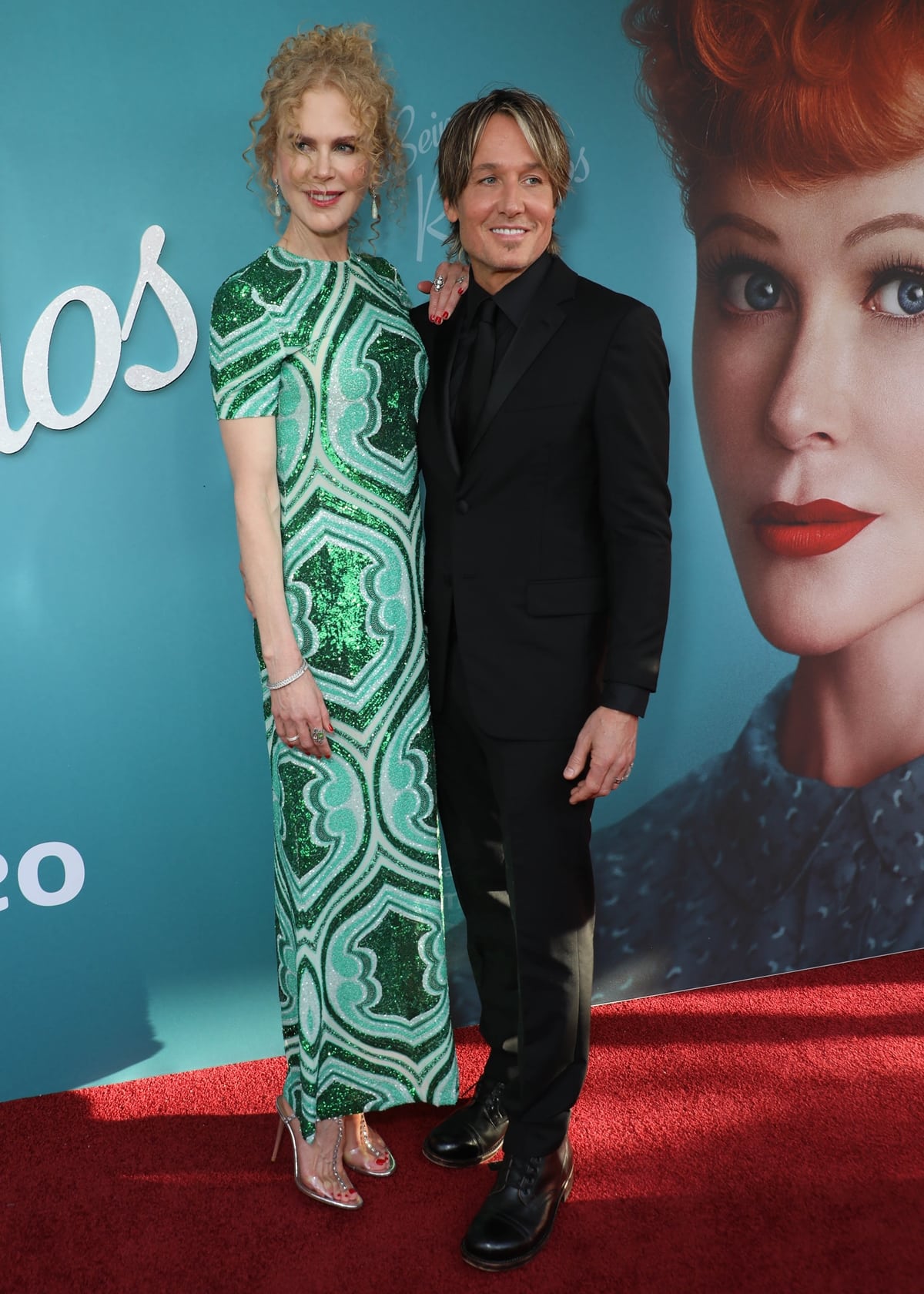 Keith Urban supported his wife Nicole Kidman at the premiere of her new movie Being the Ricardos at the Hayden Orpheum Picture Palace on December 15, 2021, in Sydney, Australia (Credit: MEGA / WENN)
"I tried not to [listen], but I'm a human being, so there's time when you go, 'Gosh, maybe I'm not the right person for this,'" she said.
"That's where having somebody like [writer and director] Aaron [Sorkin], who really said at the beginning, he was like, 'I'm not wanting a perfect rendition or imitation of Lucy. No, no, no, no, no.'"
"A lot of it I can relate to, and I go 'Ah, OK, I've been in that situation. I know that.' So, I think those things were relatable," Nicole added.
Nicole Kidman displays her big feet in silver Aquazzura Shine 105mm sandals (Credit: MEGA / WENN)
"There's a scene in it where they say, 'You're 39, and that's it. It's kind of over for you.' I know that feeling. I sort of had that. And it was like, OK. Where television suddenly opened a door for her, it opened a door for me. Around the same age, I was like, 'Gosh, that's kind of — I know that feeling really deeply.'"
In July 2013, Nicole Kidman looked prim and proper at the Cinema for Peace UN Women honorary dinner held at Soho House in Berlin, Germany.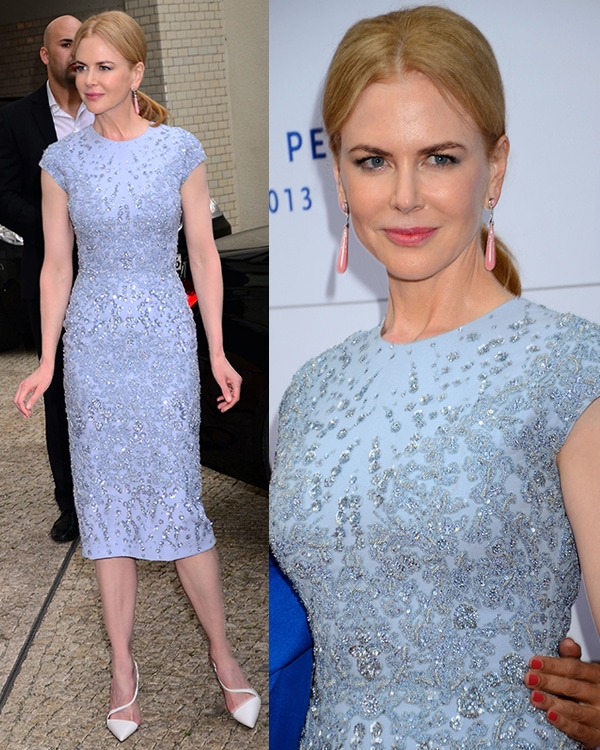 Nicole Kidman at Cinema for Peace dinner in honor of UN Women at Soho House in Berlin, Germany, on July 12, 2013 (Credit: WENN)
Her sparkly blue knee-length dress from the Elie Saab Spring 2013 Couture collection perfectly accentuated her curves.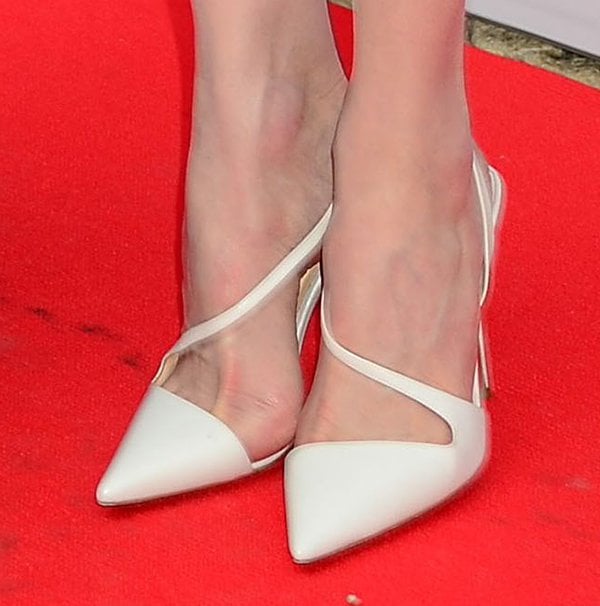 Nicole Kidman rocks an elegant pair of white dress pumps (Credit: WENN)
Her hair in a simple ponytail and those teardrop earrings were the finishing touches to her lovely look.
And, of course, how could we forget her heels? Those white pumps were the perfect pair for this elegant ensemble.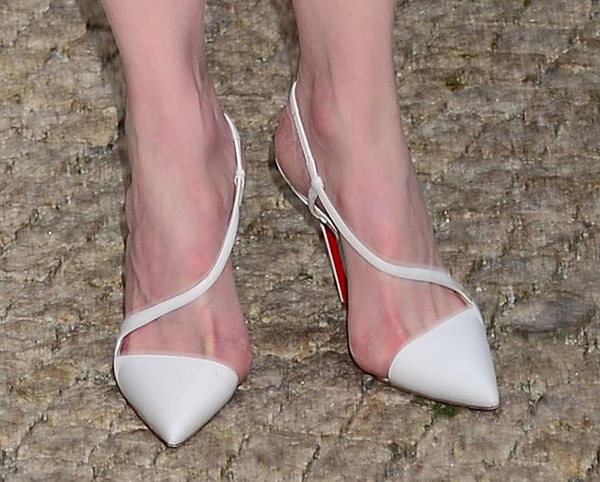 Nicole Kidman shows off her feet in white Christian Louboutin June pumps (Credit: WENN)
If you haven't guessed it yet, her 'June' pumps are by Christian Louboutin. We've also seen a nude version of these shoes on Jessica Alba.
The white rendition perfected Nicole Kidman's outfit. They feature a thin asymmetrical band that elegantly wraps the foot. This strap is connected to the elasticated slingback strap.
Pointed toes and about 4-inch heels complete these shoes that you can purchase at Mytheresa and Nordstrom.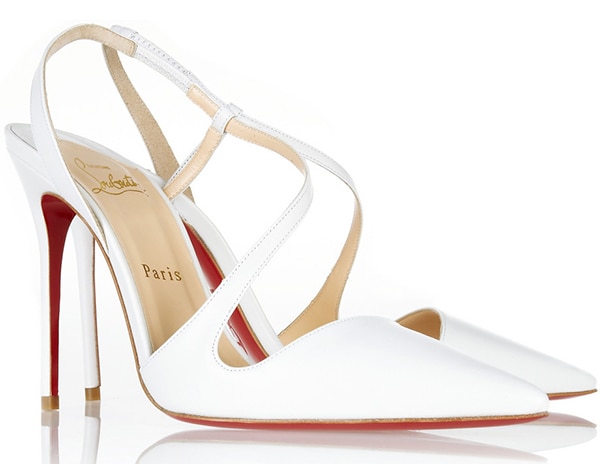 White Christian Louboutin "June" Pumps, $725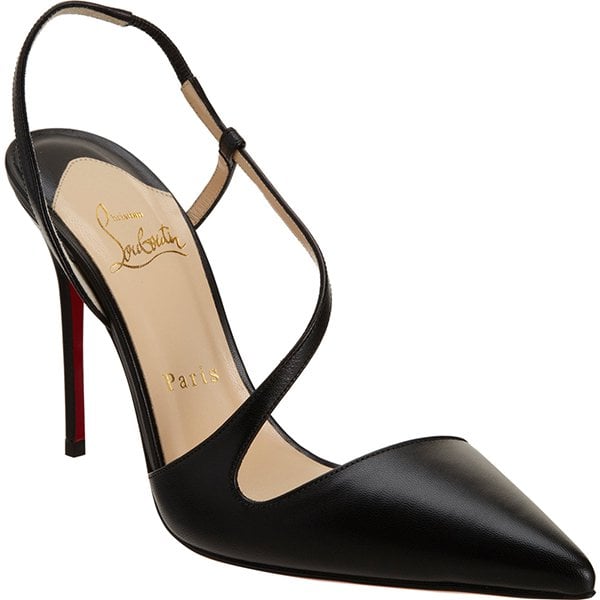 Black Christian Louboutin "June" Pumps, $725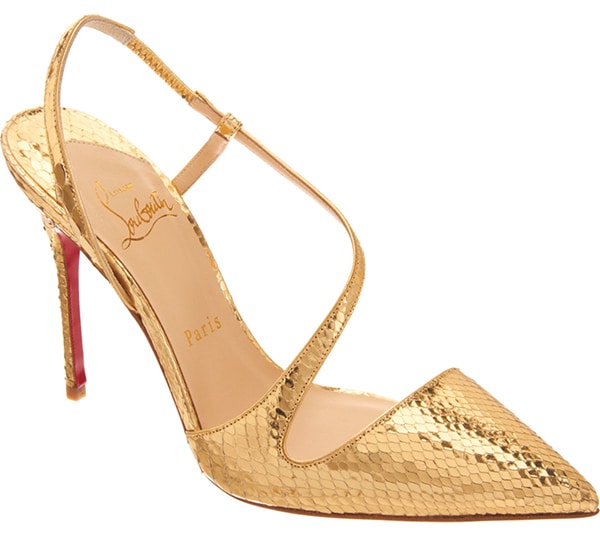 Gold Metallic Python Christian Louboutin "June" Pumps, $1,195