For her two-hour CBS interview with Oprah Winfrey that aired worldwide on Sunday evening, Meghan Markle wore an embellished half-&-half belted dress from Giorgio Armani that you can buy for $4,700 at Saks Fifth Avenue.
Meghan Markle wears a black dress from Giorgio Armani featuring an abstract white pattern on the shoulder
Her gathered triple silk georgette dress features a deep front neckline, frontal foliage embroidery, and matching belt.
In the interview, the former B-list Hollywood actress said a member of the royal family expressed concern over the potential color of her son Archie's skin.
This gathered silk dress has a metallic half and half look that adds shimmer to the belted silhouette, creating an elegant eveningwear piece
"They didn't want him to be a prince. Which would be different from the protocol. And he wasn't going to receive security. This went on for the last few months of our pregnancy," Meghan revealed during the interview. Archie was not given an HRH (His or Her Royal Highness) title at birth.
Meghan Markle's long triple silk georgette dress with frontal foliage embroidery
While Meghan and Prince Harry indicated that it was a member of the royal family who questioned Archie's skin color, Oprah later clarified that they were not referring to his grandparents.
"He did not share the identity with me, but he wanted to make sure I knew and if I had the opportunity to share it that it was not his grandmother [Queen Elizabeth] nor his grandfather [Prince Philip] that were a part of those conversations," Oprah said about her bombshell interview.
Accusing of wanting to be a high-class Kardashian, Markle completed her outfit with black Aquazzura pointed-toe pumps, a Cartier bracelet, a diamond tennis-style bracelet with diamonds inherited from Princess Diana, sterling silver, blue topaz stud earrings from Canadian brand Bijoux Birks, and a Pippa Small aquamarine necklace.
Her husband Prince Harry opted for a gray J.Crew suit jacket with a pressed white shirt and matching pants.
Prince Harry and Meghan Markle were reportedly not paid for their interview with Oprah Winfrey
In another clip from the interview that was released separately, Prince Harry told Oprah they left the United Kingdom because of racism.
"It was a large part of it. I remember the Sentebale fundraiser," Harry revealed when asked by Oprah if they left the country because of racism.
"One of the people at that dinner said to me, 'Please, please don't do this with the media. They will destroy your life.' This person is friends with a lot of the editors and I said, 'What do you mean by that?' Obviously, I knew. They said, 'You don't understand, the U.K. is very bigoted.' And I stopped, and I said the U.K.'s not bigoted, the U.K. press is bigoted, specifically the tabloids. Is that what you mean?' He goes, "No, the U.K. is bigoted.' And I said I completely disagree."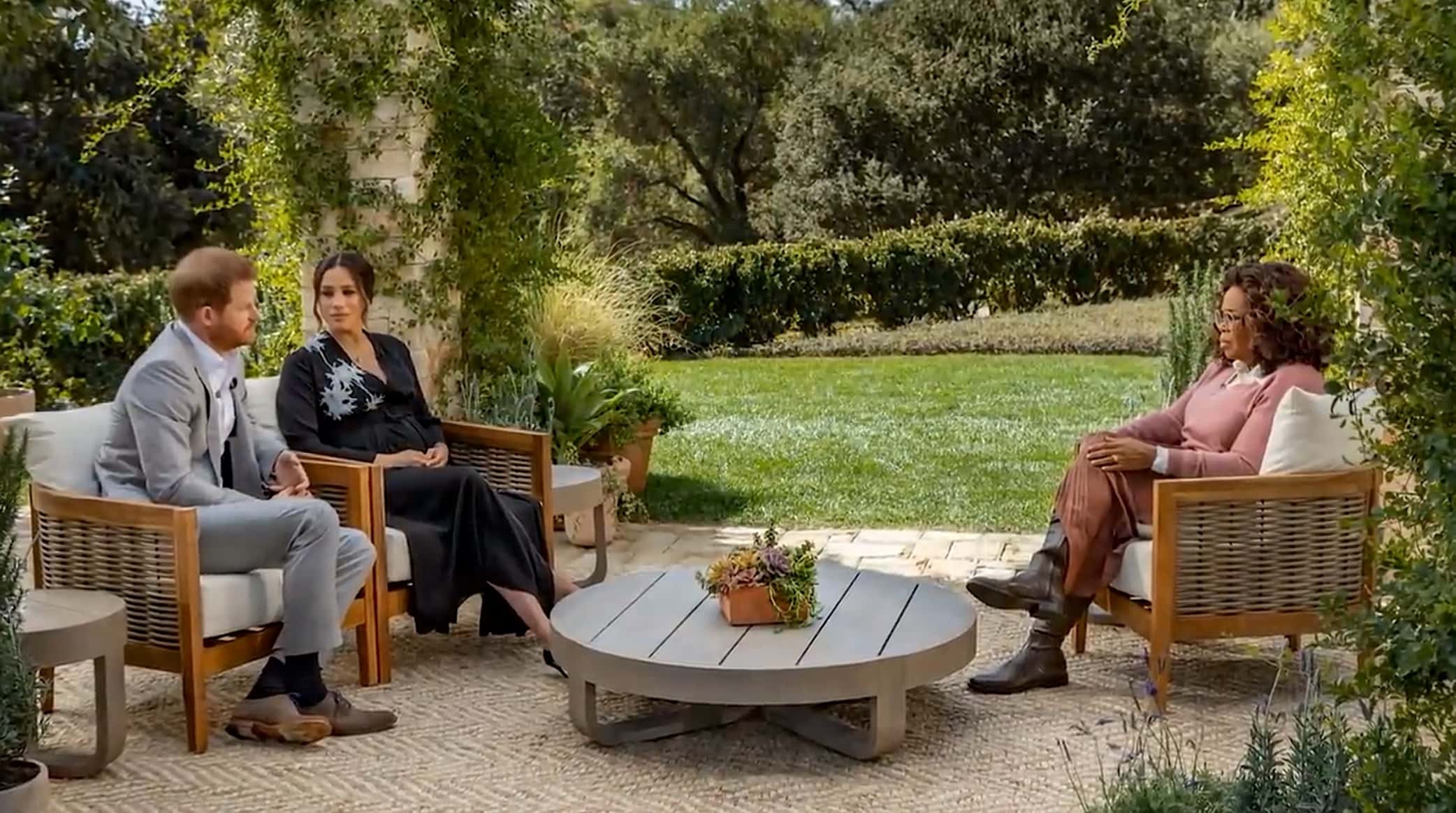 Prince Harry reveals racism was one of the biggest reasons why they left the UK
Credit: WENN / Avalon