In January 2019, Hilary Swank joined her co-star Clara Rugaard at the 2019 Sundance Film Festival to promote their new Netflix film I Am Mother.
Just half a year after marrying Philip Schneider, she looked chic in black boots paired with a patterned trenchcoat by Paolo Sebastian.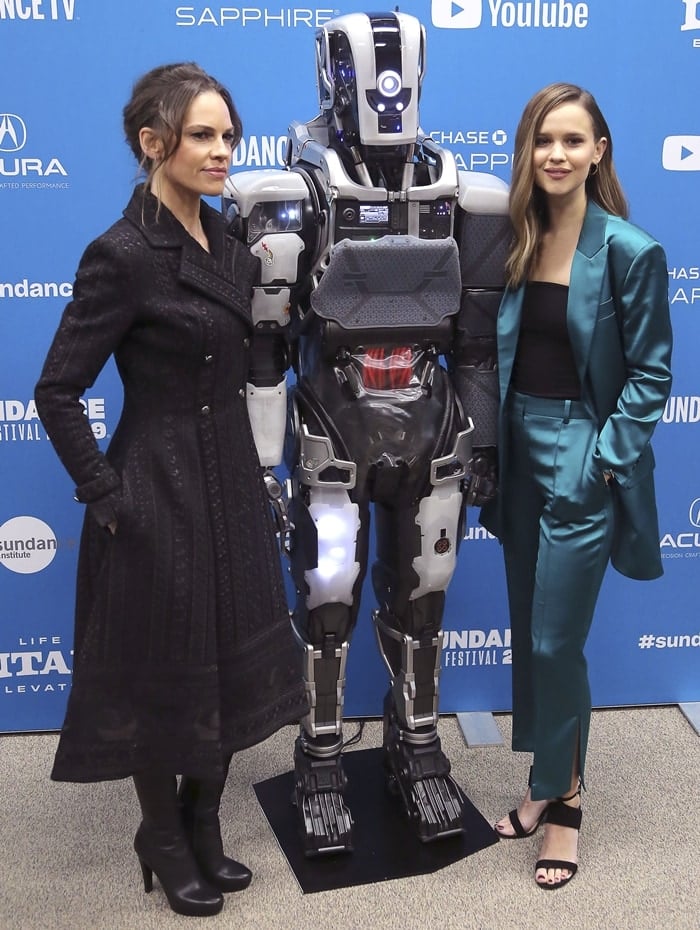 Clara Rugaard and Hilary Swank attend the "I Am Mother" Premiere during the 2019 Sundance Film Festival at Eccles Center Theatre on January 25, 2019, in Park City, Utah
In an interview with USA Today, she shared how caring for her father for three years after he underwent a risky lung transplant changed how she dated.
"It's almost a great way to weed out people," says Swank, who married social venture entrepreneur Philip Schneider on August 18, 2018, after two years of dating. Just a few months before meeting her future husband, Swank called off her engagement to professional tennis player Ruben Torres.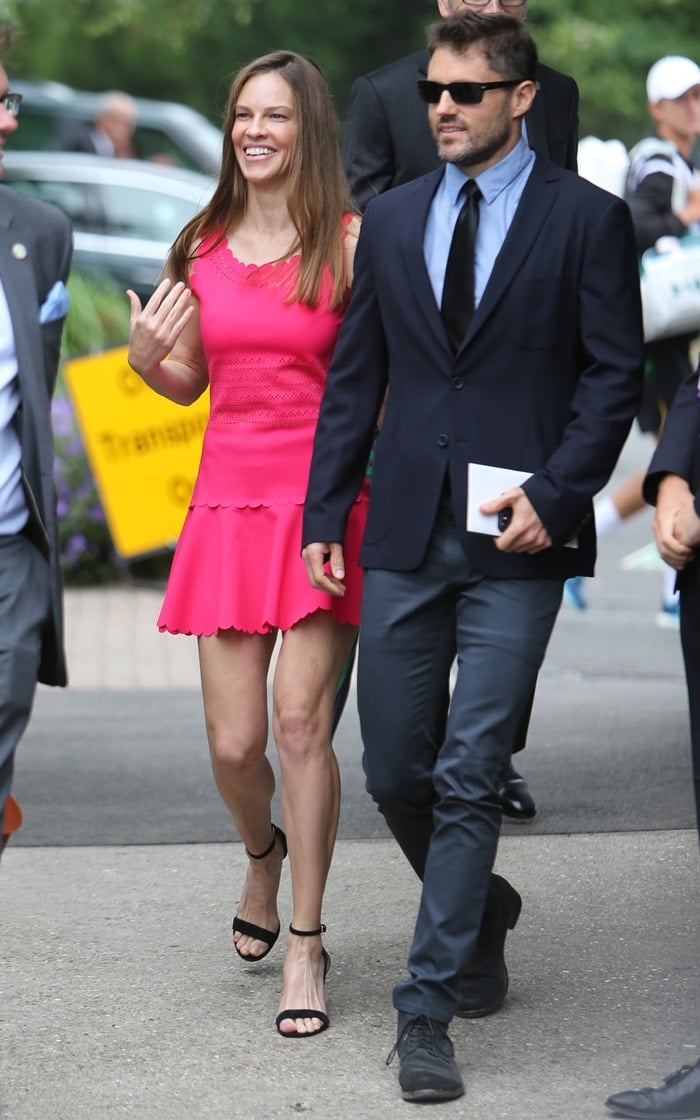 Hilary Swank arriving with her boyfriend Philip Schneider for the women's final at Wimbledon in London, England, on July 15, 2017
"'Wait, you live with your dad?' The reaction to that helps you move through things faster." She and Schneider, who met on a blind date, have "that same ethos and belief in being there for your family," she says. "That started it off right."
"It was a blind date set up by actor Misha Collins's wife Vicki and another close friend Jean. We met at 10:00 a.m. and parted ways at 11:00 p.m.," she told Vogue in April 2018. "We clearly enjoyed our time!"
Hilary Swank married Philip Schneider in a gorgeous woodland ceremony in California's Saint Lucia Preserve. A social venture entrepreneur, he was reportedly born in 1973 in California. That makes him about a year older than his wife, who was born in 1974. They do not have any children.
She was previously married to Chad Lowe, an American actor who has a net worth of $4 million dollars. They married on September 28, 1997, and finalized their divorce on November 1, 2007.
Hilary Swank and her husband Philip Schneider attend the 'What They Had' premiere during the 2018 Toronto International Film Festival at Roy Thomson Hall on September 12, 2018, in Toronto, Canada
In July 2015, we were saddened to hear that Hilary Swank was scaling down on her acting opportunities, but even more, saddened to hear that her father had to undergo a lung transplant and that she was his sole caretaker.
Hilary Swank announced she was taking a break to care for her father
The actress, who is a strong advocate of family, still managed to smile at the Sports Humanitarian of the Year Awards.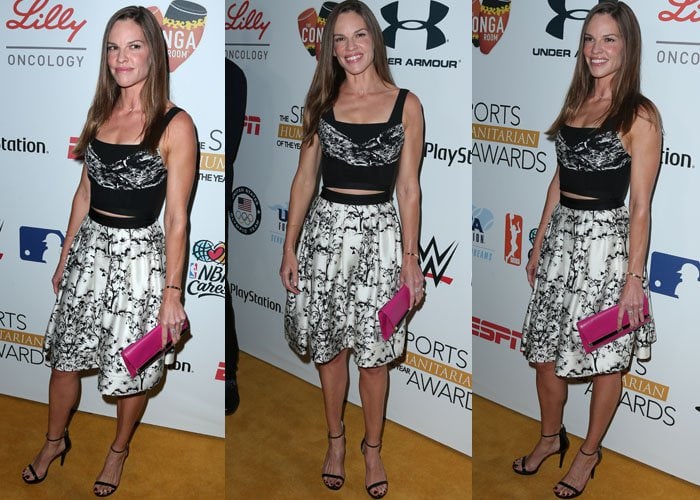 Hilary Swank looked lovely in a dress by Diane von Furstenberg
Hilary announced that she would probably regret not spending this time with her father, and even put up her New York apartment for rent at $20,000 a month.
Hilary Swank's sexy feet in Michael Kors sandals
The then 40-year-old actress, who had an entire episode of The Office dedicated to her looks, took a break from caring for her father and showed up on the red carpet in a dress by Diane von Furstenberg and heels by Michael Kors.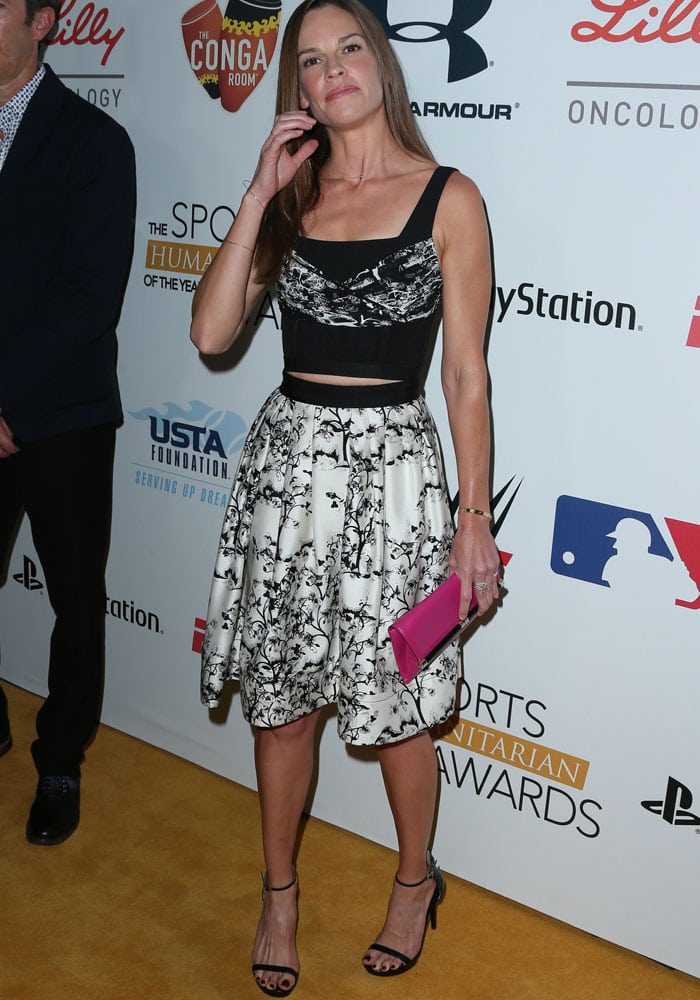 Hilary Swank flaunts her legs at the Sports Humanitarian of the Year Awards 2015 on July 15, 2015
The actress was taking a break, but she had not lost touch with her stylists. Hilary wore a reworked Michael Kors Doris on the red carpet.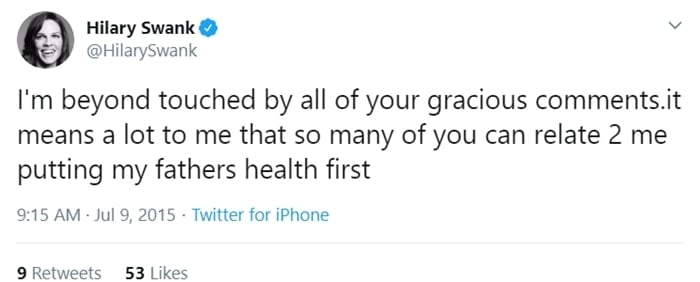 Hilary Swank thanks her fans for being understanding of her decision to take care of her father
Silver and embellished versions are available online. Check them out at Zappos and Nordstrom:
Michael Kors Doris Black Smooth Calf Sandals, $395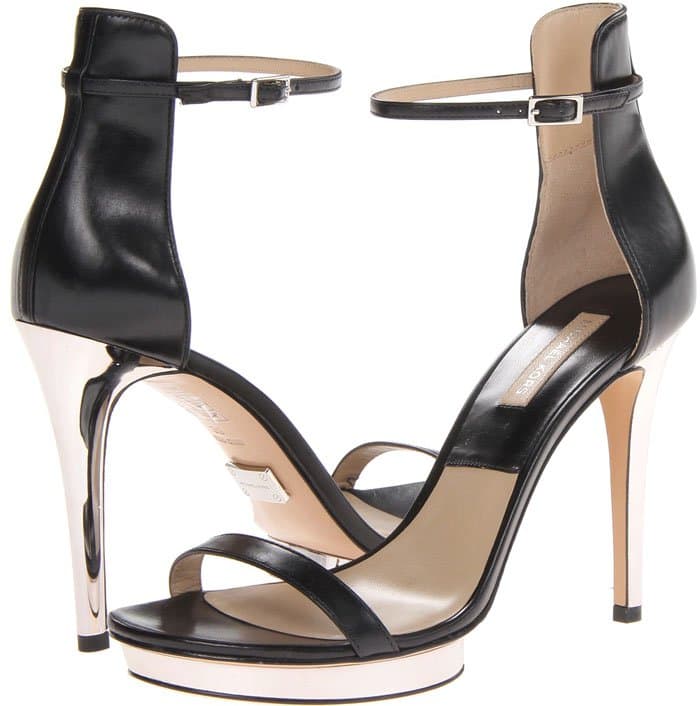 Michael Kors Doris Metallic Platform Sandals, $395
Michael Kors Collection Doris Platform Sandals, £357.94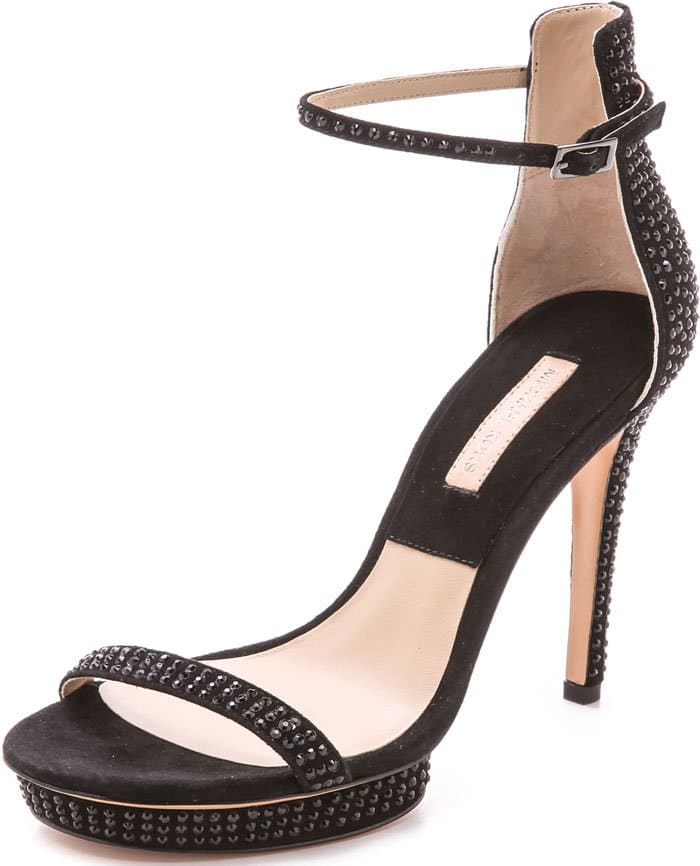 Credit: FayesVision / WENN / Tony King / Future Image / Joe Alvarez / Rocky