"Prince Family Paper," the thirteenth episode of the fifth season of the American comedy television series The Office, has a memorable subplot in which Kevin (Brian Baumgartner) and other office members passionately debate whether actress Hilary Swank can be considered "hot".
In a 2010 interview with Time Magazine, she shared what she thinks about the episode that refers to her as a "monster" and a "female Boris Becker." The episode first aired on January 22, 2009, when Hilary Swank was 34-years-old.
"I'm not a big television watcher, but definitely everyone made me aware of it. It's flattering anytime someone mentions you. But I don't think of myself in terms of that."
The Office debate on whether Hillary Swank is hot or not
"There is so much [emphasis] put on the way we look, which is interesting, going back to the Office question. Are you hot, or are you not? It really does a disservice. There's so much more to life than looking a certain way," she added about the state of women in Hollywood.
Hilary Swank's American drama film "You're Not You" was released on October 10, 2014, but in October 2015 it still qualified for official entry to the Tokyo Film Festival.
The American actress, a self-professed travel junkie, was able to mix work and play by flying to Japan for the festival.
Hilary Swank attends the "You're Not You" stage greeting held October 23, 2015, at the 28th Tokyo International Film Festival
The recipient of two Academy Awards, two Golden Globe Awards, two Critics' Choice Awards, and a Screen Actors Guild Award, she showed off her statuesque form in a tuxedo dress and gold-and-black cap-toe pumps, both by high-end fashion house Balmain.
Hilary Swank waves to the cameras from the red carpet of the Tokyo International Film Festival
Hilary hit the red carpet for the film's stage greeting with Japanese actress Meisa Kuroki, who exchanged a few words and laughter with the Hollywood actress.
Hilary Swank shows off her legs in a tuxedo dress
Philip Schneider's wife may have had a packed schedule, but she still found time to play tourist. She uploaded random photos from her trip including one with adorable Japanese kids.
Hilary Swank reveals toe cleavage in Balmain pumps
The actress headed to Sydney, Australia right after her Tokyo stop.
Hilary Swank shares an adorable selfie with Japanese kids she met in Tokyo
Hilary's Balmain shoe is from the Fall/Winter 2015 collection but isn't available online. Check out the retail versions by heading over to Nordstrom or Matches Fashion.
Balmain "Liliea" Metallic Leather-Trimmed Velvet Pumps, $1,365
Balmain "Lena" Velvet, Leather and Metal Pumps, £920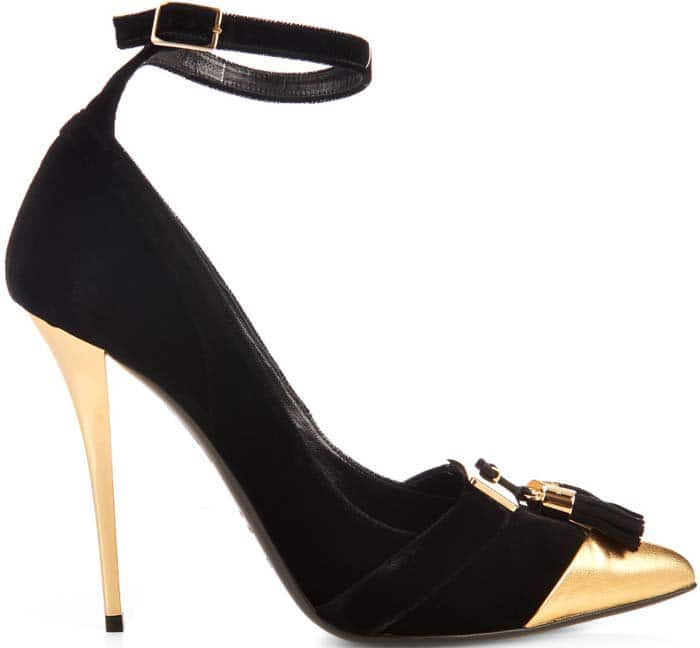 Credit: Hilary Swank's Instagram / Kento Nara / Future Image / WENN