She is set to portray Phyllis Schlafly—a conservative activist who fought against the ratification of the Equal Rights Amendment during the '70s—in the upcoming Hulu TV miniseries Mrs. America.
On Thursday, Cate Blanchett discussed her new project during the FX segment of the 2020 Winter TCA Tour.
Cate Blanchett at FX's Winter TCA Tour 2020 to discuss her upcoming miniseries, Mrs. America, at the Langham Huntington Hotel on January 9, 2020 in Pasadena, California (Credit: Nicky Nelson / WENN)
The Oscar-winning actress made clear that she did not want to demonize Phyllis Schlafly, who was known for her grass-roots campaigns against Communism, abortion, and the Equal Rights Amendment.
"I don't believe in demonizing anybody. My agreement or disagreement, my personal political persuasions — I couldn't be less interested in folding into a character," Cate said during the show's TCA panel.
"Even in Spielberg's 'Lincoln,' there's a lot of invention there. You've got the letters, you've got the actual facts of what took place. But what went on behind the scenes you have to invent," she added. "So at a certain point, you have to go where the character fits into the story because you are describing a particular movement in time. "
Cate Blanchett portrays American constitutional lawyer Phyllis Schlafly in Mrs. America (Credit: FX Networks)
"The way you create ambiguity and juxtaposition in a character is to simply borrow two contradictory thoughts or actions, butt them together, and then present them to an audience," she said about Phyllis Schlafly, who died from cancer at age 92 in 2016.
"We're all full of contradictions and hypocrisies. No one is perfect, including Phyllis — although her hair was mostly always perfect."
"But it is a challenge, I think, when you're playing a figure who is so polarizing," Blanchett continued.
"In the end, how polarizing she became was the very thing that prevented her from getting in place in Reagan's cabinet. It was definitely a challenge to find those nuances and not to play one note. But that comes from the script and the other actors you're working with because in the end you just have to play those situations in a human way. Because she's a human."
View this post on Instagram
The 50-year-old actress graced the gray carpet at the Langham Huntington Hotel dressed in a black-and-white polka-dot pantsuit.
Giving off a professional vibe, the Haider Ackerman Spring/Summer 2020 pantsuit includes a dotted jumpsuit, styled with a contrasting burnt orange belt, and a matching double-breasted blazer.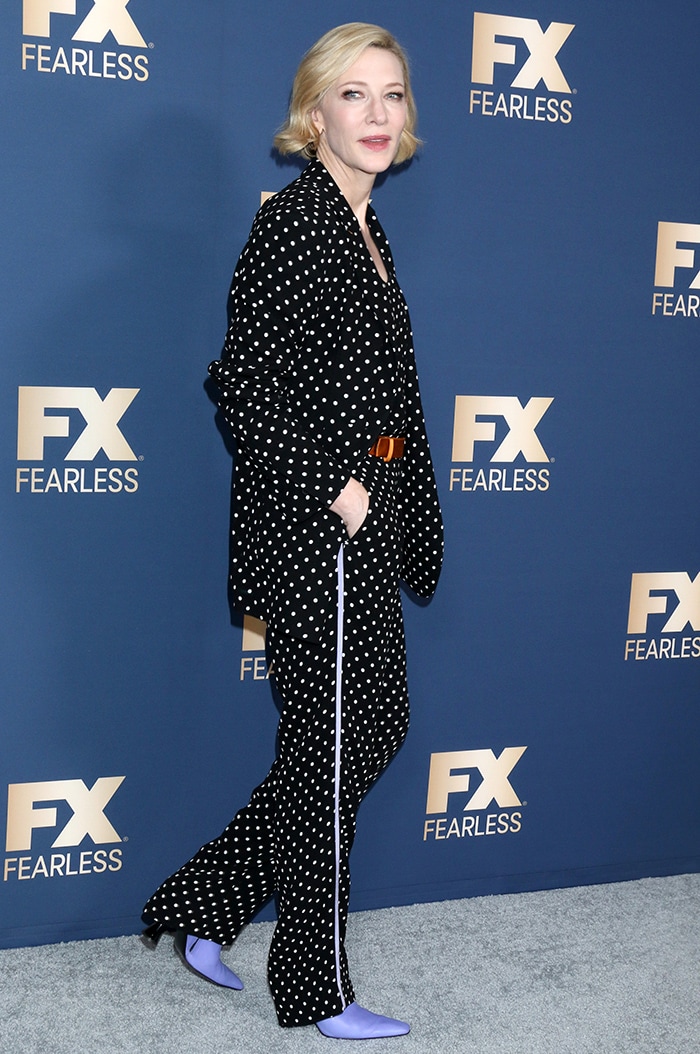 Cate Blanchett shows off her style prowess in a black and white polka-dot pantsuit (Credit: Nicky Nelson / WENN)
Makeup artist Jo Strettell applied simple makeup to let Cate's natural beauty shine. She highlighted her eyes with mascara, eyeliner, and a hint of shimmery eyeshadow, and added a flush of color on her cheeks that matched her pink lipstick.
Hairstylist Robert Vetica simply styled her blonde bob in messy waves with a side parting.
Cate Blanchett wears soft makeup with a wavy bob (Credit: Nicky Nelson / WENN)
To complete her professional yet chic look, stylist Elizabeth Stewart gave Cate's dotted ensemble a pop of color with Dora Teymur boots in lilac leather.
The 'Stainless' ankle boots feature pointed toes, side zip fastenings, stitching details, and about 4-inch sculpted heels.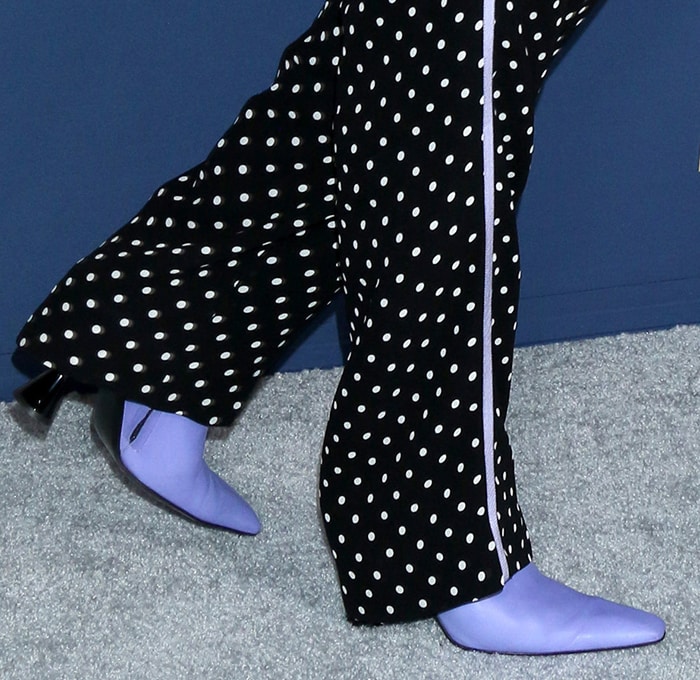 Cate Blanchett adds a pop of color to the look with lilac boots (Credit: Nicky Nelson / WENN)
Dora Teymur 'Stainless' Ankle Boots, $570 at Farfetch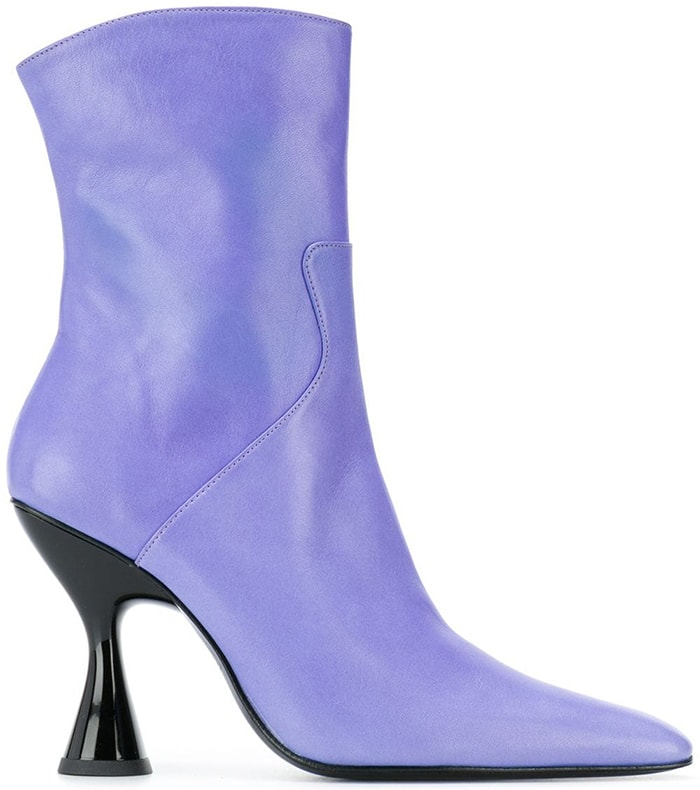 Cate kicked off the week dressed in a yellow Mary Katrantzou gown at the 77th Annual Golden Globe Awards.
She was nominated for Best Actress in a Motion Picture – Comedy for Where'd You Go, Bernadette but lost to The Farewell's Awkwafina.
Cate Blanchett at the 2020 Golden Globe Awards in Los Angeles on January 5, 2020 (Credit: Instar / WENN)
Cate channeled her inner goddess in the bright yellow gown, called Justice, from the Greek fashion designer's Spring/Summer 2020 Temple of Poseidon Couture Collection.
The Fortuny-plisse cut-out column dress features amphora-inspired pleated sleeves in organza and silk satin. It also has a Swarovski crystal-embellished bralette top forming the shape of scales and a layered floor-length skirt.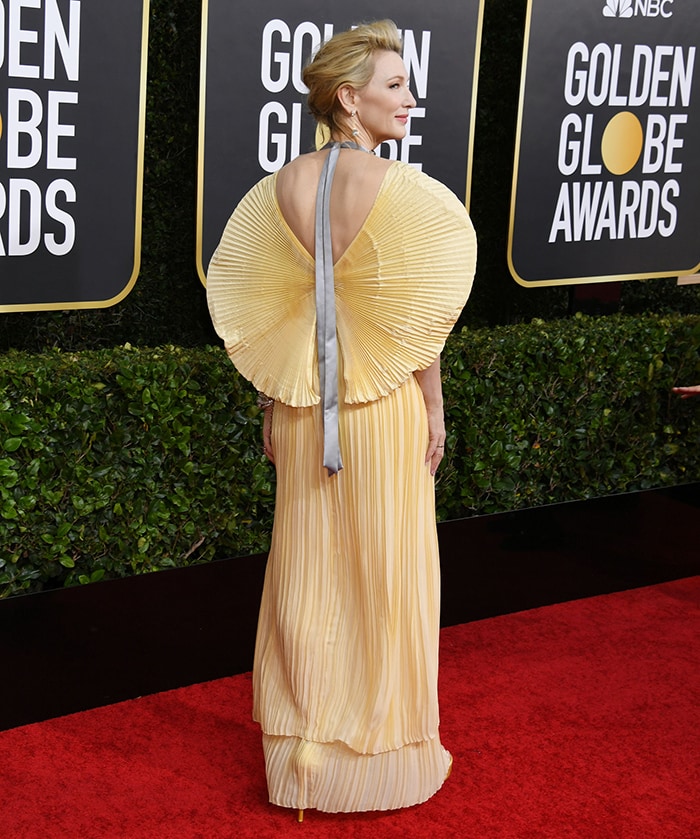 Cate Blanchett is a goddess in a yellow Mary Katrantzou 'Justice' gown (Credit: Instar / WENN)
French makeup artist Cedric Jolivet used Armani Beauty to beautify the actress. She looked gorgeous with nude blush, pink lipstick, matching eyeshadow, black eyeliner, and mascara.
Her trusted hairstylist Robert pulled her hair back, creating a voluminous crown and a textured look at the back.
Stylist Elizabeth accessorized Cate's look with Pomellato jewelry, including the 'Bahia' bracelet, 'Nudo' earrings, 'Tango' cuff, and 'Sabbia' ring. To complete, she teamed the yellow frock with a pair of Stuart Weitzman custom-dyed 'Nudist' platform sandals.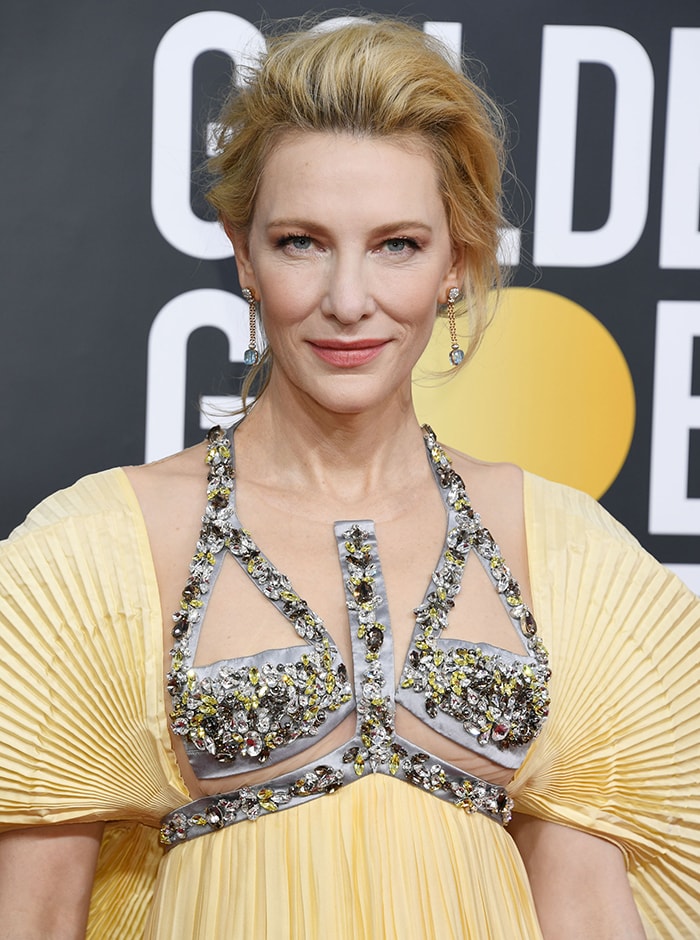 Cate Blanchett wears pull back hairstyle with Armani Beauty makeup (Credit: Instar / WENN)
Following a series of red carpet appearances, Cate Blanchett was spotted pulling off a chic off-duty look at LAX airport. This comes just right after her appearance at the 2020 Winter TCA Press Tour.
She strolled through the terminal in a brown leather aviator boiler suit from Belstaff. The leather number features front pockets, quilted knee panels, shoulder pads, and silver-tone snap buttons.
The Australian-American actress went makeup-free and hid her eyes behind a pair of rose-tinted sunnies. Wearing side-parted tresses, Cate completed her airport look with a pair of distressed black boots.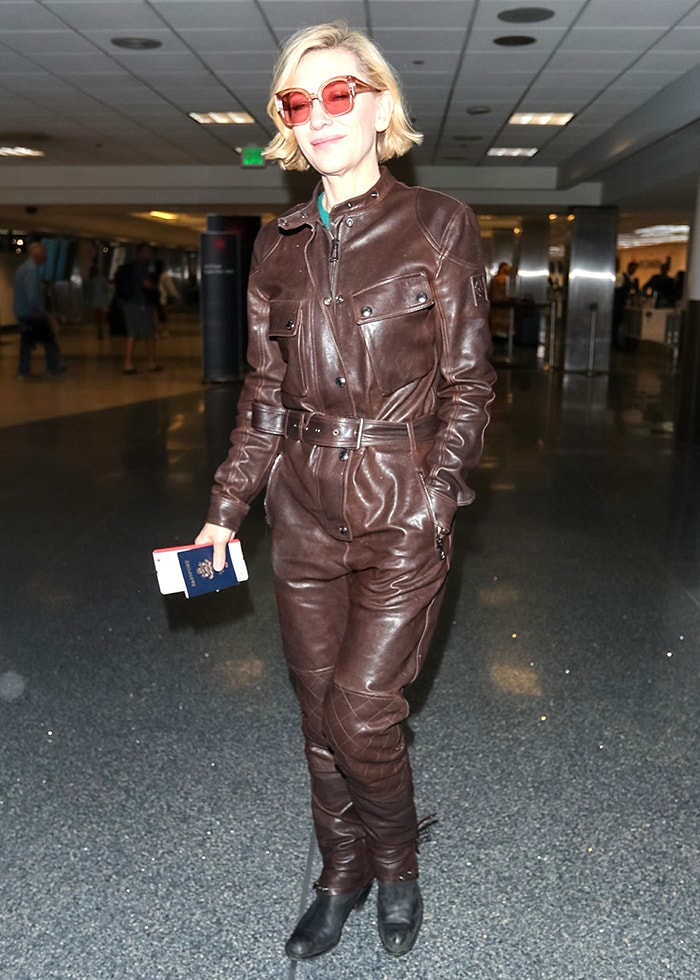 Cate Blanchett strolls through the LAX terminal in a brown leather boiler suit (Credit: Instar / WENN)