Set in a 1980s backdrop in sunny Southern California, Apple TV's new series Physical follows Sheila Rubin (Rose Byrne) as she attempts to claw her way to the top of the fitness entertainment industry, all while desperately trying to smother the voice of her own internal demons.
In the opening scenes of Physical, viewers follow a confident and masterful Sheila rocking a studded leotard, as she prepares to strut out on stage and host her own highly successful televised aerobics class.
Physical is an American comedy-drama television series starring Rose Byrne that premiered on Apple TV+ on June 18, 2021 (Credit: Apple TV+ / YouTube)
Flash back 5 years, and we're greeted with a very different Shelia as she stands in front of her mirror and meticulously points out every flaw on her face in a savage and unforgiving self-monologue.
Here is where Physical begins and for the remainder of season 1, we're following Sheila's journey to become that woman we saw in those first few minutes of the series.
The road to her success will be filled with deception, betrayal, and continuous self-mutilation + some relentless disordered thinking. It won't always be easy to watch, but it's a dark comedy that won't let you look away.
Is Physical Based on a True Story?
Sheila Rubin is a fictional character, but her story is inspired by the real-life struggles of the show's creator, Annie Weisman. Growing up in the 80s, Weisman struggled with a severe eating disorder, similar to the Physical protagonist.
In a recent interview, Weisman explained that when creating the storyline for Physical, she wanted to dive deeper into her own childhood struggles.
Drawing inspiration from not only her own personal issues but the experiences of what she imagined her parents went through raising a family in the 80s, Weisman crafted the story of a 1980s housewife fighting to find something more in her life.
Rose Byrne portrays Sheila Rubin, a woman struggling in her life as a quietly tortured housewife in 1980s San Diego (Credit: Apple TV+ / YouTube)
While Sheila's addiction is not a perfect mirror of Weisman's own eating disorder, Weisman wanted to convey the emotional truth behind disordered eating in a way that Hollywood usually doesn't do.
In a conversation with Vanity Fair, Weisman explained that adding a bit of her own life into the series was not always easy to accomplish.
"There were such uncomfortable and truthful moments that I dug out from my own history and life that I would sometimes have to go to my car," she said in the interview.
Weisman hopes that Sheila's story is not portrayed as triggering for viewers battling their own disordered eating habits, but rather a sensitive and compassionate portrayal of a woman struggling in a time where the conversation of disordered eating was not often discussed.
While the characters and costumes may be inspired from the 1980s, the soundtrack is 100% authentic. With each episode including songs by 80s legends B.T. Express, Laura Branigan, Dave Hamilton, and many more, no matter how dark the plot may get, the music will have you on your feet.
How Did Rose Byrne Transform Herself into a 1980s Aerobics Instructor?
Viewers of the show will notice almost immediately how slim Sheila Rubin's physique is, despite her relentless inner monolog demanding continued weight loss. Even with her naturally thin physique, actress Rose Byrne did have to prepare physically (no pun intended) for the new Apple TV+ series.
The road to Rose Byrne transforming herself into the 1980s lifestyle guru was quite similar to Sheila's own journey (minus the binging and purging of fast-food cheeseburgers and milkshakes).
Rose Byrne's character gets hooked on aerobics and starts a successful business empire (Credit: Apple TV+ / YouTube)
In order to fully immerse herself into the world of Sheila Rubin, Rose Byrne adopted her own Aerobic routine. Byrne trained twice weekly with her aerobics choreographer and, similar to Sheila, eventually increased the intensity and frequency of her classes.
Prior to taking on the role of Sheila Rubin, Byrne described her own exercise routine as "lazy", proving there really is no better motivation to get in shape than being cast for a show inspired by Olivia Newton-John's famous lyrics, "Let's get physical".
Byrne's transformation into the lifestyle guru and aerobic master was brought to life with the help of Physical costume designer, Kameron Lennox.
Inspiration for the bedazzled leotards and spandex was born from 80s icons such as Jane Fonda and Marisa Berenson, with Berenson being the focal muse behind Sheila's glamorous curls.
Bryne did have to opt-in for a wig to achieve the fullness that makes Sheila's hair such an iconic homage to the 80s fashion era. One thing you won't see in the California-based series, is the use of neons in the costumes.
To be true to the style of 80s aerobics' outfits, Lennox focused on muted reds and pinks for Byrne's leotards. All costumes were custom-made for Byrne and made to feel and look as authentic to the era as possible.
In a recent interview with Collider, Byrne told the outlet, "You would've thought I was in a Marvel movie. I have epic fittings for these leotards, within a millimeter". Long story short, you won't find any of Sheila's iconic leotards on a Target shelf near you.
What to Expect for Season 2?
Apple TV+ announced in August 2021 that Physical will return for a second season but have not yet confirmed when fans can expect to reunite with the series main character, Sheila Rubin.
Writers have confirmed that White Lotus star Murray Bartlett will join the cast as a rival character to Sheila, as they both struggle to gain power in the world of fitness. In a recent podcast interview with "Just for Variety "
Bartlett expressed his excitement to join the second season of the Apple TV + Show. "That stuff that I get to do is really fun, but it's twisted and smart". Bartlett says. "It's interesting because it's got that whole like '80s fun thing, but there's a depth to this show that's really moving".
Bartlett will introduce fans to Vincent 'Vinnie' Green, "a charismatic fitness instructor, weight loss guru, and late-night infomercial pioneer. He and Sheila are both friends and rivals who struggle privately with personal demons".
While the plot of the new Apple TV+ Series is yet to be determined, one thing is for sure. We will definitely be tuning in to see what Sheila Rubin does next…well outside of aerobics.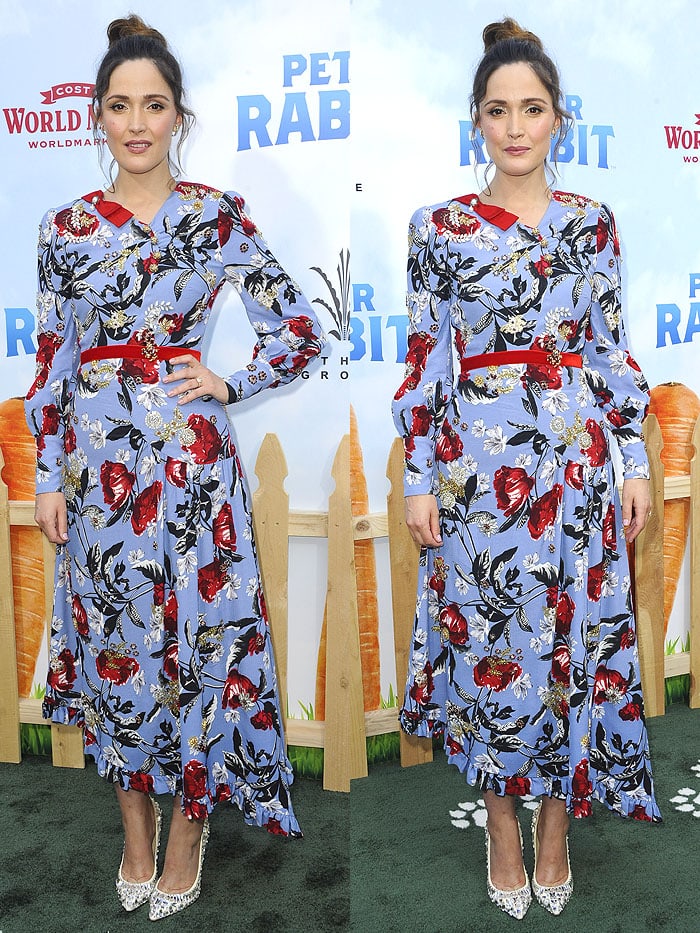 Rose Byrne at the premiere of "Peter Rabbit" held at The Grove in Los Angeles, California, on February 3, 2018 (Credit: WENN)
If you've got sparkly pairs of shoes that you reserve just for special evening occasions, it's about time you let them see the light of day.
In February 2018, Rose Byrne showed us how she took two pairs of her crystal-embellished pumps from day to night at her recent red carpet outings.
The Australian actress started with a heavily-bejeweled pair of shoes that were pretty much made for nights out. The actress stepped out at the "Peter Rabbit" premiere in the heavily embellished Jimmy Choo "Tia" pumps.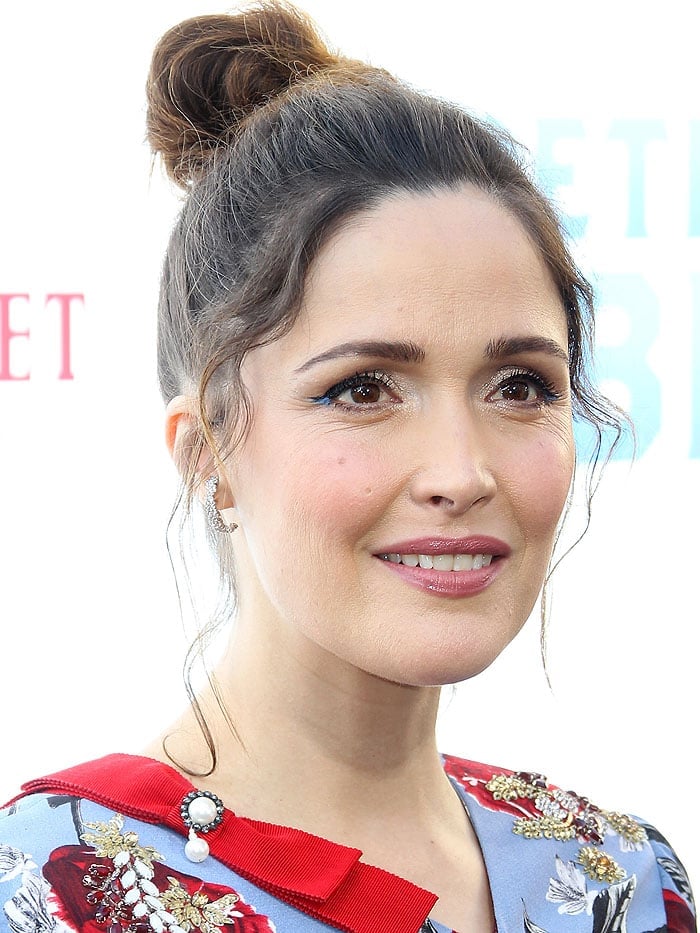 Rose Byrne wearing a top bun hairdo, a vintage Neil Lane brooch, and Ana Khouri earrings (Credit: WENN)
The Dallas Doll star didn't let the huge Swarovski crystals deter her and even boldly paired the heels with an equally eye-catching Erdem Spring 2018 long-sleeved dress.
Rose Byrne wearing an Erdem Spring 2018 floral-print long-sleeved dress with a vintage Neil Lane brooch, Ana Khouri earrings, and Jimmy Choo "Tia" crystal-embellished pumps (Credit: WENN)
With her colorful frock's floral print keeping things light and fresh, Rose was able to pile on even more bling in the form of a vintage Neil Lane brooch and Ana Khouri earrings.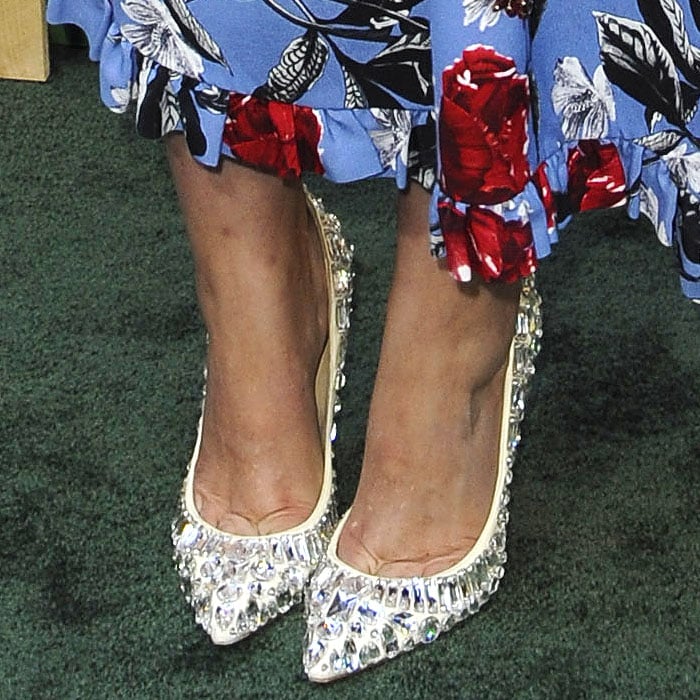 Rose Byrne's toe cleavage in crystal shoes (Credit: WENN)
The 38-year-old matched the film premiere's whimsy with sparkly eyeshadow and electric blue eyeliner at the outer corners of her eyes.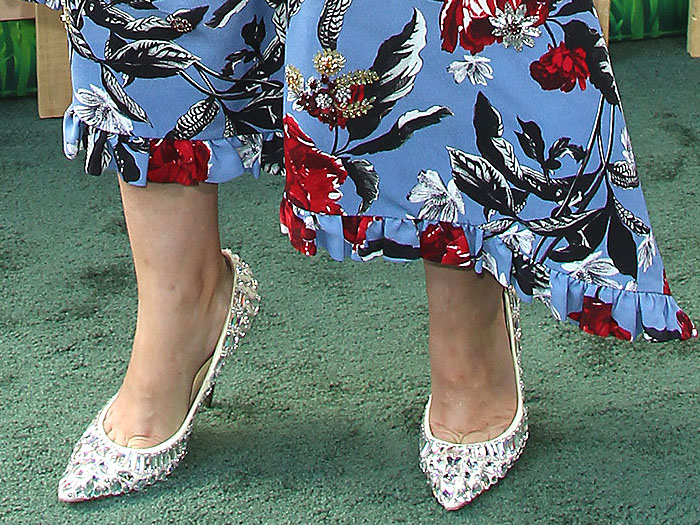 Rose Byrne's Jimmy Choo "Tia" Swarovski-crystal-embellished pumps (Credit: WENN)
See how Emma Roberts and Mary Elizabeth Winstead worked their Jimmy Choo "Tia" pumps for more styling ideas.
For her nighttime outfit centered around sparkling shoes, Rose chose the lovely Sophia Webster "Lilico" pumps, which feature crystal flower embellishments on the pointed toes.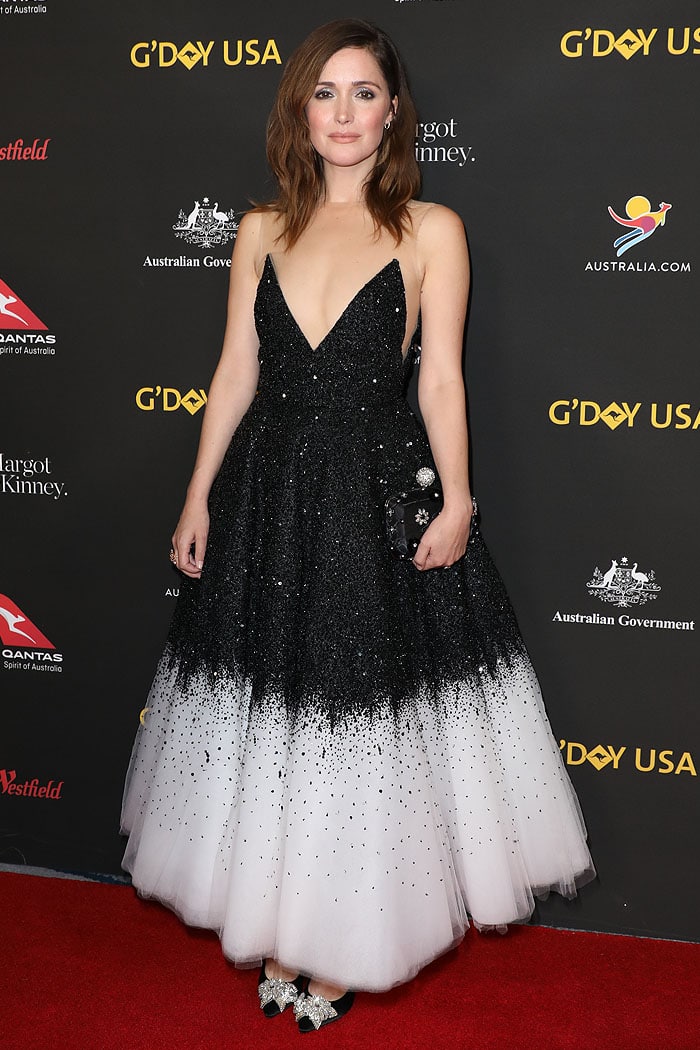 Rose Byrne wearing an Oscar de la Renta Spring 2018 black-and-white dress with a Roger Vivier clutch, David Yurman jewelry, and Sophia Webster 'Lilico' pumps (Credit: WENN)
The "X-Men: Apocalypse" star didn't hold back on the shine this time, pairing her crystal heels with a twinkling black-and-white Oscar de la Renta Spring 2018 tulle gown.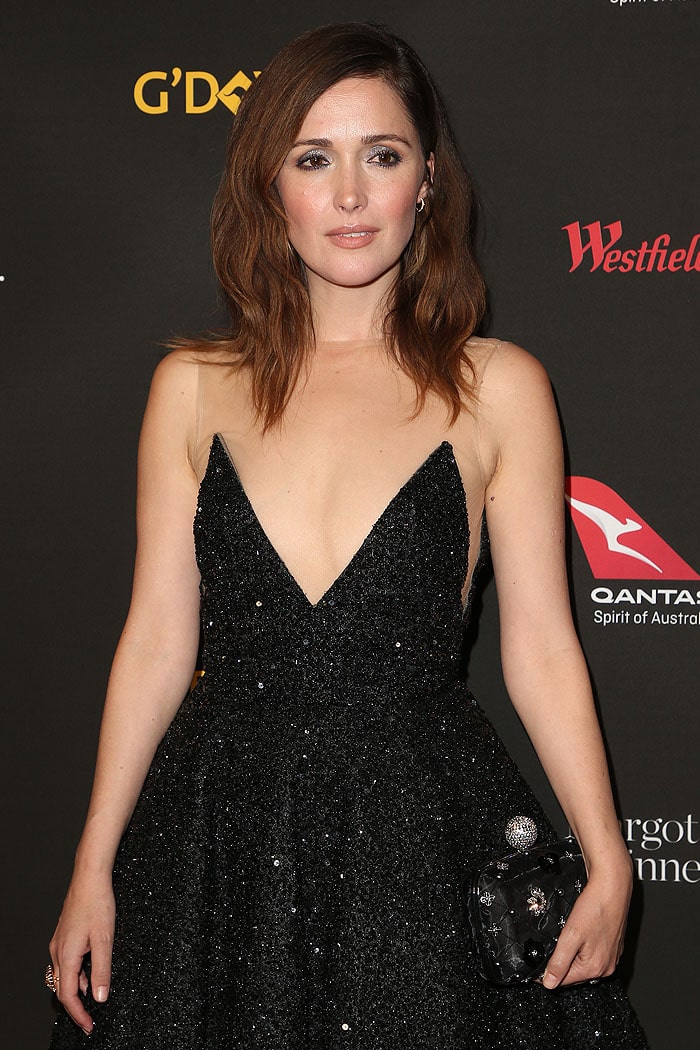 Rose Byrne in an Oscar de la Renta Spring 2018 sparkly dress and carrying a Roger Vivier quilted clutch (Credit: WENN)
She accessorized with David Yurman jewelry and a beautiful Roger Vivier quilted clutch that featured some sparkly details of its own.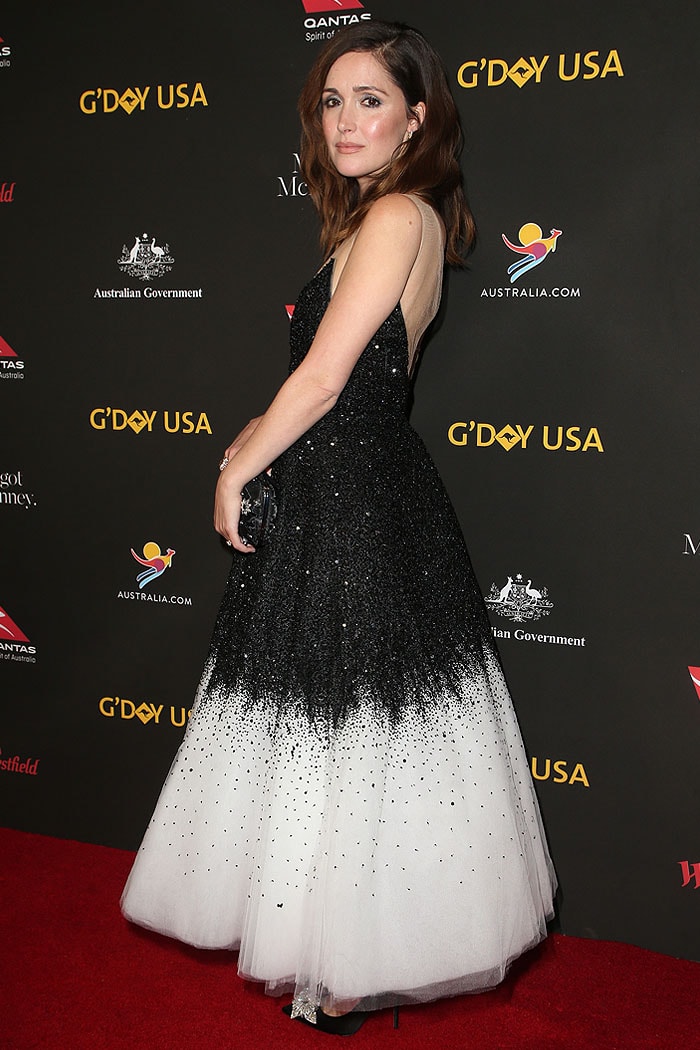 Rose Byrne at the 2018 G'Day USA's Black Tie Gala held at the Intercontinental LA Hotel in Los Angeles, California, on January 27, 2018 (Credit: WENN)
Check out the pink satin version of the Sophia Webster "Lilico" pumps at Farfetch if you want something easier to style for daytime wear. You can also grab the chunky-heeled version at Saks Fifth Avenue.
Rose Byrne wears Sophia Webster satin pumps with a crystal flower motif (Credit: WENN)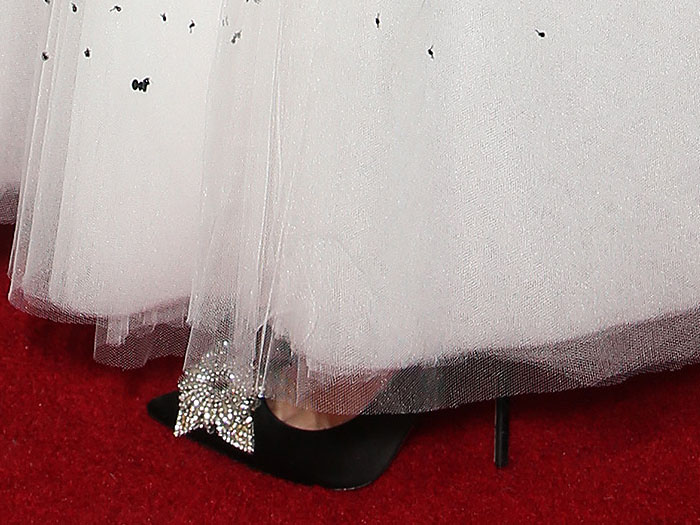 Rose Byrne's Sophia Webster "Lilico" crystal-flower-embellished black satin pumps (Credit: WENN)
Sophia Webster "Lilico" Crystal-Flower-Embellished Black Satin Pumps, £495