Pippa Middleton and James Matthews have had a whirlwind romance from the very beginning. The couple has frequently graced headlines for their adorable children, Matthews' financial gains, and Middleton's impeccable fashion sense.
Why is Pippa Middleton famous?
Philippa Charlotte Middleton is the younger sister of Catherine, Princess of Wales. She also has a brother named James.
Born on September 6, 1983, in Reading, Berkshire, England, Pippa became the world's most famous bridesmaid in a figure-flattering Alexander McQueen dress at her sister's wedding.
Pippa Middleton married James Matthews in a custom Giles Deacon wedding gown and a bespoke veil by Stephen Jones (Credit: PA Images / INSTARimages)
Her parents were both in the aviation industry. Pippa's father, Michael Middleton, was a British Airways flight dispatcher, and her mother, Carole Middleton (née Goldsmith), was a flight attendant.
Michael Middleton came from a family linked to the British aristocracy, and Carole Middleton came from a family in the working class, most being coal miners. The couple founded Party Pieces, a successful party supply company.
Pippa Middleton has an MA in English literature and a master's degree in Physical Education, Sport, and Physical Literacy.
Who is James Matthews?
James Matthews is a former race car driver that is now a billionaire. He launched the Eden Rock Capital Management Group, and he is the heir to the title of Lair of Glen Affric in Scotland.
How did Pippa Middleton and James Matthews meet?
Pippa and James met in 2007 at the Eden Rock, a luxurious hotel in St Bart's owned by Matthews' parents, but their connection was not known to the public until 2012 when they were seen having a meal together.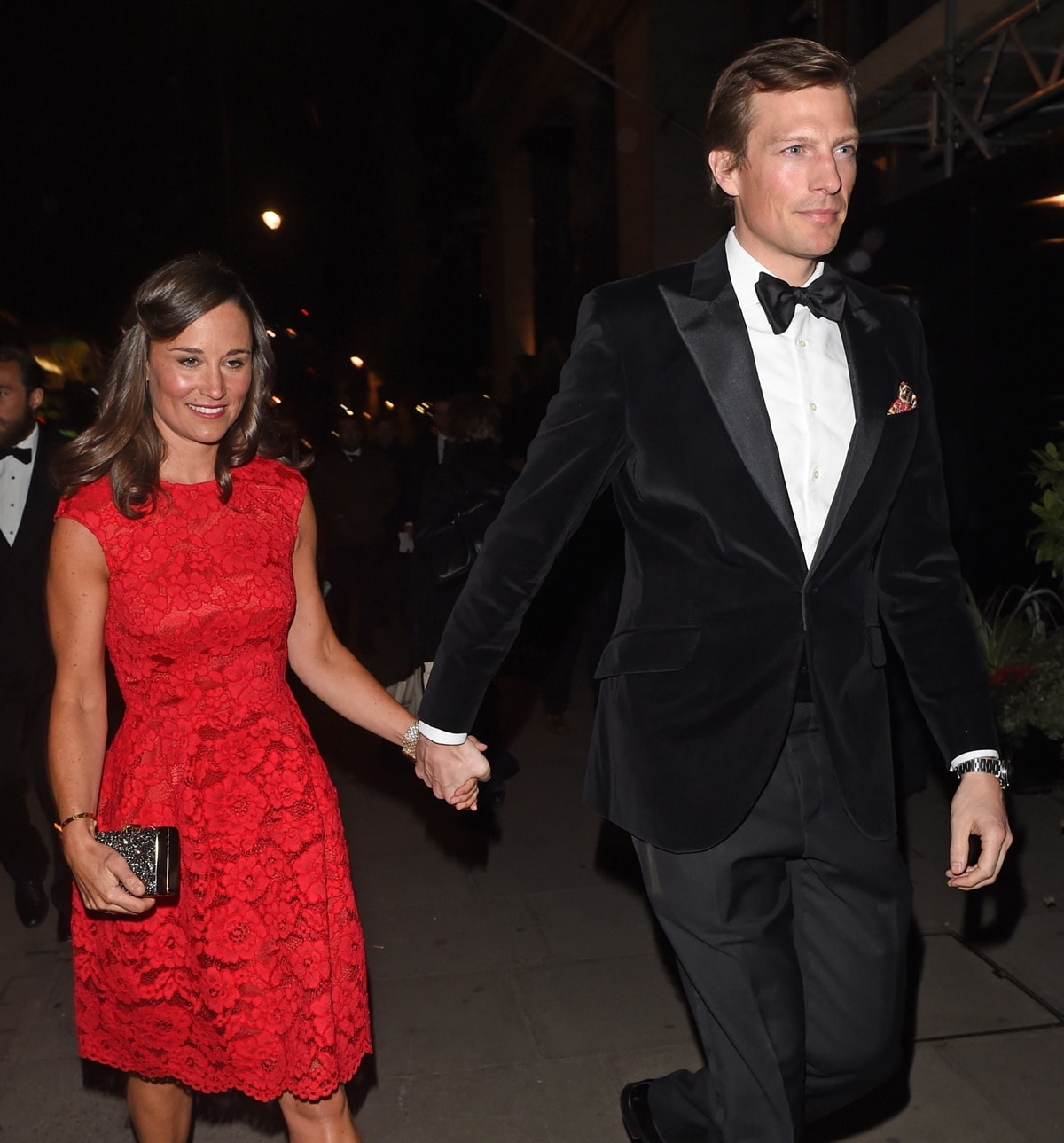 Pippa Middleton and her banker boyfriend Nico Jackson split in October 2015 after dating for three years (Credit: INFphoto)
A year later, Middleton went on to date Nico Jackson and stayed with him for three years. When the couple broke up, Middleton was very quickly seen visiting the home of James Matthews.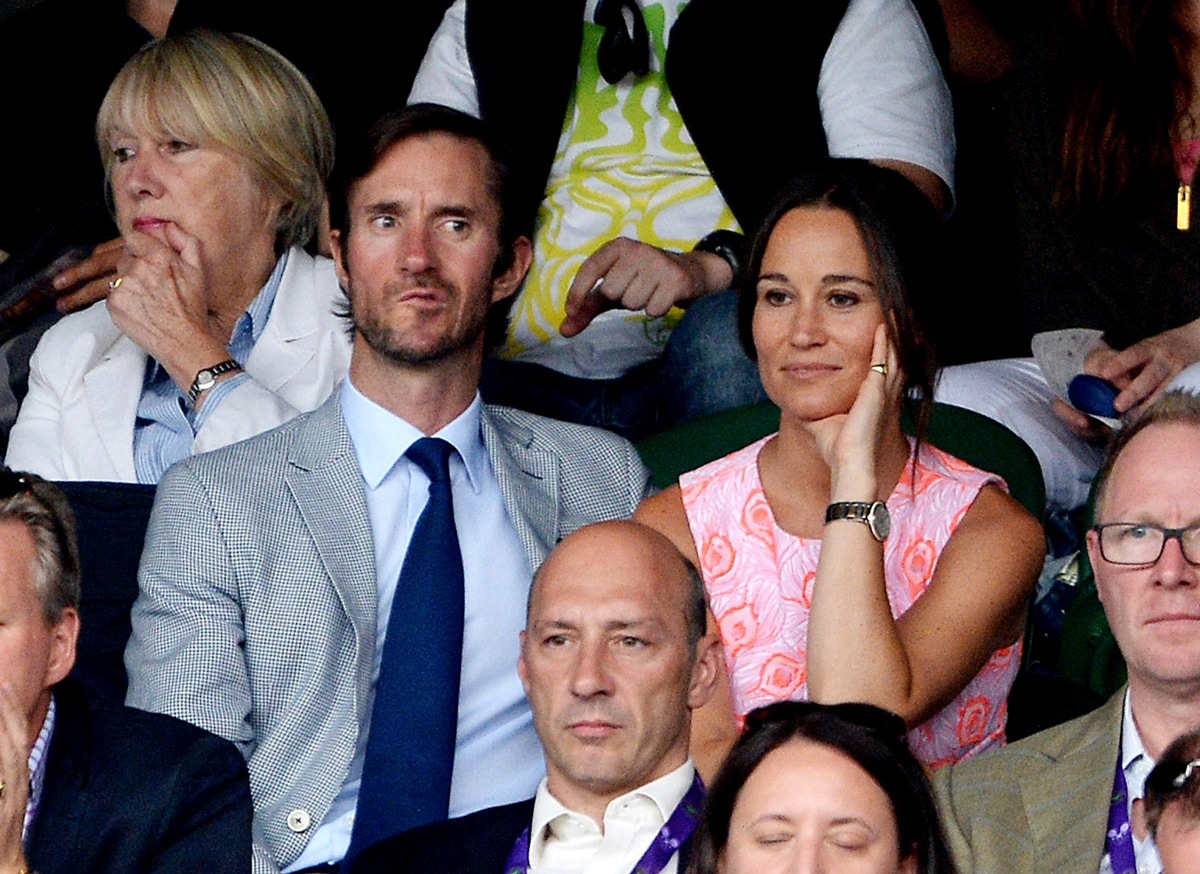 Pippa Middleton and James Matthews attend day nine of the Wimbledon Tennis Championships at Wimbledon on July 6, 2016, in London, England (Credit: Anthony Devlin / PA Images / Startraksphoto)
Middleton and Jackson quickly became inseparable, and by 2016, they were engaged.
The pair has an age difference of almost a decade. Middleton was born in 1983, and Matthews was born in 1975. They also have a whopping height difference, as Matthews is 6'4" and Middleton is 5'5".
An (Almost) Royal Wedding
Pippa Middleton and James Matthews were married on May 20, 2017, at St. Mark's Church. As James Matthews' father is Laird of Glen Affric, Pippa Middleton will eventually be referred to as Lady Glen Affric.
James Matthews and Pippa Middleton outside St Mark's Church after their wedding on May 20, 2017, in Englefield Green, England (Credit: PA Images / INSTARimages)
Her current title is Mrs. Mathews of Glen Affric the Younger. Though her sister Catherine is part of the royal family, Pippa is technically an in-law and holds no title. This doesn't stop her from gracing the limelight though and attending events with the royals!
Do Pippa Middleton and James Matthews Have Children?
The joyful couple has three children, Arthur, Grace, and Rose.
Arthur Michael William was born in 2018, Grace Elizabeth Jane was born in 2021, and Rose was born in 2022.
James Matthews and Pippa Middleton attend Cirque du Soleil's "LUZIA" premiere at Royal Albert Hall on January 13, 2022, in London, England (Credit: Ian West / PA Images / INSTARimages)
Since getting married and having children, Matthews has focused on his career pursuits while Middleton has focused on both her education and socialite duties. The couple regularly attends social events while upholding their duties at home.
This (almost) royal couple stays out of controversy and keeps to themselves.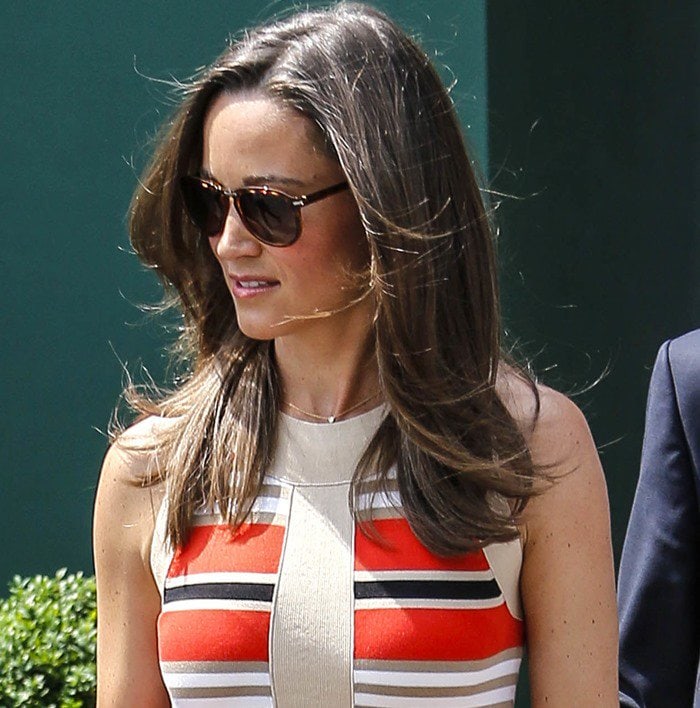 Pippa Middleton wears her hair down as she attends the Wimbledon Championship on July 5, 2013, in London (Credit: WENN)
Pippa Middleton isn't exactly royalty, but she sometimes likes to act like it. In July 2013, Duchess Kate Middleton's sister attended a Wimbledon Tennis Championship match.
Pippa wore a sunny summer look for the occasion. She donned a bright red striped dress from Temperley London with an equally bright poppy-colored tote from Coach.
Pippa Middleton wears a bright red Temperley London dress while she attends Wimbledon (Credit: WENN)
She finished the outfit with neutral wedge "Jade" sandals from Ash.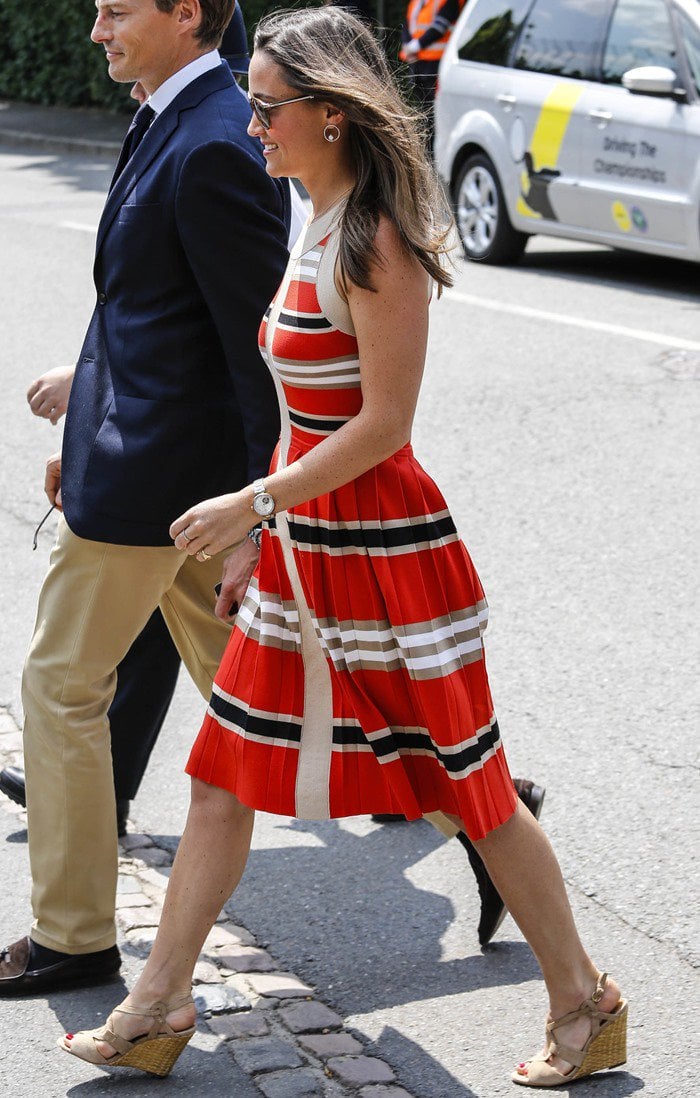 Pippa Middleton finishes her bright Wimbledon outfit with neutral cork wedge heels from Ash (Credit: WENN)
The sandals were meant to complement rather than stand out so that all eyes would be on her gorgeous dress.
Here's a better look at Pippa's sandals.
Ash Jade wedge shoes featuring chamois suede crisscross straps, a leather sole, adjustable buckles, and a woven wedge 3.8-inch heel
Ash Jade Wedge Sandals in Chamois Suede
Unfortunately, Pippa's sandals are sold out everywhere. However, Pippa's dress — the "Alexis" from Temperley London — is available at Shopbop.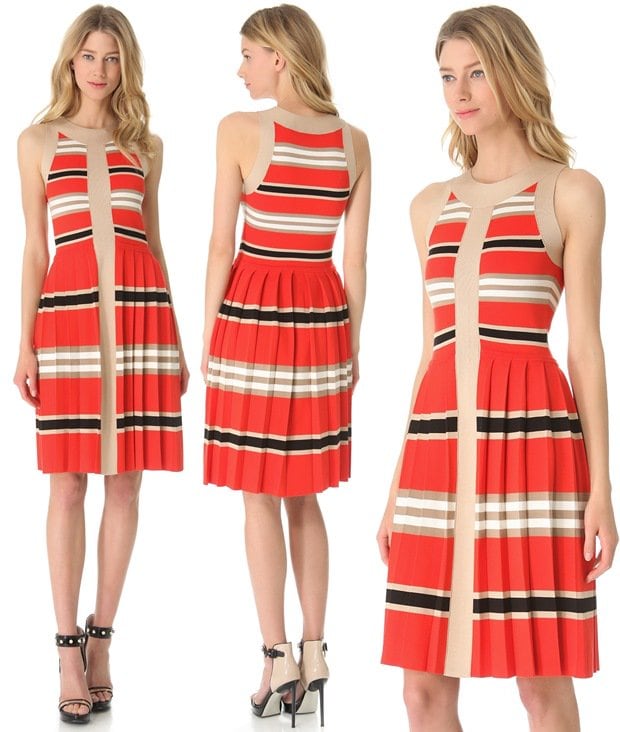 Temperley London 'Alexis' Striped Dress, $420