If you can't be the bride at a royal wedding, being the maid of honor might be the next best thing. Pippa Middleton — formally known as Philippa — stood beside her sister, now Duchess Kate Middleton, as she married William, Prince of Wales.
Like her sister, Pippa wore a stunning Sarah Burton for Alexander McQueen dress that fit her like a glove. Her dress was made to match Kate's. It featured the exact lace and silk button closure, which let the two dresses harmonize with each other at the ceremony.
Maid of honor Pippa Middleton, page-boy William Lowther-Pinkerton and bridesmaid Margarita Armstrong-Jones arrive at the wedding of Prince William and Kate Middleton, held on April 29, 2011, at Westminster Abbey in London (Credit Anwar Hussein / WENN)
While many were wondering why Pippa wore white to her sister's wedding, England does traditionally host all-white wedding parties.
Pippa was not the only member of the wedding party to match Kate's dress.
Kate Middleton waves to the crowds as her sister and maid of honor, Pippa Middleton, holds the train of her wedding dress (Credit Anwar Hussein / WENN)
Though the long-hemmed dresses made it difficult to see shoes, we were able to catch a few peeks of the royal footwear displayed on the red carpet.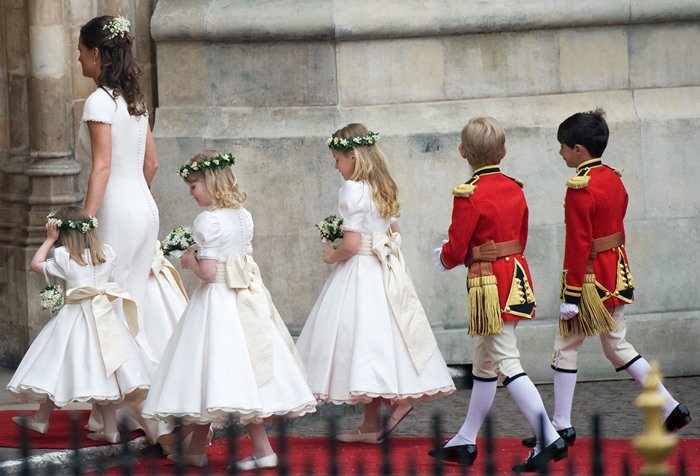 Pippa Middleton leads a group of bridesmaids and other wedding party members into Westminster Abbey for the wedding of Prince William and Kate Middleton (Credit Anwar Hussein / WENN)
Pippa Middleton donned a pair of custom-made "Lynn" shoes by London-based Indian Jamaican designer Aruna Seth. They featured a silver Italian leather strappy sandal design with a small Swarovski butterfly on the front for her sister's royal wedding.
Pippa Middleton could have also chosen to wear alternative footwear options such as the following popular shoes from Alexander McQueen and Manolo Blahnik.
Manolo Blahnik Pointed-Toe Peek-A-Boo Metallic Pump, $745
We love these lace-wrapped Alexander McQueen pumps: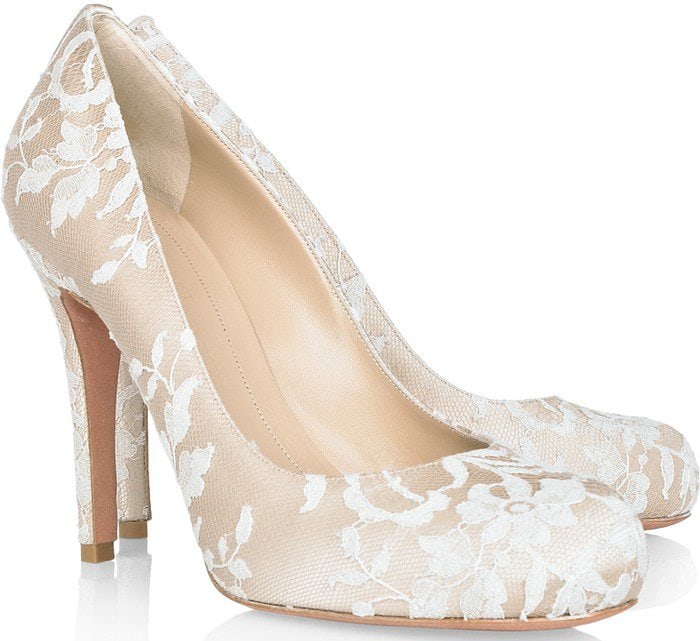 Alexander McQueen Lace Satin Pumps, $995