Update: Thanks to Karen and Miggie for informing us via our Facebook page that the sandals Pippa wore are by Aruna Seth.
Philippa Middleton, best known as Pippa the maid of honor to sister Kate Middleton, has been the major talk of the royal wedding and at one point surpassed her sister as the number one trending topic on Twitter. Like her sister, she wore a Sara Burton for Alexander McQueen dress that was stunning and fit her like a glove. Her dress was made from the same lace and silk button closure as Kate's, making the dresses flatter each other.
Like her sister's dress, Pippa received a seal of approval from many, but some thought that she may have stolen the show from her sister.  Although many people wonder why Pippa coordinated her dress with her sister's, England does have a tradition involving all-white wedding parties. I, on the other hand, found it very refreshing that everyone was wearing white and how the sisters complemented each other. Hence, giving the wedding party a simple yet chic look.
Pippa Middleton, the bride's sister, with page-boy William Lowther-Pinkerton and bridesmaid Margarita Armstrong-Jones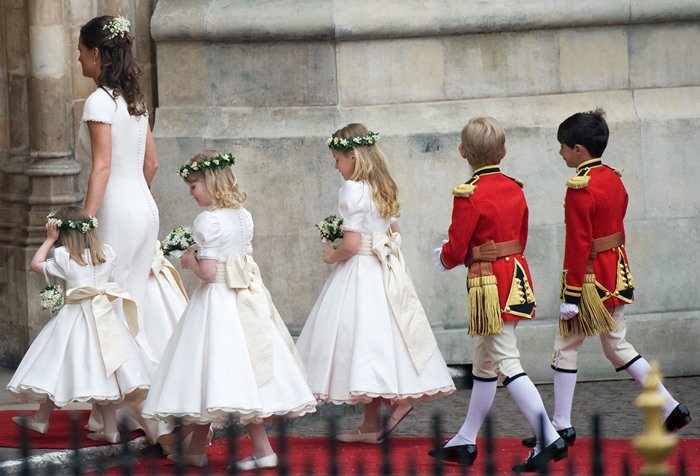 Catherine Middleton arrives at Westminster Abbey with her sister and Maid of Honour Pippa Middleton to marry Prince William on April 29, 2011
Although it is not known what shoes Pippa wore at the wedding, the above picture gives us a small glance. Could they be the same Alexander McQueens that Kate wore? Could it be that the sisters complemented each other all the way down to their shoes?
With what little we can see from the pictures, perhaps she was instead wearing a pair by Manolo Blahnik?
Manolo Blahnik Pointed-Toe Peek-A-Boo Metallic Pump, $745 at Neiman Marcus
If in fact she wore the same shoes as her sister, these are the gorgeous shoes that accompanied the stunning dress: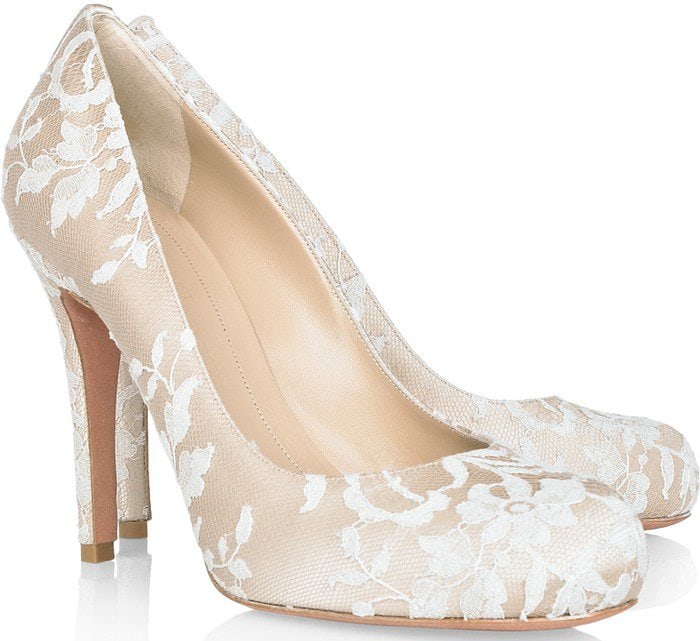 Alexander McQueen Lace Satin Pumps, $995
Credit: Anwar Hussein/WENN