The LACMA's 11th annual Gala, which honored Kim Kardashian with the first-ever Innovation Award, was never going to disappoint when it came to our favorite celebrity's latest looks.
Sydney Sweeney looked much taller thanks to her pink mini dress and Giambattista Valli sparkle platform heels (Credit: Axelle Woussen / BauerGriffin / INST / Cover Images)
We loved Sydney Sweeny's whimsical ballerina look in a Giambattista Valli pink dress from their Fall 2022 Couture collection.
The pastel pink softly pleated mini dress with its plunging neckline and long puff sleeves of voluminous, soft roses made quite the statement.
Sydney Sweeney in a pink Giambattista Valli Fall 2022 Couture dress at the 11th Annual LACMA Art + Film Gala at the Los Angeles County Museum of Art on November 5, 2022, in Los Angeles, California (Credit: Xavier Collin / ABACA / INSTARimages / Cover Images)
She finished off her look with a pair of opaque pink tights and boosted her height with a pair of sparkling silver Giambattista Valli 7.5-inch heels with a peep-toe design that you can buy at Farfetch for $1,450. The perfect combination of romantic and chic!
How Tall Is Sydney Sweeney?
Sydney Bernice Sweeney is shorter than the average American woman. On Twitter, the popular Euphoria actress claims her height is almost 5'4, though her real height is believed to be around 5ft 3 ¼ (160.7 cm).
Sydney Sweeney claims on Twitter her height is taller than most people think (Credit: Twitter)
Sydney's hair was pulled back into an elegant bun with a side parting, the perfect style for this dramatic dress. Her make-up was natural and kept to a minimum with just the right amount of a rosy pink blush which was complemented by a pink matte lipstick.
And she accessorized with a pair of simple diamond studs from London-based jewelry designer Anabela Chan. With a dress like that, you really don't need anything else.
Sydney Sweeney flaunts her cleavage in a baby pink Giambattista Valli dress featuring a plunging neckline and floral organza appliqué adorned sleeves (Credit: Xavier Collin / ABACA / INSTARimages / Cover Images)
While on the red carpet, she was asked about the new season of Euphoria and her new role in a Barbarella movie.
She played her cards close to her chest but did share with Variety that Euphoria would be filmed before Barbarella. When asked when filming would begin, she replied, "Soon. That's all I can say." Well, it can't come soon enough for us!
Sydney Sweeney styled her pink tights with Giambattista Valli sparkle platform heels that increased her height (Credit: Xavier Collin / ABACA / Axelle Woussen / BauerGriffin / INST / Cover Images)
Would you dare to wear her silver glitter platform shoes featuring 7.5-inch heels?
Designed with a cutout vamp and peep toe, Giambattista Valli's statement pumps are elevated by a skyscraper platform and block heel
Last month, Celeste O'Connor, Sydney Sweeney, and Dakota Johnson were hard at work filming the upcoming Marvel movie Madame Web in New York City.
Scheduled for release in 2024, it's the sixth film in Sony's Spider-Man Universe (SSU).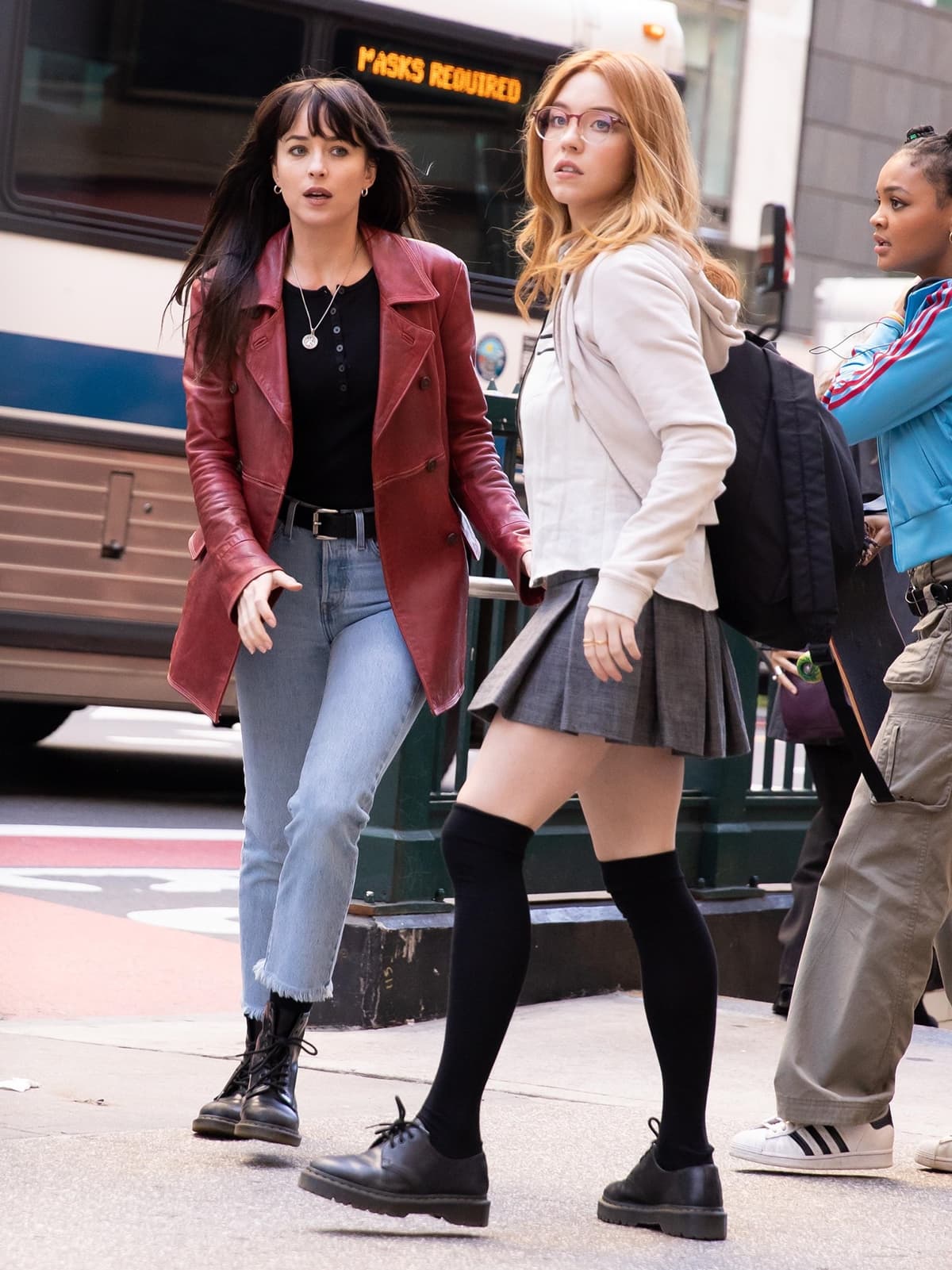 Sydney Sweeney, Celeste O'Connor, and Dakota Johnson are seen on the set of "Madame Web" on 42nd Street on October 11, 2022, in New York City (Credit: Janet Mayer / Startraksphoto / Cover Images)