YouTube has evolved from an online video-sharing site to a platform for building a career. It has become a breeding ground for talents and influencers in various categories, such as fitness, gaming, and beauty.
Over the years, YouTube's beauty community has boomed, with over 45,000 YouTube channels specializing in fashion and beauty-related content, including makeup tutorials, cosmetic and skincare hauls, and product recommendations.
One of the top beauty YouTubers on the platform is Belgian-born American Nikita Dragun. Aside from being a popular beauty influencer, a makeup artist, a model, and a businesswoman, Nikita is also regarded as a role model in the LGBTQ community.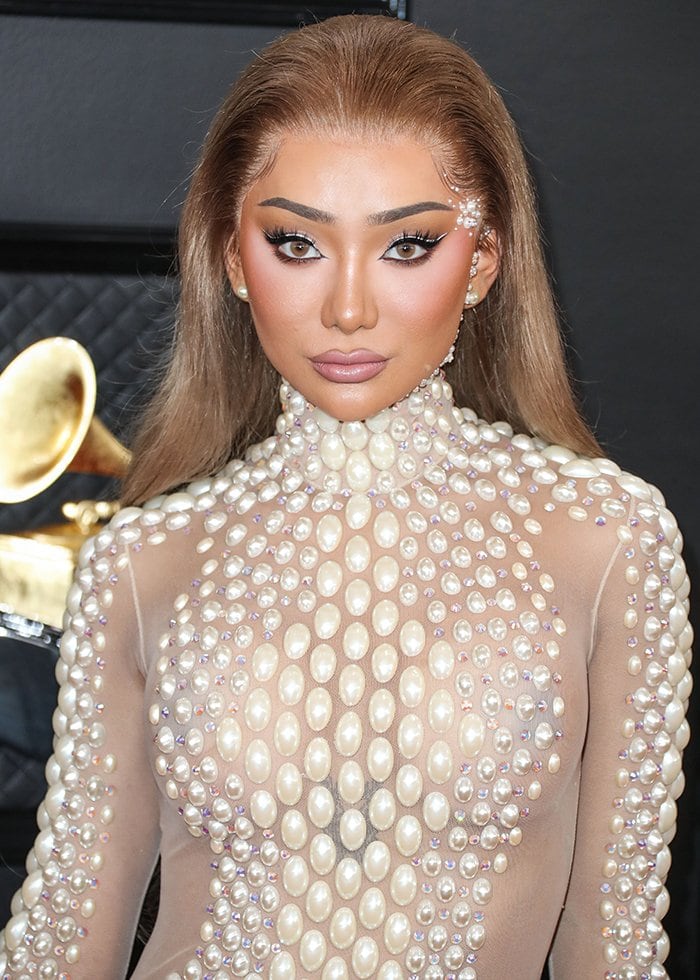 Beauty YouTuber Nikita Dragun at the 62nd Annual Grammy Awards on January 26, 2020 (Credit: Adriana M. Barraza / Avalon / Instar / WENN)
Many look up to the beauty vlogger for being true to herself. While celebrities like Jennifer Lopez and Meliana Trump deny they've gone under the knife, Nikita has proudly admitted to getting breast implants and facial feminization surgery to soften her facial features.
In January 2020, the then-24-year-old YouTuber flashed plenty of flesh as she visited Craig's Restaurant in Los Angeles.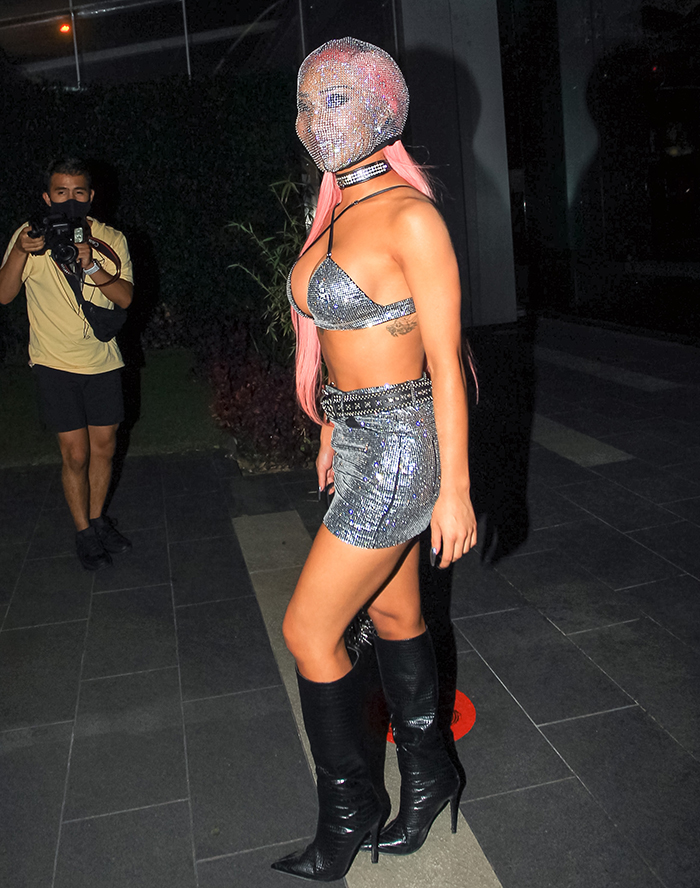 Nikita Dragun shows off plenty of flesh as she heads to Craig's Restaurant in Los Angeles on August 19, 2020 (Credit: Adriana M. Barraza / Avalon / Instar / WENN)
Nikita sparkled in a cleavage-baring embellished bra top and a matching tiny skirt that showcased her toned legs.
Not one to shy away from the spotlight, Nikita further glammed up with an embellished choker, a pair of diamond earrings, and a studded belt.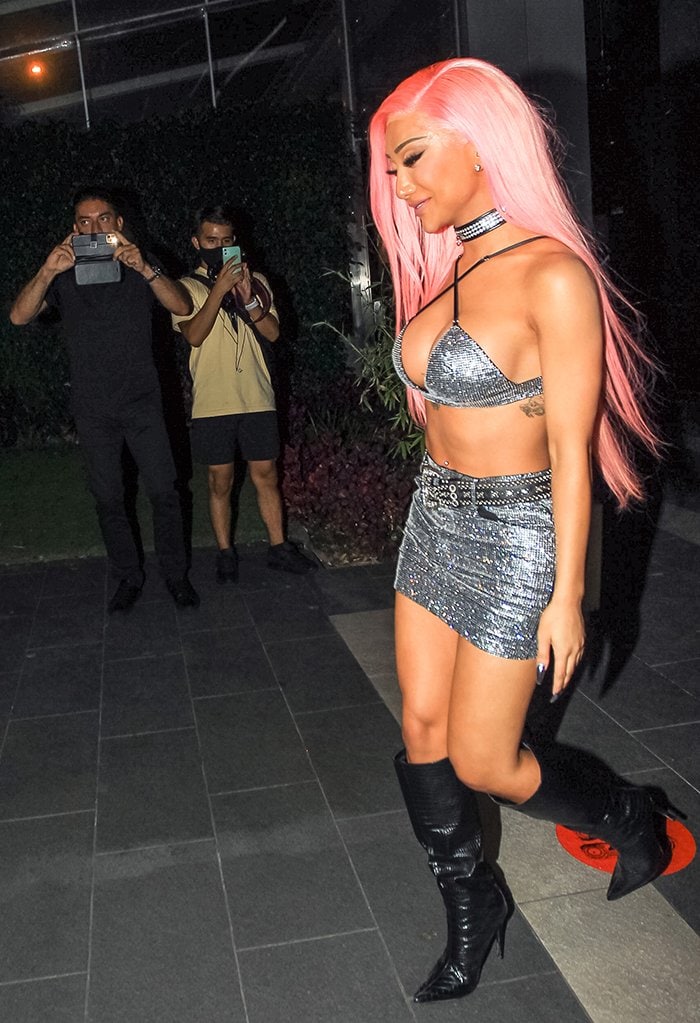 Nikita Dragun dresses in a racy embellished bra top and mini skirt (Credit: Adriana M. Barraza / Avalon / Instar / WENN)
On her way to the restaurant, Nikita wrapped her entire head with a sparkly embellished mesh covering.
The 5'3" YouTube star wore her long, pink hair down with a side parting. Not surprisingly, she wore on-point makeup with winged eyeliner, nude pink lipstick, and false eyelashes.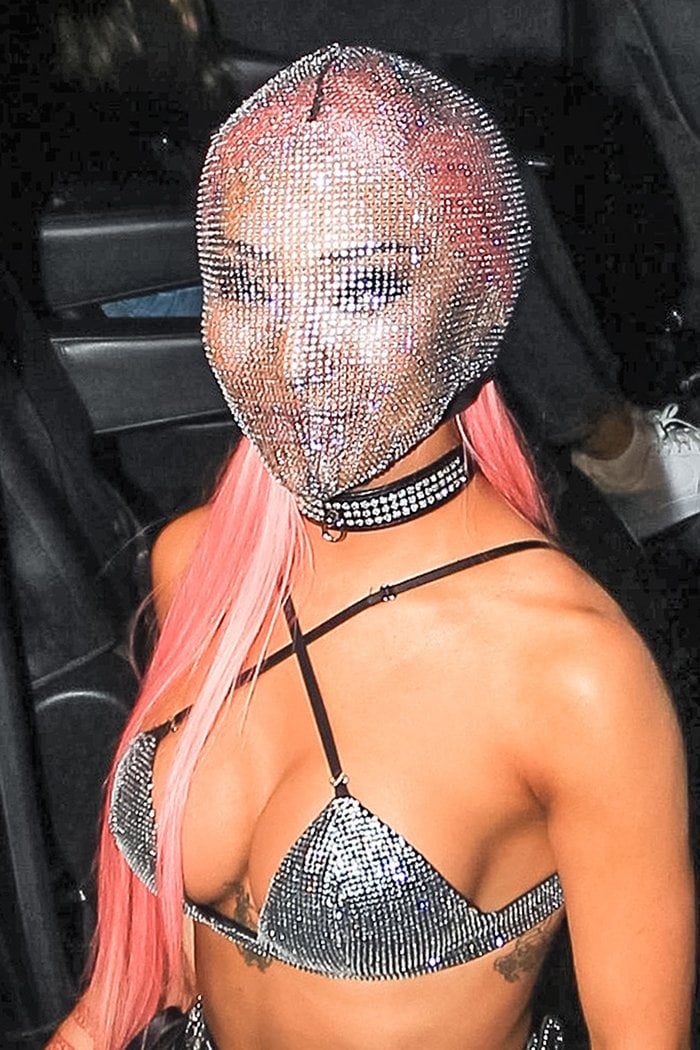 Nikita Dragun attempts to stay safe in style with an embellished mesh face covering (Credit: Adriana M. Barraza / Avalon / Instar / WENN)
A pair of black croc-leather knee-high boots with pointy toes and about 4-inch heels finished off her racy night-out look.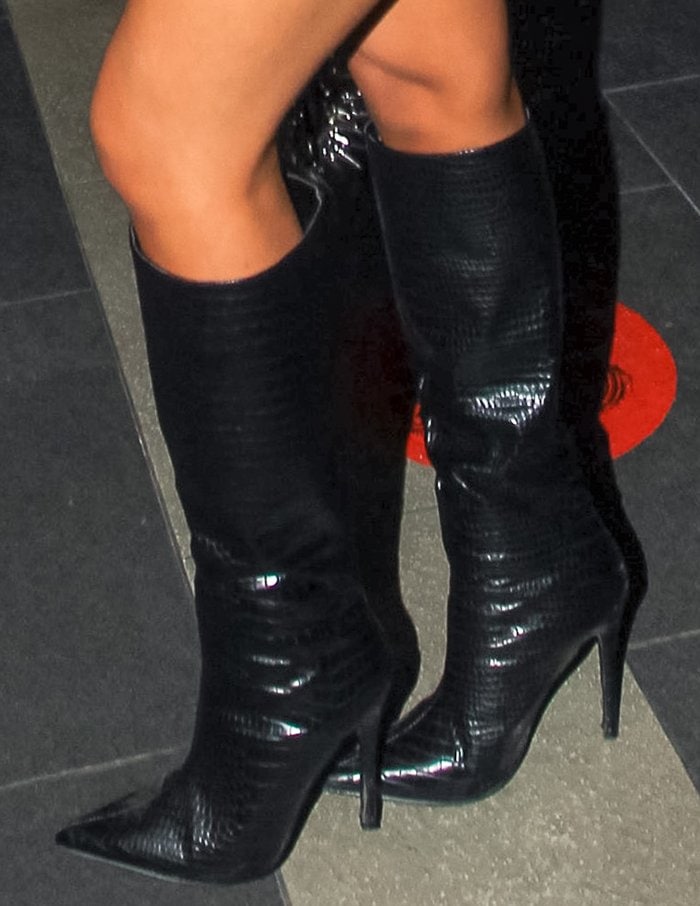 Nikita Dragun completes her night-out look with black croc-leather knee-high boots (Credit: Adriana M. Barraza / Avalon / Instar / WENN)
Nikita Dragun's Plastic Surgery Addiction
The beauty guru is known for being candid about her life as a transgender woman and her experiences with cosmetic surgery.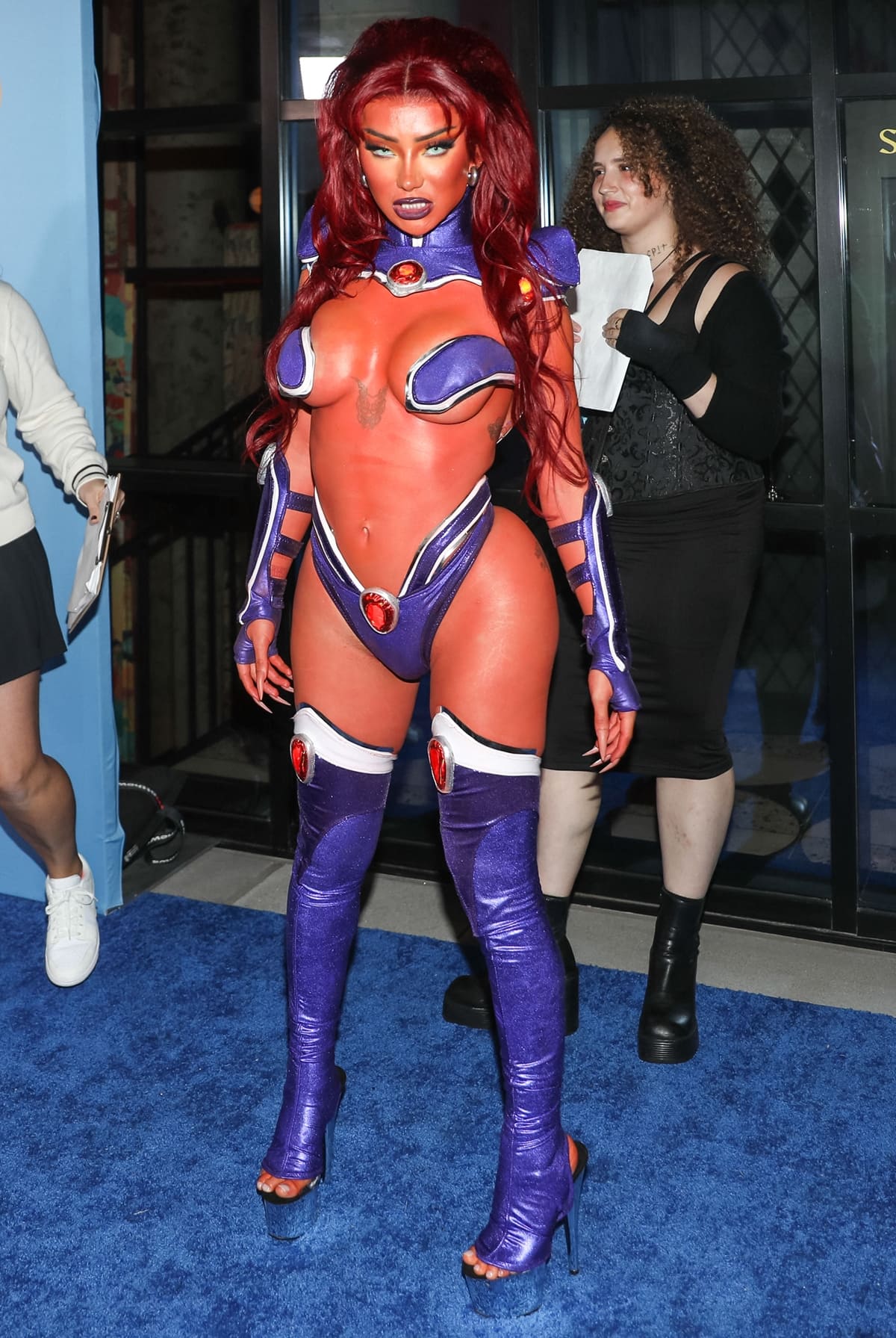 Nikita Dragun in a "Teen Titans" costume at Heidi Klum's 2022 Hallowe'en Party at Cathedrale at Moxy Hotel on October 31, 2022, in New York City (Credit: BauerGriffin / INSTARimages / Cover Images)
In a 2018 YouTube video, Nikita opened up about her transition from a man to a woman and admitted that she got addicted to plastic surgery.
"I am addicted to plastic surgery and I recently broke this addiction, and I know that it's really a lot to take in but let me explain."
She mentioned taking estrogen shots and testosterone blockers as well as undergoing hormone replacement therapy, which, she said, was the hardest part of her transition because of the psychological and physical changes. These changes led her to become overly critical of her looks and feel the need to undergo more procedures.
View this post on Instagram
She explained: "I feel this immense pressure on myself to need to pass, to need to be a woman, to need to feel this level of confidence, so I was really in this dark place where I had to look in the mirror and stop myself from wanting to change everything because it got to the point where I didn't even know why I was doing the surgeries anymore."
"I felt so embarrassed that I had gotten to this point where I was fixing and doing so many things that all of a sudden it just didn't matter anymore and I was actually doing more harm than good," she added.
Nikita Dragun shows off her boobs on the runway during The Blonds Spring/Summer 2023 Runway Show at Gallery at Spring Studios on September 14, 2022, in New York City (Credit: Lev Radin / Shutterstock)
Nikita documented her facial feminization surgery in 2016 when she was 19. Her entire face was transformed after getting her brow bone and jawline shaved, her hairline lowered, and her nose done.
In January 2017, three months after her operation, Nikita posted a YouTube video about her experience with breast augmentation. She candidly shared about getting 425cc breast implants, which gave her a 32C bra size.
Who Is Nikita Dragun?
Born on January 31, 1996, in Belgium, Nikita Dragun or Nikita Nguyen is of Asian and Latinx descent.
| Is Nikita Dragun rich? | Yes, she is a Belgian American social media personality, makeup artist, and model with an estimated net worth of $3 million. |
| --- | --- |
| Full Name: | Nikita Dragun (Nikita Nguyen) |
| Born: | January 31, 1996, in Belgium |
| Dating/Husband: | In 2020, she was reportedly dating Chase Stobbe. |
| Kids: | None |
| Weight: | 110 lbs / 50 kg |
| Feet/Shoe Size: | 7.5 (US) |
| Height: | 5'3″ (160 cm) |
| Nationality: | American |
| Source of Wealth: | YouTube, model, makeup |
| Ethnicity/Race: | Vietnamese and Mexican |
Her father is Vietnamese while her mother is Mexican. She has two sisters, Taliah and Allegrah, and a brother, Vincarlo.
View this post on Instagram
Also known as "Mama Dragun," Nikita attended high school in Virginia and later moved to Los Angeles to study at the Fashion Institute of Design & Merchandising, where she obtained her business degree.
On Being a Transgender Woman
In an interview with Forbes Magazine, Nikita revealed that she realized she was different when she was in preschool.
"I was always mature for my age. I wanted to put on a dress and look cute. Everyone else can nap, but I'm going to be a princess over here! But one day a teacher came over and asked why I was dressing up like this and then she called my parents."
Following the incident, Nikita started hiding her femininity. "I knew I was different and there were certain things that I couldn't show or I'd be bullied or teased."
In high school, Nikita came out and became "the most feminine gay guy" in their school. She would wear tight jeans, small purses, and fake lashes, and her friends accepted her for who she was.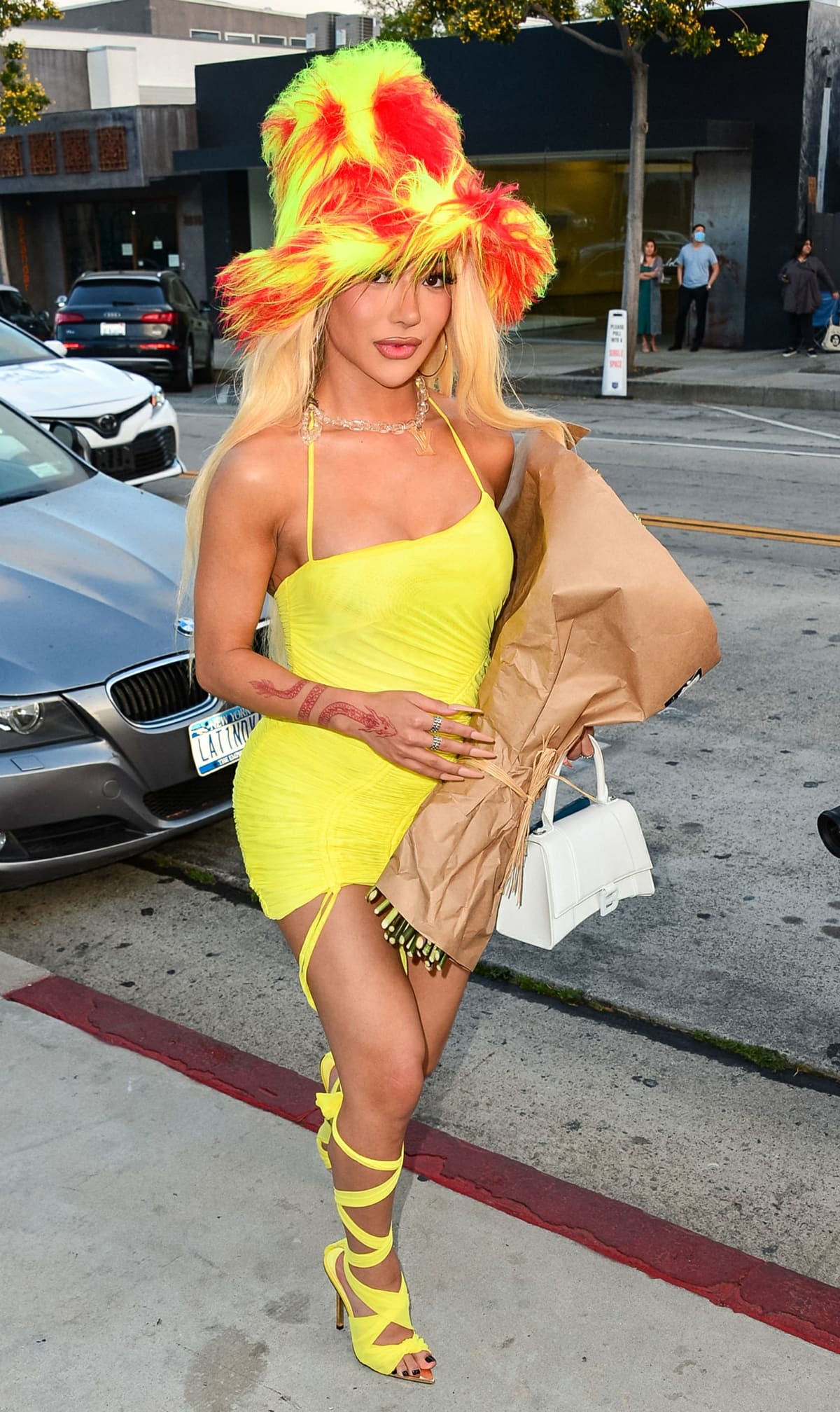 Nikita Dragun flaunts her legs in a yellow dress with matching high heels on June 2, 2021, in Los Angeles, California (Credit: BauerGriffin / INSTARimages / Cover Images)
After completing high school, Nikita started developing her trans identity. She got a fake I.D., changed her name to Nicole, and wore women's clothing.
Nikita was easily accepted as a woman, and by that time, she mustered up her courage and started posting on Instagram as a transgender woman, which resulted in creating her YouTube channel.
She embraced her identity and used the platform to share her experiences as a transgender woman.
When Did Nikita Join YouTube?
Nikita started her career as a beauty YouTuber in 2014 by sharing makeup tutorials and tips with her followers.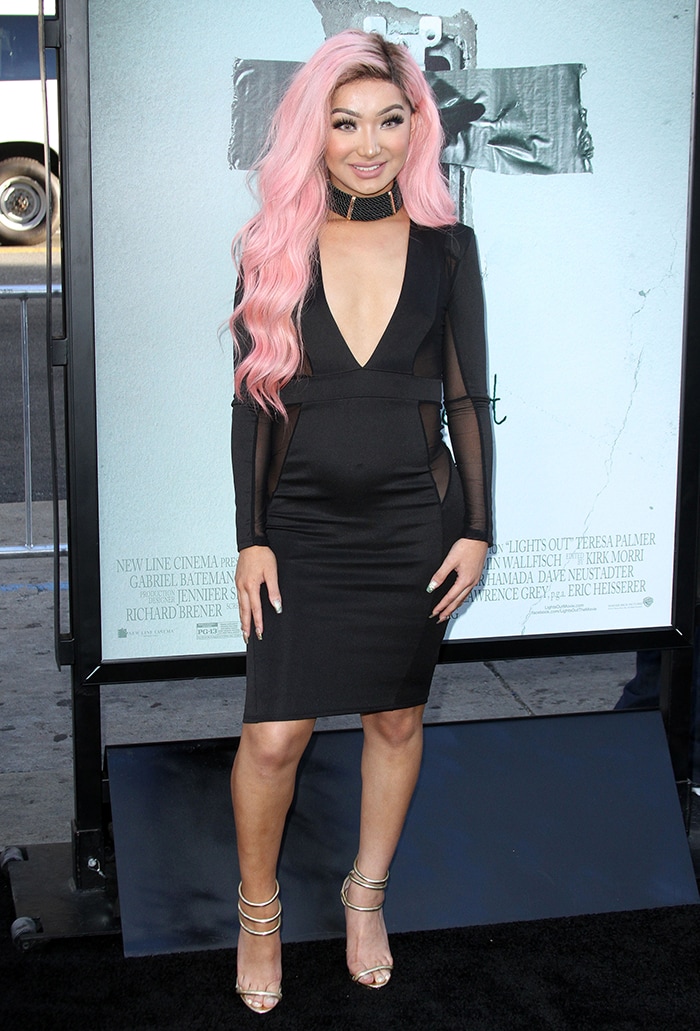 Nikita Dragun attending a movie premiere on July 19, 2016, two years after starting her YouTube career (Credit: Adriana M. Barraza / Avalon / Instar / WENN)
She told Forbes: "I started to get little brand deals around that time. Even getting free makeup was amazing! I would get paid $10 or $20, and I was so excited! I made it!"
She added: "I've always been obsessed with marketing and media. I always wanted to be a business brand owner. I wanted to create things. That was also when I decided to start taking Instagram and YouTube seriously."
Nikita has now accumulated 3.6 million subscribers and nearly 220 million video views. Her success on YouTube came after revealing her real identity and taking her fans throughout her gender transition journey.
Nikita Dragun's Cosmetic Line
After graduating from college, Nikita launched her own cosmetics line, Dragun Beauty, in March 2019.
The line debuted with two complexion products—the DragunFire Skin Perfecting Potion and the DragunHeart TRANSformation Face Powder—and sold out within 12 hours of launching.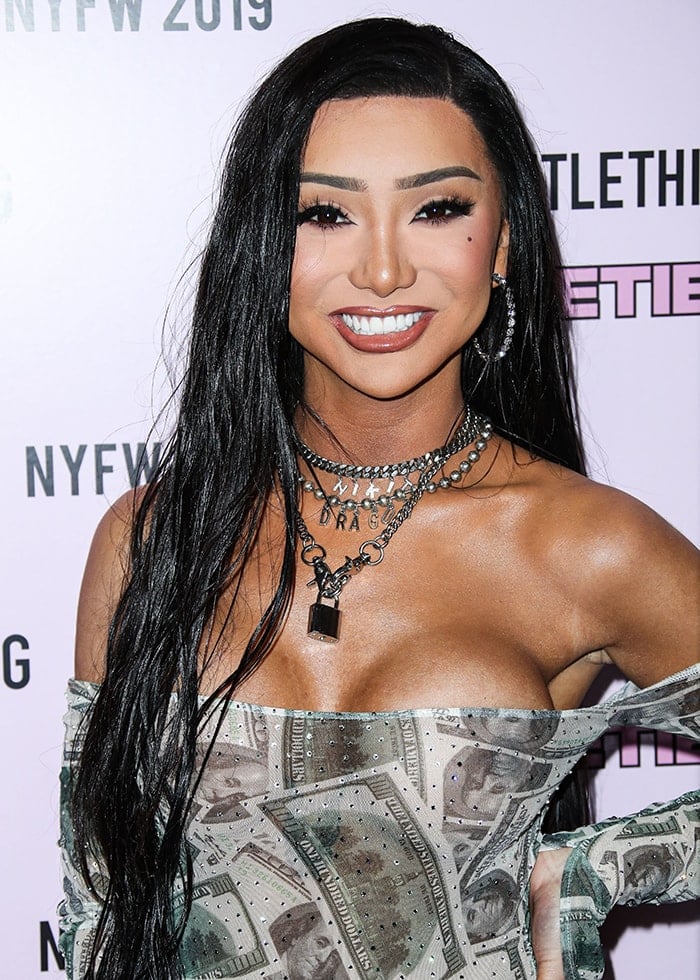 Nikita Dragun attends PrettyLittleThing x Saweetie show during NYFW on September 8, 2019 (Credit: Adriana M. Barraza / Avalon / Instar / WENN)
What is Nikita Dragun's Net Worth?
As of November 2022, Nikita Dragun is believed to have a net worth of $3 million.