Lucy Hale just proved she can make any activity stylish.
On Monday, the Pretty Little Liars star went on a grocery run, looking chic and comfy in a fall/winter outfit.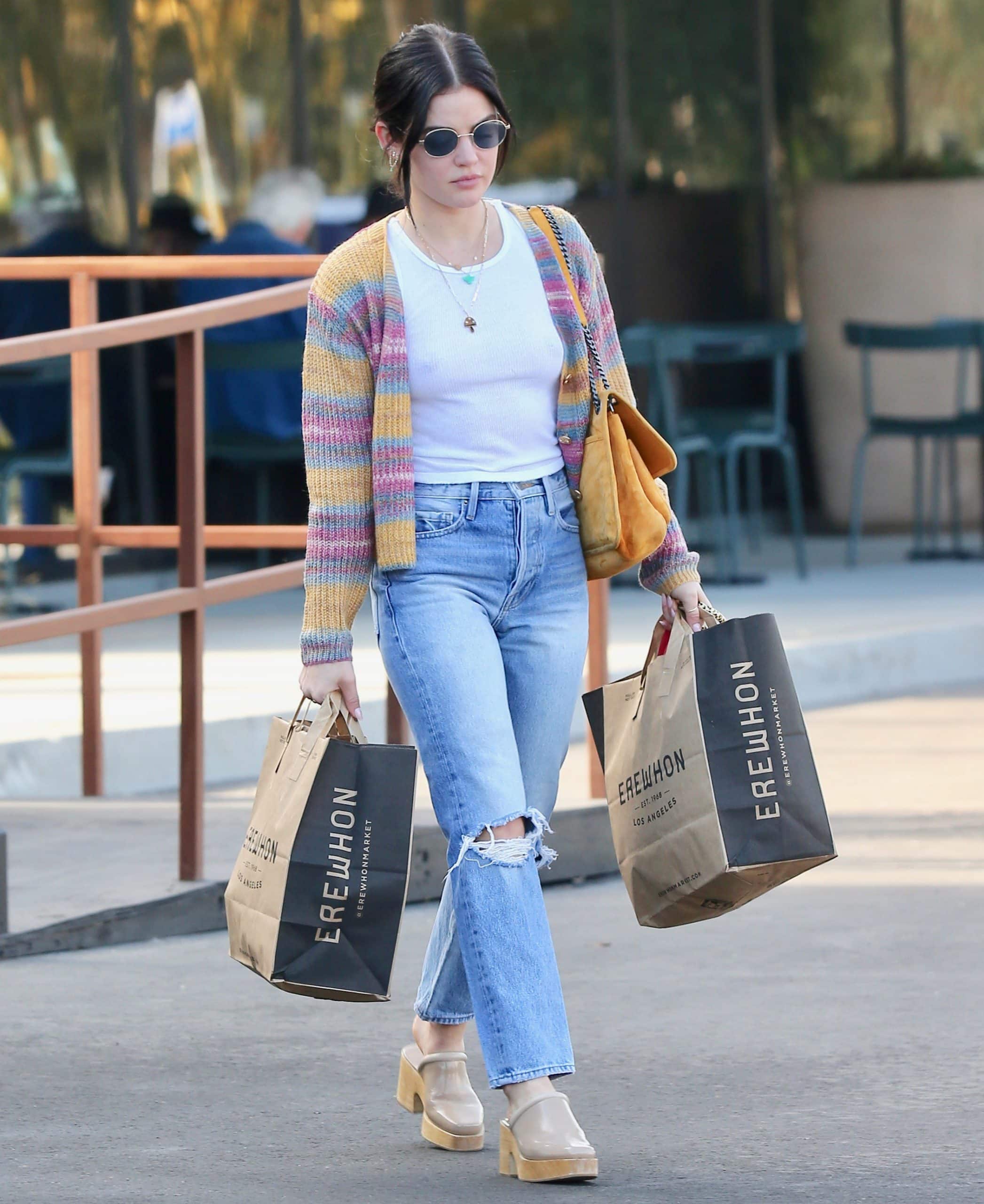 Lucy Hale goes braless while buying groceries at Erewhon Organic Grocers in Los Angeles on December 20, 2021 (Credit: Mega / WENN)
Freeing the nipple, the 32-year-old actress stepped out without a bra underneath a fitted sheer white tank top.
She paired it with light-washed distressed jeans that feature ripped detail on the knees and layered the look underneath a multicolored cardigan from Line & Dot.
Available for $95 at Revolve, the "Be Mine" sweater is made from waffle knit fabric and features front button closures with gold-tone accents.
Lucy Hale skips bra underneath a sheer white tank top with ripped jeans and a multicolored Line & Dot cardigan (Credit: Mega / WENN)
Not one to skimp on the accessories, the Ragdoll star rocked multiple earrings, gold rings, and two pendant necklaces, including a $420 Zoe Lev engraved heart necklace.
She carried bags full of groceries from Erewhon on each hand and kept her essentials in a cheddar-colored quilted suede bag, which she slung over her left shoulder.
Not related to Lzzy Hale and Alan Hale, she opted for the "Niki" medium bag from Saint Laurent, which you can purchase for $2,550 at Neiman Marcus.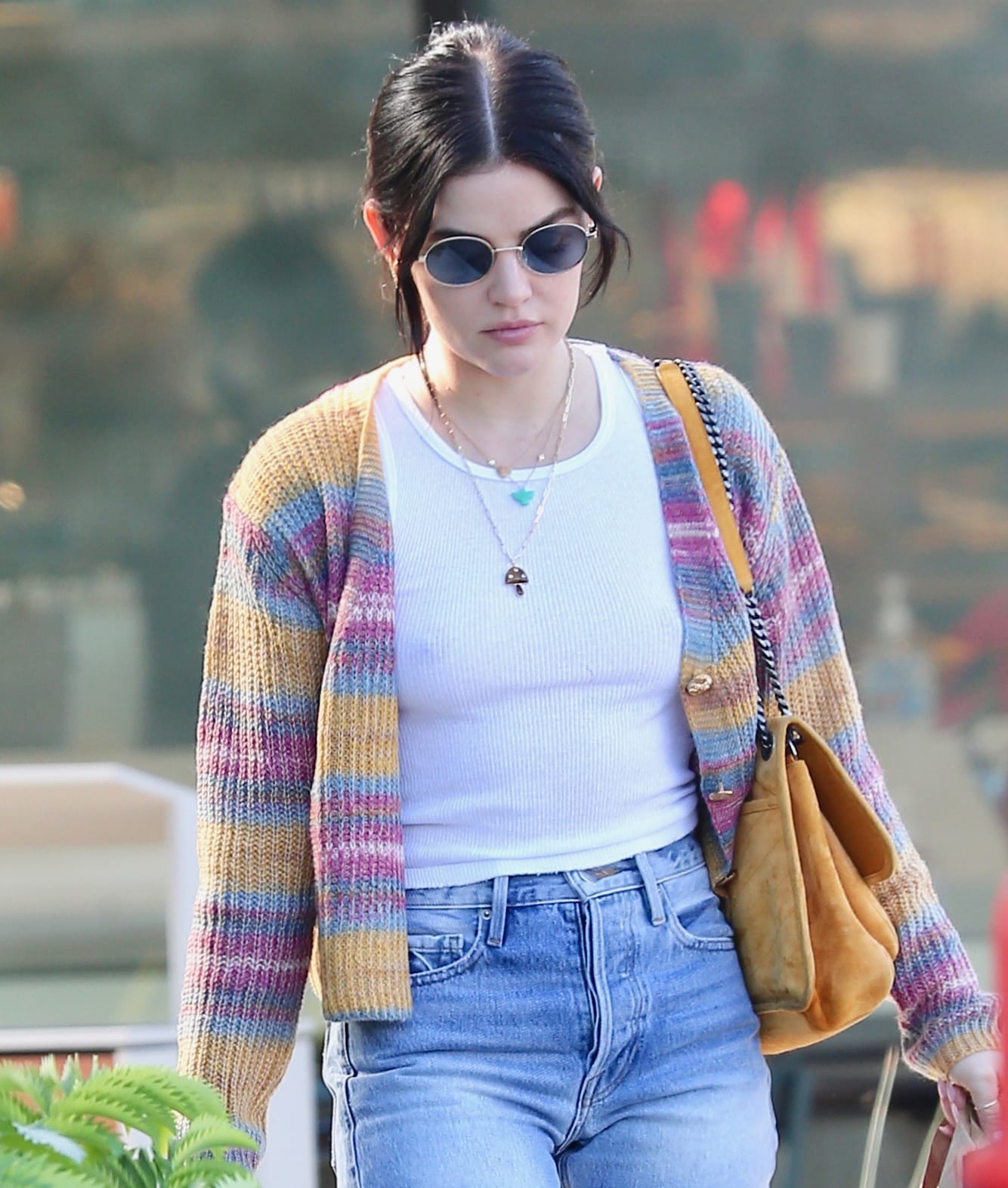 Lucy Hale ties her hair back and wears minimal soft pink makeup as she carries her stuff in Saint Laurent Niki quilted bag (Credit: Mega / WENN)
Wearing minimal soft pink makeup, the Katy Keene actress hid her eyes behind a pair of circular sunglasses and pulled her short tresses back into a loose ponytail with her bangs framing her face.
She then boosted her 5'2" height with a pair of taupe clogs from New York City-based fashion designer Rachel Comey.
Made in Peru from crinkled patent leather, the $435 "Salta" clogs feature square toes, cushioned band at the opening, and about 2.8-inch chunky wooden heels.
Lucy Hale completes her casual-chic winter look with Rachel Comey clogs (Credit: Mega / WENN)
Lucy Hale Opens Up About Life After Pretty Little Liars
The petite actress had her breakthrough starring as Aria Montgomery in the hit teen drama Pretty Little Liars. But when the show wrapped up in 2017 after seven seasons, the actress admitted she struggled to find her identity.
She told People, "It was such a crazy experience to be a part of something that was massive on a global scale. The show changed our lives overnight. We were so young, so busy, and overworked. But you're up on this mountain, and you're like, 'Everything is so great! People love us!'"
"After the show ended, it was a dark time in my life. It made me realize, 'Oh God, I actually don't know what I like about myself."
Lucy Hale, Sasha Pieterse, Ashley Benson, Shay Mitchell, and Troian Bellisario at the Pretty Little Liars season finale screening on March 18, 2014 (Credit: C.Smith / WENN)
Taking a step back to do some self-reflection, Lucy learned to value herself more. "I just really had to hang out with myself. I'm at a point now where I love what I do, but I also like who I am outside of that. That, to me, is a big accomplishment because I didn't know if I'd ever be able to say that about myself," she added.
Enjoying the solitude after PLL, Lucy said it's the small things that make her happy these days. "I love waking up with my dogs and drinking my coffee and watching the sunrise from my home in Los Angeles."
She continued, "I used to think one day I'd have these big hobbies, but it's more just quiet moments with myself. I don't know if it's because work constantly pulls me in a million different directions, but I love solitude. It's not unusual for me to not do anything social for months at a time."