On Thursday last week, the pregnant singer and mother of one-year-old RZA Athelston Mayers took to social media to share a series of throwback photos. Reflecting on her first pregnancy, she gave her followers a glimpse of her stunning outdoor maternity shoot.
The Instagram post comprised seven captivating photos showcasing the 35-year-old performer in a glamorous gold two-piece string bikini.
Newly released images of Rihanna's pregnancy consistently showcase her prominent baby bump. The renowned singer recently delighted her followers on social media with a carousel of photographs, revealing a captivating series from an exclusive and revealing maternity shoot, never… https://t.co/npTQCI88oI

— Your Next Shoes (@yournextshoes) May 30, 2023
Rihanna struck various poses against a breathtaking oceanfront backdrop, with a beautiful balcony and palm trees enhancing the scenery.
Some photos revealed her tasteful choice of going topless, while others highlighted her impeccable fashion sense. She accessorized with a sparkling silver bangle bracelet and donned animal print heels, showing her keen eye for style.
"Here's a little series I call 'Rub on ya titties,'" Rihanna wrote in the post's caption. "In honor of my first pregnancy, embracing motherhood like a g, and the magic that this body made! Baby RZA… he in there not having a clue how nuts his mama is, or how obsessed he bout to make me #maternityshoot2022#tobecontinued"
View this post on Instagram
Following the recent celebration of RZA's first birthday, the couple delighted their followers by sharing heartwarming family photos on Instagram.
They captured precious moments of playfulness in front of the mirror and shared serene moments of relaxation on a cozy blanket.
Rihanna made a stunning appearance in an exquisite white bridal gown at the Met Gala 2023, proudly flaunting her baby bump on fashion's grandest night (Credit: Doug Peters / PA Images / INSTARimages)
It's worth noting that this celebration comes only a few months after the singer made a joyous announcement during her halftime show performance at the February 2023 Superbowl, revealing her second pregnancy.
"It's everything. You really don't remember life before, that's the craziest thing ever," Rihanna told British Vogue in March 2023.
"You literally try to remember it – and there are photos of my life before – but the feeling, the desires, the things that you enjoy, everything, you just don't identify with it because you don't even allow yourself mentally to get that far, because…. Because it doesn't matter."

Rihanna sports a half-shaved hairstyle as she exits a cab in a black Rihanna for River Island split-side knitted maxi dress on March 4, 2013, in London (Credit: WENN)
We've featured Rihanna in the Manolo Blahnik "Chaos" sandals on multiple occasions. Actually, we've seen her in them almost half a dozen times.
We previously featured the billionaire Barbadian singer and songwriter wearing them to a basketball game and a party at The Box Club in Soho.
In March 2013, she rocked her Manolos to the London opening of her River Island store and was spotted adjusting them as she exited a cab at her hotel.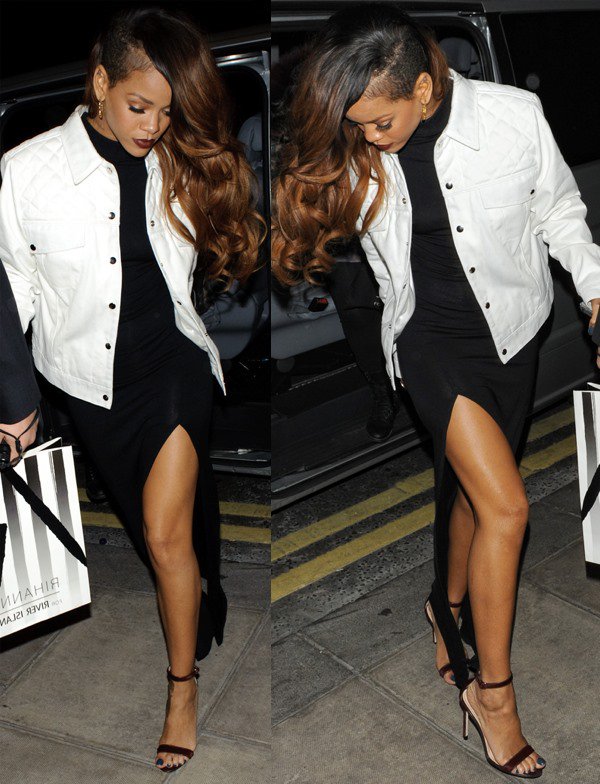 Rihanna shows off her legs in a black dress paired with a white quilted jacket (Credit: WENN)
The tall singer styled her black strappy heels with an ankle-length dress that featured a thigh-high slit worn under a white quilted jacket.
She completed her look with a pair of bronze-colored "Chaos" sandals that added a few extra inches to her height.
Rihanna's feet in bronze Manolo Blahnik sandals (Credit: WENN)

As Rihanna's footwear collection is undoubtedly the envy of every high heel enthusiast, it piques our curiosity as to why she consistently gravitates towards the same pair of Manolo Blahnik sandals.
We couldn't find the "Chaos" sandals in the same bronze-brown shade that Rihanna wore above, but we did find them in several other colorways on Farfetch and Nordstrom.
Manolo Blahnik "Chaos" Sandals in Green, $695
Manolo Blahnik "Chaos" Sandals in Black, $695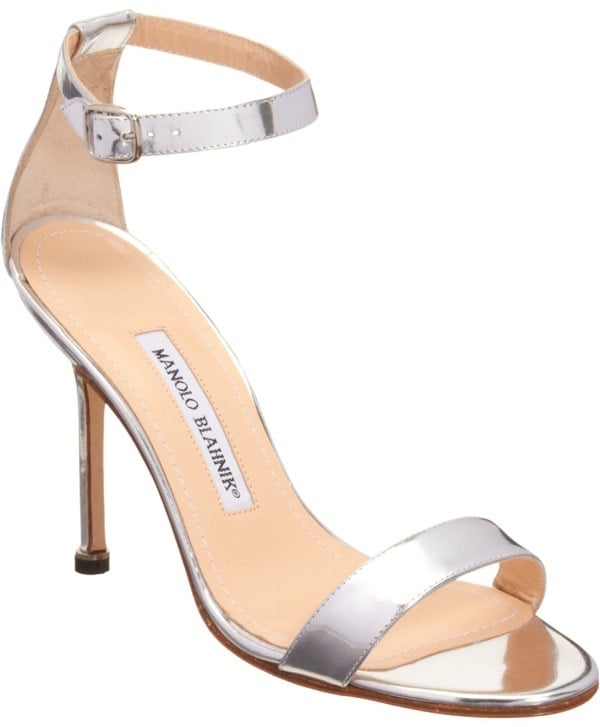 Manolo Blahnik "Chaos" Sandals in Silver, $695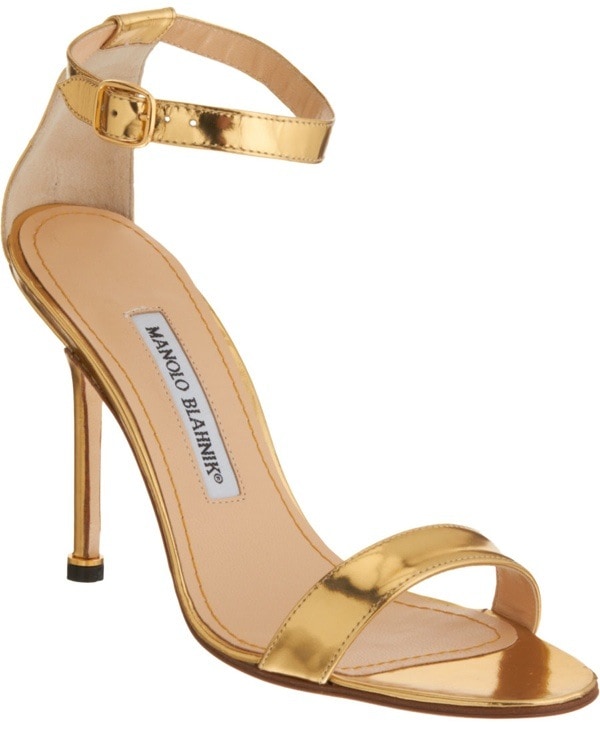 Manolo Blahnik "Chaos" Sandals in Gold, $695
Manolo Blahnik "Chaos" Sandals in Bright Fuchsia, $695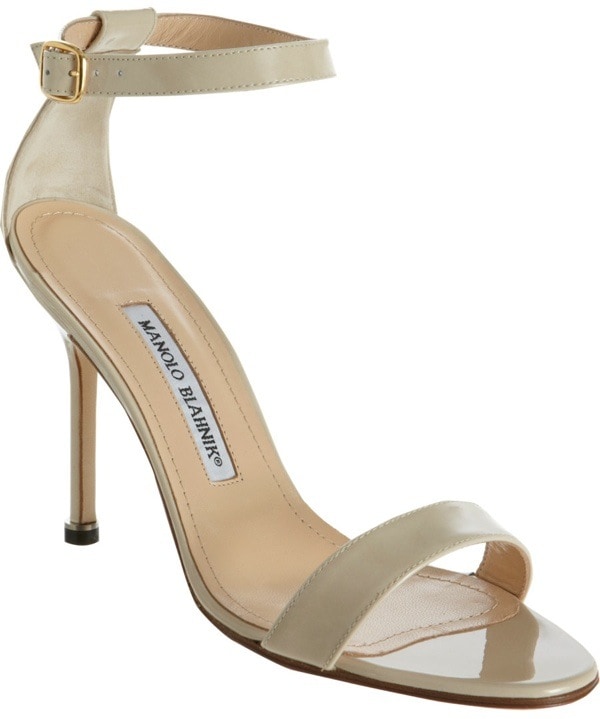 Manolo Blahnik "Chaos" Sandals in Light Beige, $695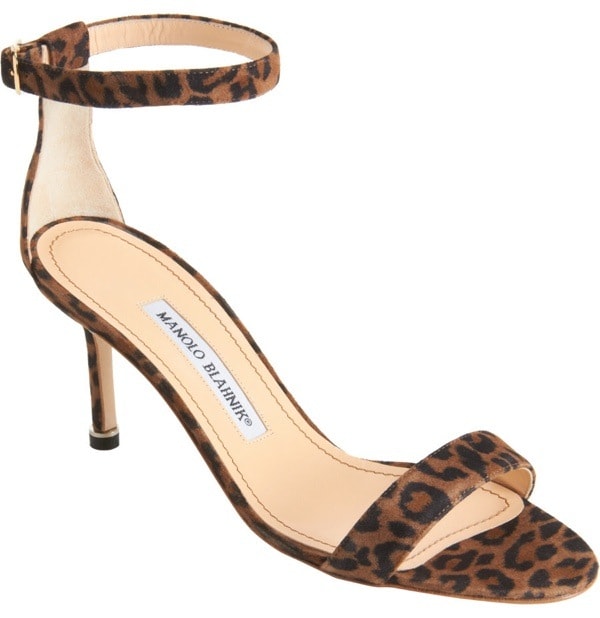 Manolo Blahnik "Chaos" Sandals in Leopard, $695
Okay, Rihanna fans, what's your verdict? Are you tired of seeing Rihanna wear this Manolo style, or should she keep rocking it?