Eva Longoria made her long-awaited appearance at the Palais des Festivals during the 2023 Cannes Film Festival in France when she attended her first premiere for The Old Oak on Friday.
With an air of unmatched elegance, she ruled the red carpet, capturing everyone's attention.
Styled by the talented Maeve Reilly, the 48-year-old actress showcased her enviable hourglass figure in a glamorous, semi-sheer dress designed by the renowned Lebanese designer Elie Saab.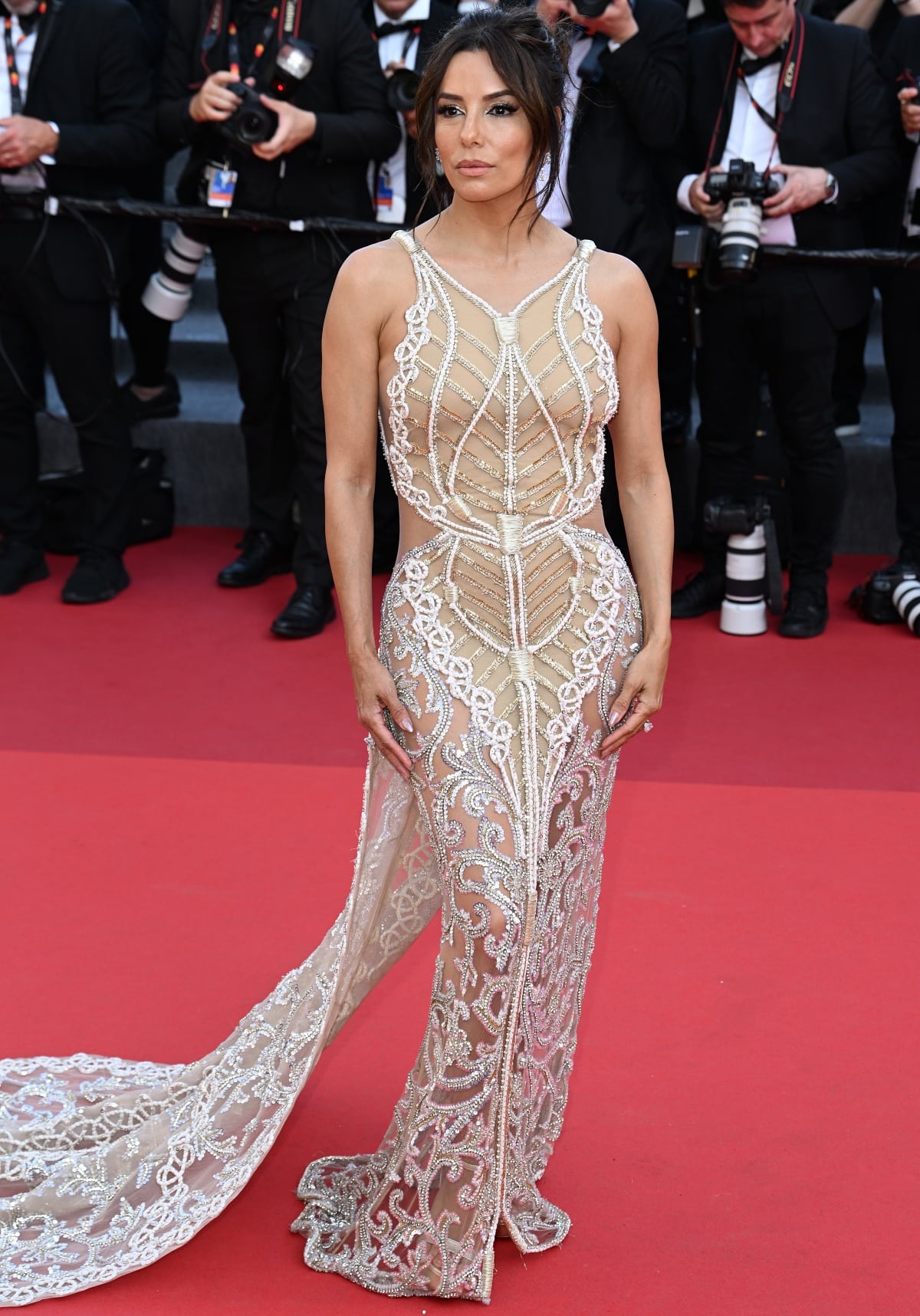 Eva Longoria making a stunning entrance at The Old Oak premiere during the 76th Cannes Film Festival in Cannes, France on May 26, 2023 (Credit: PA Images / INSTARimages)
The form-fitting ensemble, part of Elie Saab's Haute Couture Spring/Summer 2023 collection, exuded sensational allure, enhanced by the silver and white overlay that added a touch of sophistication.
Her nude illusion tulle gown was a masterpiece, boasting intricate floral and lattice embroidered microcrystals and golden silk thread that wove a captivating tale on Eva's stunning silhouette.
Turning heads from every angle, the sleeveless dress featured an enchantingly long train that elegantly trailed behind the Desperate Housewives star, showcasing an elaborate embellished design.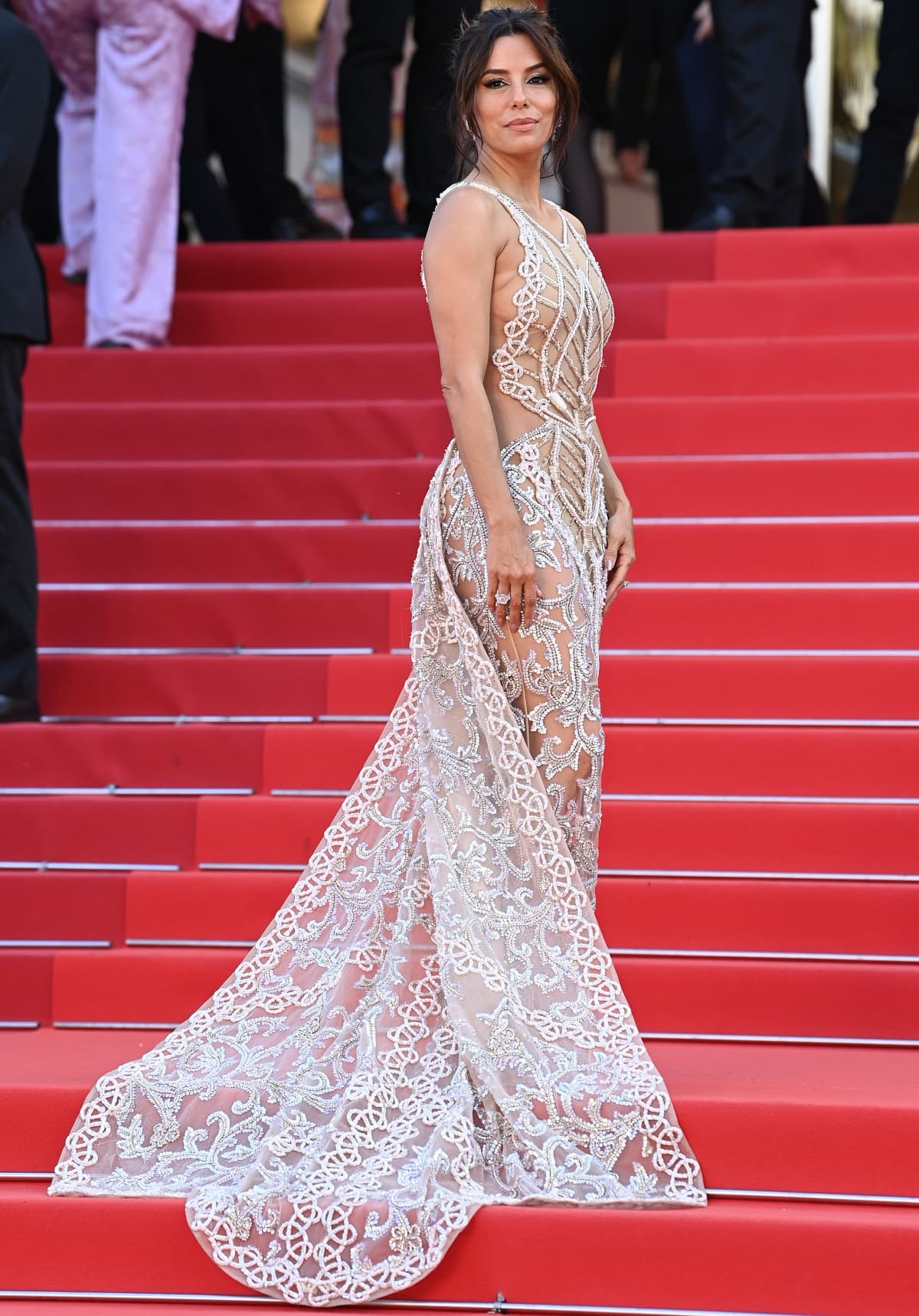 Eva Longoria showcasing her intricately designed dress with a flowing train (Credit: PA Images / INSTARimages)
With cut-out details on each side, revealing a glimpse of her skin, the sheer skirt section of the gown showcased Eva's lovely legs, exuding a sense of playful sensuality and confidence.
The successful actress wore her hair in a loose updo to complement her enchanting look, allowing soft tendrils to frame her face.
Adding a few inches to her stature, she opted for high-heeled Santoni sandals, perfectly harmonizing with her outfit.
And no glamorous look is complete without dazzling accessories. Eva adorned herself with Chopard jewelry, including a pair of diamond earrings that added a touch of sparkle to the evening.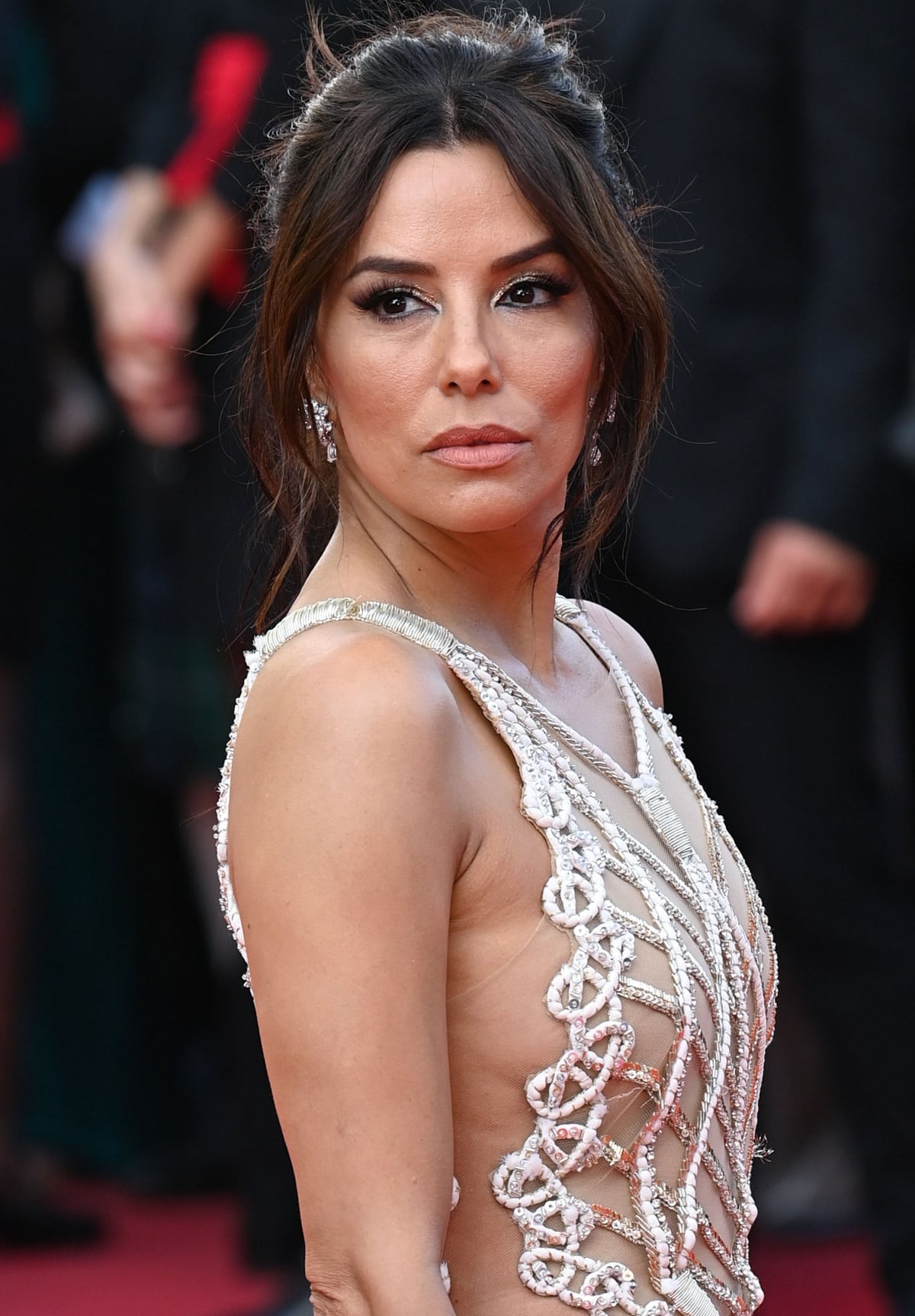 Eva Longoria wearing jewelry from Chopard, including a pair of stunning diamond earrings (Credit: PA Images / INSTARimages)
But Eva's captivating appearances didn't end there. The day before, she effortlessly stole the spotlight at the star-studded 2023 amfAR Gala.
The Devious Maids executive producer wore a sleek black Ashi Studio Haute Couture ensemble, mesmerizing onlookers and photographers.
Her long-sleeved gown cleverly combined a black bodysuit with a sheer long skirt, elegantly showcasing her flawless legs. The dress' shimmering bodice with exquisite beading and high neckline added a touch of regal sophistication.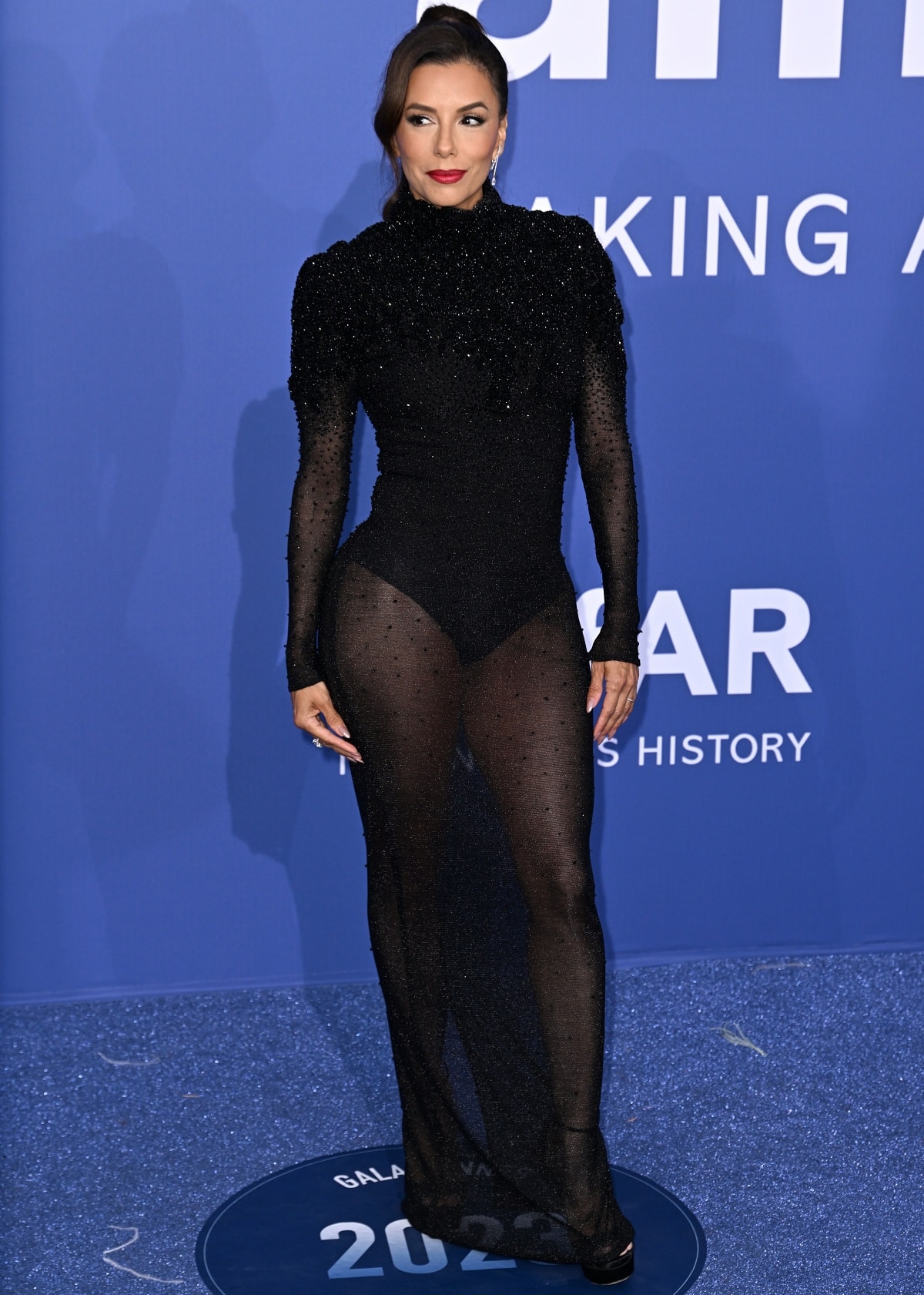 Eva Longoria in a black Ashi Studio Haute Couture ensemble at the amfAR Gala during the 76th Cannes Film Festival in Cannes, France on May 25, 2023 (Credit: PA Images / INSTARimages)
Once again styled by Maeve Reilly, Eva completed her look with simple yet elegant diamond drop earrings and rings. Her dark brunette waves were styled into a high ponytail, accentuated with side-swept bangs, adding extra glamour.
She slipped into sky-high heels – the Jimmy Choo Max sandals – covered in black satin, with a thin ankle strap and a thick platform base, elevating her already stunning frame with their impressive 6-inch height.
In addition to her acting career, Eva Longoria has embarked on a captivating venture as a director, with her directorial debut showcased at the prestigious 76th annual Cannes Film Festival.
Eva Longoria wearing Jimmy Choo heels to finish off her all-black ensemble at the 2023 amfAR Gala (Credit: IPA / INSTARimages)
During Kering's Women in Motion talk, she fearlessly addressed the underrepresentation of female directors in Hollywood.
Sharing her experiences, Eva expressed the weight she carried as a female director, saying, "I felt the weight of my community, I felt the weight of every female director because we don't get a lot of bites at the apple."
She passionately questioned the lack of Latina-directed studio films, highlighting the time lapse since the last one was released.
Eva continued, "My movie wasn't low-budget by any means — it wasn't $100 million, but it wasn't $2 million. When was the last Latina-directed studio film? It was like 20 years ago. We can't get a movie every 20 years."
While talking about her upcoming feature directorial debut, Flamin' Hot, set to release on Hulu on June 9, Eva bravely voiced her concerns, saying, "So, the problem is if this movie fails people go, 'Oh, Latino stories don't work. Oh, female directors really don't cut it.'"
In an eye-opening observation, Eva, who directed notable episodes of Black-ish and Jane the Virgin, emphasized the glaring disparity in opportunities between herself and her white male counterparts, highlighting the privileges afforded to them.
Eva Longoria feels the weight of every female director, as well as her community, on her shoulders but is still trudging through the entertainment industry to prove that she can do it all (Credit: IPA / INSTARimages)
The John Wick producer said, "A White male can direct a $200 million film, fail and get another one. Right?"
Eva candidly expressed her immense pressure with the weight of expectations resting heavily on her shoulders for the debut of Flamin' Hot.
She declared, "I gotta make it right, I gotta do it well, I gotta work twice as hard, I gotta out hustle everybody in the room, I gotta work twice as fast, I gotta do it twice as cheap … You really carry the generational traumas with you into the making of the film."