Eva Longoria was born on March 15, 1975, in Corpus Christi, Texas, to parents Enrique Longoria Jr. and Ella Eva Mireles.
She lived on a ranch in Texas with her parents and three older sisters and was raised in a devout Catholic home. As a Mexican-American, she is fluent in Spanish and English.
However, Eva did not learn Spanish until 2009, when she was in her 30s. When growing up, her parents wanted her to blend with American culture by focusing on mastering the English language.
Eva Longoria portrayed Isabella Braña on the CBS daytime soap opera The Young and the Restless from 2001 to 2003 (Credit: Avalon / WENN)
She attended college at Texas A&M University-Kingsville and earned a bachelor of science in kinesiology, the scientific study of human body movement, when she was 24.
She went on to receive her master's degree in Chino Studies from California State University. Her thesis was "Success STEMS from Diversity: The Value of Latinos in STEM careers."
Her early years of being in the spotlight began as a beauty pageant contestant. She won the Miss Corpus Christi USA pageant in 1998. After her win, she competed in the Miss Texas USA, which took her to Los Angeles.
Eva Longoria landed her first television role in 1999 when she guest-starred in an episode of Beverly Hills, 90210 (Credit: The Media Circuit / WENN)
The aspiring actress successfully leveraged her pageantry career onto the screen when a theatrical agent signed her. She landed her first big break when she acted in the TV series The Young and the Restless in 2001 when she was 26 years old.
In 2003, she landed a role in ABC's hit drama Desperate Housewives, for which she is the most recognizable and famous. She was nominated for a Golden Globe in 2006 for her performance in the Desperate Housewives series.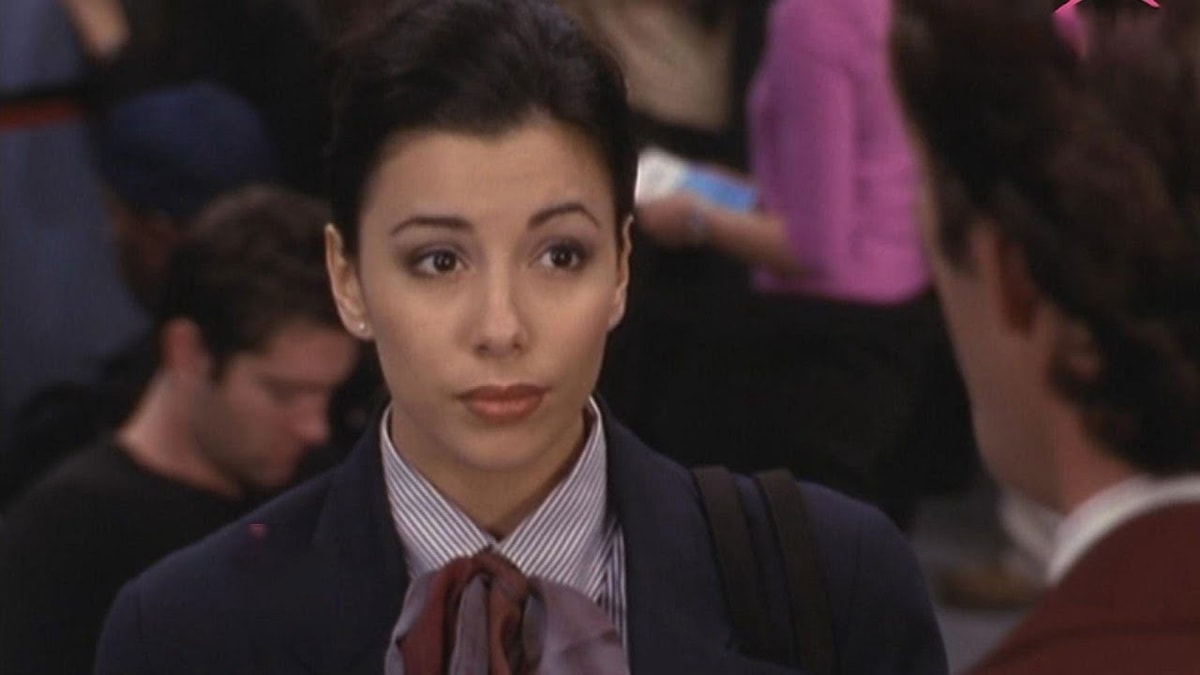 Eva Longoria plays the unnamed "Flight Attendant #3" in I Will Be Your Father Figure, an episode of Beverly Hills, 90210 that aired on March 8, 2000 (Credit: CBS Television Distribution)
While still acting in the Desperate Housewives drama series, Eva Longoria landed several movie roles. Though she got her start on the TV screen, she has also made a name for herself in the cinematic world.
The following is a list of her top ten movies that she acted in, according to the critics at Rotten Tomatoes.
10. Over Her Dead Body (2008) – 14% Score
In the movie Over Her Dead Body, which was released on the big screen on February 1, 2008, Eva Longoria played a woman named Kate who is accidentally killed by an ice sculpture angel on her wedding day.
From the main character to the ghost, Kate plans and obsesses over every detail of her wedding to being crushed in a car accident.
Kate's spirit is only able to communicate with the medium. She becomes a jealous spirit and comes in and out of scenes to create havoc in everyone's life, especially her former fiancé, who is now moving on with his life.
Eva Longoria and her Mexican-American (Tejano) parents Ella Eva (Mireles) and Enrique Longoria Jr. at the premiere of 'Over Her Dead Body' held at The ArcLight Theatre in Hollywood on January 29, 2008 (Credit: Nikki Nelson/ WENN)
Rotten Tomatoes gave the movie a score of 14% for lacking the necessary ingredients for a successful romantic comedy, even though fans gave the film a score of 42%.
An interesting note about Over Her Dead Body is that in the cast list, this film is the first time the newlywed Longoria uses her married name: Eva Longoria Parker. She divorced Tony Parker in 2010 after three years of marriage.
9. For Greater Glory (2012) – 20% Score
For Greater Glory is a dramatic movie based on a true story from the late 1920s of Mexico's struggle for religious freedom in the Cristero War. Eva Longoria, age 37, plays the role of a retired general's wife, Tulita Gorostieta.
Tulita fears her daughter's religious upbringing in the current spiritual climate and wants her husband to do something about religious freedom.
Eva Longoria in a Marchesa Fall 2012 laser-cut dress and Brian Atwood Maniac patent pumps at the premiere of ARC Entertainment's "For Greater Glory" at the AMPAS Samuel Goldwyn Theater on May 31, 2012, in Beverly Hills, California (Credit: Apega / WENN)
Though the retired general is an unbeliever, he does believe in religious freedom, which is being oppressed by the current regime.
The movie tells the tale of the fight for religious freedom for Catholics even though he does not share their faith. Directed by Dean Wright and written by Michael Love, it was released in theaters on June 1, 2012.
Critics at Rotten Tomatoes consider the movie to fall short of expectations and give the movie a score of 20% for being an oversimplified dramatization of historical events. However, audiences seem to love the movie as they have given the movie a score of 77%.
8. The Baytown Outlaws (2012) – 22% Score
Eva Longoria, age 37, plays the role of Celeste in the action movie The Baytown Outlaws, which had a limited release in theaters on January 11, 2013.
In the action comedy film directed by Barry Battles, Eva plays a woman who offers three redneck brothers $25,000 to help her save her mentally and physically incapacitated godson.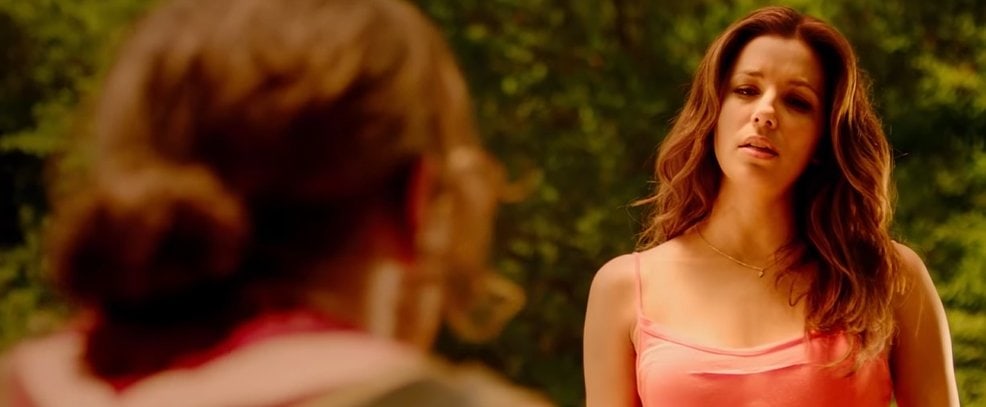 Eva Longoria as Celeste Martin in the 2012 action comedy film The Baytown Outlaws (Credit: Phase 4 Films)
But the simple task goes wrong, and they find themselves on the run in this action-packed film which contains extreme gore and strong language as they battle with motorcycle-riding strippers and bow-and-arrow wielding Indians.
The movie received only a score of 22% from critics and a 54% from audiences.
7. Overboard (2018) – 23% Score
In the comedy Overboard, Eva Longoria plays the role of Theresa, the best friend of Kate the infamous woman who gets amnesia. The pair of friends devise a plan to get payback in this movie that features a creative gender-flip on the original movie.
Acting in the movie with her close friend and actress Anna Faris was a lifelong dream of Longoria. While not convinced the creative twist would work, she loved the script and was excited to claim a role.
Rotten Tomatoes gave the movie, which was released in theaters on May 4, 2018, a score of 23%.
Pregnant Eva Longoria in an Alberta Ferretti dress and Gianvito Rossi heels the premiere of Lionsgate and Pantelion Film's "Overboard" at Regency Village Theatre on April 30, 2018, in Westwood, California (Credit: Apega / WENN)
Eva Longoria, age 43, fought hard for her role in Overboard through lengthy processes and multiple interviews. After Eva earned her position in Overboard, she found out that her husband Jose Baston's company was a financier of the movie.
She joked about not knowing whether she earned the role, though her husband says he never called anyone about her getting the part.
6. Visions (2015) – 24% Score
Eva Longoria departs from her comedic and dramatic movies in the horror film Visions, released on streaming services on October 27, 2015. Her role is that of Eileen, who disapproves of her best friend's life choices.
Eva Longoria with new bangs filming 'Visions' in downtown Los Angeles on March 12, 2014 (Credit: Cousart / JFXimages / WENN)
Her character is a fashionable, acerbic city gal who is funny and sarcastic. While filming this movie, Longoria, age 40, was already set to star in the movie Frontera, Refugio, and Any Day while also playing the role of director for an episode of Devious Maids.
The film was given a rating of 24% from Rotten Tomatoes critics and a score of 18% from the audience.
5. The Sentinel (2006) – 35% Score
Playing the character Jill Marin in The Sentinel was one of actress Eva Longoria's first major movie roles. Longoria's character plays a rookie secret service agent who is tasked with investing a lead about a mole in the secret service.
Through a series of twists and turns, Marin and her partner save the life of the president and First Lady while killing the Handler. The action movie was released in theaters on April 21, 2006, earning a Rotten Tomatoes score of 35%.
Eva Longoria answers questions about her film The Sentinel at a Hollywood Foreign Press Association press conference in Los Angeles on April 7, 2006 (Credit: Shooting Star / WENN)
Eva Longoria, age 31 at the time of the movie's release, said of the role that it was an intentional move into unfamiliar territory, as she departed from her glamourous dresses from her role as Gabrielle in Desperate Housewives.
The actress was put through the paces of firing professional-grade guns with live ammunition for the movie. Longoria impressively shot on the bull's eye on her marks, and police officers on site agree that she probably shoots better than 90% of officers in the country.
Some were surprised by the actress's ability to fire guns. But having grown up on a ranch, her father ensured that she handled and learned about guns and had routine target practice shooting everything from target paper on boxes to tin cans and beer bottles. "If it exploded and made noise, we'd shoot it," Longoria said.
4. Harsh Times (2006) – 48% Score
Harsh Times is a dramatic crime movie about a veteran trying to become a police officer but fails due to psychological reasons. His life spirals from his bad decisions, and he takes down along with him. Eva Longoria plays the girlfriend of the ex-soldier's friend.
Eva Longoria in leopard Christian Louboutin pumps at the premiere of Harsh Times held at The Crest Theatre in Los Angeles on November 5, 2006 (Credit: Nikki Nelson/ WENN)
She is an attorney who is trying to get her boyfriend to get a job. He winds up teaming up with his friend, and the two of them wind up involved with guns, drugs, Mexican gangs, and eventually the death of the ex-solider.
The movie received a Rotten Tomatoes score of 48% and was released in theaters on November 10, 2006. Eva Longoria was 31 at the time of filming.
3. Frontera (2013) – 54% Score
Eva Longoria plays a Mexican woman, Pauline, who is pregnant. Her character must cross the border into the United States to help her husband, who has been accused of murder.
She must leave her daughter behind in Mexico while she places her life in the hands of coyotes to make it to the United States, but she is held for ransom.
Frontera, a modern-day Western drama that deals with the hot topic of immigration, had a limited release on September 5, 2014, and was released to streaming services on November 4, 2014. The movie earned a Rotten Tomatoes score of 54%.
Amy Madigan, Ed Harris, and Eva Longoria attend the premiere of "Frontera" at Landmark Theatre on August 21, 2014, in Los Angeles, California (Credit: Bridow / WENN)
Frontera is Longoria's first movie in a Spanish-language film role even though she was 38 years old at the time of the filming.
Having been raised in Texas, she is familiar with the complexity of immigration issues and has raised concerns about the treatment of Central American children.
Longoria has spent much of her time and resources helping the Hispanic community through a variety of charities.
2. Dora and the Lost City of Gold (2019) – 85% Score
While Dora the Explorer may have been a cartoon for children for almost ten years, the cinematic release of Dora and the Lost City of Gold combines the iconic, well-loved children's characters with action, adventure, and real-life actors.
Eva Longoria plays Dora's mother Elena who is an anthropologist. Dora's parents send her away from South America to gain new experiences, but she is kidnapped and taken back to South America by mercenaries who are looking for her parents who are looking for the lost Incan City of Gold.
Dora and her friends are released, and they go on a quest to find her parents and the lost city. The movie was released in theaters on August 9, 2019, with a Rotten Tomatoes score of 85% and an impressive audience score of 88%.
Michael Peña and Eva Longoria attend the "Dora and the Lost City of Gold" World Premiere at the Regal LA Live on July 28, 2019, in Los Angeles, California (Credit: Sheri Determan / WENN)
Longoria, age 44, felt that this movie was an opportunity to make a movie for her community and "people that look like me" as the movie celebrates the Hispanic language and culture.
Though it was hard to do the movie only eight weeks after giving birth, she saw it as an opportunity she could not pass up. She took her whole family, including her 2-month-old baby boy, with her on the adventure of making the movie in Australia.
It was not an easy set to be on, especially with a breastfeeding baby. She recalls having to wear long boots in case of snakes and having to be aware of animals, ticks, and mosquitoes at all times.
1. Sylvie's Love (2020) – 93% Score
Without even reading a line of the script, Eva Longoria signed up to play the role of Carmen in Sylvie's Love.
Sylvie's Love is a summer romance that tells the story of a saxophonist who falls in love with his boss's daughter while working at a record store. She plays the character of Carmen, the wife of the main character's quartet leader.
Eva said of the script that "it chose me" as it highlighted the power of romance as well as diversity on screen.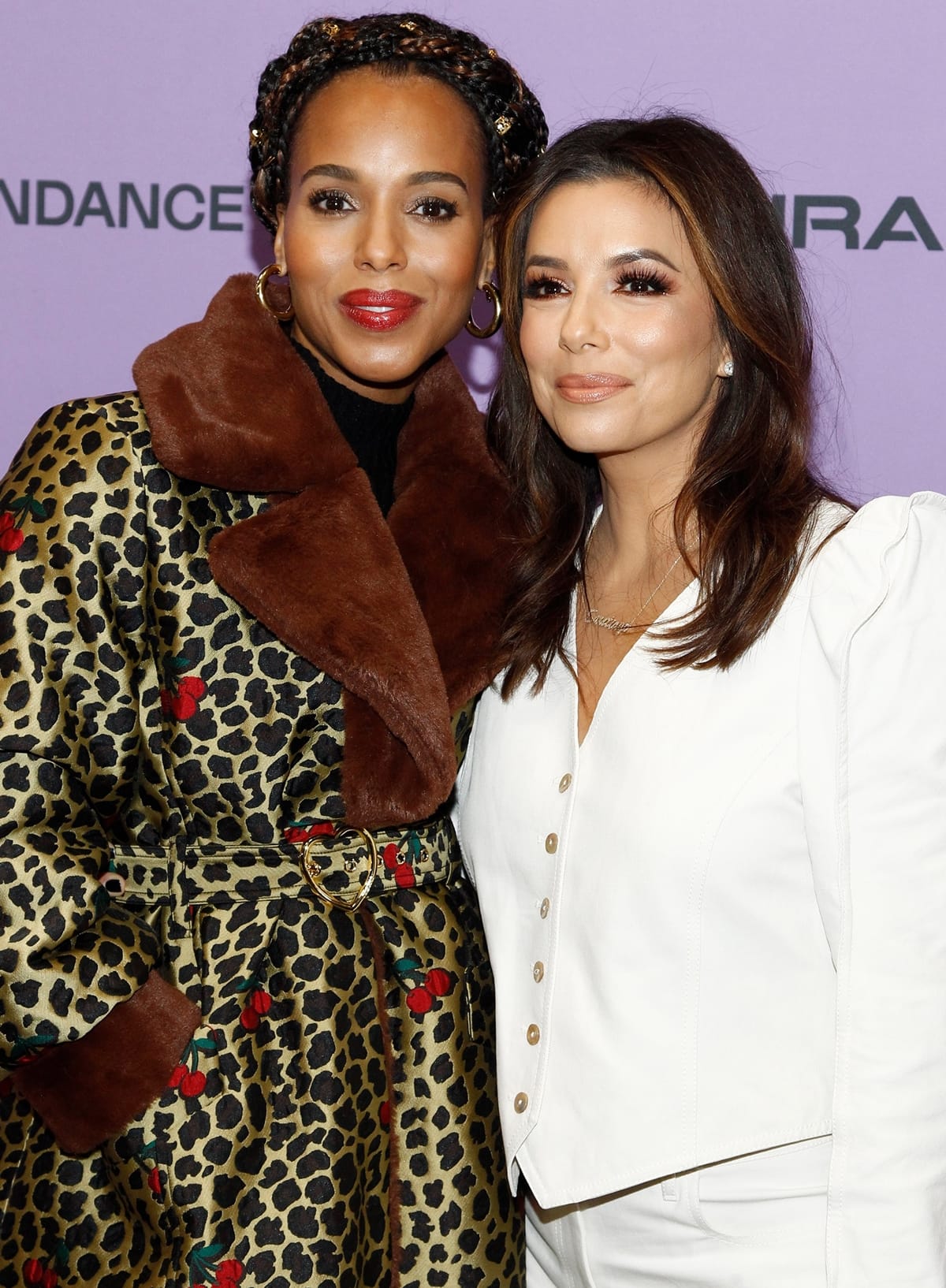 Kerry Washington wore a Sretsis Eva Lolita coat to support her friend Eva Longoria at the premiere of Sylvie's Love during the 2020 Sundance Film Festival on January 27, 2020, at the Eccles Center Theatre in Park City, Utah (Credit: Avalon / WENN)
She signed up for the movie before knowing too much about it and was a little shocked to discover that she was going to sing and dance in the movie and had six weeks of dance rehearsals.
But she rose to the challenge, even during a global pandemic. If anything, the global pandemic exposed her anxiety and worldwide concern, and she felt that she needed to do something.
Sylvie's Love was a chance to do something that could bring about change by showcasing a love story of people of color in an era in history that is little talked about.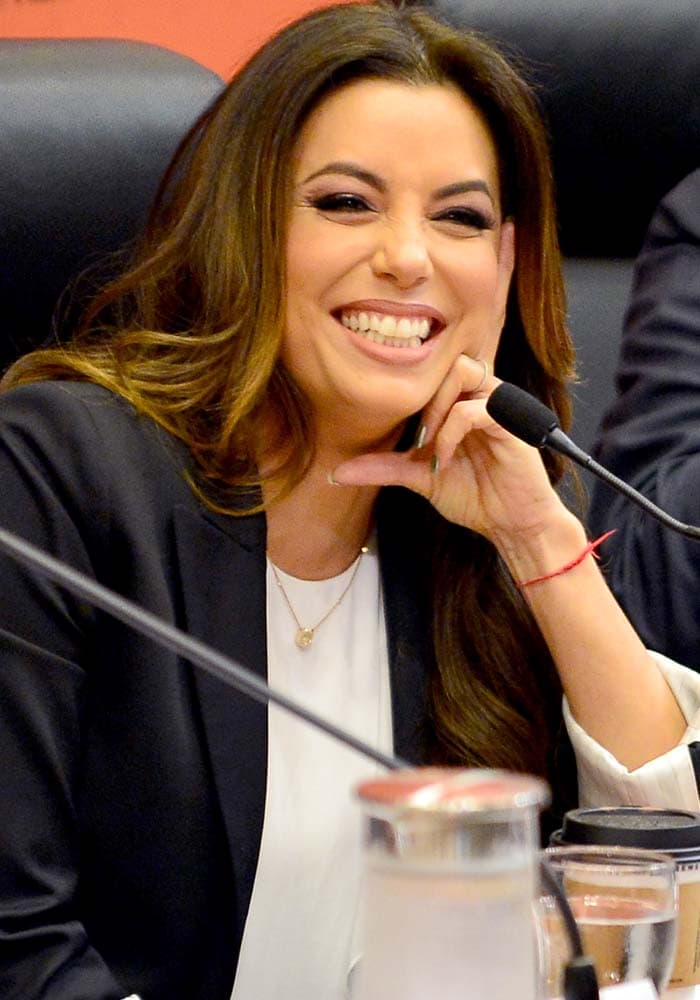 Eva Longoria wears her hair down at the "Climate Change and Economic Opportunity" panel discussion held on March 10, 2016, at Florida International University in Miami (Credit: Johnny Louis / WENN)
If you follow Eva Longoria on social media, you know there are two things she is quite passionate about, namely wine and coffee.
Okay, so those two are not the only things she's passionate about. The woman is actually quite an advocate. Eva is pretty outspoken when it comes to issues regarding the government, race, and — most recently — climate change.
Eva Longoria wears a pair of jeans with a black blazer for a panel on climate change (Credit: Johnny Louis / WENN)
In March 2016, JC Chasez's ex-girlfriend joined a Florida International University Student Government Association panel to talk about climate change.
Eva ditched her usual fitted dresses for a pair of Black Orchid "Gisele" jeans, coupled with a ruffled sleeveless white top and a black blazer.
The actress put a little twist into her look by showing off her feet in studded black Alaïa sandals, which Khloé Kardashian also previously wore.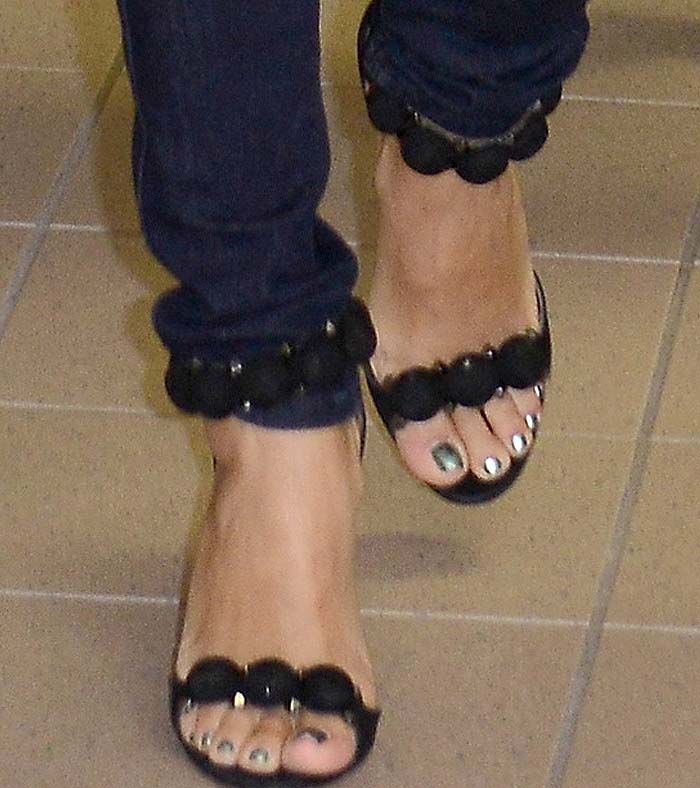 Keeping things stylish: Eva Longoria shows off her feet in black Alaïa sandals (Credit: Johnny Louis / WENN)
Eva partnered with NextGen Climate to talk about some pressing environmental issues.
The John Wick producer also made it a point to discuss some of the issues Latinos face. The actress was also pretty vocal about empowering adults to vote in the upcoming elections.
Eva Longoria participates in a NextGen Climate panel (Credit: Johnny Louis / WENN)
Despite the nonstop commitment her advocacies require, Eva sometimes finds the time to sit down and relax with a cup of coffee.
Taking a quick break, she grabbed a cup of her favorite Cortadito, which is a Cuban coffee, from Café Versailles. Check out her adorable snap below.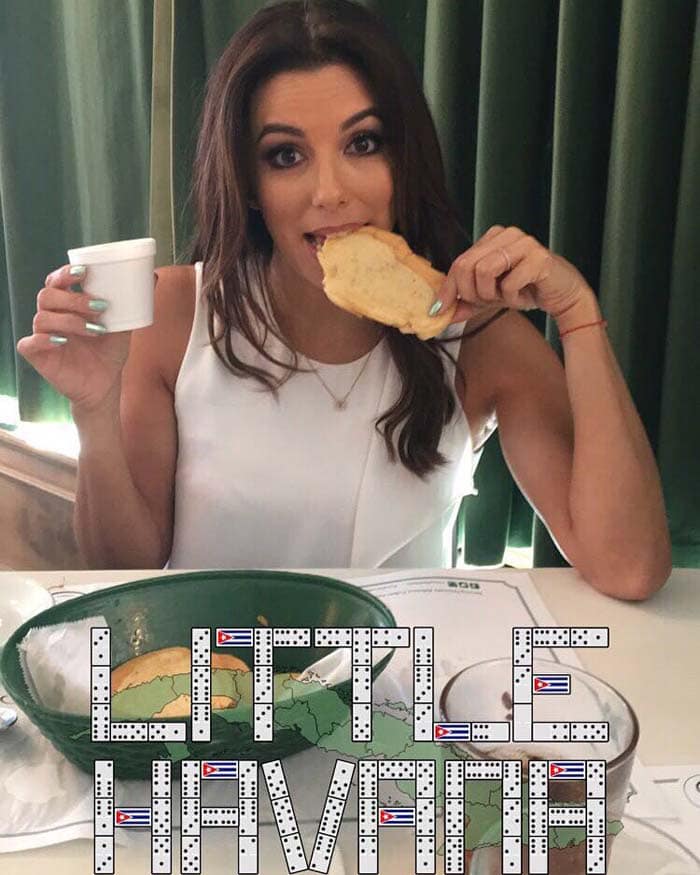 Via Eva Longoria's social media, captioned, "Couldn't go to Café Versailles without getting a Cortadito! #SoGood 😍" (Credit: Eva Longoria's Instagram)
Put a twist on your boring black ankle strap heels by grabbing a pair of these studded Alaïa beauties at Net-A-Porter.
Black Alaïa Studded Suede Sandals, $1,430