The youngest of four daughters born to Mexican-American (Tejano) parents, Eva Longoria didn't speak Spanish with her parents because students weren't allowed to speak the language at school.
The Telenovela actress spoke about her linguistic challenges in an interview with Los Angeles Magazine in September 2014.
"[My family] never crossed the border; the border crossed us. We've owned the same ranch land since 1603. That's a big faux pas to think 'Latino' is synonymous with 'immigrant' or with 'not from here.' I'm not an immigrant. I'm more American than Bill O'Reilly. But America is the only country that promotes monolingualism. Here it's English, English, English. Every other country makes their children learn a second language very early on. So as my political and social activism grew, I was like, 'I really need to learn Spanish.' So I did."
Eva Longoria played a prominent role on the first night of the Democratic National Convention on August 17, 2020
In a 2011 interview on Piers Morgan Live, she told the English journalist that she had only learned to speak Spanish about two years prior after going back to school.
She received her Master's Degree in Chicano Studies at California State University in 2013. The petite actress with small feet also has a Bachelor of Science degree in kinesiology from Texas A&M University-Kingsville.
Can Eva Longoria speak French?
While engaged to Tony Parker, a French-American former professional basketball player, Eva Longoria also learned to speak French.
"He's terrible. He always wants to speak English," Longoria told People in 2006 about going to a French school for several hours per day. "I try to remind him but he always forgets and says it's easier and faster to speak English, but I want to understand."
Eva Longoria learned to speak French when engaged to Tony Parker
Other Spanish-speaking actresses include Sofia Carson and Christina Milian. Longoria talked about her Mexican ethnicity in an interview with Oprah Winfrey's magazine in 2010.
I'm proud to have a Mexican heritage, and I'd always deeply rooted my identity in it. Then, about ten years ago, I went to Mexico … when I got there, I was perceived as American because I didn't speak Spanish and at the time knew very little about the history of Mexico. Yet in America, I was considered Mexican because of how I looked and my last name. It was confusing. I thought, 'If I'm not Mexican, and I'm not American, who am I?'
In August 2019, Longoria told Parents that she's raising her son, Santiago Enrique Bastón, to be bilingual. Her first Spanish role was in Days of Grace (Spanish: Días de Gracia), a 2011 Mexican crime film directed by Everardo Gout.
"I was very terrified, despite playing the role of a U.S. citizen who speaks Spanish, but it was a challenge to act in another language," she said in an interview while promoting the film.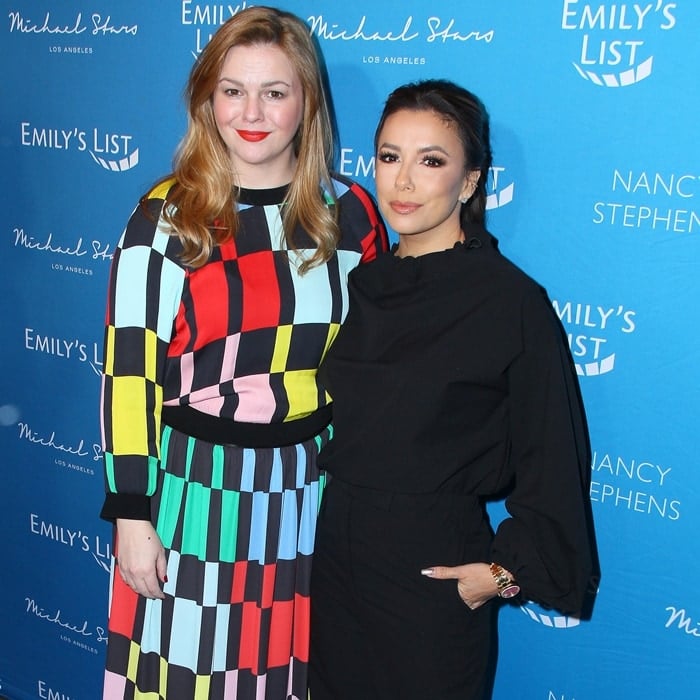 Amber Tamblyn and Eva Longoria arrive at Emily's List 3rd annual pre-Oscars event at Four Seasons Hotel Los Angeles at Beverly Hills on February 4, 2020, in Los Angeles, California
Did you know that Latina actress Eva Longoria and Latino pop star Ricky Martin are longtime friends?
Not only that — if you ask Eva, she actually considers Ricky to be her "spiritual twin."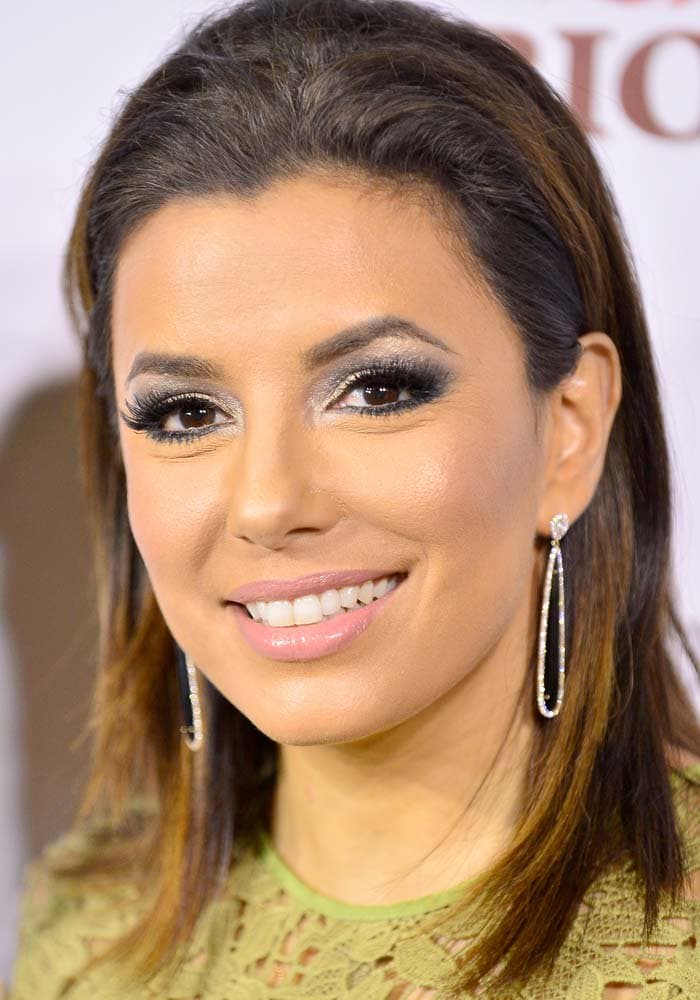 Eva Longoria wears her dark hair down at the Global Gift Foundation Dinner held December 3, 2015, at the Auberge Residences & Spa in Miami
In December 2015, Eva graced the red carpet of the Global Gift Foundation Dinner 2015 held in Miami.
Eva Longoria and Ricky Martin pose together at the Global Gift Foundation Dinner
Not only do the two share ethnic roots, but they also seemingly share a common life objective: to uplift people.
The two showed their support for the Global Gift Foundation, a non-profit organization that empowers women and children.
Eva Longoria wears a pale green Maria Lucia Hohan lace dress during a red carpet interview
Oh, did we mention that the two arrived at the event on behalf of their own separate non-profit namesake organizations? Now we understand the spiritual twin thing.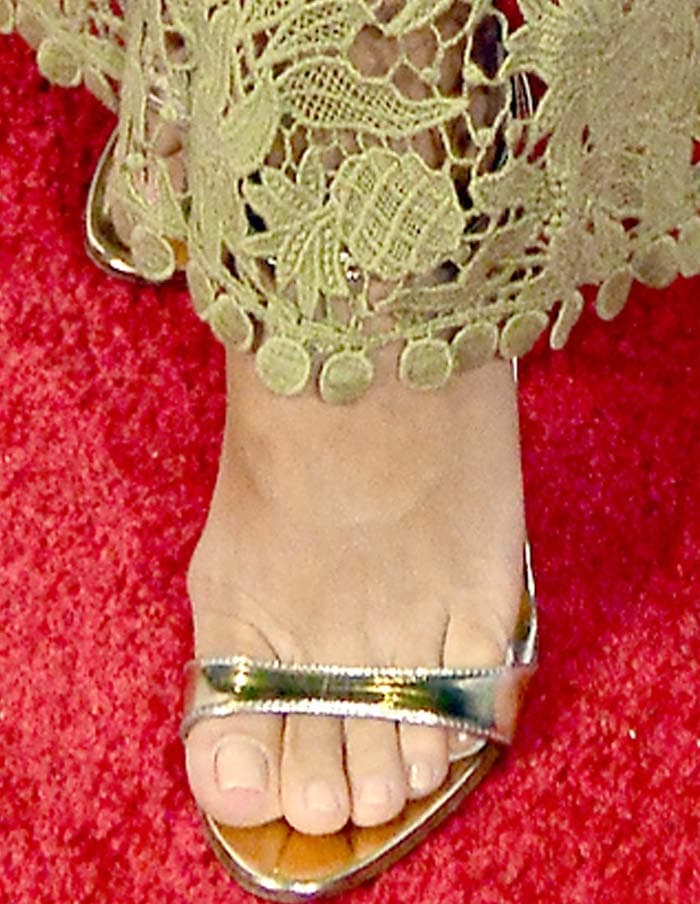 Eva Longoria's feet in Prada sandals
Eva stunned on the red carpet in a pale green Maria Lucia Hohan lace dress, which she paired with rose gold Prada sandals.
Eva's gorgeous sandals from Prada are no longer available online, but we did manage to find some similar rose gold beauties for your consideration at Farfetch and Nordstrom.
Prada Rose Gold Sandals (SOLD OUT)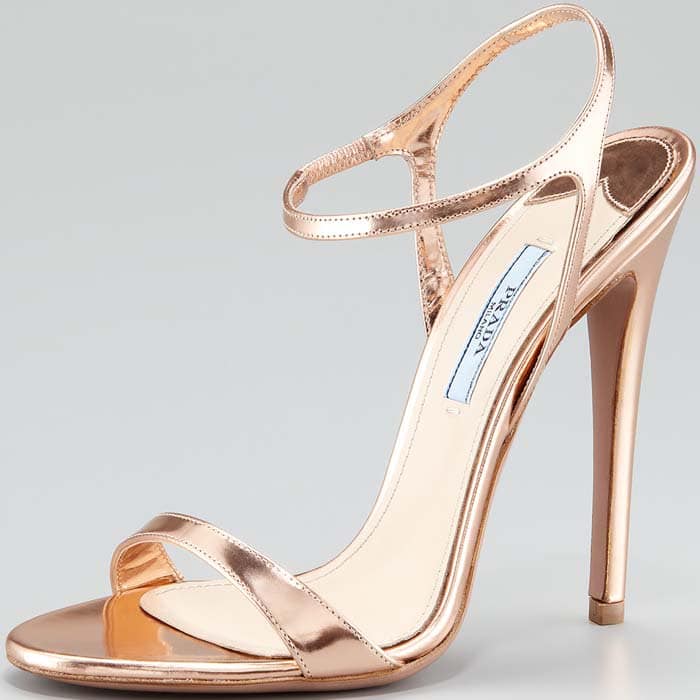 Giuseppe Zanotti Design Slingback Sandals, $447.26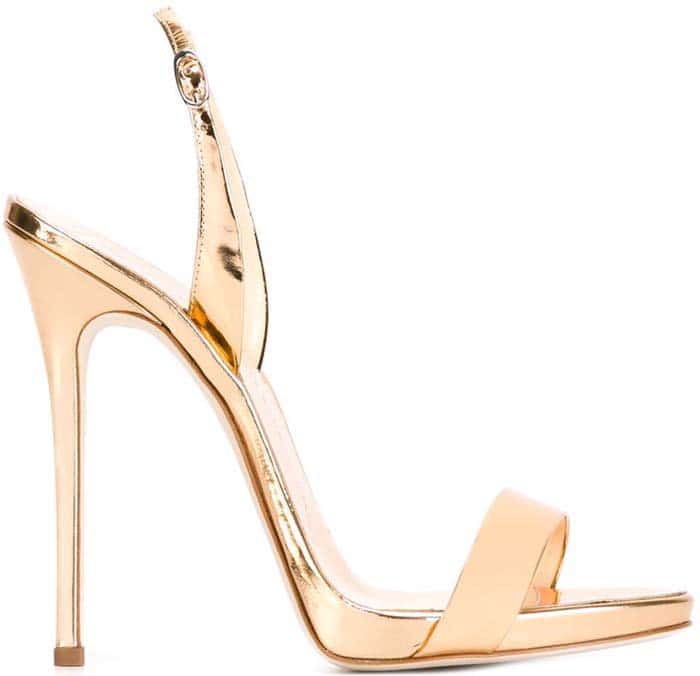 Manolo Blahnik "Chaos" Metallic Sandal in Rose Gold, $725
Sophia Webster "Rosalind" Crystal-Embellished Metallic Leather Sandals $495
Credit: JLN Photography / WENN / Nikki Nelson / Instar / Avalon