Sharon Stone, the legendary actress who has graced the silver screen for decades, has once again proven that her sense of style is as timeless as her talent.
At the Women's Cancer Research Fund's Unforgettable Evening Benefit Gala in Los Angeles on March 16, Stone arrived on the pink carpet in a dazzling olive green gown that captured everyone's attention.
Sharon Stone looking radiant at The Women's Cancer Research Fund's An Unforgettable Evening Benefit Gala 2023 held at the Beverly Wilshire in Beverly Hills, California on March 16, 2023 (Credit: Abaca Press / INSTARimages)
The Yousef Akbar dress, embellished with rhinestones, was perfect for the glamorous event. Stone's attire had a unique design that featured built-in glove features, which added an elegant and sophisticated touch to the outfit.
Her ensemble was a captivating combination of half-satin and half-sparkling fabric draped and flowed gracefully in a floor-sweeping style. The gold hardware holding the garment in place added an extra layer of luxury to the overall look.
Stone's metallic gold accessories, including her earrings and clutch, perfectly matched the dress. Her platform heels with clear uppers completed the outfit, although the long hem of her ensemble somewhat hid them.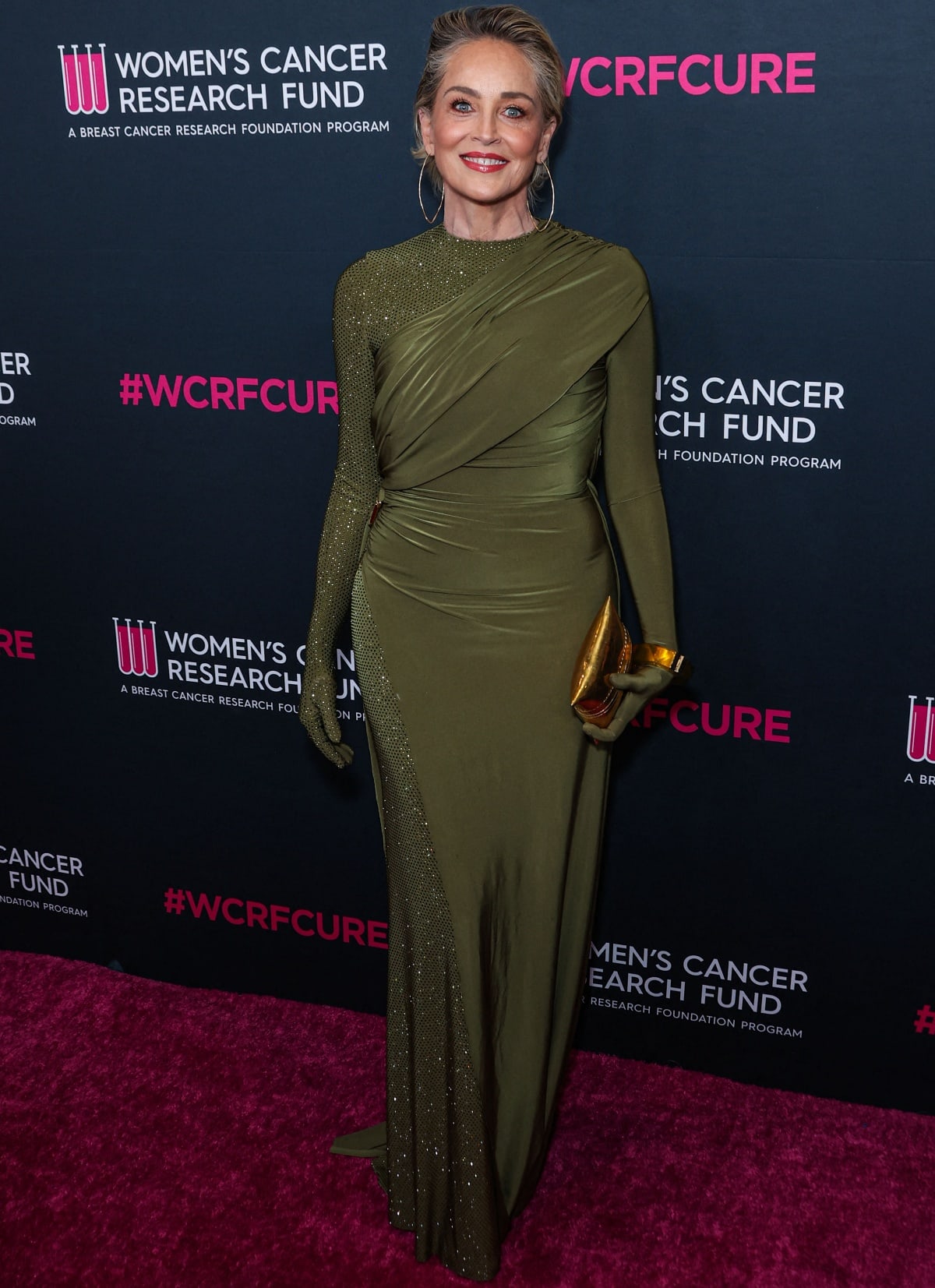 Sharon Stone making a stunning entrance in an olive green Yousef Akbar Spring 2023 dress with built-in gloves and metallic gold accessories for a luxe finish (Credit: Abaca Press / INSTARimages)
But the occasion wasn't just about fashion. Sharon Stone was presented with the Courage Award at the gala in recognition of her commitment to advancing breast cancer awareness and her advocacy of breast cancer research.
The 65-year-old American actress, who has long been a breast cancer advocate, spoke passionately about her experience of surgically removing tumors, saying, "Those mammograms are not fun."
Stone shared, "And for someone like me who was told that I had breast cancer because I had a tumor that was larger than my breast, and they were sure that I couldn't possibly have a tumor without it being cancer, it wasn't. But I went to the hospital, saying, 'If you open me up and it's cancer, please take both my breasts,' because I am not a person defined by my breasts. You know, that might seem funny coming from me since you've all seen them."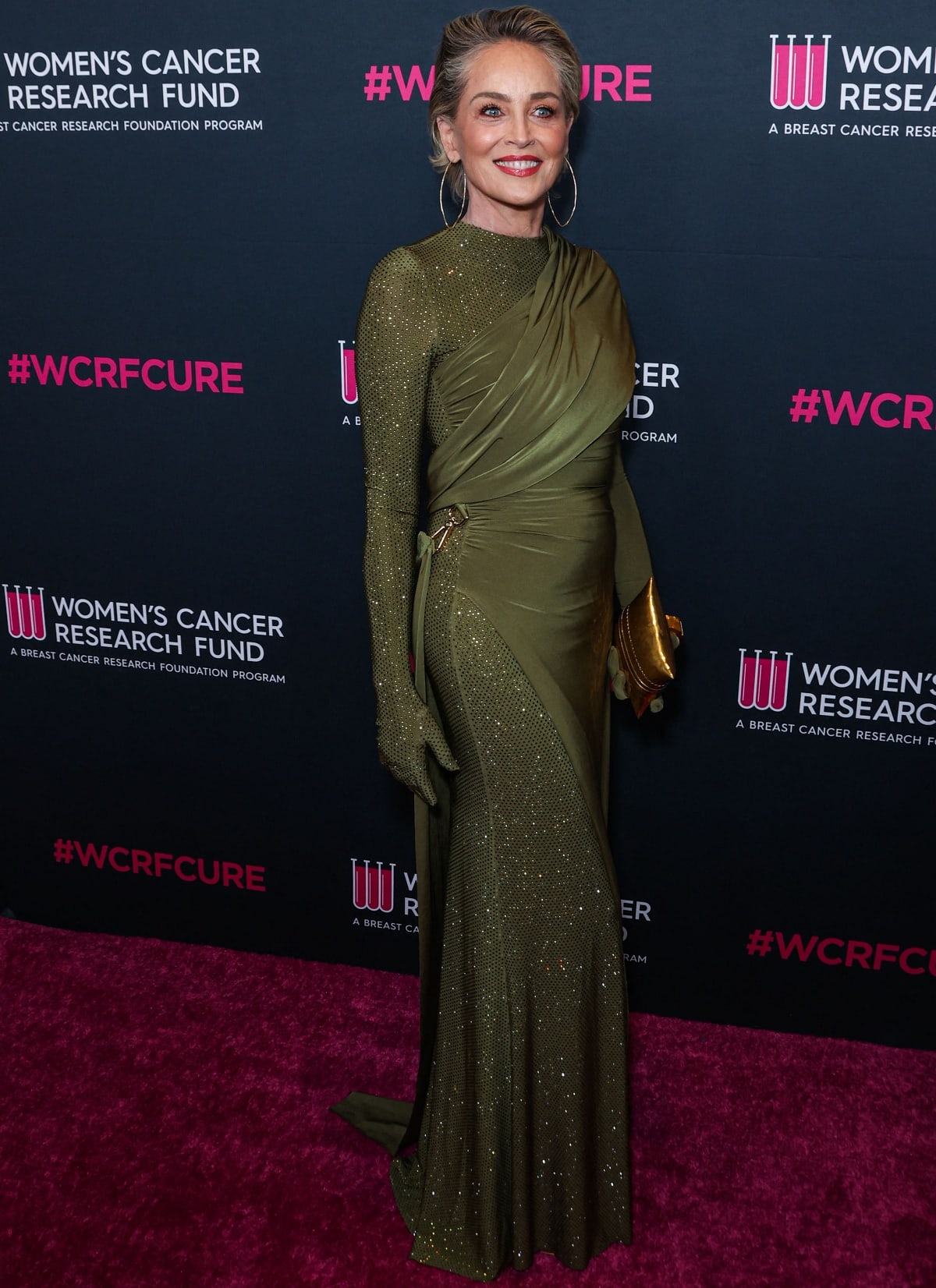 Sharon Stone making her presence known at The Women's Cancer Research Fund's An Unforgettable Evening Benefit Gala 2023 (Credit: Abaca Press / INSTARimages)
The Basic Instinct actress added, "And let me tell you something else – you've seen them since the surgery, and you don't know it! So don't ever feel compelled not to get a mammogram, not to get a blood test, not to get surgery, because it doesn't matter. I'm standing here telling you I had one and a half and more tissue of my breast removed, and none of you knew it."
Stone also urged the audience to have the courage to take action and support the cause, reminding them that every dollar counts and can make a difference, saying, "I want you to have courage."
The breast cancer research supporter added, "All that money you gave, it's not enough. You know, your shoes cost more than you gave, and you know it … and I'm telling you what. My friends are worth more than you gave, and you know it."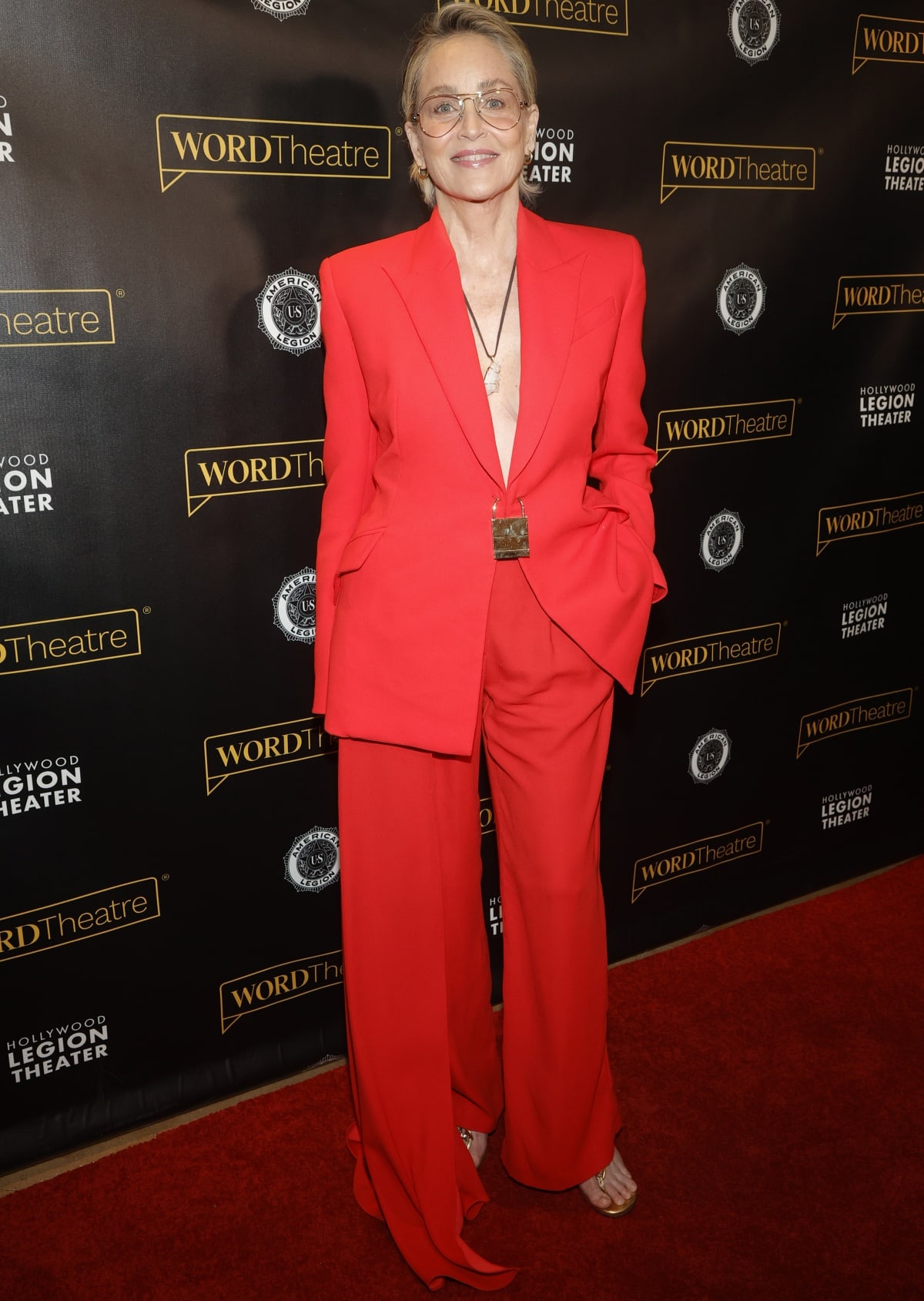 Sharon Stone in a red-hot Yousef Akbar look that turned heads at the All-Star Celebrity and Literary Salute to Our Vets presented by WordTheatre and the Hollywood American Legion Post 43 in Hollywood, California on March 18, 2023 (Credit: Faye's Vision / Cover Images)
Her speech got even more personal, saying, "I know what's happening. I just lost half my money to this banking thing, and that doesn't mean that I'm not here. My brother just died, and that doesn't mean that I'm not here. This is not an easy time for any of us. This is a hard time in the world."
The LensCrafters commercial actress continued, "But I'm telling you what… I'm not having some politician tell me what I can and cannot do, how I can and cannot live, and what the value of my life is and is not. So stand up. Stand up and say what you're worth. I dare you. That's what courage is."
Stone, who in 2021 released the New York Times best-selling memoir "The Beauty of Living Twice," has already received several awards. These accolades include the Einstein Spirit of Achievement Award, the Harvard Humanitarian Award, the Human Rights Campaign Humanitarian Award, and the Nobel Peace Summit Award.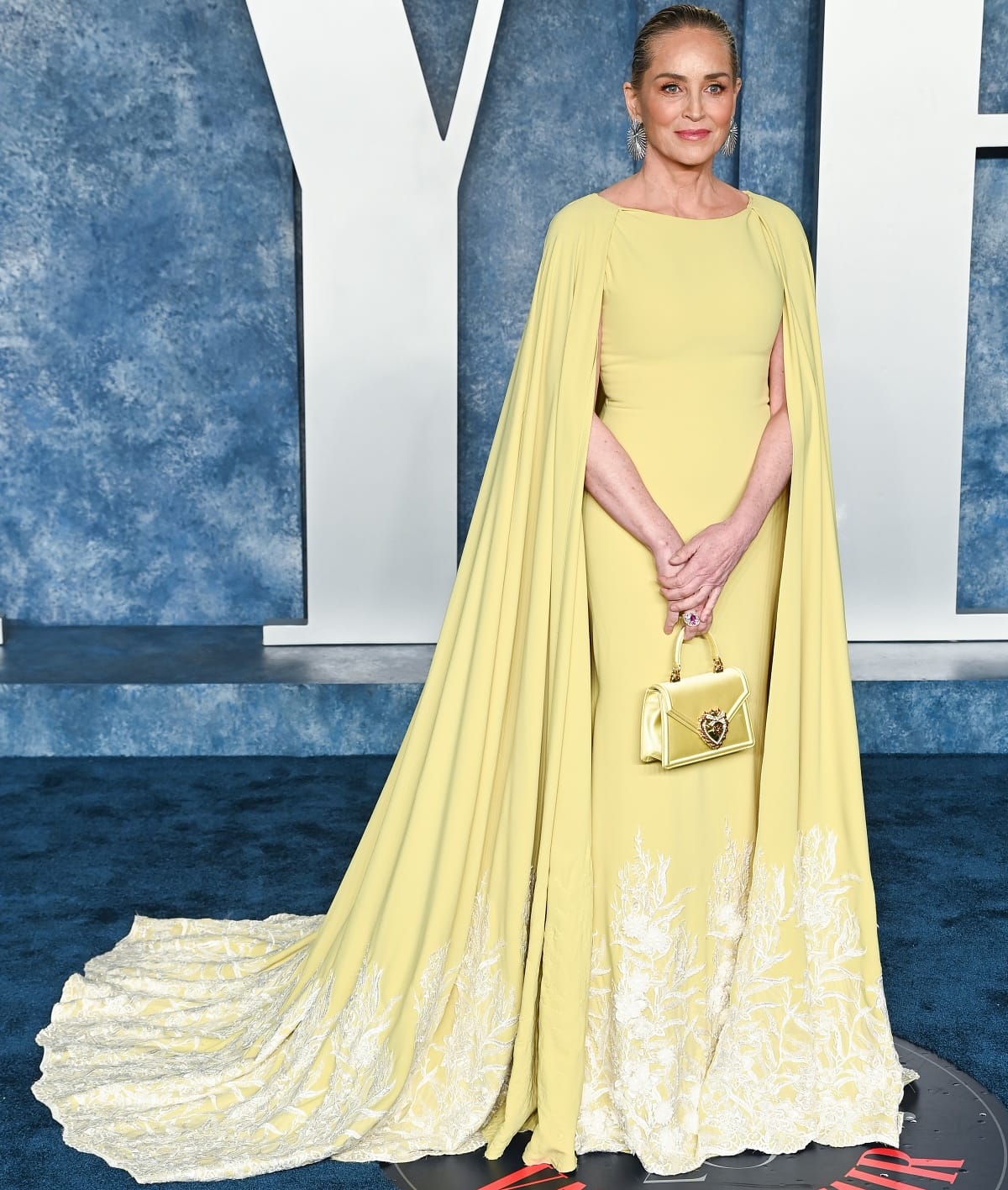 Sharon Stone looked every bit the movie star in her radiant yellow Tony Ward Fall 2017 Couture archive gown with a matching Dolce & Gabbana bag and Giorgio B jewelry at the 2023 Vanity Fair Oscar Party (Credit: PA Images / INSTARimages)
The Unforgettable Evening Benefit Gala for the Women's Cancer Research Fund is a vital event that raises funds for the Breast Cancer Research Foundation – a program devoted to eradicating breast cancer through improving research worldwide.
Kate Hudson, Gabrielle Union, Christina Applegate, Renée Zellweger, Courteney Cox, Faith Hill and Tim McGraw, Jennifer Hudson, Nicole Kidman, Stella McCartney, Gwyneth Paltrow, and Sofia Vergara are some of the high-profile celebrities who have previously received the Courage Award from the prestigious event.