Rihanna is known for her unique and eccentric outfits, and her latest ensemble definitely fell into both of those categories. The 28-year-old singer was seen heading out to dinner with her brother and BFF Melissa Forde at Hakkasan in Mayfair in London yesterday evening. To dine at the Michelin star restaurant, Ri donned a black, oversized Vetements Snoop Dogg t-shirt with black thigh-high boots, a combo which she popularized in street style fashion.
While we're used to seeing Ri wear t-shirts as dresses, we're a little weirded out by her fur-trimmed jacquard-velvet thigh-high boots. They're too bulky with an already huge t-shirt, and there's no way those thick fur collars can making walking comfortable. Plus, they kind of look like pirate boots… right?
We do, however, love Ri's adorable Louis Vuitton x Frank Gehry twisted box bag. And, as always, her signature red lipstick and striking green eyes made her face flawless. Check out the Barbadian bombshell's look.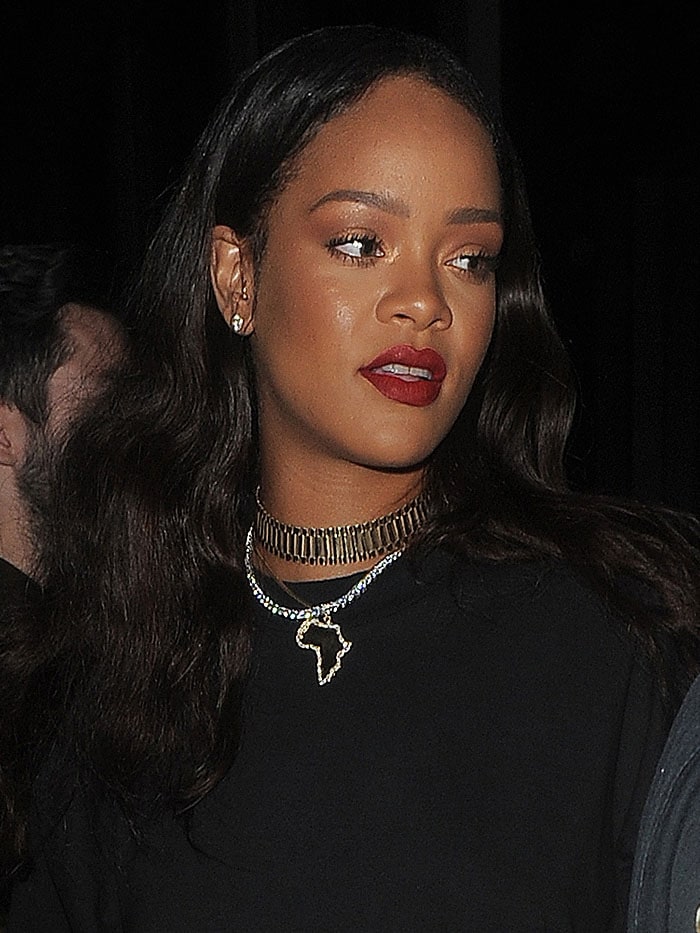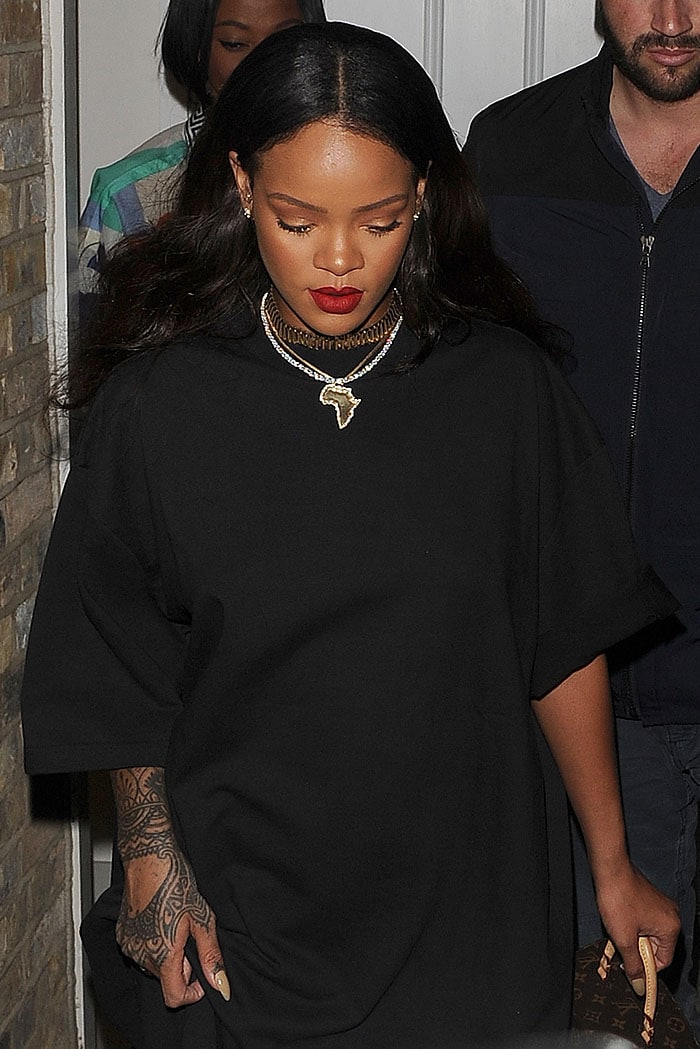 Rihanna wearing a black oversized t-shirt with Manolo Blahnik x Rihanna fur-collar velvet thigh-high boots to go out to dinner at Hakkasan restaurant in Mayfair in London, England, on June 23, 2016
Should we even be questioning Rihanna's style? The girl can make even a potato sack look sexy, as demonstrated in the music video for "This Is What You Came For," her latest collaboration with Calvin Harris.
Below are closeups of Rihanna's black jacquard velvet thigh-high boots with fold-over fur trimming. They are a new design reportedly to be included in the second Manolo Blahnik x Rihanna collaboration collection. See how they compare to the first Manolo Blahnik x Rihanna shoe collection here.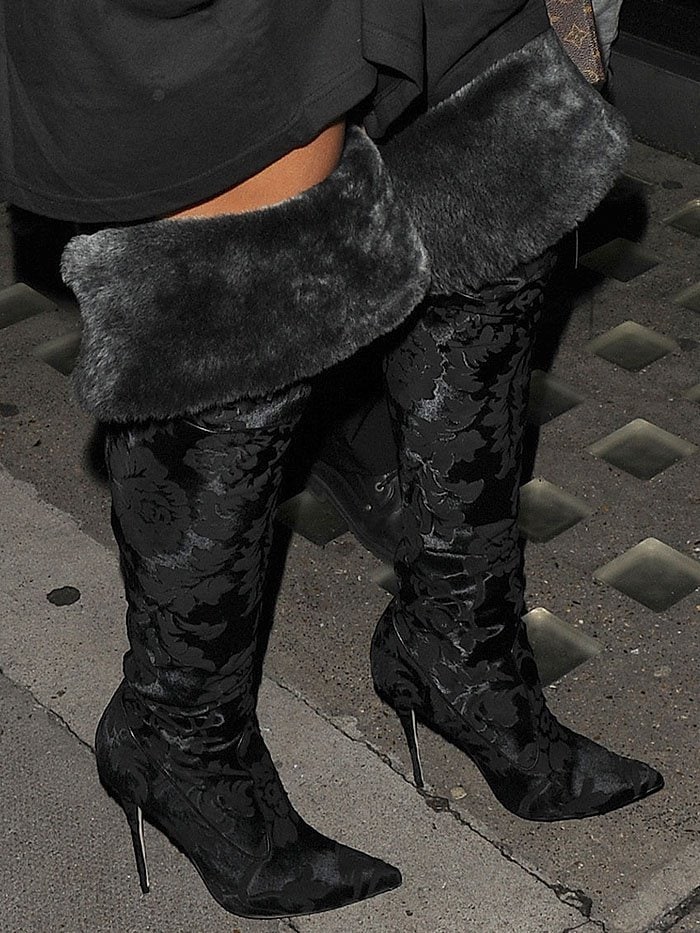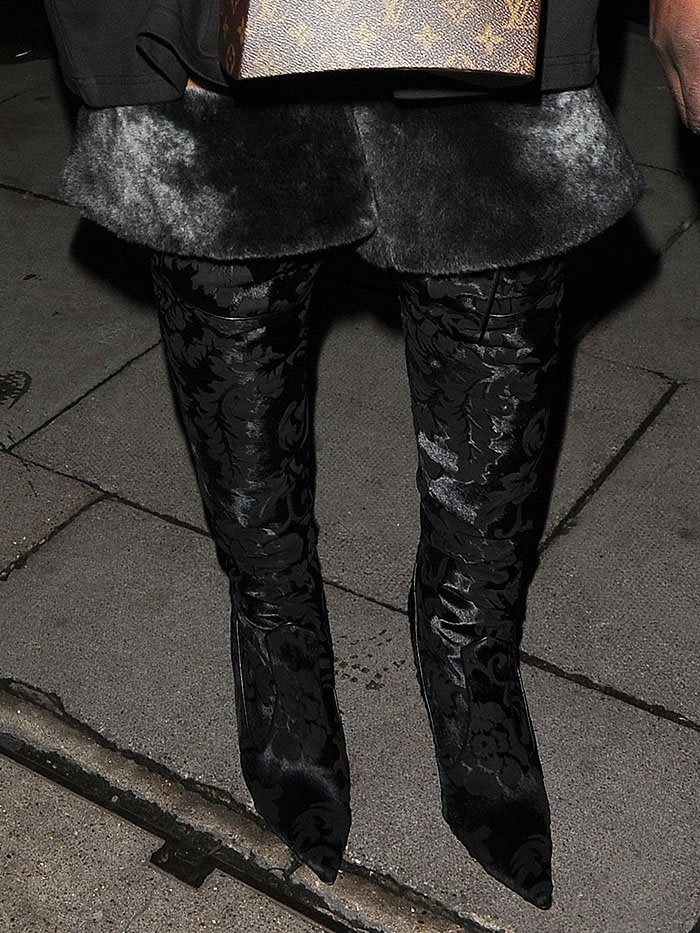 Closeups of Rihanna's black jacquard velvet thigh-high boots with fold-over fur collars
Credit: RV/Will Alexander/WENN