Black Eyed Peas and J Balvin with LED dance group Illuminate from America's Got Talent surprised fans by performing "RITMO (Bad Boys for Life)" during The Voice Live Finale on December 17, 2019.
However, the group was missing a key member, namely, Fergie.
"Ritmo (Bad Boys for Life)," a song by American group Black Eyed Peas and Colombian singer J Balvin, was released in October 2019 as the first excerpt from the soundtrack of the 2020 film Bad Boys for Life.
Her absence from the song has reportedly nothing to do with her poorly received rendition of "The Star-Spangled Banner" at the 2018 NBA All-Star Game.
In February 2018, William Adams (known professionally as will.i.am) talked to the Daily Star about the hip-hop group's seventh studio album, Masters of the Sun Vol. 1, which was released without Fergie on October 26, 2018. The rapper finally responded to questions about the female vocalist's departure.
The Black Eyed Peas, also known simply as Black Eyed Peas, is an American musical group made up of rappers will.i.am, apl.de.ap and Taboo (Credit: Fred Duval / Shutterstock)
"We are now a trio," he revealed. "I don't know why Fergie isn't on the project. You will have to ask Fergie that… You know we are actually capable of doing it without Fergie. There's so much s–t to talk about, bro. But you guys just like meddling."
"We performed as a trio before and if you had done your research properly you would know how we would do it as a three," will.i.am emphasized.
In April 2013, Stacy Ann Ferguson (a.k.a. Fergie) once again showed some love for her own creation and displayed her pretty feet in heels from her own shoe line.
Fergie aka Stacy Ferguson and Kylie Minogue at the 6th Annual Logo NewNowNext Awards at the Fonda Theatre in Los Angeles on April 13, 2013 (Credit: Brian To / WENN)
The American singer, songwriter, fashion designer, television host, and actress sported a pair of Fergie 'Palace' pumps and posed for photographers with Kylie Minogue in Los Angeles.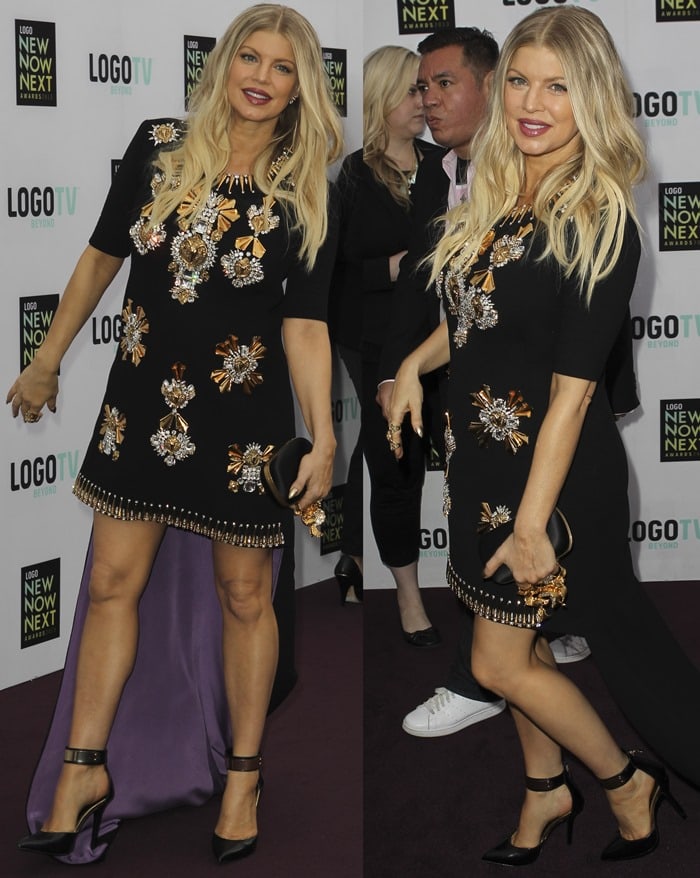 Fergie rocked a custom Fausto Puglisi dress (Credit: Brian To / WENN)
In honor of her work in the LGBT community, the soon-to-be-mom received the Always Next, Forever Now award. Fergie donned a custom Fausto Puglisi dress and carried a clutch by Alexander McQueen.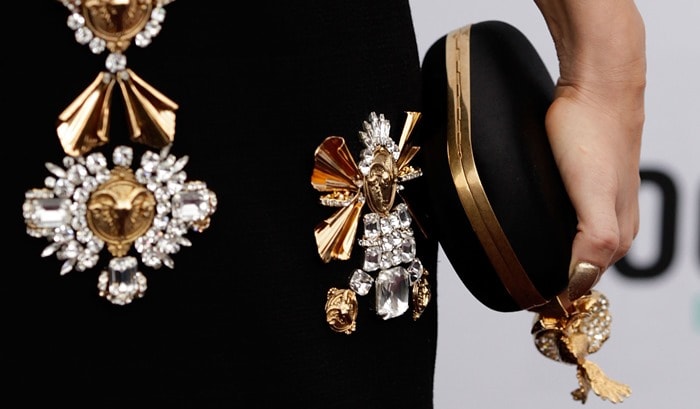 Fergie toting a clutch by Alexander McQueen (Credit: Brian To / WENN)
Do you love the gold-and-black look? In my opinion, it's both elegant and luxurious. The Alexander McQueen Knucklebox clutch in black and gold complemented her ensemble perfectly.
Fergie shows off her feet in sandals from her eponymous footwear line (Credit: Brian To / WENN)
Fergie's leather pointy-toe pumps feature chic 4-inch heels, ankle cuffs, a gold-tone metal overlay, and a zipper at the back with a gold-tone zip pull.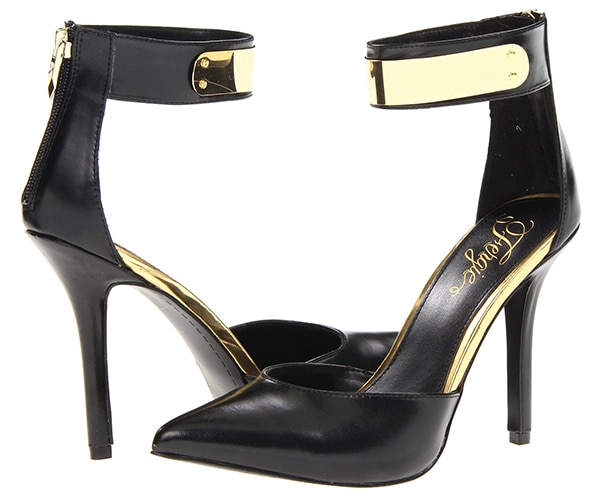 Fergie Footwear Palace Sandals in Black, $45.98 – $84.99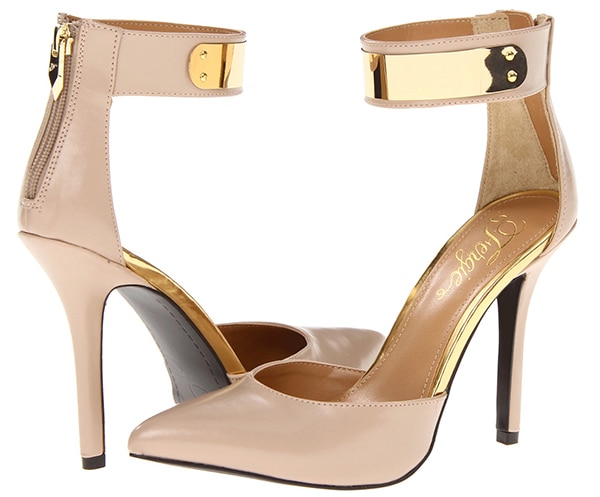 Fergie Footwear Palace Sandals in Nude, $45.98 – $84.99