New York Fashion Week is always a hotbed of exciting new designs, and this year's event did not disappoint.
On February 14 at Pamella Roland's Fall 2023 fashion show, Nicky Hilton Rothschild made a striking entrance dressed in a 1920s-inspired ensemble that turned heads at the event.
Nicky's outfit was head-to-toe perfection, with every detail chosen to complement her vintage-inspired theme.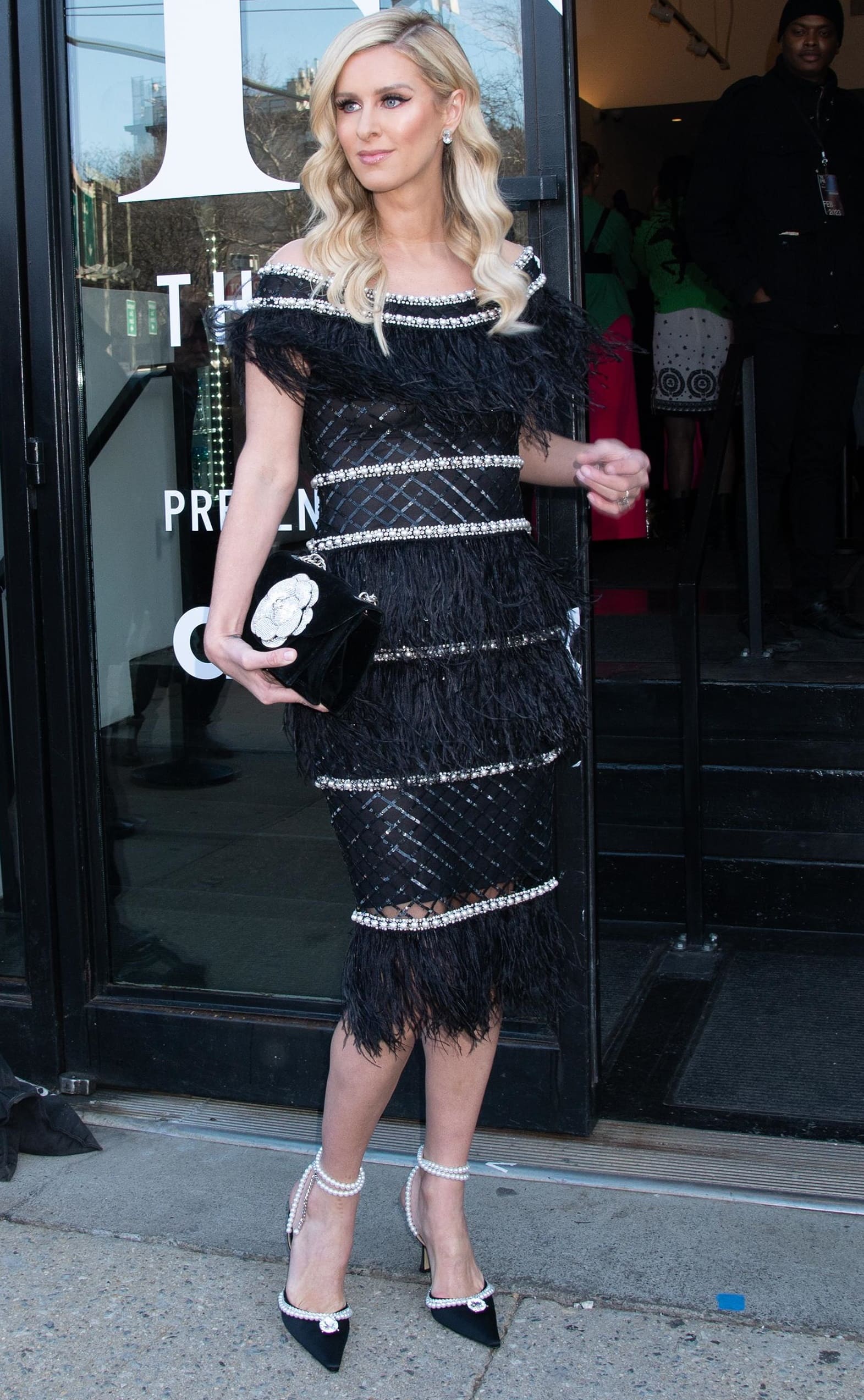 Nicky Hilton Rothschild channeling the fashion of the 1920s in a Pamella Roland dress outside the Pamella Roland show during New York Fashion Week F/W 2023 on February 14, 2023, in New York City (Credit: Janet Mayer / Startraksphoto / Cover Images)
The centerpiece of her ensemble was a stunning Pamella Roland beaded off-the-shoulder illusion midi dress with feather trim, which featured a crystal-embellished twin stream around the neckline. You can buy her dress for $5,225 at Neiman Marcus.
The bodice was covered in black feathers, adding a touch of drama to the ensemble, and the dress featured a layered effect that extended all the way down to the gem.
Her chosen accessories complement Paris Hilton's younger sister's outfit. Her black and silver Oscar De La Renta Rose Tro leather bag had a metallic silver rosette on the flap, adding a touch of glamour and sophistication to her overall look.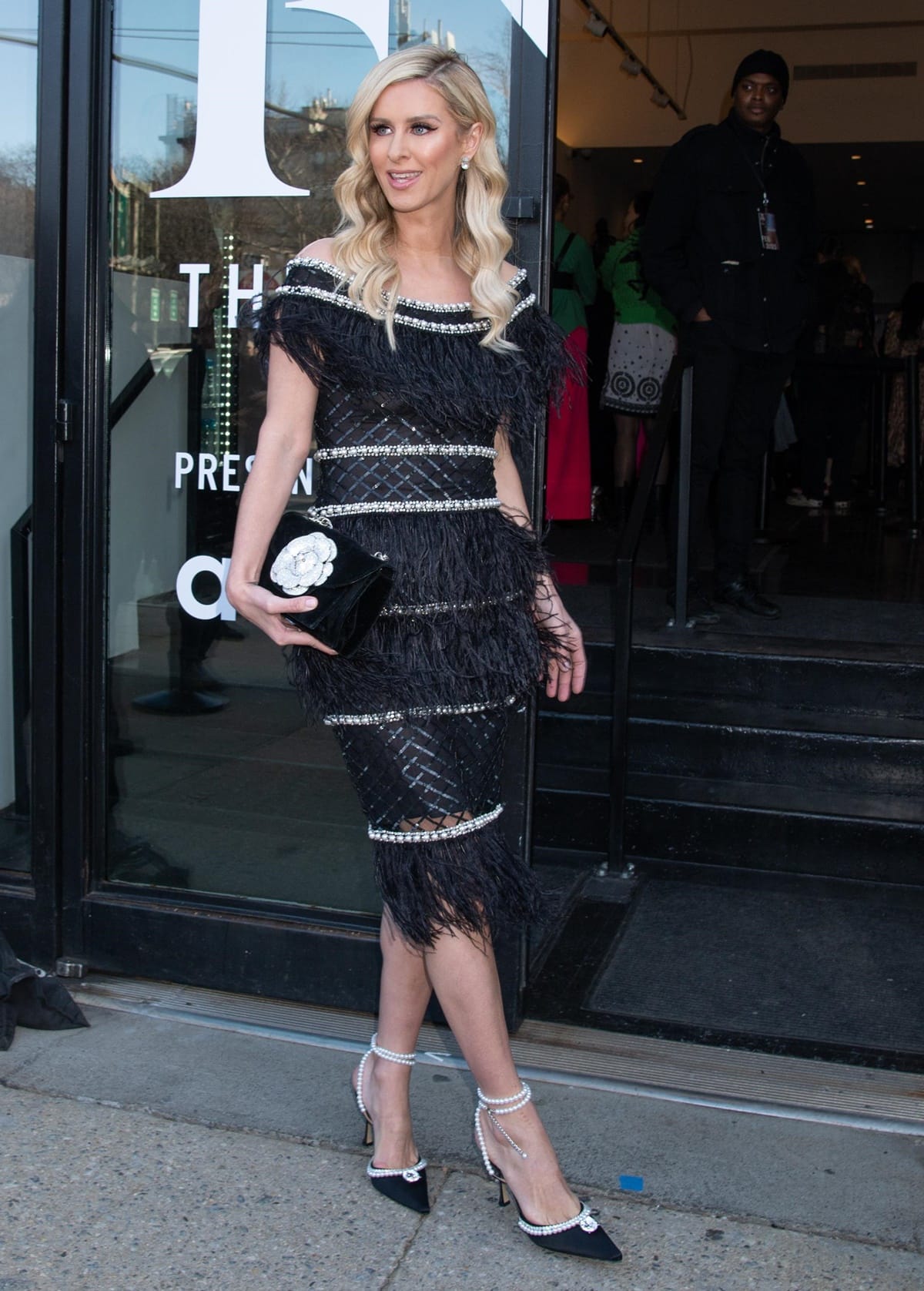 Nicky Hilton Rothschild's outfit featured a round-neck dress designed by Pamella Roland, embellished with double streams of crystals along the neckline (Credit: Janet Mayer / Startraksphoto / Cover Images)
The 39-year-old socialite topped off her retro-inspired ensemble with a pair of Mach & Mach Diamond of Elizabeth pearl pumps that you can buy at Nordstrom.
Made from PVC and leather, the ankle straps are ornamented with pearls, perfect for an extra touch of elegance and luxury to her outfit. How do you like her shoes from the Tbilisi-based sisters Nina and Gvantsa Macharashvili?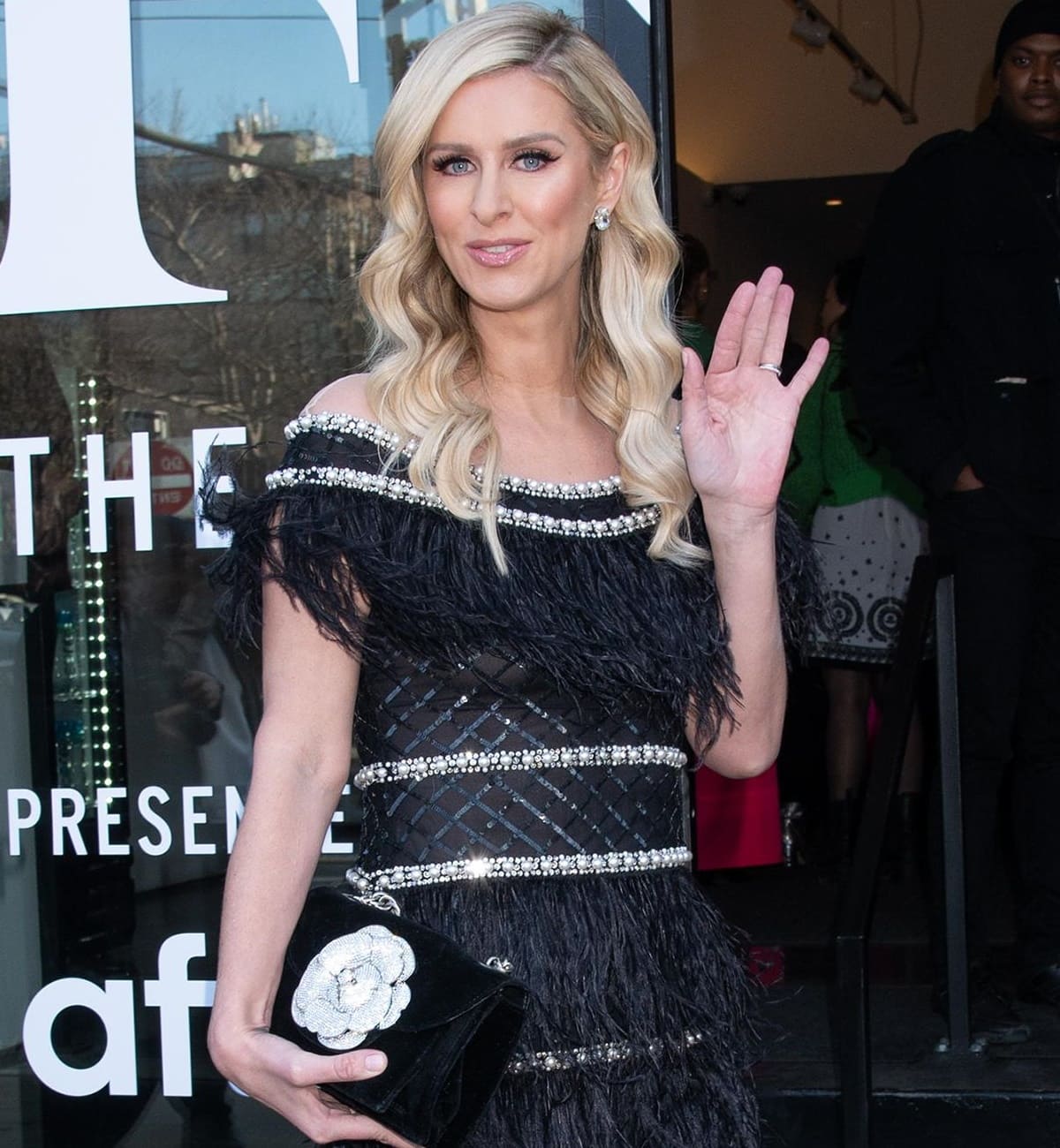 Nicky Hilton Rothschild's dress was adorned with black feathers on the bodice and featured layers of fabric that cascaded down to the hem (Credit: Janet Mayer / Startraksphoto / Cover Images)
She kept things simple and elegant with her hair and makeup, allowing her outfit to take center stage.
Nicky wore her long, blonde hair in free waves that fell to her shoulders, and little earrings hung from her ears, which went wonderfully with her retro-chic getup.
Nicky Hilton Rothschild showed off her feet in Diamond of Elizabeth pumps by MACH & MACH featuring a stunning jewel at the translucent vamp, giving off a silver-screen icon vibe (Credit: Janet Mayer / Startraksphoto / Cover Images)
Nicky Hilton Rothschild's outfit at the NYFW was a perfect example of mixing modern and vintage styles to create a timeless and elegant look. Her choice of dress, bag, and shoes was impeccable, and her hair and makeup complemented the overall theme.