If you're as big a superstar as Jennifer Lopez, everything you do becomes a major talking point.
It can be anything from her reaction to a South Park episode, a surprise wedding announcement, a Super Bowl commercial with Ben Affleck, or a matching tattoo with her husband.
Yes, J.Lo now has a tattoo that shows off her commitment to her husband Ben Affleck. The Marry Me star turned to Instagram to reveal her rib cage tattoo, which is of an infinity symbol with an arrow going through it in the middle and the names "Jennifer" and "Ben" looped into the symbol in cursive print.
View this post on Instagram
Lopez did her tattoo reveal in celebration of Valentine's Day and added photos of the married couple from when they first got together and took the world by storm with their highly publicized romance in the early 2000s to their sweet reunion nearly two decades later.
Among the photos is Affleck's complementary tattoo, which is that of two arrows with their initials "J" and "B" in the center.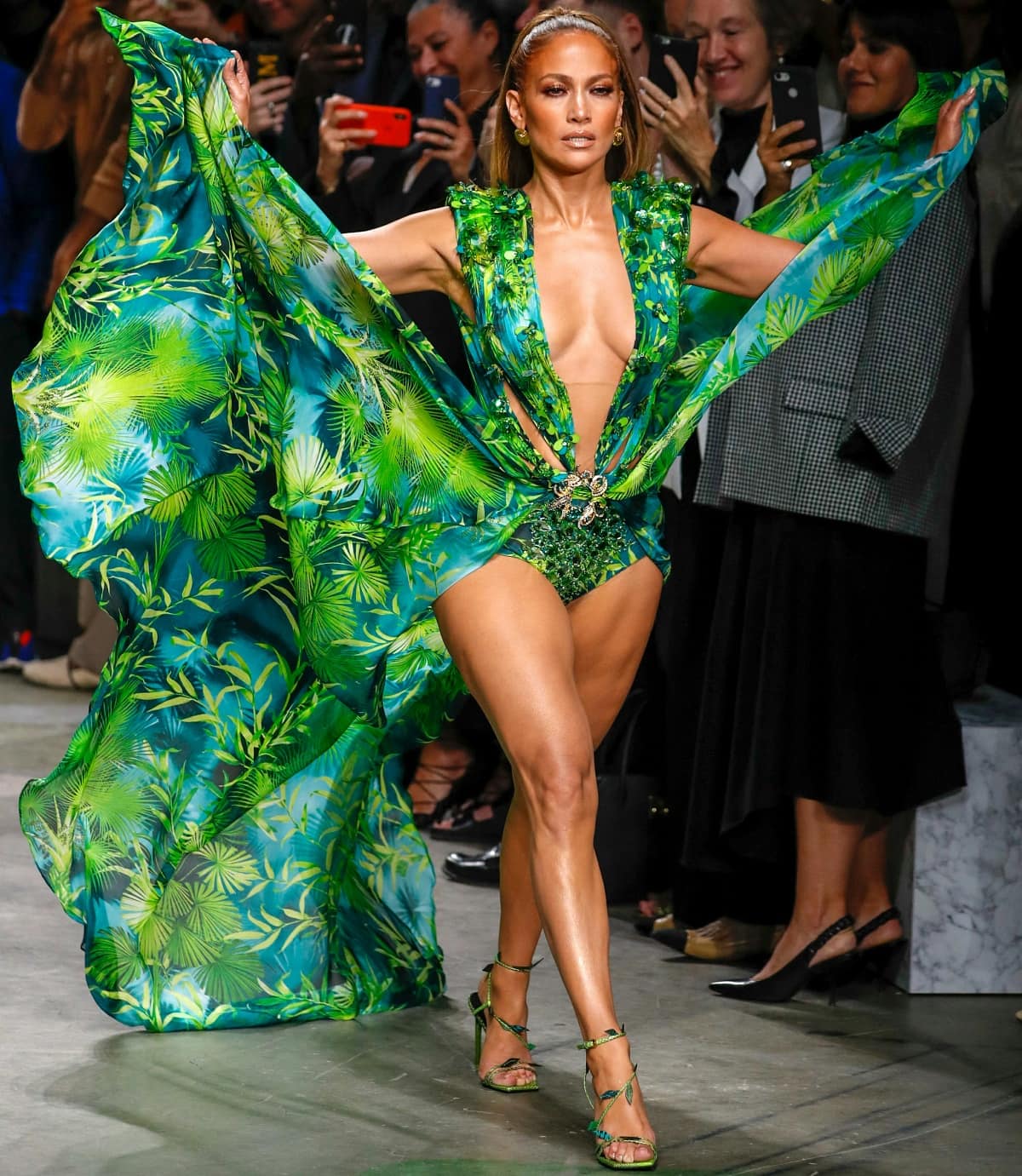 Jennifer Lopez walking the runway in a redesign of her iconic green dress for the Versace Spring/Summer 2020 fashion show during Milan Fashion Week (Credit: Gil Gonzalez Alain / ABACA / INSTARimages)
There's no doubt that Jennifer Lopez can pull off anything, whether it be a folded table napkin dress, a ridiculously large hat, or that iconic green Versace dress.
When it comes to fashion and style, Jennifer Lopez is undoubtedly an icon. Whether she's on stage or running errands, she always manages to look effortlessly chic and glamorous. Her casual outfits are no exception – she has a way of elevating even the simplest pieces to create a standout look.
You're in luck if you want to inject some of Lopez's signature style into your wardrobe.
Let's delve into 5 of her best casual outfits this February that you can easily recreate. These looks are perfect for unleashing your inner diva and feeling like a fashion superstar in your everyday life.
1. Vibrant in Blue Jumper and Leggings
On February 7th, Jennifer Lopez made a statement by arriving at her Los Angeles dancing studio in a stunning blue ensemble that perfectly showcased her affinity for the hue.
She sported an updated version of her signature streetwear, wearing an A.L.C. mock turtleneck sweater in sky blue that was warm and athletic.
Plush and fuzzy, the garment had a crew neck, bell sleeves, and an elasticized waist, making it the perfect choice for dancing and physical activity.
Jennifer Lopez in a vibrant blue outfit while arriving at a dance studio in Los Angeles, California, on February 7, 2023 (Credit: BauerGriffin / INSTARimages)
The Shotgun Wedding star paired the top with a pair of Niyama Sol two-tone printed leggings with statements "Nothing can stop me" and "My voice is heard."
To elevate her look even further, J.Lo accessorized with a black Hermes Birkin bag and a Rahaminov Diamonds engagement ring. She wore a pair of black Dior Camp Shades to shield her eyes from the California sun.
The Off-White Out of Office 'OOO' sneakers finished the performer's ensemble. For a low-key appearance, she pulled her hair back into a bun and added a subtle glitz to her makeup.
2. Chic in Ripped Sweatpants and Cropped Sweater
On February 9th in Los Angeles, the business mogul was spotted attending a dance class wearing a stylish take on her usual gym attire.
The 53-year-old singer looked comfy and fashionable in a white pair of drawstring joggers with weathered patchwork and two knee-baring rips and a cropped knit sweater with a baggy turtleneck.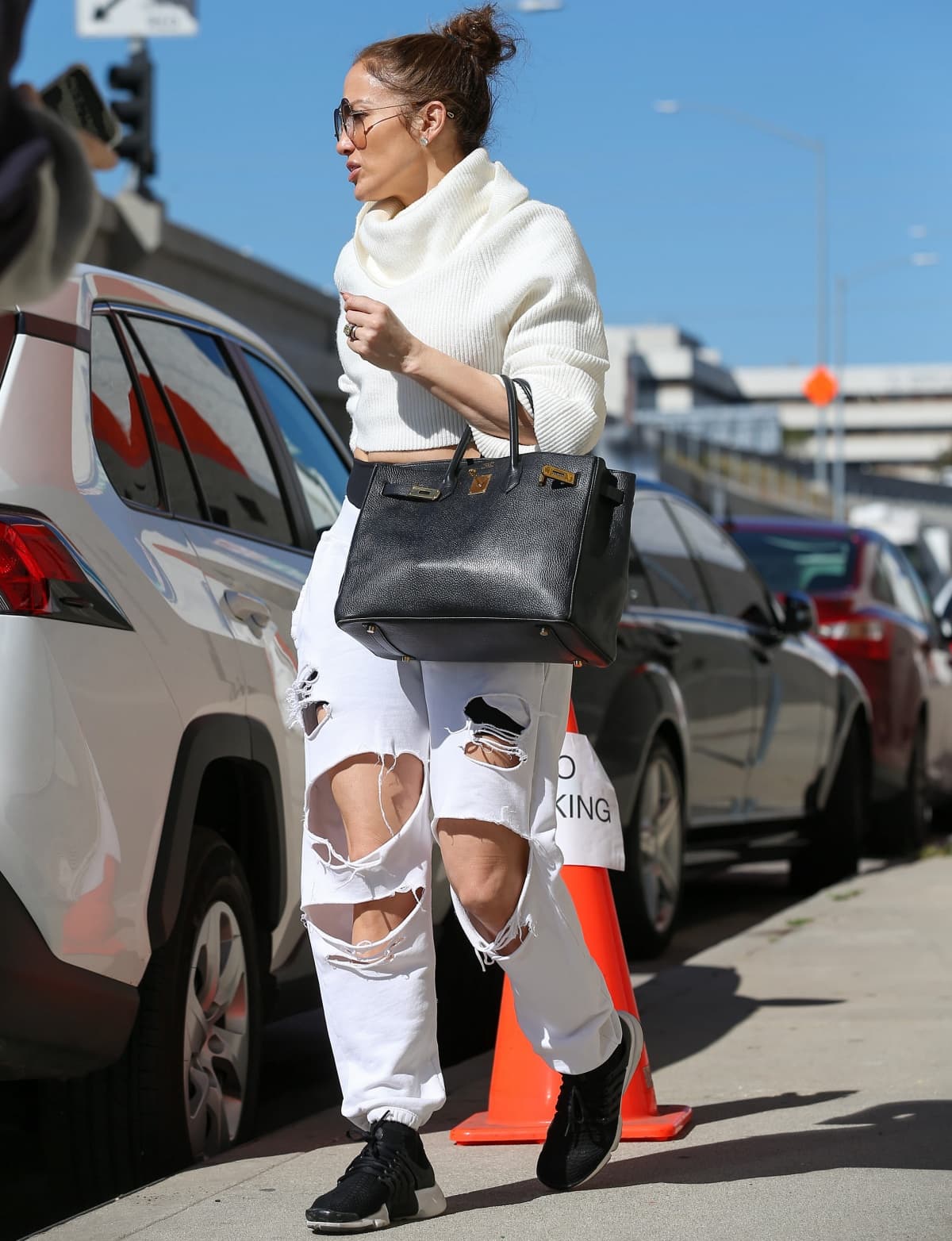 Jennifer Lopez arriving for rehearsal in ripped sweatpants and a cropped sweater at a studio in Los Angeles, California on February 9, 2023 (Credit: BauerGriffin / INSTARimages)
She also wore black high-waisted cycling shorts that showed over the top of her sweats. To complete her athleisure look, Jennifer Lopez accessorized with huge gray aviator sunglasses and black Nike Air Presto Ultra Flyknit sneakers.
The multi-talented diva accented her casual outfit with diamond stud earrings and her trusty black Hermes Birkin bag that she often carries to the studio.
Lopez's messy bun hairstyle perfectly complemented her chic gym look, adding to her effortless vibe.
3. Cozy in Matchy Brown Sweatshirt and Pants
Jennifer Lopez was spotted again on February 10th, entering the studio with an effortlessly cool outfit that is both comfortable and chic. The singer may have something up her sleeve, but we can only focus on her impeccable style.
Jennifer Lopez wearing a monochromatic outfit while out in Los Angeles, California, on February 10, 2023 (Credit: BauerGriffin / INSTARimages)
She looked ultra-comfortable in her brown sweatpants and matching sweatshirt with a zippered collar. The collar added a unique touch to the sweater, elevating the entire look. Her monochromatic brown coordinates created a cohesive outfit that was both trendy and laid-back.
Lopez accessorized with a pair of Max Mara Elsa Mm0006 black sunglasses, giving the outfit an edgy touch, and slipped into a pair of brown and white Nike Air Jordan 1 sneakers that complemented her outfit perfectly.
She carried her essentials in her favorite Hermes Birkin Bag, a classic black bag that added a touch of luxury to the otherwise casual outfit. She tied her hair up in a tight ponytail, completing the effortless vibe of the look.
4. Comfy in Bohemian Sundress and Cardigan
On February 11, Grammy-nominated singer Jennifer Lopez and Academy Award winner Ben Affleck showed off their family-oriented side by spending time with their children.
The couple's blended family consists of Emme and Max, Lopez's 14-year-old twins with ex-husband Marc Anthony, and Affleck's three children, Violet, 17, Seraphina, 14, and Samuel, 10, all born during his first marriage to Jennifer Garner.
They exuded positive family vibes while the youngsters were seen skating, and Affleck recorded them with his professional recording gear.
While her 50-year-old husband was behind the camera, Jennifer Lopez caught the attention of the paparazzi with her chic bohemian outfit.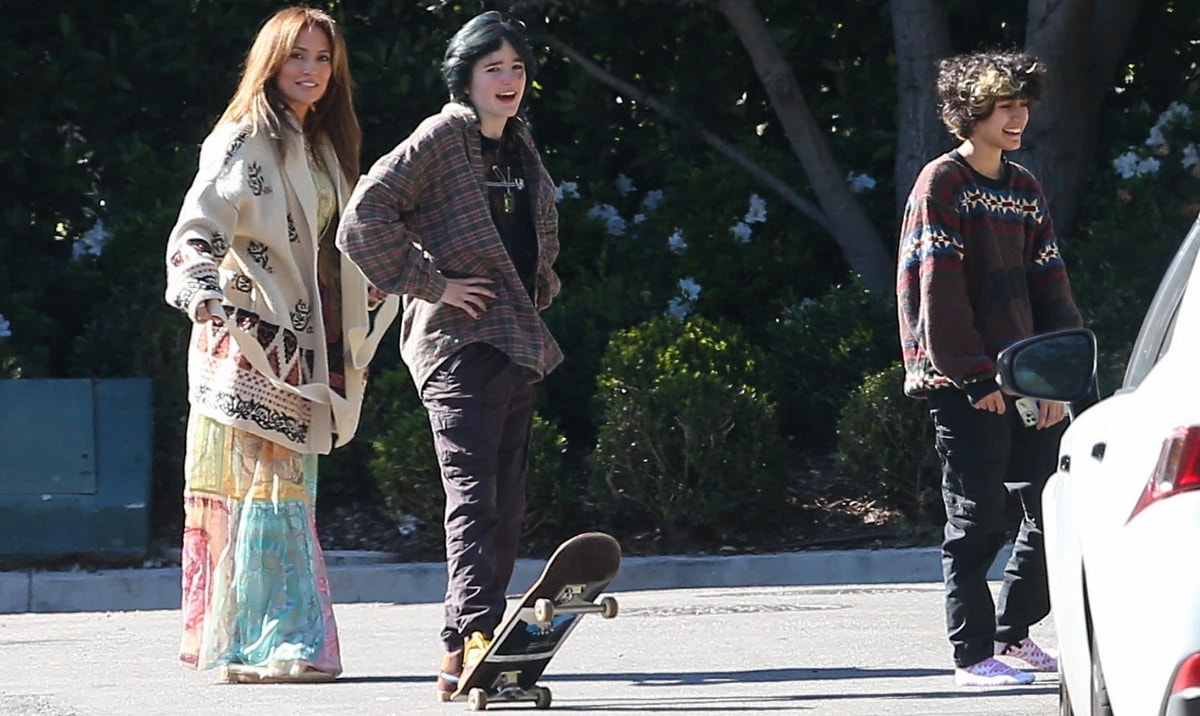 Jennifer Lopez spending quality time with her blended family in Los Angeles, California, on February 11, 2023 (Credit: BauerGriffin / INSTARimages)
She wore a flowing, bohemian sundress and added a voluminous Christian Dior Pre-Fall 2019 cream knit cardigan.
The oversized knitwear made for the perfect addition to the sundress and completed her bohemian look. Lopez finished her look by letting her un-styled curls fall to her shoulders.
5. Snug in Furry Coat and Boots
When she arrived at her dancing studio on Valentine's Day, Jennifer Lopez looked stylish and cozy in Santa Monica, California. She got out of her black luxury SUV and into her warm layers, braving the cool weather.
The superstar wore an incredible Coach x Schott N.Y.C. oversized shearling coat, providing warmth on a chilly morning and making a bold fashion statement.
Available at Coach, her coat was paired with maroon leggings, adding color to the look.
Jennifer Lopez keeping herself warm in a furry coat and Ugg boots while out and about in Los Angeles, California on February 14, 2023 (Credit: BauerGriffin / INSTARimages)
Lopez's self-assurance was evident in her stride as she walked up the stairs to the studio. She completed the outfit with comfortable and stylish Ugg Classic Short boots in chestnut that you can buy at Zappos.
Her signature brown hair was styled in a sleek bun, and she kept her eyes protected from the sun with oversized aviator sunglasses.
Jennifer Lopez is not only a multi-talented artist and actress but also a style icon who is known for her bold fashion choices. Her wardrobe features a variety of casual and comfortable outfits that are perfect for everyday wear.
From cozy sweatpants and sweatshirts to trendy leggings and oversized coats, there's a style for every mood and occasion. With these five casual outfits, you'll simultaneously feel confident, comfortable, and stylish.