Jennifer Lopez is full of surprises these days.
After causing a frenzy with her intimate Las Vegas wedding to Ben Affleck, she dropped another bombshell in her On the JLo newsletter.
Newly married Ben Affleck and Jennifer Lopez showing a glimpse of their Las Vegas wedding (Credit: On The JLo newsletter)
To celebrate her 53rd birthday, Jennifer shared her secret project with her "most loyal fans and subscribers."
"So many of you are responsible for the success of JLo Beauty," she said. "So today, on my birthday, I want to say thank you."
It turns out that the business mogul is expanding her empire with the launch of JLo Body, an extension of her skincare line.
"I've been developing some really amazing clinically tested skincare for the body over the past year with results you can see and feel," Jennifer shared. "It is the seriously sexy science I always talk to you about."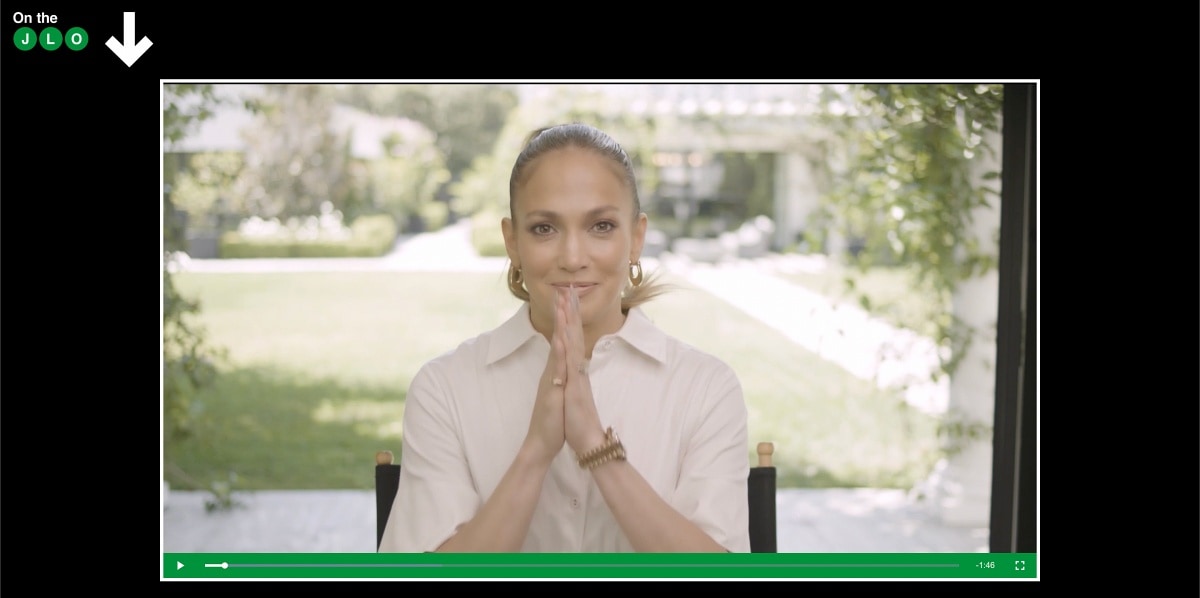 Jennifer Lopez introducing the JLo Body by JLo Beauty booty balm to her "most loyal fans and subscribers" (Credit: On The JLo newsletter)
A balm inspired by the world's most iconic booty
The MTV Generation Award winner went on to introduce the JLo Body by JLo Beauty FIRM + FLAUNT Targeted Booty Balm.
Yes, a balm specifically for the booty. If anyone's qualified to talk about it, it's the superstar with the most famous derriere in the world.
Introducing the JLo Body by JLo Beauty FIRM + FLAUNT Targeted Booty Balm (Credit: JLo Beauty's Instagram)
"You know I had to make a booty balm," Jennifer said. "I want you to flaunt your best assets – yes, I said assets – and I want you to feel great doing so."
She excitedly told her subscribers that she "pulled a limited quantity earlier than our official launch date, which is not until August, just for you guys."
But that's not the only surprise. She also shared a sexy photoshoot on her Instagram that showed off her assets to promote her booty balm. It's a clever and highly effective marketing strategy, wouldn't you say?
View this post on Instagram
Jennifer captioned it by saying everyone gives "all this care and attention to the skin on our face, but we sometimes neglect the body."
She also wrote that it's essential for her "to create a skincare routine for the body to address specific and unique needs, and we started with the booty!"
Magic formula
The multi-hyphenate star always goes all out for her birthdays. Last year, it was a PDA-filled vacation with Ben Affleck.
For her milestone 50th birthday, she had a lavish star-studded party in Miami. When she turned 47, she flashed her boobs and legs in Zuhair Murad as she danced the night away in her Brian Atwood heels.
But for this year, it's all about her fans and wishing for them to be confident about their bodies.
In an interview with People, Jennifer shared that her skincare line already has "some amazing products targeting tightening and firming for the face, so a product for the body that addressed those same issues was a natural next step for us."
View this post on Instagram
According to their research, the booty is "the body part that our consumers wanted a targeted treatment for, and they couldn't find it on the market."
The Shades of Blue actress shared that she's always had the idea for this product, as she watched her mother's growing frustrations with cellulite.
"I remember her wishing that there was some magic formula that was just going to make it disappear. And the truth is, we know that doesn't exist."
But while working with scientists, they've come up with a clinically tested formula that "really does improve the appearance of the skin."
View this post on Instagram
According to the JLo Body website, the Booty Balm "visibly firms and hydrates skin and fades the appearance of stretch marks for a smoother, more refined-looking booty."
Among the ingredients are guarana seed extract, pink pepperslim, squalene, shea butter, and hyaluronic acid. The product is also free from dangerous ingredients such as parabens, mineral oil, phthalates, and sulfates.
Investing in self-care
"We're not just taking a random cream and slapping my name on it," Jennifer said. "It works."
The balm can also be used for any body part that needs toning and firming like the arms, waist, and thighs.
Jennifer Lopez wearing Niyama Sol flared leggings and The Kooples platform sneakers in Los Angeles on July 20, 2022 (Credit: BauerGriffin / INSTARimages / Cover Images)
"A lot of people invest in skincare for their face, but they don't invest in self-care and skincare for the body," Jennifer told People. "I want to normalize taking care of yourself. It's not a selfish thing. It's a nourishing thing."
She added, "If you can't take care of yourself, you certainly cannot take care of anybody else."
"Beauty has no expiration date"
Jennifer has always been confident about her body, making her a role model for countless people who struggle with the way they look. She encourages everyone to celebrate their natural curves and wears clothes that highlight her body.
The global icon works hard to maintain her enviable figure, ensuring that she adheres to her exercise regime. Jennifer also has a skincare routine that allows her ageless beauty to shine.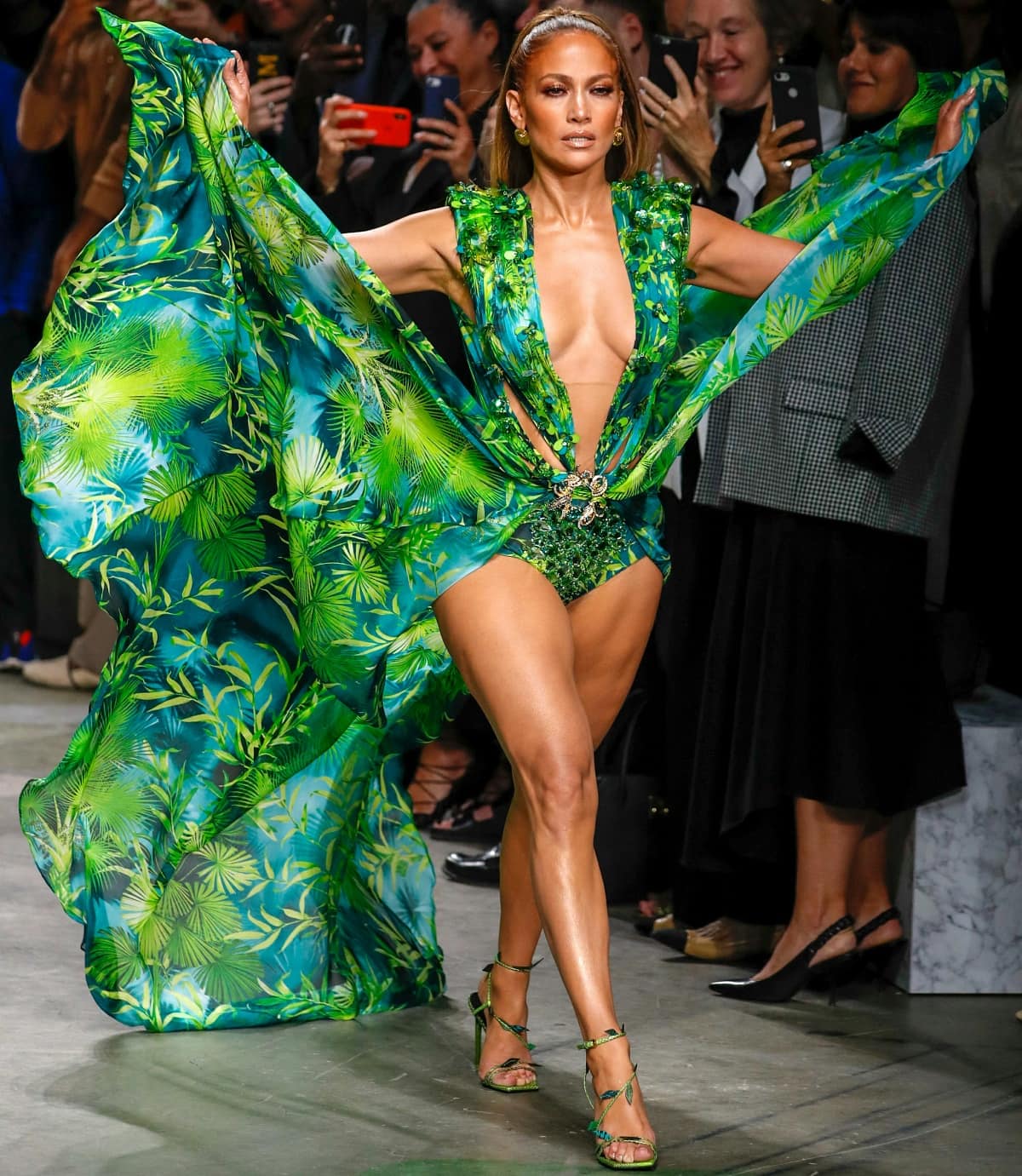 Jennifer Lopez walking the runway for the Versace Spring/Summer 2020 fashion show during Milan Fashion Week (Credit: Gil-Gonzalez Alain / ABACA / INSTARimages)
"'Beauty has no expiration date' was always my personal mantra because I'm in a business where youth is glorified and people try to write, especially women, off at a certain time," Jennifer shared.
Lopez also said that growing up, she admired icons like Diana Ross, Tina Turner, and Cher. Jennifer added, "they were in their 50s and they were beautiful and almost coming into their own at that time."
The Marry Me actress is a world-renowned superstar that has been the target of several sexist jokes, particularly about her derriere. But now she uses "the most iconic booty" to help those who look up to her and promote self-care and wellness.
"I believe you can look and feel amazing and sexy at any age," Jennifer said.
It also helps that she has a strong support system headed by her husband, Ben Affleck. Jennifer shared that Ben appreciates it more when it's "just you in your own skin." She said that it "makes me feel really confident and beautiful."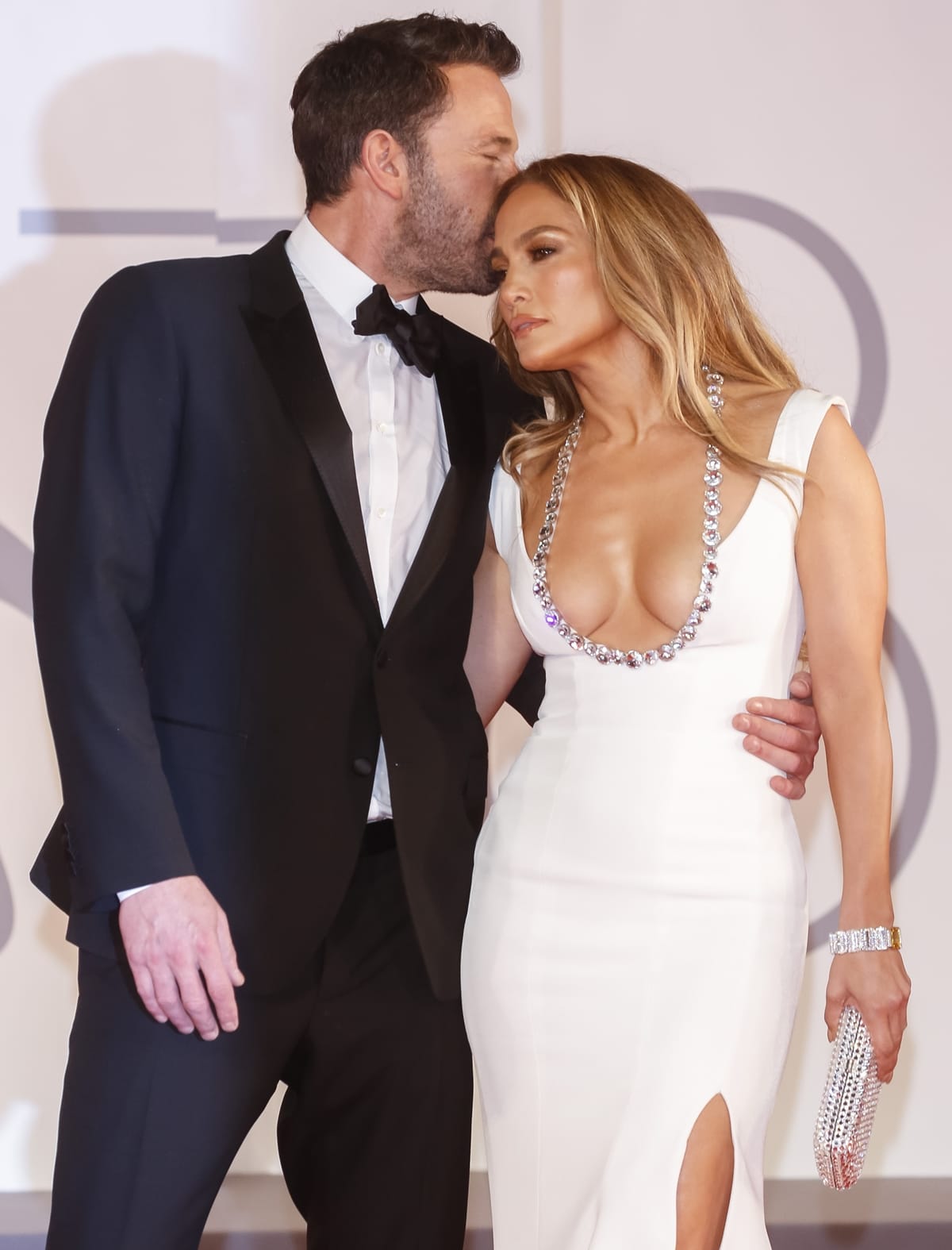 Ben Affleck gives Jennifer Lopez a kiss at the premiere of The Last Duel during the 78th Venice International Film Festival (Credit: MEGA / WENN)
Jennifer proudly declared, "I am the age I am, but I feel amazing and happier than ever." She said she feels "like I'm just at my halftime right now and just getting started."