Robert De Niro has recently announced the birth of his seventh child and discussed his parenting style in an interview with ET Canada.
The 79-year-old Taxi Driver actor revealed the birth of his youngest child while discussing his latest film, About My Father, set to release later this month, and his parenting style.
When asked about his approach to parenting, De Niro explained that he strives for a balance between being loving and stern with his children.
Robert De Niro attended the premiere of his new movie, About My Father, at SVA Theater in New York City on May 9, 2023, and surprised fans by announcing the birth of his seventh child, although he did not reveal the identity of the baby's mother (Credit: Darla Khazei / INSTARimages)
"I mean, there's no way around it with kids. I don't like to have to lay down the law and stuff like that. But, [sometimes] you just have no choice," he said.
"And any parent, I think, would say the same thing. You always want to do the right thing by the children and give them the benefit of the doubt, but sometimes you can't."
Despite his preference to avoid being too strict, he acknowledged that there are times when it's necessary. When the interviewer referred to his six kids, De Niro corrected interviewer Brittnee Blair. "Seven, actually," De Niro said before adding, "I just had a baby."
Some fans suspect he is in a relationship with Tiffany Chen, whom he met while filming The Intern in 2015.
According to her website, Chen participated in her first martial arts competition at 16 in 1994, making her either 45 or 46 years old in 2023. With De Niro being born in August 1943, the couple has an age difference of approximately 35 years.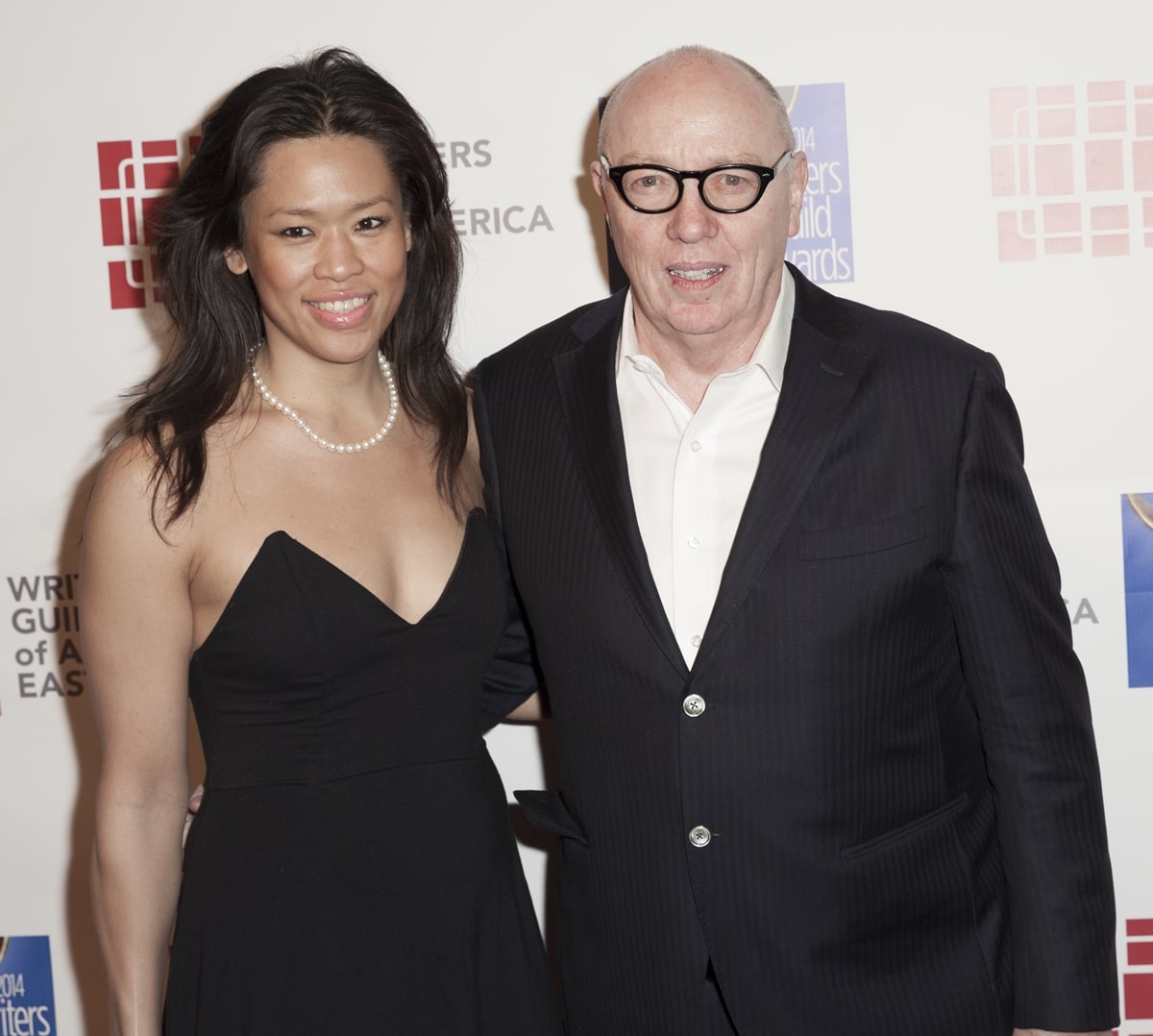 Writer Terry George (R) and Tiffany Chen attend the 66th Annual Writers Guild Awards East Coast Ceremony on February 1, 2014, in New York City (Credit: Lev Radin / Shutterstock)
At the New York City premiere of his latest film, About My Father, De Niro spoke more about fatherhood when asked about his number one rule for being a good father. He emphasized that being a good father is a mystery and involves a lot of excitement and fear. Still, ultimately, it is the responsibility of the parent to do their best.
"Sometimes, I don't think people really know what being a good father is," he told Access Hollywood, clarifying that "you have a responsibility." He added, "But look, it's a mystery. It's a lot of excitement. It's scary and you do your best."
De Niro has seven children, including Drena, 51, and Raphael, 46, whom he shares with his first wife, Diahnne Abbott. He also has 27-year-old twins, Aaron and Julian, with his ex-girlfriend Toukie Smith, and Elliot, 25, and Helen, 11, with his ex-wife Grace Hightower.
Actor Robert De Niro has become a father for the seventh time, according to a representative for the actor who confirmed the news (Credit: Darla Khazei / INSTARimages)
Despite being 79 years old, De Niro is still excited about having a newborn and is prepared to do it all over again. He stated that his children sometimes disagree with him, but they are respectful, and he adores them all.
"You know, my kids disagree with me at times, and they're respectful," he said. "My daughter, she's 11, she gives me grief sometimes and I argue with her. I adore her, but, you know. And my youngest now, that'll be more to come. But, that's what it is."