Serbian-born designer Roksanda Ilinčić has quickly become one of the most revered designers in the fashion industry. Now based in London, Ilinčić is a true sartorial force, and her impeccable designs are colorful, dynamic works of art.
Let's take a closer look at how Ilinčić got her start and where her brand is today:
How Roksanda Ilinčić Began
Roksanda Ilinčić started her career by studying at the University of Arts in Belgrade and later Central Saint Martins in the late '90s.
By 2005, Ilinčić was showing pieces under her eponymous brand on the runway at London Fashion Week, becoming a veritable innovator in the eyes of other clothiers, even by classic design standards.
Serbian-born designer Roksanda Ilincic launched her fashion brand, Roksanda, in 2005 at London Fashion Week (Credit: PA Images / INSTARimages)
Ilinčić started with women's wear, which she has continually designed throughout her decades-long career. But soon after her fashion week debut, the designer added swimwear, children's wear, and ready-to-wear collections to her brand.
Now Ilinčić also sells accessories such as handbags and sunglasses, as well as bridal gowns and even NFTs, making her one of the most versatile designers in the business.
Roksanda Ilinčić's Most Iconic Work
Roksanda Ilinčić's work is defined by its longstanding use of bold colors, patterns, and shapes, but some collections have stood out among others, like both her Resort and Fall/Winter 2016 collections.
She's also been the recipient of multiple fashion awards, like the British Designer of the Year and the Red Carpet Designer award.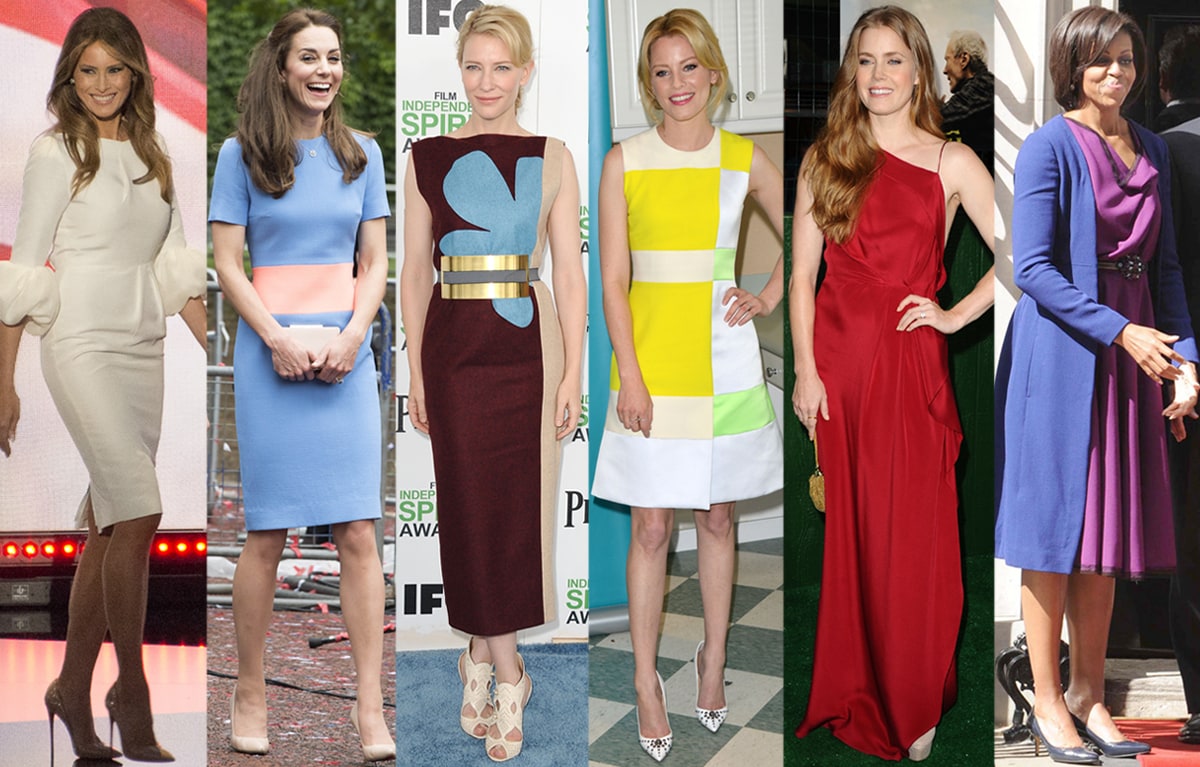 Former First Lady Melania Trump, Catherine, Princess of Wales, actresses Cate Blanchett, Elizabeth Banks and Amy Adams, and former First Lady Michelle Obama wearing dresses by Roksanda Ilinčić (Credit: Ron Sachs / startraksphoto / Arthur Edwards / The Sun / PA Images / Kyle Rover / Tony DiMaio / Sara De Boer / MMP)
Ilinčić's designs have been seen on multiple high-profile celebrities such as Freida Pinto, Mandy Moore, Kerry Washington, and two of the three most recent American First Ladies, Melania Trump and Michelle Obama.
Her Collaboration with Lululemon
Roksanda Ilinčić has collaborated with multiple legendary brands, including FILA and Barbour International, but perhaps her most celebrated collaboration to date is that with Lululemon, the revered athleisure and athletic wear brand.
Ilinčić and Lululemon launched their collaboration back in 2019, and it was an instant hit. Each brand took what it's best known for – Lululemon's functional pieces, innovative materials, and Ilinčić's colorful designs and unique shapes – and combined the aspects to create a beautiful and coveted capsule collection.
Roksanda Ilinčić's collaborative collection with athleisure and athletic wear brand Lululemon was an instant hit when it launched in 2019 (Credit: Roksanda)
The collection only featured 16 pieces – tops, leggings, and outerwear among them – but each piece was carefully designed and kept both beauty and use at the forefront.
While the Roksanda x FILA collaboration is similar, it doesn't rank quite as beloved as Ilinčić's work with Lululemon.
Roksanda Ilinčić has partnered with sportswear brand Fila on a capsule collection for Fall 2022
Is it a Luxury Brand: The Cost of Roksanda Ilinčić's Products
If you're unfamiliar with Roksanda Ilinčić, her brand, Roksanda, is absolutely a luxury brand.
Ilinčić uses fine leather materials for her handbags, and her products are made in Italy. Each design is thoughtfully made, and her pieces are shown on runways all over the world.
Roksanda Ilinčić creations are usually priced between $560 for a top and $1,000 for a dress
Because it's a luxury brand, Ilinčić's designs are quite spendy. Though some pieces can be purchased on sale, most of her work will cost customers at least a couple hundred dollars, with some pieces priced higher than $1,000 at Mytheresa.
Price, of course, depends on whether you're purchasing runway, ready-to-wear, clothes, or handbags, but if you're interested in buying from Ilinčić, budget accordingly.