Sports films have always been a staple of Hollywood, capturing the thrill of the game and the determination of its players.
But some films go beyond the game itself and showcase the incredible potential of the human spirit. Champions, the heartwarming sports film starring Woody Harrelson, is one example.
Champions isn't just a movie about basketball or disability – it's a story about breaking down barriers and inspiring others to do the same.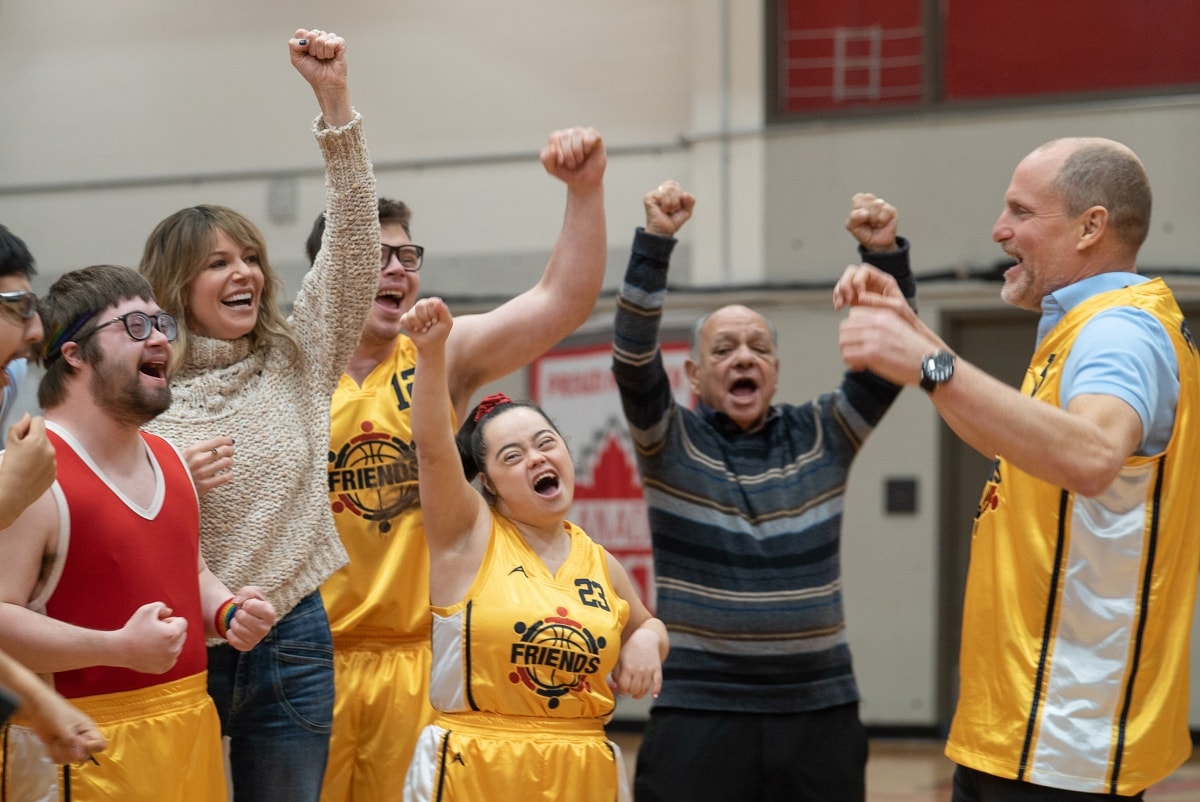 The upcoming sports film Champions tells a heartwarming tale of the human spirit and an inspirational story about breaking down barriers (Credit: Focus Features)
Through the trials and tribulations faced by the cast, we see the incredible potential of human beings to overcome challenges and the power of inclusion and teamwork.
Even if you're not a sports fan, Champions will move you with its message of hope, determination, and perseverance.
What Is Champions About?
In the upcoming American comedy sports movie Champions, Woody Harrelson portrays a former minor-league basketball coach who lands himself in legal jeopardy after a sequence of missteps.
To meet a community service obligation, he must train a group of players with intellectual disabilities. He learns that the group can accomplish more than he ever thought possible by working together. They begin striving for a place in the Special Olympics as time passes.
Champions is an English-language version of the Spanish film Campeones, released in 2018.
Champions is a 2023 remake that follows a similar narrative structure of the original Spanish film Campeones released in 2018 (Credit: Focus Features)
It is based on the real-life tale of the long-running Valencian Special Olympics team Aderes. The original film also stars Javier Gutiérrez (Marshland) and follows a similar narrative structure.
Campeones also marks the first-time acting appearance of several performers with intellectual disabilities. It topped the Spanish box office and was widely praised as the year's best Spanish picture in 2018.
The Spanish Oscars' counterpart, the Goya Awards, gave it three wins, including Best Film, out of eleven nominations.
Who Made Champions?
Bobby Farrelly, who co-directed his brother Peter Farrelly's famous comedies Dumb and Dumber, There's Something About Mary, and Me, Myself & Irene, is Champions' director.
The Farrellys' last collaboration was the 2014 comedy Dumb and Dumber To, which, although a blockbuster hit, was widely perceived as a step back from its predecessor.
Since then, Bobby Farrelly has directed episodes of many television and streaming series, such as The Now for the Roku Channel, initially created for Quibi, Loudermilk for Prime Video, and Trailer Park Boys for Netflix.
The 64-year-old film director makes his solo, full-length directing debut with Champions.
Director Bobby Farrelly with the cast of the upcoming comedy sports film Champions (Credit: Focus Features)
Mark Rizzo revised Champions' screenplay. After the 2008 television film Zip, Champions is the second movie he has written.
Moreover, Rizzo contributed episodes to the animated Netflix series Green Eggs and Ham and the Disney animated series Gravity Falls. For the former, he was nominated for a Daytime Emmy for Outstanding Writing for an Animated Program.
Together with Brad Kessell and Alexander Jooss, Woody Harrelson is one of Champions' executive producers.
Besides Álvara Longoria and Luis Manso, who produced Campeones, Javier Fesser, who also co-wrote and directed the original film, contributed as executive producer on this remake.
Paul Brooks, Cary Davies, Drew Locke, Scott Niemeyer, Jeremy Plager, Anna Schwartz, and Jonathan Shore are among the film's additional producers. Julie Garcés edited the movie and C. Kim Miles handled the cinematography.
1. Woody Harrelson (Marcus) – 5ft 9 ½ (176.5 cm)
Marcus, played by Woody Harrelson, is a contentious minor league basketball coach mandated by a court to train a team of players with intellectual disabilities.
He first objects to the concept of coaching the group, but he quickly comes around and develops a close relationship with the players.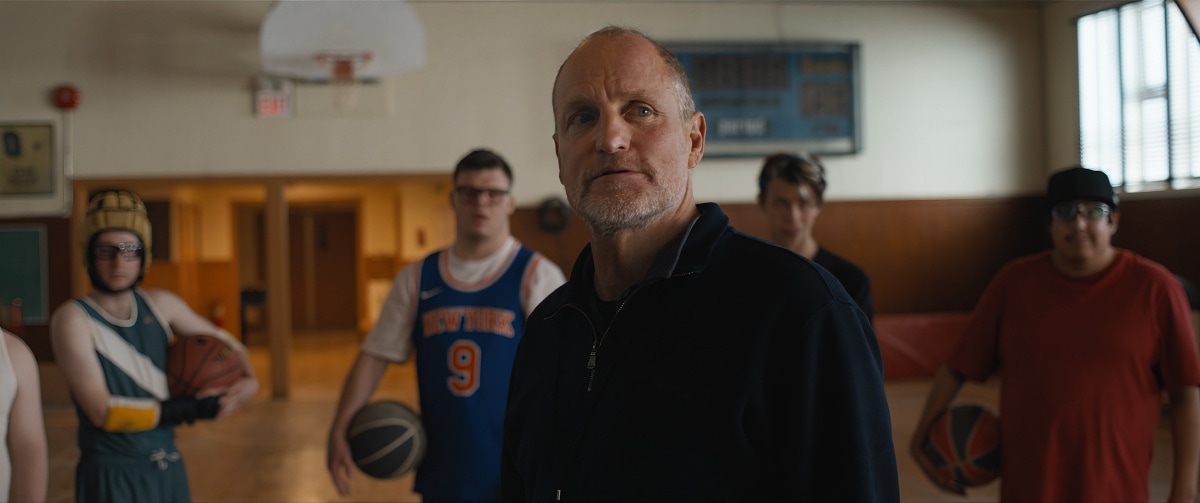 Woody Harrelson as Marcus in the upcoming comedy sports film Champions (Credit: Focus Features)
The iconic sitcom Cheers is where Woody Harrelson started, and it won him a Primetime Emmy for Outstanding Supporting Actor in a Comedy Series.
Since then, the 61-year-old actor has starred in highly regarded movies, including The People vs. Larry Flynt, The Messenger, and Three Billboards Outside Ebbing, Missouri, for which he has been nominated for an Academy Award.
In addition, Harrelson is a part of numerous film series, including Zombieland and Venom, the latter of which casts him as the renowned Spider-Man villain Carnage.
He got another Emmy nod for his work in the acclaimed HBO anthology series True Detective, where he co-starred with Matthew McConaughey. After 1996's Kingpin, Harrelson and Bobby Farrelly collaborate for the first time on Champions.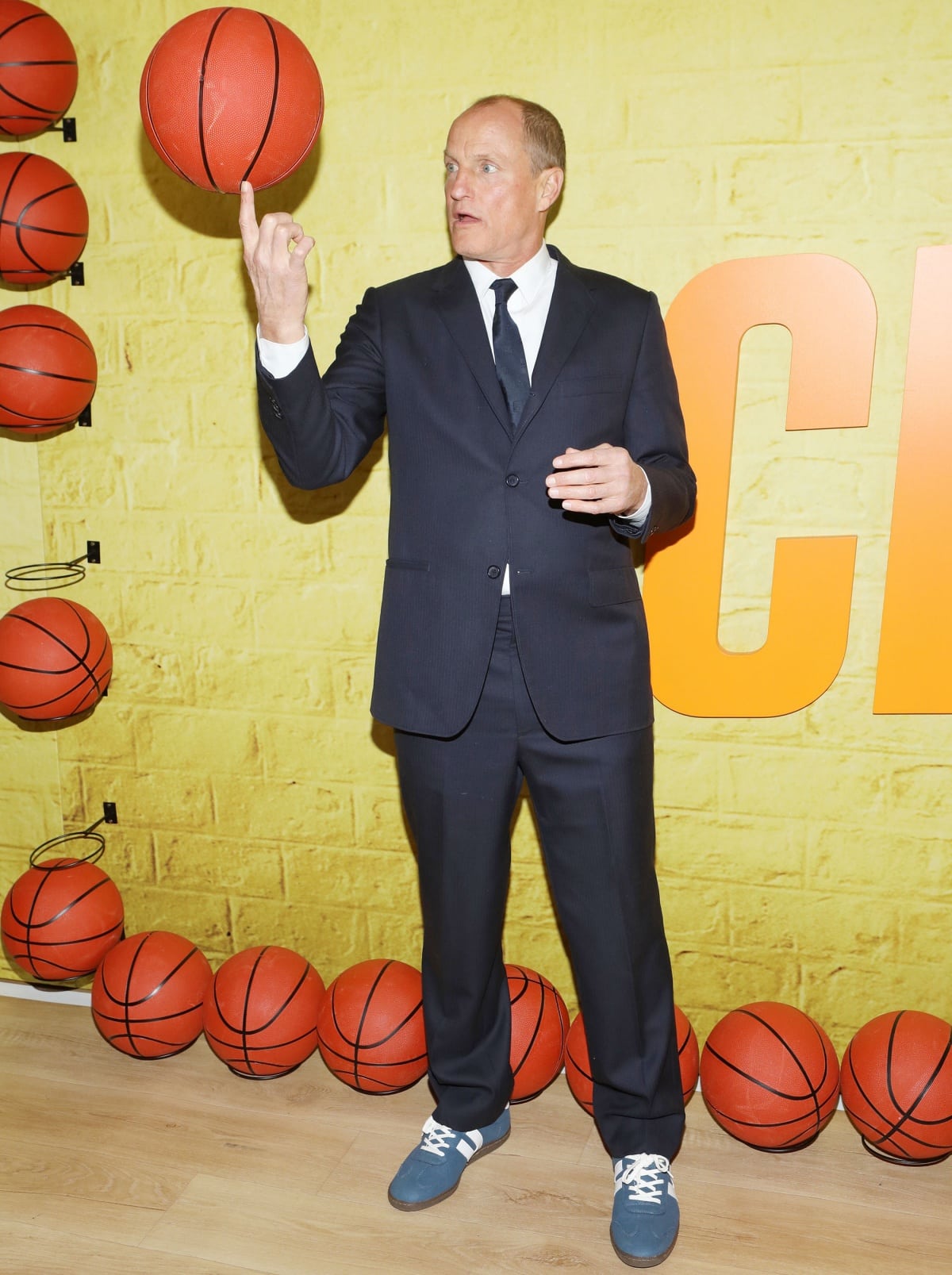 Woody Harrelson showing off his basketball skills at the premiere of Champions in New York City on February 27, 2023 (Credit: Udo Salters / Startraksphoto / Cover Images)
On Monday, Woody Harrelson appeared for his sports comedy's New York City premiere, looking dapper in a timeless black suit.
The actor joined the event at the Lincoln Square Theater wearing black slacks and a matching suit jacket with a button at the front.
He completed his red carpet ensemble by wearing a simple black tie, a clean, white dress shirt that was buttoned up to the neck, and a suit. The star stepped into a pair of lace-up sneakers with blue and white stripes for a more relaxed look.
Also, he had the support of his 55-year-old wife, Laura Louie, and two of their three daughters: Deni, 30, Zoe, 26, and Makani, 16. Following their 1987 encounter when she started working as his assistant, the couple married in 2008.
2. Kaitlin Olson (Alex) – 5ft 7 ½ (171.5 cm)
Alex, portrayed by Kaitlin Olson, is Marcus' romantic interest and the older sister of one of his new players.
"Yeah, Johnny Depp and Kaitlin Olson. Well, whoever they pick, they're going to have to pick a tall man. I don't know if you know this, but men in Hollywood are short and I'm 5'8". So let's keep Christian Bale and I'll probably have a better chance of getting that job," she told HoboTrashcan about her height.
Kaitlin Olson as Alex in the upcoming comedy sports film Champions (Credit: Focus Features)
The acclaimed actress, best known for her portrayal of Dee Reynolds on the popular FX comedy series "It's Always Sunny in Philadelphia," continues to captivate audiences at age 47.
She received a Primetime Emmy nod for Outstanding Guest Actress in a Comedy Series for her role as DJ Vance in the widely praised HBO Max comedic series Hacks. Moreover, Olson has acted in many feature movies, including Finding Dory, The Heat, and Coyote Ugly.
Kaitlin Olson dressed chicly and stylishly to attend the comedy film's special premiere. The actress picked a strapless dress in a cream tone with a substantial red floral embellishment on the bodice of the outfit.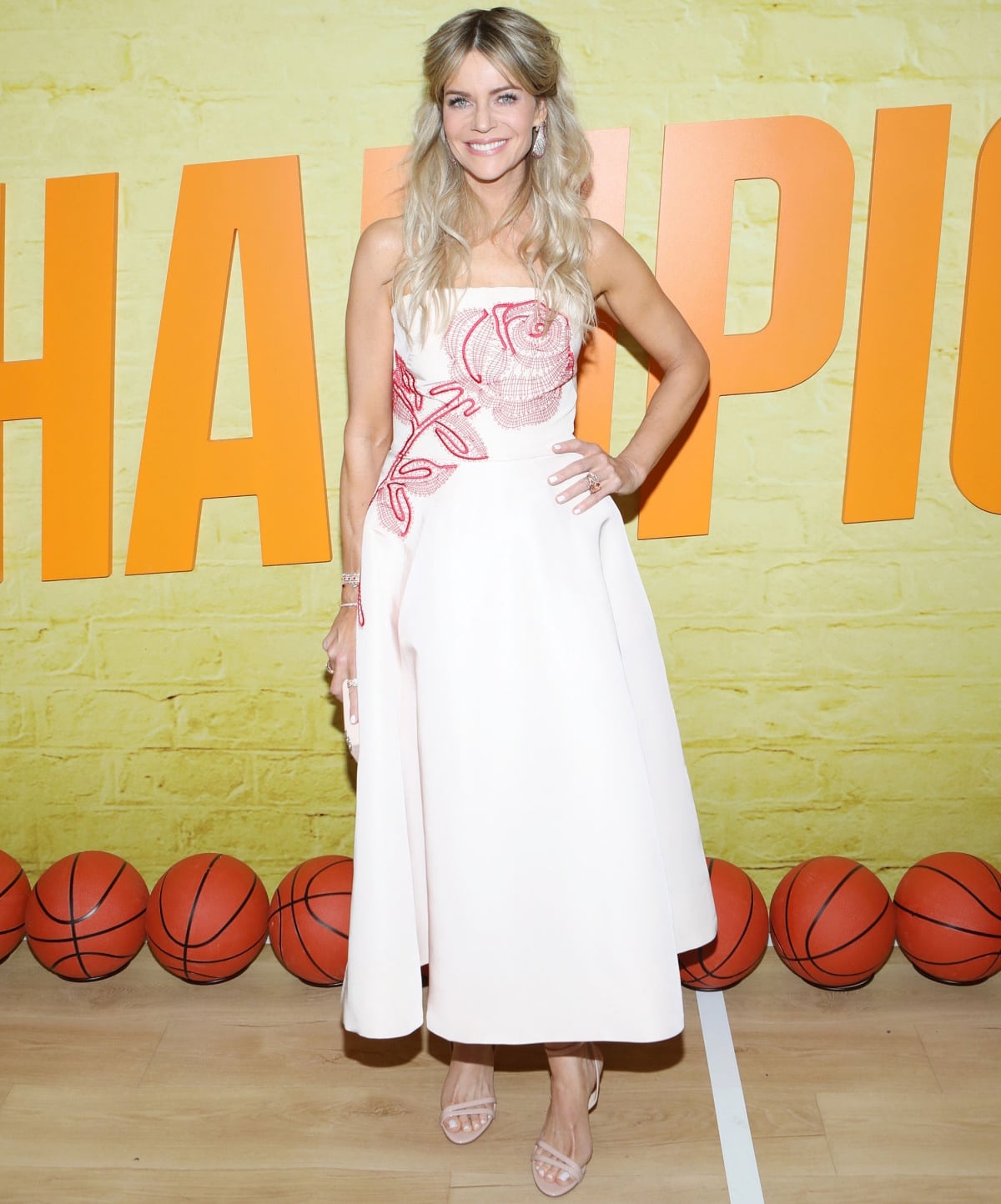 Kaitlin Olson looking lovely at the premiere of Champions in New York City on February 27, 2023 (Credit: Udo Salters / Startraksphoto / Cover Images)
Her skirt slid down to her ankles, displaying a stylish pair of open-toed, nude-colored heels. She had a center split in her long, blonde hair and brushed the top of her hair back and away from her face. The rest of her hair was lightly curled and slid past her shoulders with elegance.
Olson donned silver and crimson earrings that glistened in the spotlights to accentuate her costume. She also wore a sizeable floral ring on her left hand to match the motif of her outfit.
3. Ernie Hudson (Phil Perretti) – 5ft 11 (180.3 cm)
Ernie Hudson portrays Phil Perretti, a rival minor league basketball coach with whom Marcus brawls during a game, which contributes to part of the reason why he is dismissed.
"I found out very quickly that I'm the worst player, but I did get out there and try to shoot some baskets with the kids," he told Zavvi about his lack of basketball skills.
"Because I'm six feet tall and black, people think that I must know how to play basketball, so they are stunned when I can't."
"I remember doing this movie called The Basketball Diaries and they hired me assuming that I could play – when they told me to shoot one I was like 'that's never going to happen'. They were shocked!"
"I do like playing with my sons although they say that when they beat me, I don't want to play anymore, which is true."
Ernie Hudson as Phil Perretti and Woody Harrelson as Marcus in the upcoming comedy sports film Champions (Credit: Focus Features)
After 1995's Basketball Diaries, Ernie Hudson's second basketball-themed film is the upcoming Champions.
His role as Winston Zeddemore, which he portrayed in the original two Ghostbusters movies and again in the long-awaited sequel Ghostbusters: Afterlife, released more than thirty years later, is what made Hudson most renowned.
The Hand That Rocks the Cradle, a 1992 movie where the 77-year-old actor appeared, featured him as an adult with intellectual difficulties. He appeared in Miss Congeniality and The Crow, as well.
Regarding television, Hudson starred in the HBO series Oz and appeared in many other programs, such as St. Elsewhere, Law & Order, and Grace and Frankie.
Ernie Hudson attending the 2022 NBCUniversal Upfront Presentation in New York City on May 16, 2022 (Credit: JOHN NACION / Startraksphoto)
The Supporting Cast of Champions
In addition to these stars, Matt Cook portrays Sonny, an assistant coach, and Cheech Marin stars as Julio, the recreation center manager, where the players train.
Moreover, some actors with intellectual disabilities have been cast in Champions, notably Madison Tevlin, Bradley Edens, Joshua Felder, Kevin Iannucci, Ashton Gunning, Matthew Von Der Ahe, Tom Sinclair, Alex Hintz, Casey Metcalfe, and Champ Pederson.
Matt Cook as Sonny, Kaitlin Olson as Alex, Woody Harrelson as Marcus, and Cheech Marin as Julio in the upcoming comedy sports film Champions (Credit: Focus Features)
Champions is a highly anticipated American sports film that promises to deliver a heartwarming and inspirational message about breaking down barriers and embracing diversity.
This film offers a powerful message about the potential of the human spirit, demonstrating the power of teamwork and inclusivity.
With a release date set for March 10, 2023, Champions is a must-see for anyone looking for an inspiring and uplifting cinematic experience.
Be sure to mark your calendars and be a part of the inspiring journey toward overcoming obstacles and attaining greatness.