Rosario Dawson and Cory Booker have been dating since October of 2018 and they confirmed their relationship in March of 2019.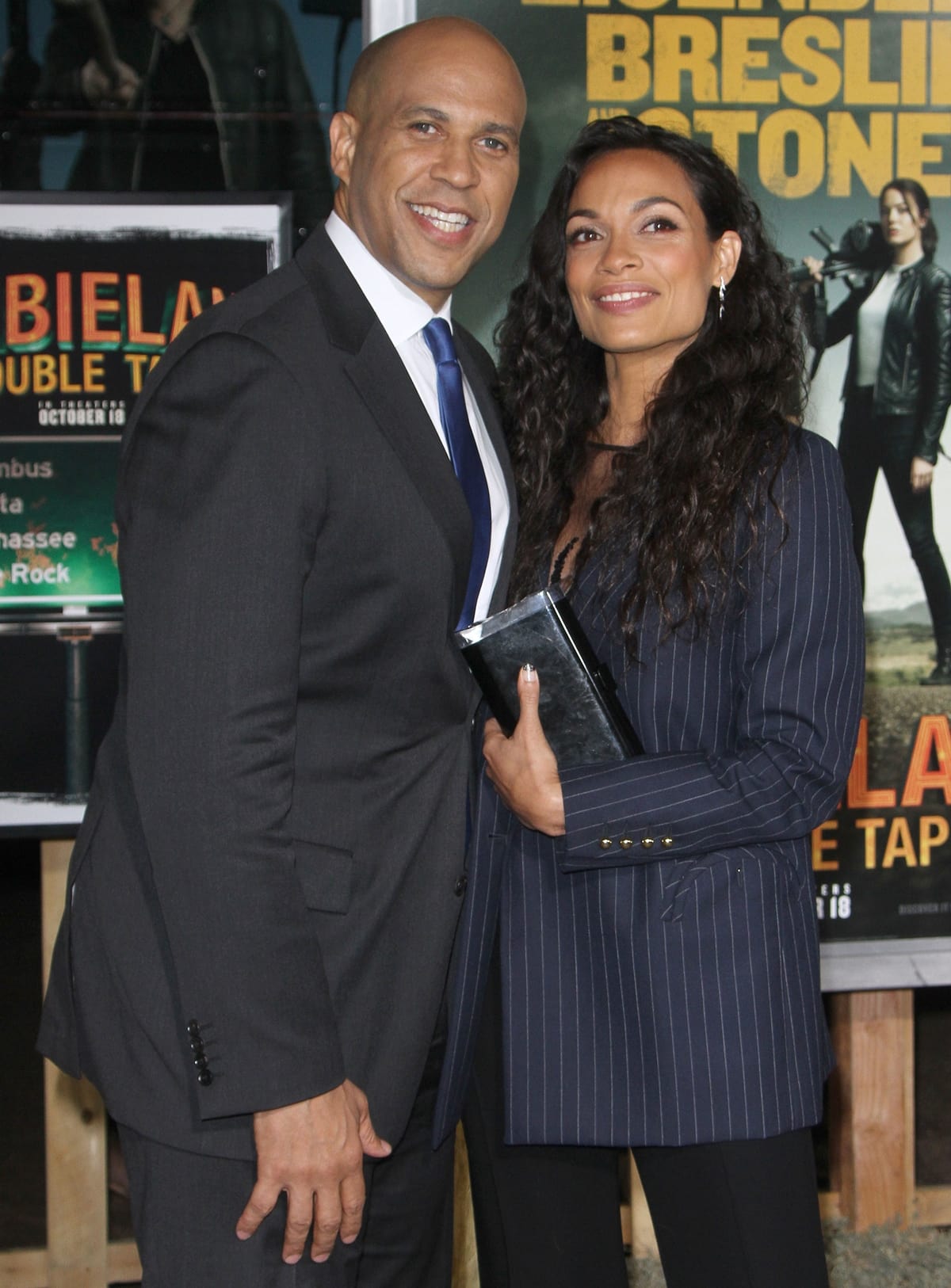 Rosario Dawson and Cory Booker met at a fundraiser in 2018 (Credit: WENN / Avalon)
After a chance meeting at Sarah Silverman's party, the two have grown their relationship around a mutual love for giving back and investing in their communities and each other.
Rosario Dawson's Humble Beginnings
Rosario Dawson is an actress, producer, and activist. At age 42, she has an estimated net worth of $8 million. She began her acting career as a young child, appearing on Sesame Street. Eventually, she starred in Kids, He Got Game, and Side Streets.
Dawson has over 100 TV and Film credits, including Josie and the Pussycats, Rent, Men in Black II, Clerks II, Jane the Virgin, and recently with the Disney+ series The Mandalorian. She has been nominated and won many awards during her career.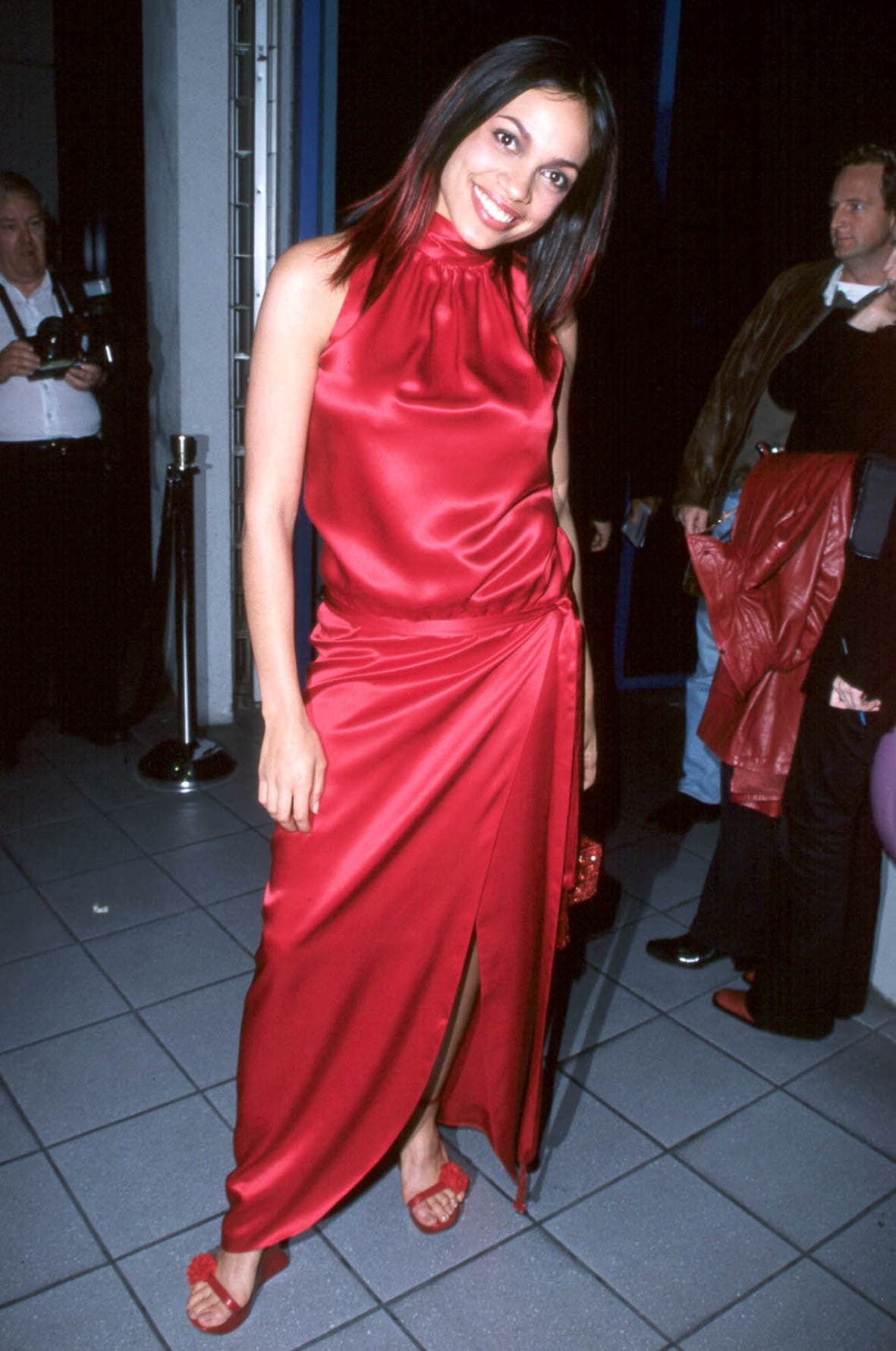 Rosario Dawson at the premiere of the 2001 musical comedy film "Josie and the Pussycats" in Hollywood on April 9, 2001 (Credit: WENN)
Some of these awards include the Rising Star Award at the 2004 American Black Film Festival, the Satellite Award for Outstanding Actress in a Supporting Role, and the ShoWest Award for Supporting Actress of the Year.
She was born in New York City to Isabel Celeste, a teenage mom, at the age of 16. Isabel is of Puerto Rican and Afro-Cuban descent. Rosario's biological father was never in the picture.
Dawson was born on May 9, 1979, to single mom Isabel Celeste, who is of Afro-Cuban and Puerto Rican ancestry (Credit: PNP / WENN)
When Rosario was 6, she and her family lived as squatters in an abandoned East Village apartment. Eventually, the family would move to Texas.
To say that Rosario comes from humble beginnings would be an understatement. It makes sense that she has since dedicated a large part of her life to civic action and philanthropy.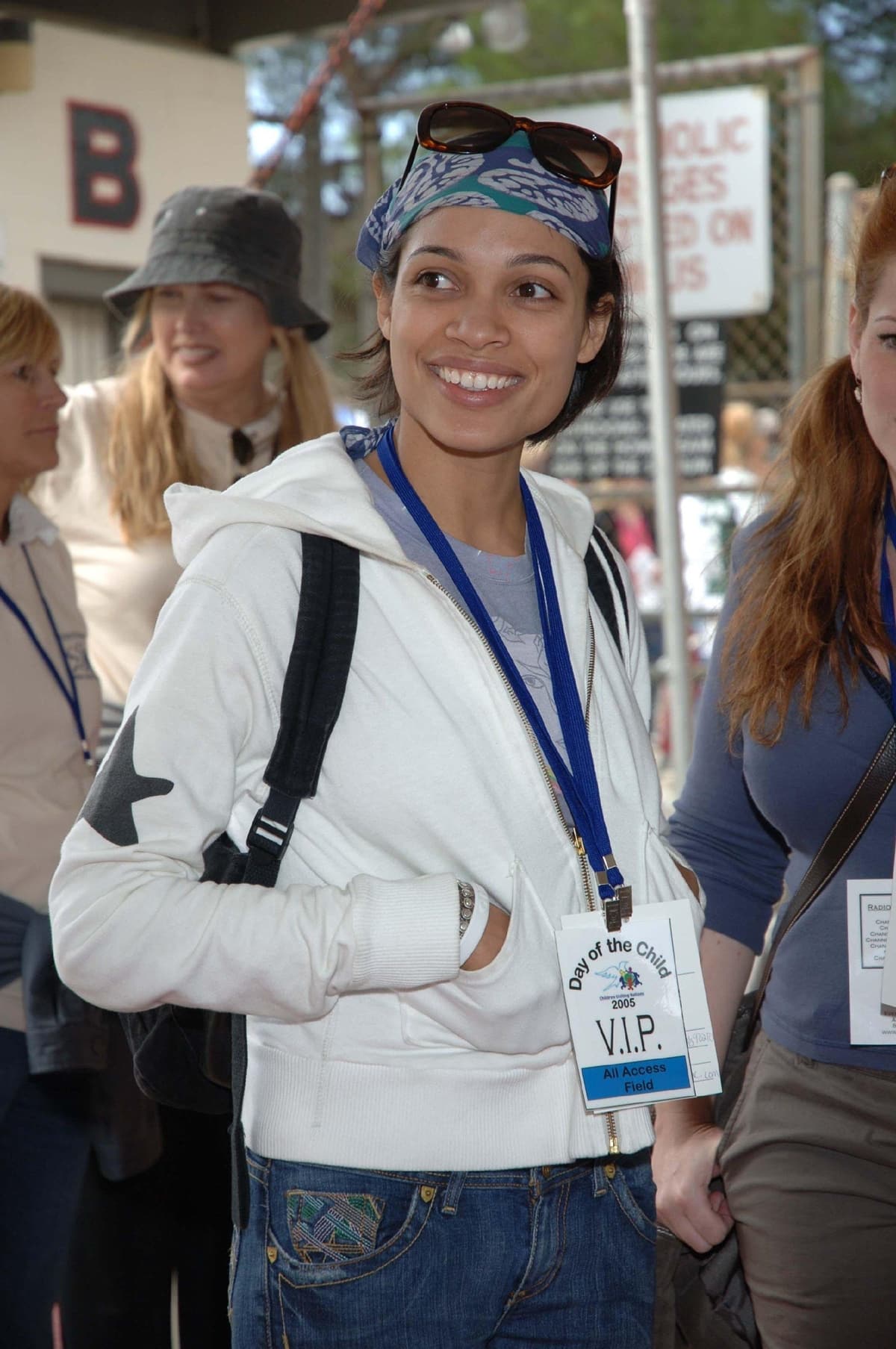 Rosario Dawson is a passionate political activist and devoted to making a difference in the world (Credit: Dimitri Halkidis / WENN)
In an interview with Jimmy Fallon, Rosario shares some of her histories with community engagement and Fallon asks her if she'd ever run for office.
She replies, "I've been called 'Senator Dawson' actually, weirdly, for a lot of years, because I co-founded a voting organization, which is 15-years-old this year, Voto Latino. So, we've been doing voter registration and GOTV [Get out the vote], and census initiatives and even helped to co-found National Voter Registration Day, if any of you have heard of that, NVRD."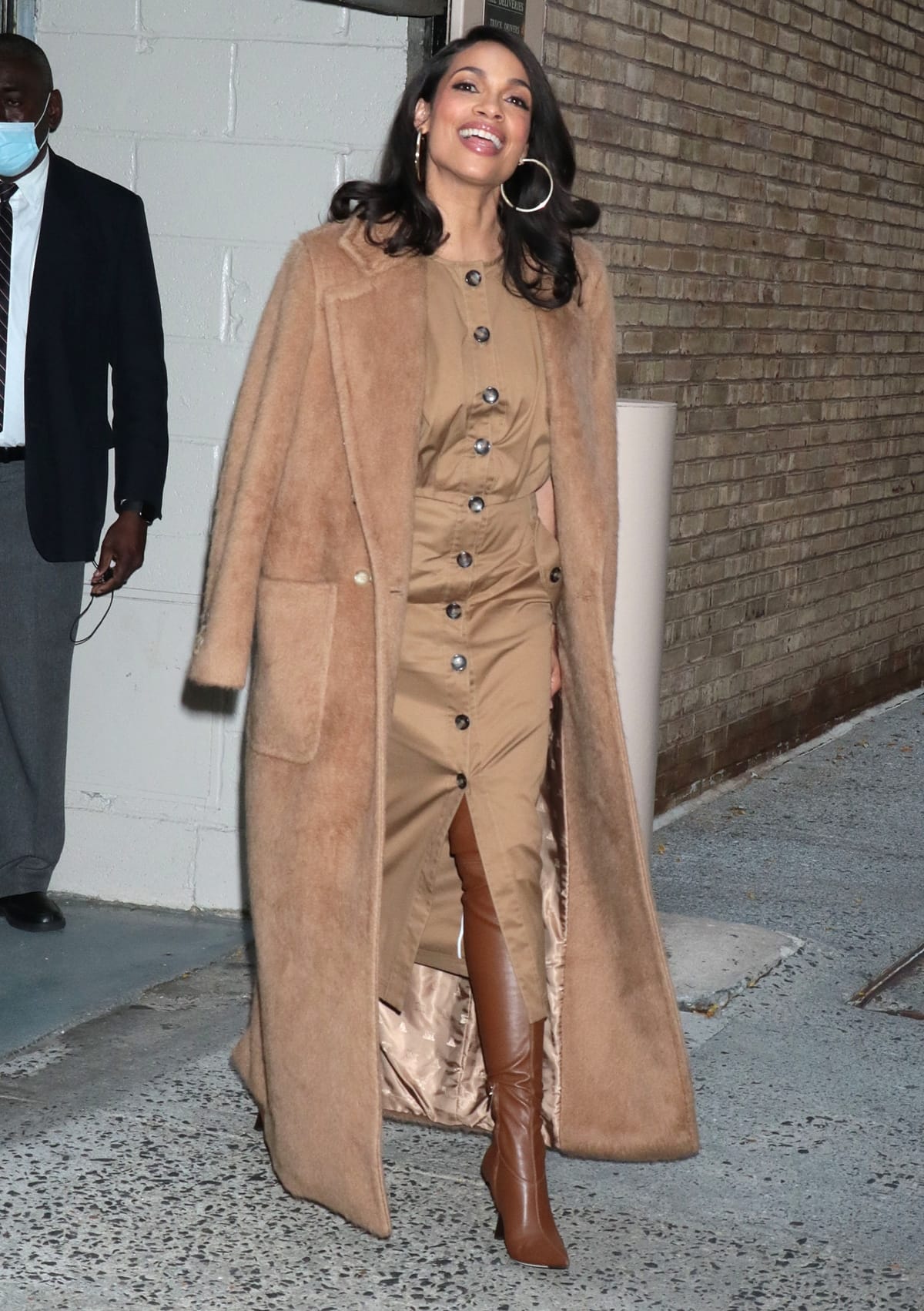 Rosario Dawson wears a tan-brown Max Mara Diana camel hair coat with a Carolina Herrera dress and Jimmy Choo boots for an appearance on Live with Kelly and Ryan in New York City on October 14, 2021 (Credit: MEGA / WENN)
Her current gig is as a judge on Go-Big Show on TBS. This is an extreme talent show that they film in Macon Coliseum in Georgia. Another judge on the show with Dawson is Shante Broadus' husband Snoop Dogg.
On a Jimmy Fallon appearance, Dawson laughed and shared, "He is so fun. There's an episode that's coming up where he, on the break while we were resetting the stage, had like, way too many gummies or something. And he could not stop laughing, and I'm telling you, like waterfalls coming down his face. The internet is ready for a new crying meme because it is next level. We couldn't stop laughing."
Who is Cory Booker?
Booker is an African-American US Senator with the Democratic Party, representing the state of New Jersey.
He was one of the many Democrats vying for the Presential Nominee nod for the 2020 United States election, but he ultimately dropped out of the race before Joseph Biden was given the nomination for the party.
Gayle King and her good friend Cory Booker attend TIME Magazine's 100 Most Influential People 2007 at Jazz at Lincoln Center on May 8, 2007, in New York City (Credit: Antonio Salvador/ WENN)
He grew up in New Jersey and attended Stanford University for both his undergraduate and master's degrees. He also was awarded a Rhodes Scholarship and studied at the University of Oxford and then he attended Yale Law School.
Booker has held the office of Senator since 2013. His estimated net worth is $3 Million and he is 52 years old. His cousin is a famous American drag queen, RuPaul. The two learned they were cousins after their appearance on the TV show, Finding Your Roots.
As a Senator, Booker is pro-criminal justice reform and believes in protection for LGTBQ rights and for "Dreamers." He works to solve issues around food insecurity, environmental injustice, and access to affordable health care.
American politician, attorney, and author Cory Anthony Booker has served as the junior United States Senator from New Jersey since 2013 (Credit: MEGA / WENN)
Before he was elected Senator, Booker was the mayor of Newark, New Jersey from 2006 to 2013. He has a great track record. The city saw economic growth under his leadership that had not been seen since the 1960s.
Crime also declined under his leadership, and affordable housing and green space in the city expanded massively. His heart is for his community and the people.
A Spark at Sarah Silverman's Party
Rosario shared with Jimmy Fallon on The Tonight Show exactly how the two met. Dawson says, "We both ended up getting invited to Sarah Silverman's annual rooftop party."
She continues that when she arrived, "Sarah goes, 'Cory Booker just texted me. He's coming.' And I was like, 'Okay…'. And then he came in, and he's tall and brilliant and amazing. And we talked and kind of hovered around each other all night and then like, we both stayed late at the party, so we kept talking. And everyone kept leaving and then he finally was like, 'So, how would one get in touch with you?' And I was like 'you are one of the most brilliant men I've ever spoken to, I'm sure you can figure it out what that is. It's not smoke signals. It's definitely not smoke signals.'" Booker received Dawson's number that evening, and the rest is history.
It's no wonder she and Booker initially clicked and have stayed together, with their mutual love for community action. "He's very nerdy, and we bond on being really nerdy," shares Dawson with Fallon.
Booker remembers their initial meeting a little differently. He shared on RuPaul's talk show RuPaul, "We actually met at a friend of our's that was running for governor of Maryland. Ben Jealous is his name, former head of the NAACP. And we met at that party, and she didn't give me the time of day. She gave me serious shade. But then we re-met at another friend's party. Months later, both of us were single at the time, and it was the roof party of a dear friend, and I had the courage to walk up to her and ask for her phone number."
Booker and Dawson in the Public Eye
Fans loved seeing Dawson and Booker together at President Joe Biden's inauguration in January of 2021. The two wore matching masks to the event in Washington D.C.
Dawson shared, during a virtual appearance on Jimmy Fallon, how she owns a fashion line based in both New York and Ghana, and the masks were from that line, as a nod to western Africa. Her brand is called Studio 189 and she founded it in 2013 with Abrima Erwiah after traveling to Congo.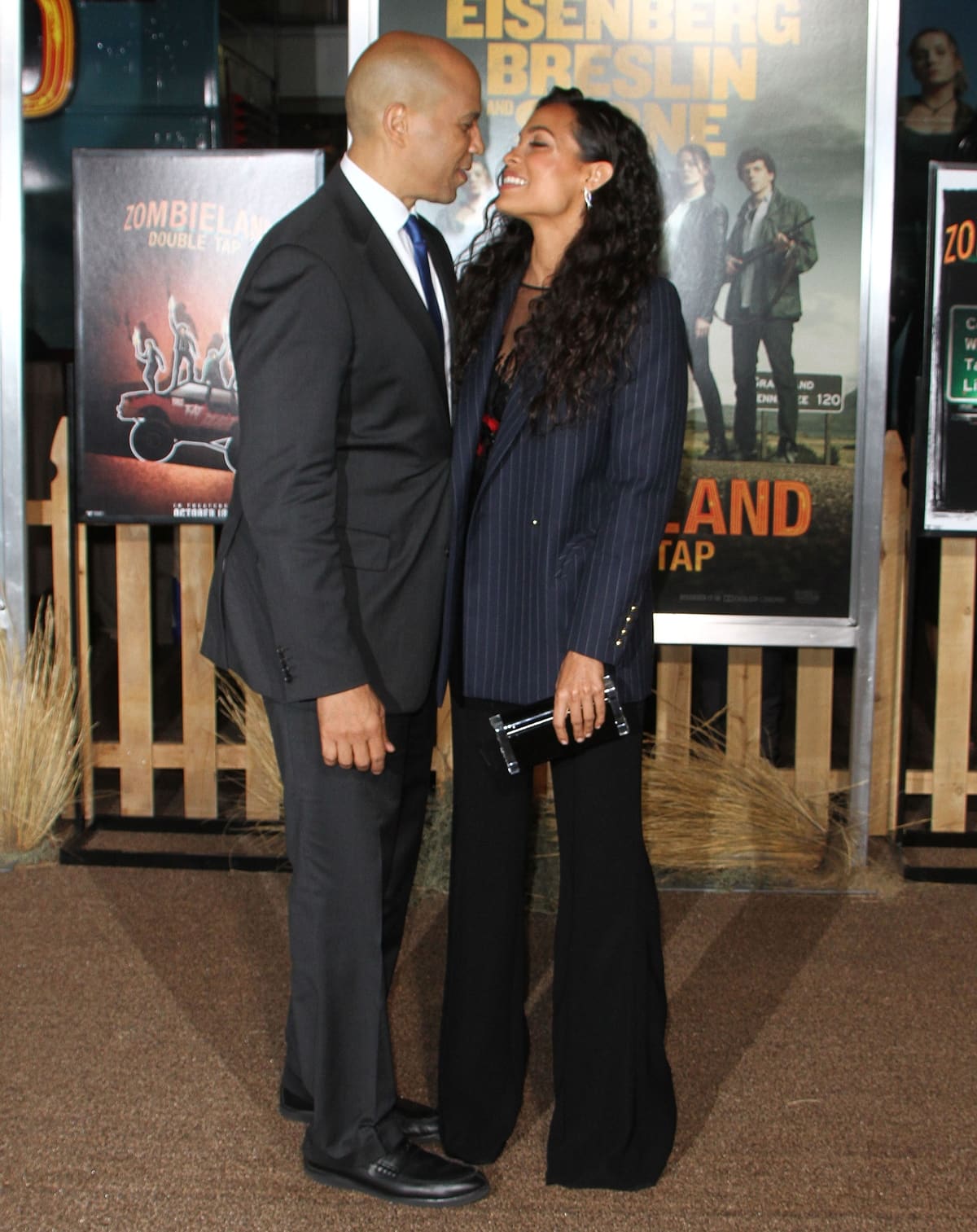 Dating since October 2018, Cory Booker and actress Rosario Dawson confirmed their relationship in March of 2019 (Credit: Avalon / WENN)
Surprisingly, Rosario credits President Joe Biden as being her wingman. At one of the debates for the Democratic nominee nod, Biden, Booker and Dawson all walked in together.
She shared with Jimmy Fallon, "It was really interesting, because, you know, we're there, and they're in full competition with each other at that moment, and he [Biden] walks over and pulls me aside to just say the most wonderful things about Cory. He's very charming, he's making his jokes, 'I married up, I hope the same for him.' It was very, very sweet. It said a lot about him and it said a lot about them as colleagues."
Rosario Dawson and Cory Booker's Previous Dating History
Dawson identifies as an LGBTQ community member. Previously, she has been linked to a number of celebrities, including director Danny Boyle, actor Jason Lewis, and comedian Eric Andre.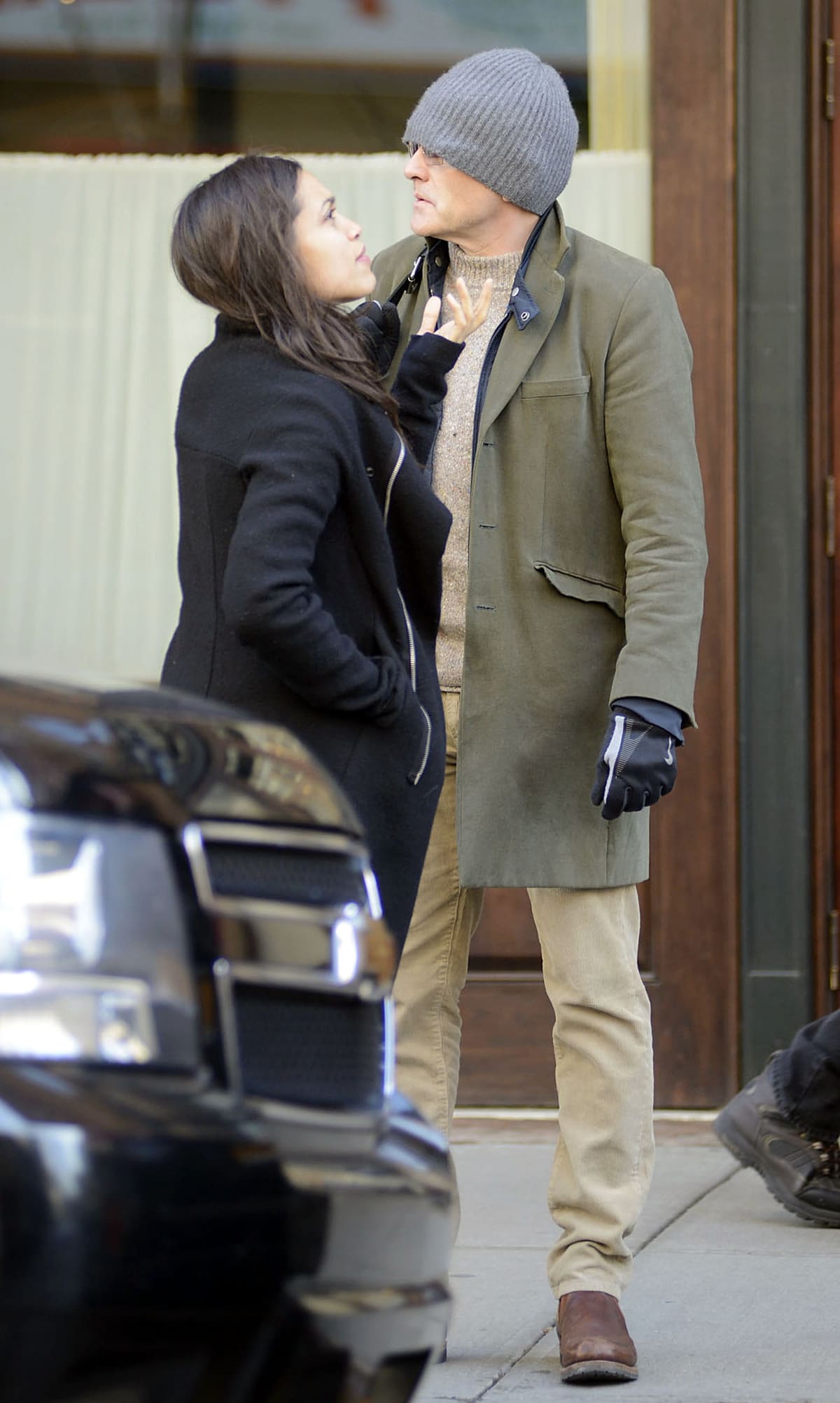 Danny Boyle on a date with his girlfriend Rosario Dawson in New York City on February 14, 2013 (Credit: TNYF / WENN)
She also dated director Quentin Tarantino, French DJ Mathieu Schreyer, and was seen kissing her 300 co-star, Gerard Butler. Eventually, she would go on to meet her current love, Cory Booker.
Mathieu Schreyer and his girlfriend Rosario Dawson leave La Vida restaurant in Hollywood after attending a party thrown by Quentin Tarantino on February 9, 2010 (Credit: WENN)
Before meeting Dawson, Booker was linked to Cleo Wade, Chanda Gibson, and Bianca Levin. He also has a strong friendship, but just a friendship, with Gayle King.
Rosario Dawson and Cory Booker in Love
This pair seems like a perfect match. Booker shared with The Washington Post in October 2019, "Look, both of us, you know, we've had relationships, but I'm not sure if I've ever fully given myself over to a relationship as much as I have with her and allowed myself to be as vulnerable."
He also shared on The Ellen DeGeneres Show, "She is a deeply soulful person and has taught me a lot of lessons about love already. And sometimes you show the greatest strength when you make yourself vulnerable, and she has this nurturing spirit that's made me more courageous, not just in the love that I project and want to see in our country, but I think even in our personal relationships, to love more fearlessly. I'm very, very blessed to be with someone that makes me a better person."
Dawson talks about her deep respect for Booker in her interviews as well. She does admit that at first there was not a love connection, but that now she is absolutely in love with her man.
Dawson shared with The Washington Post, "For my whole life, I've always felt like, even when I got into a relationship, I was trying to be the center of the storm and everything was just this maelstrom out there. But for the first time, I feel like I have someone in the center of the storm with me."
Dawson moved across the country to live with Booker in Newark, New Jersey in 2020 and the two seem like they have a bright future ahead of them.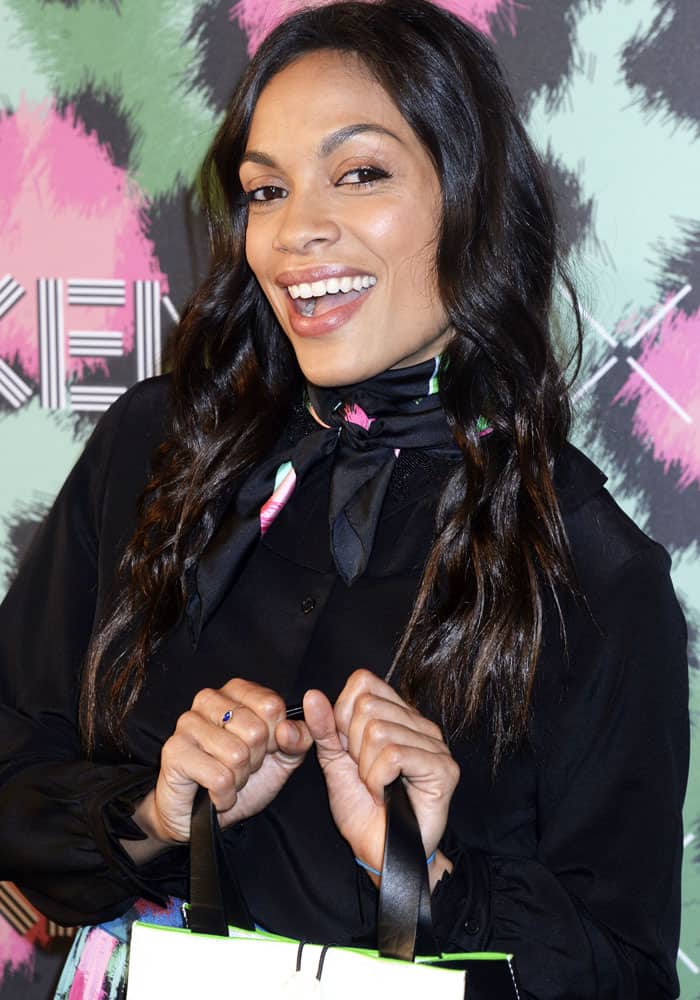 Rosario Dawson wears a Kenzo x H&M Collection long-sleeve blouse (Credit: Dennis Van Tine / Future Image / WENN)
It's pretty refreshing to see celebrities like Rosario Dawson to frontline campaigns. In October 2016, Kenzo x H&M took this electrifying woman as the face of the new loud-and-proud collaboration line.
Rosario was spotted on the red carpet of the much-awaited Kenzo x H&M launch show in New York.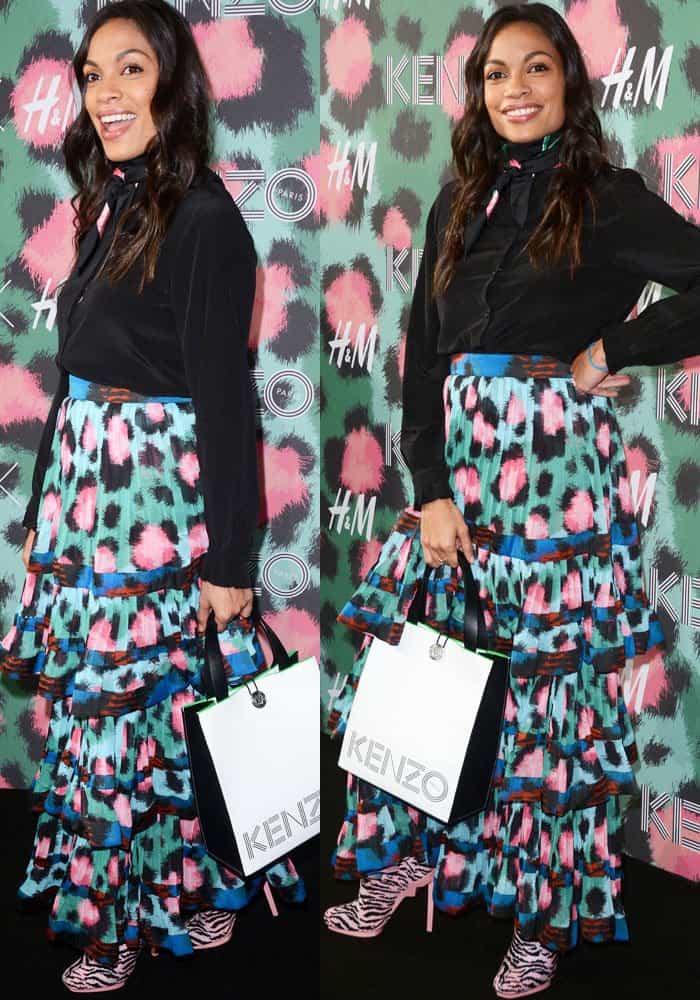 Rosario Dawson at the H&M x Kenzo launch in New York on October 20, 2016 (Credit: Dennis Van Tine / Future Image / WENN / Ivan Nikolov)
As expected, Kenzo x H&M dressed the gorgeous ambassador up in straight-off-the-runway looks.
Rosario wore a long-sleeved buttondown shirt with a printed pleated ruffle skirt. The actress finished her look with a pair of pink tiger print boots that weirdly meshed well with her outfit, as well as a scarf.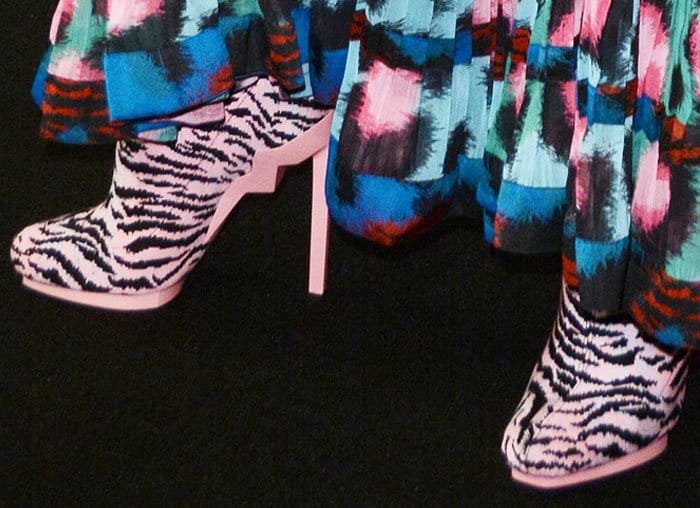 Rosario Dawson wears a quirky pair of tiger print boots from the Kenzo x H&M collaboration line (Credit: WENN)
In the campaign's behind-the-scenes clip, Rosario talked about how style and fashion are some of the oldest forms of self-expression.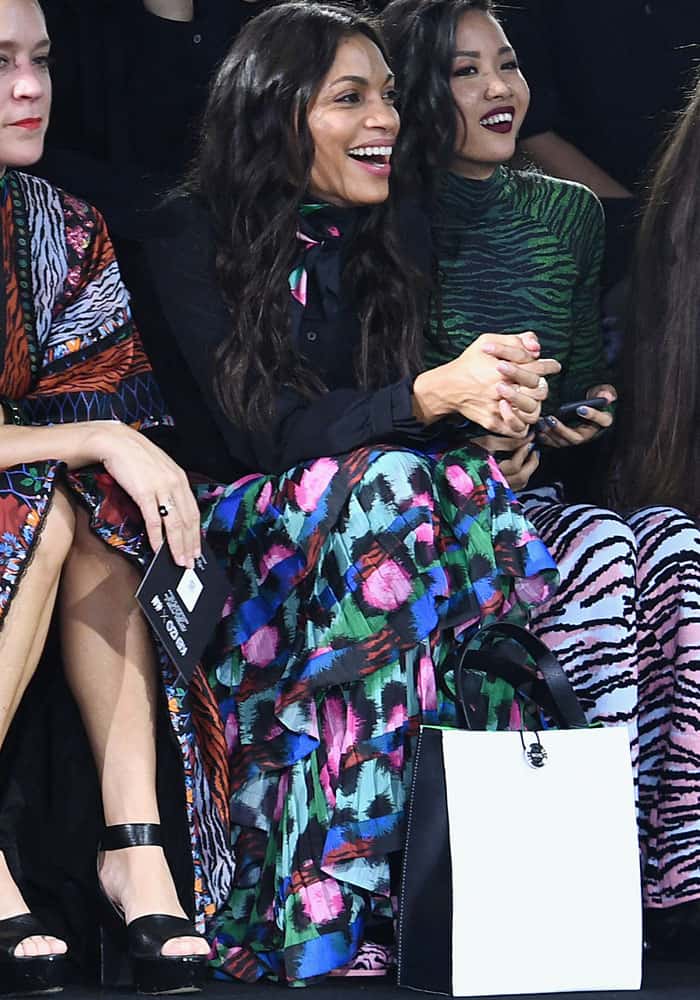 Rosario Dawson watches the show from her front-row seat (Credit: WENN)
Rosario's laid-back attitude becomes evident in the reel as she talks about buying a style of clothing in different colors. The actress concluded that a smile is everyone's best accessory.
How do you like Rosario's tiger print boots from Kenzo's designer collaboration with the Swedish retailer H&M?
H&M x Kenzo Tiger-Striped Ankle Boots, $299