Rosie Huntington-Whitely is an English model, actress, and businesswoman. She was born on April 18, 1987, making her 34 years old today.
The lingerie model is well known for her work as a Victoria's Secret model (and former Angel). She is also known in Hollywood, mainly for her work in Transformers: Dark of the Moon and Mad Max: Fury Road.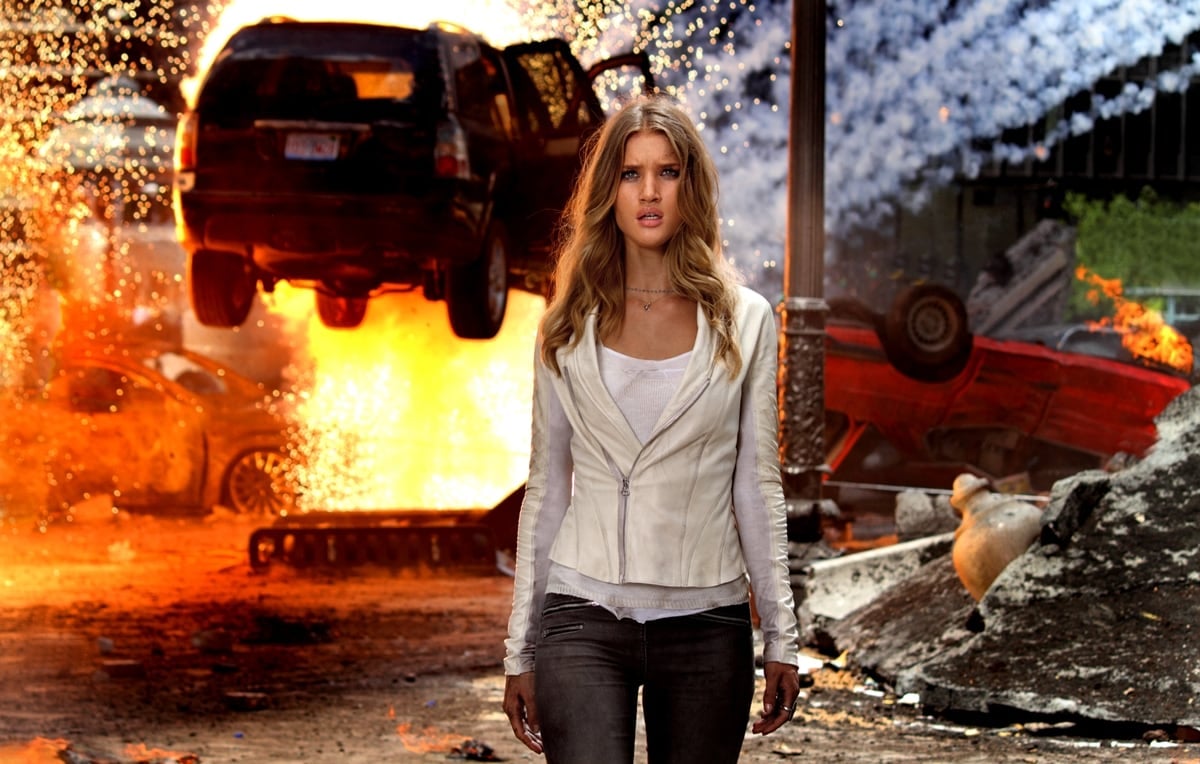 Rosie Huntington-Whiteley portrayed Carly Spencer in the 2011 film Transformers: Dark of the Moon (Credit: Paramount Pictures)
Rosie Huntington-Whiteley has received numerous awards for her extraordinary career thus far, including the Elle Style Award Model of the Year in 2009, and the Harper Bazaar Women of the Year Award for Model of the Year and Businesswoman of the Year, which she won in both 2014 and 2016.
She was also named as one of the world's highest-paid models by Forbes magazine as of 2016.
Rosie Huntington-Whiteley's Modeling and Acting Career
Rosie Huntington-Whiteley began her modeling career quite young at just 16 years old when she began appearing in commercials and was featured on Teen Vogue. She stands at 5'9, which allows her to work both in runway and print.
Rosie Huntington-Whiteley first rose to fame when she signed with Victoria's Secret in early 2006. In 2010, she officially became one of the Victoria's Secret Angels.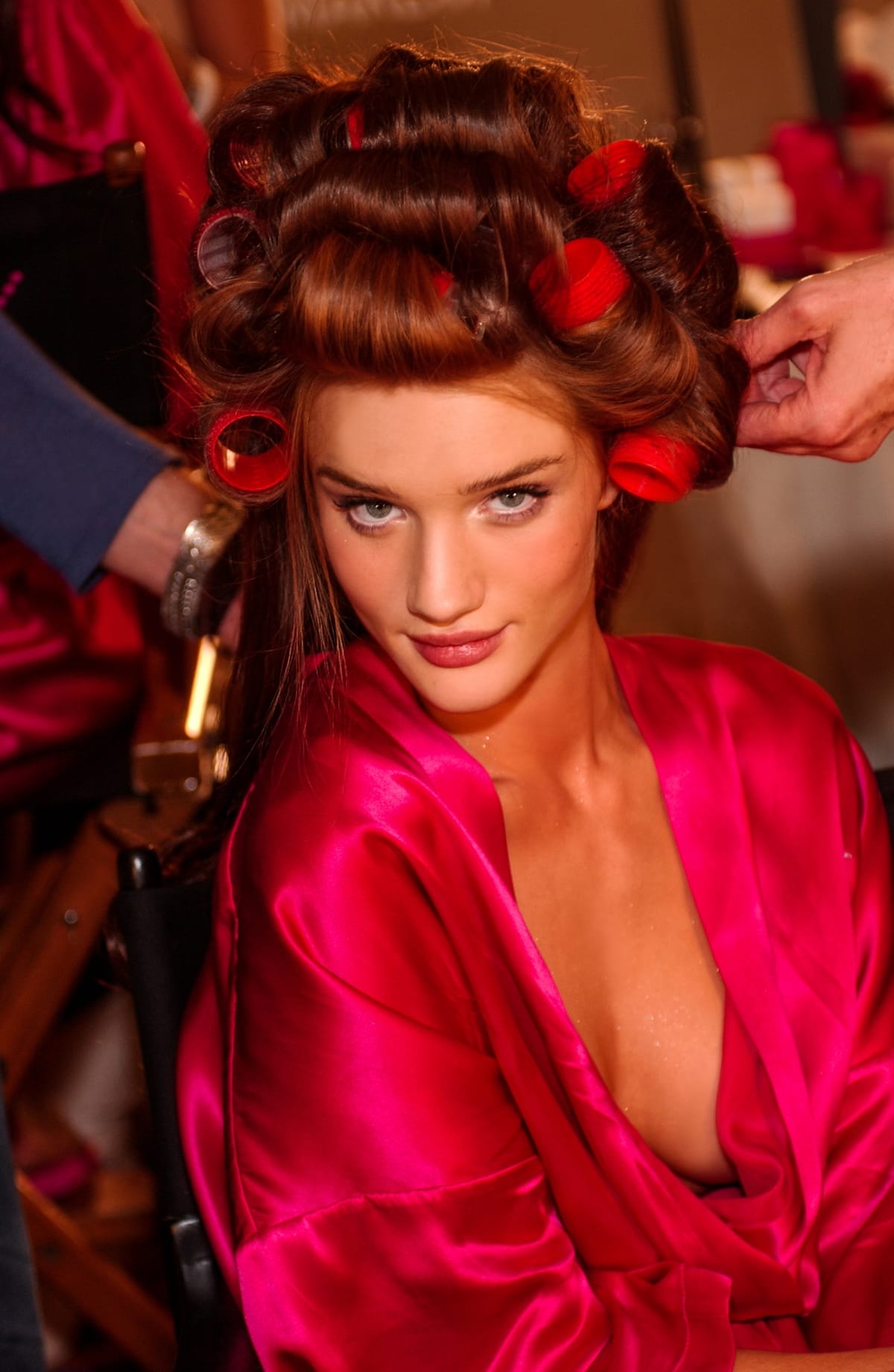 Rosie Huntington-Whiteley is best known for her work as a Victoria's Secrets lingerie model (Credit: FashionStock / Shutterstock)
She has also appeared in several advertising campaigns for brands such as Dolce & Gabbana, Leon Max, Sportsmax, Marks & Spencer, Levi's, Macy's, Tommy Hilfiger, Clinique, Thomas Wylde, and BCBG.
Rosie Huntington-Whiteley then made her feature film debut in 2011, playing one of the important roles in the sci-fi action film "Transformers: Dark of the Moon".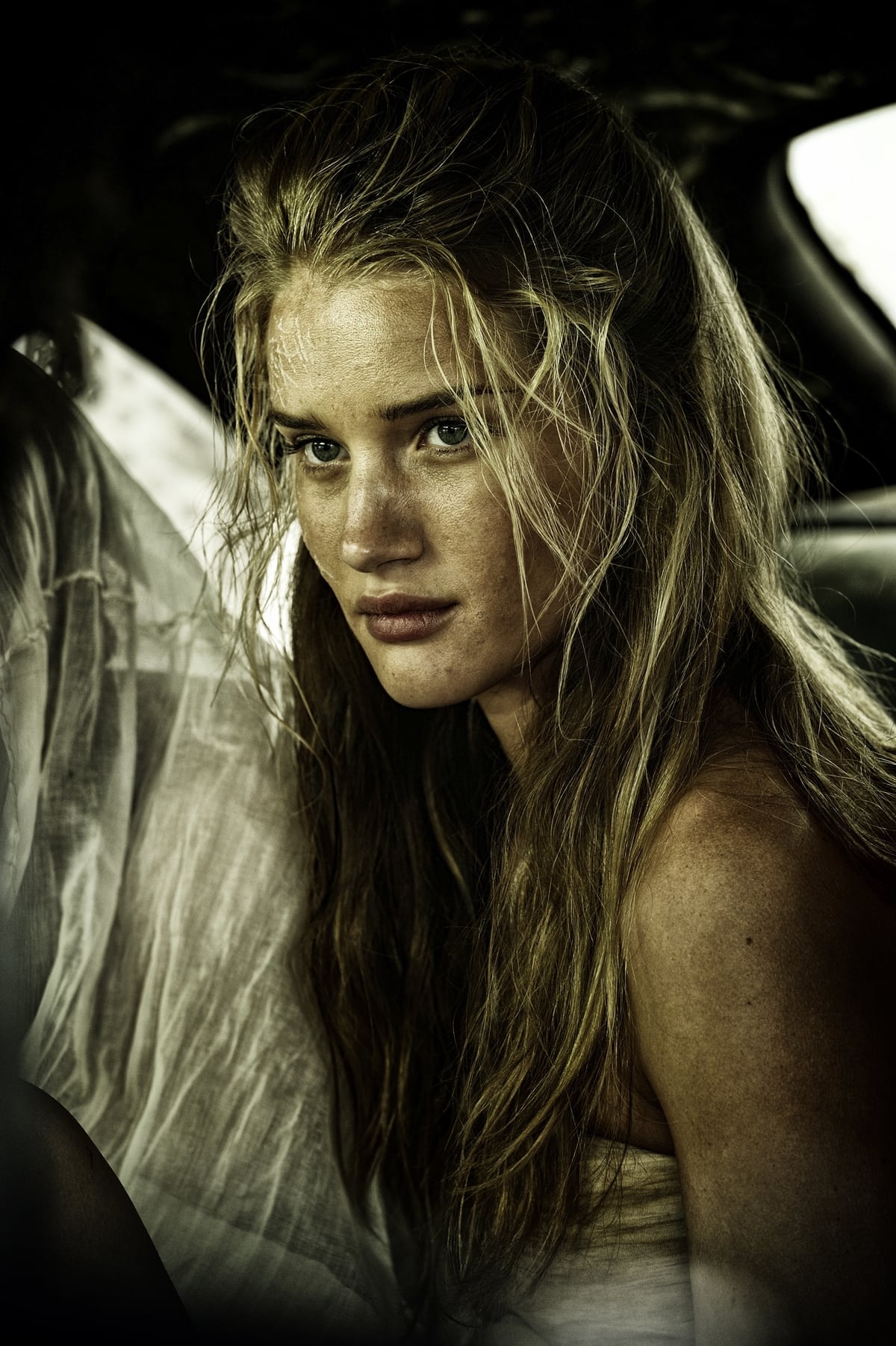 Rosie Huntington-Whiteley portrayed The Splendid Angharad in the 2015 film Mad Max: Fury Road (Credit: Roadshow Entertainment / Warner Bros. Pictures)
The film was a huge success commercially, but Rosie Huntington-Whiteley's acting was widely criticized. However, the criticism did not stop her. In 2015, she stepped back onto the big screen with "Mad Max: Fury Road," which received critical acclaim.
Rosie Huntington-Whiteley's Business Ventures
1. Fashion
While Rosie Huntington-Whiteley was walking runways, she also made a strategic decision to enter the design side of the business, as well, publicly stating that she has always wanted a form of job security that wasn't solely based on her looks.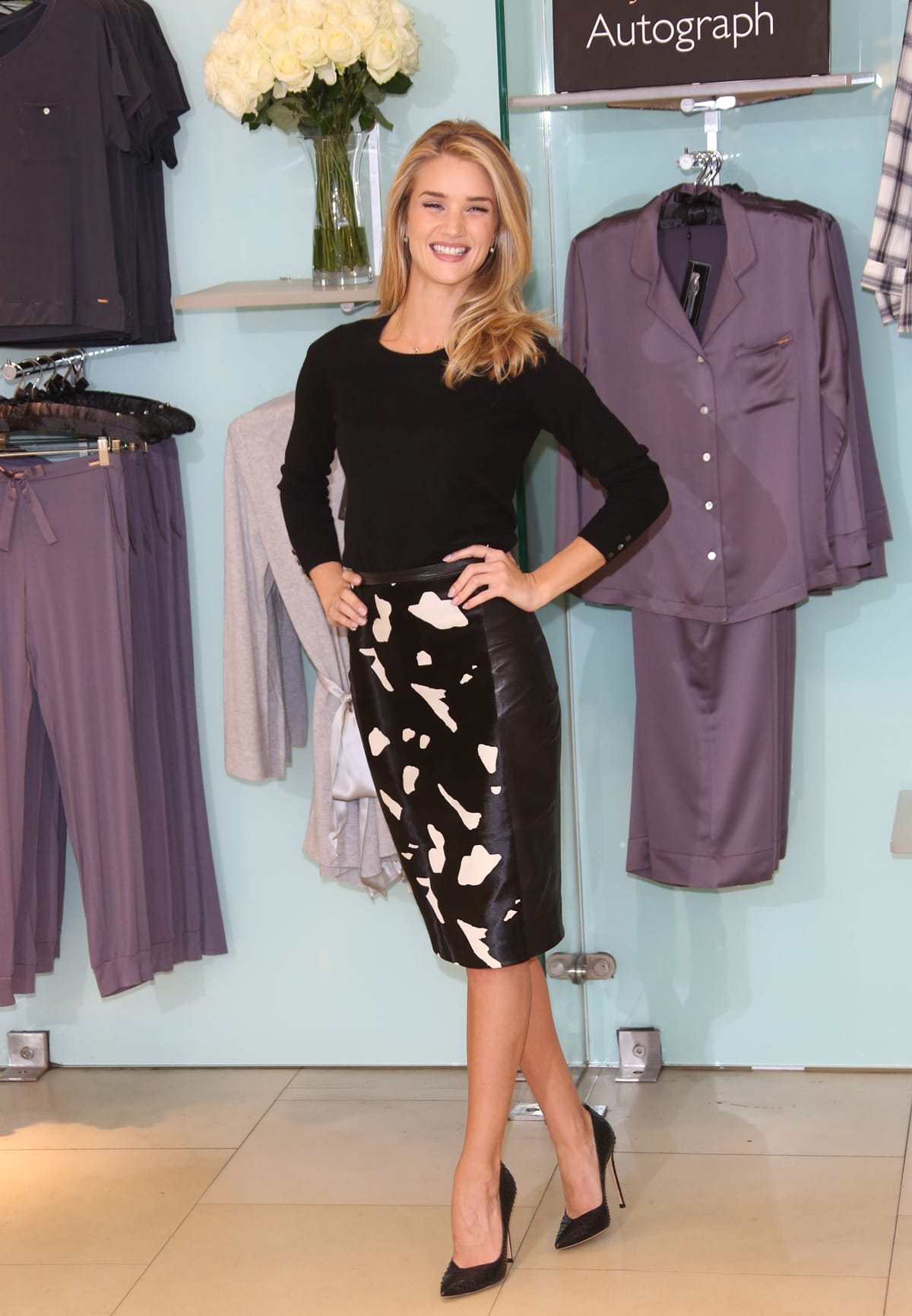 Rosie Huntington-Whiteley in a Marks & Spencer top and skirt at the launch of her new lingerie collection Rosie for Autograph at Marks & Spencer Marble Arch on October 16, 2013, in London, England (Credit: Featureflash Photo Agency / Shutterstock)
She first worked with Marks & Spencer on a lingerie line, the Rosie for Autograph collection. She collaborated with Marks & Spencer again to launch her first fragrance, and even later on, expanded their partnership to include swimwear.
2. Rose Inc.
While pregnant with her first child in 2017, Rosie Huntington-Whiteley came to the realization that she wanted even more control and stability within her professional life. So, she launched her very own brand, Rose Inc., which officially launched its products in 2021.
Originally a beauty website that launched in 2018, Rose Inc. currently offers both makeup and skincare lines, and proudly sells products that are both vegan and cruelty-free, which is reflective both of Rosie Huntington Whiteley's personal values, and what her target customer audience desires, as she discovered during her market research.
Rosie Huntington-Whiteley in an Oscar de la Renta Fall 2019 one-shoulder outfit attends The Daily Front Row's 5th Annual Fashion Los Angeles Awards at Beverly Hills Hotel on March 17, 2019, in Beverly Hills, California (Credit: DFree / Shutterstock)
A dedicated businesswoman, Rosie Huntington-Whiteley successfully negotiated a partnership with Sephora, a major beauty retailer that now carries Rose Inc.
Rosie Huntington-Whiteley's Net Worth
Thanks to her successful modeling and acting career, alongside her business ventures, Rosie Huntington-Whiteley has an estimated net worth of $30 million.
Rosie Huntington-Whiteley is one of the richest and most successful models in the world (Credit: Ovidiu Hrubaru / Shutterstock)
In 2018 alone, it is reported that Rosie earned approximately $11 million from her various endeavors. With her new brand, Rose Inc., it is expected that Rosie Huntington-Whiteley's net worth will only grow in the years to come.
Who Is Jason Statham?
Rosie Huntington-Whiteley is in a committed relationship with fellow English actor Jason Statham.
Jason Statham was born on July 26, 1967, making him a full 20 years older than Rosie Huntington-Whiteley. However, the two seem to be blissfully happy.
They've been together since 2009 when they met at a party in London, and are parents to two children together. Their son, Jack, was born in June 2017, and their daughter, Isabella, was born very recently on February 2, 2022.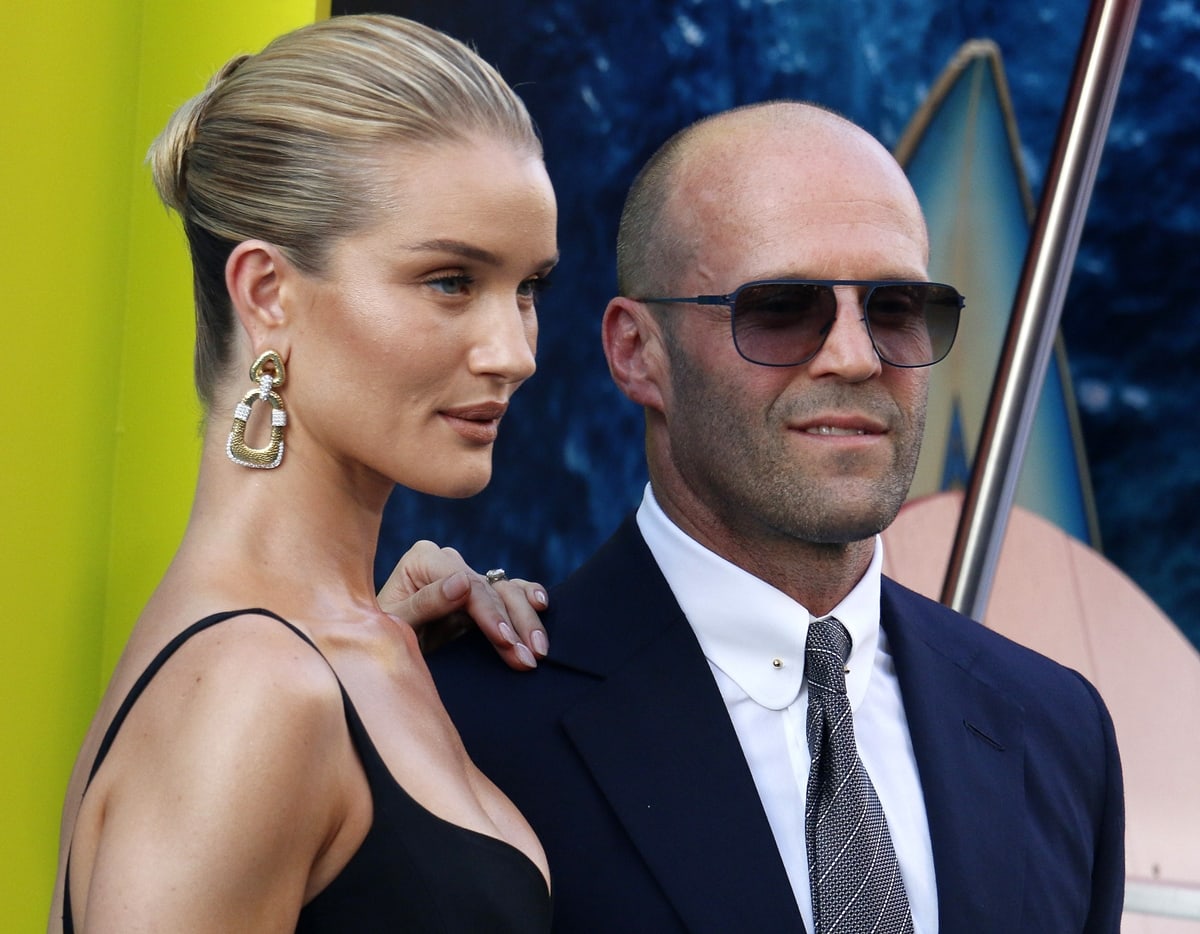 Rosie Huntington-Whiteley and Jason Statham met at a London party in 2009 and have two children together (Credit: Tinseltown / Shutterstock)
The two were confirmed to be engaged in 2016, though they have not officially tied the knot yet- given how blissfully happy they seem together and their growing family, at this point, it's unlikely that a marriage license will have a large impact on their lives.
Jason Statham's Net Worth
While Rosie Huntington-Whiteley has undeniably had an amazing career and amassed an enviable net worth, so has her partner. Jason Statham has a net worth of approximately $90 million.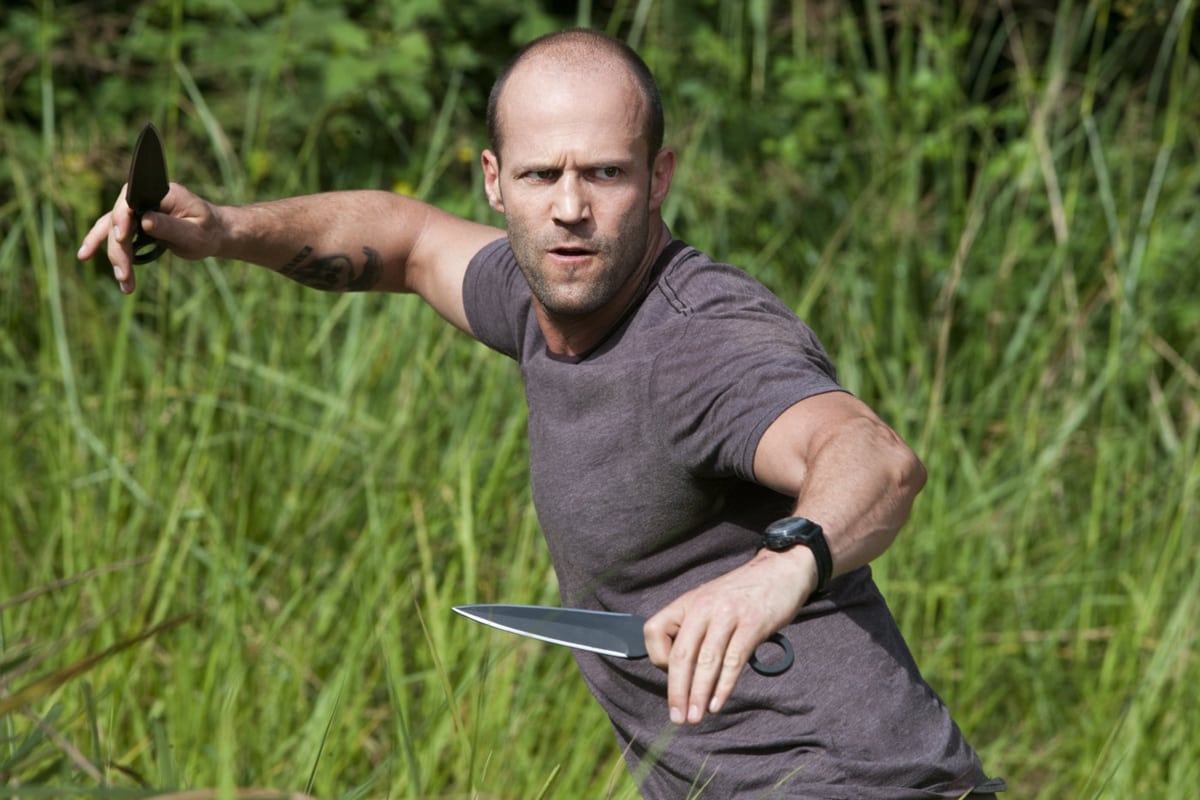 Jason Statham as Lee Christmas in the 2010 American action film The Expendables (Credit: Lionsgate)
He has been in dozens of films since the late 1990s which have grossed multiple billions of dollars in global box office revenue. Overall, Rosie and Jason's current children, alongside any future children they have together, will no doubt be set for life.
Conclusion
Overall, Rosie Huntington-Whiteley has been extremely successful in all aspects of her life so far and shows no signs of slowing down.
She has mastered the modeling world and made a mark on Hollywood, but has also made the intelligent business move to seek out long-term, consistent money-making opportunities to maintain her wealth.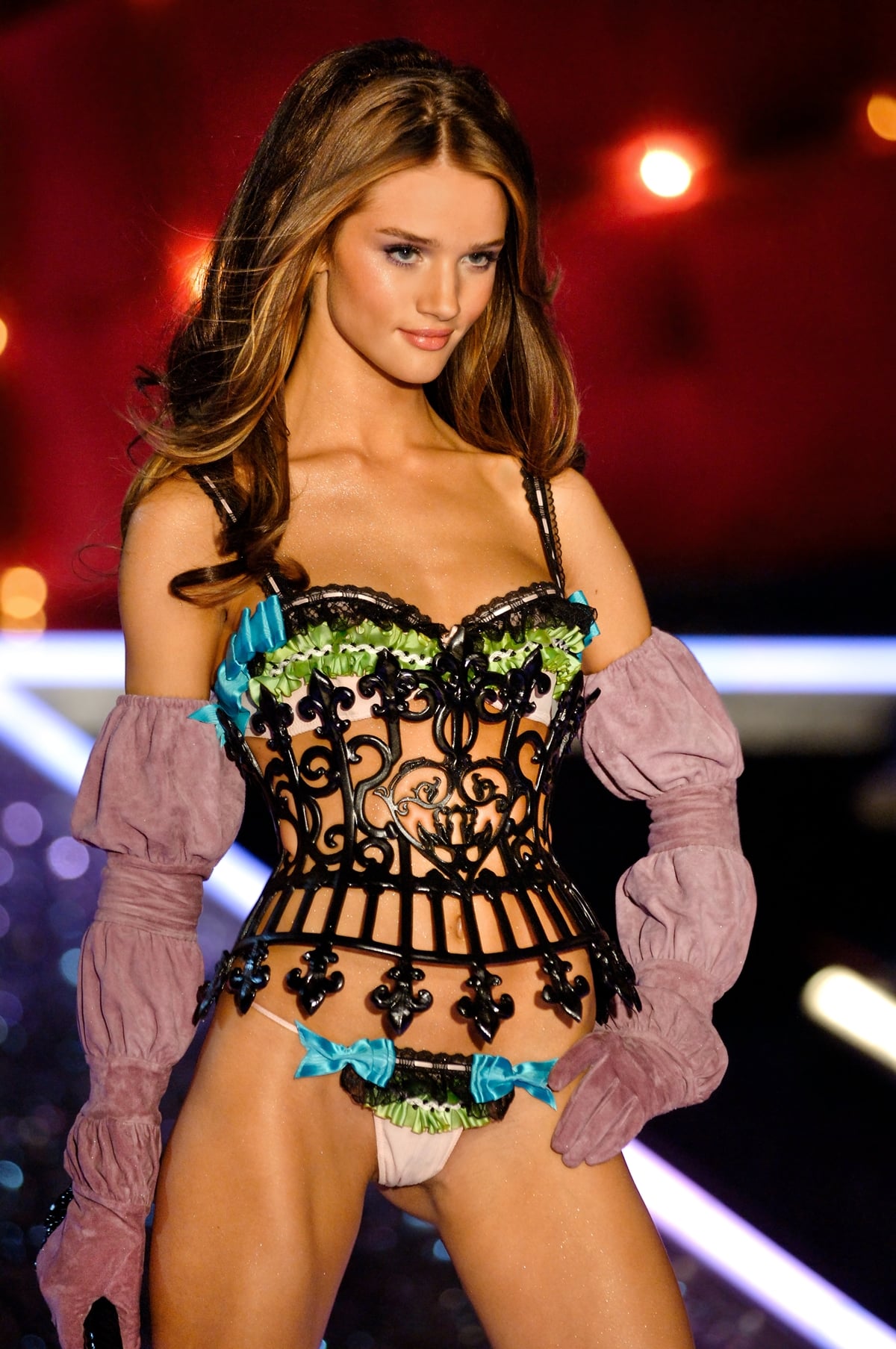 Rosie Huntington-Whiteley made a name for herself as one of the most recognizable Victoria's Secret angels (Credit: FashionStock / Shutterstock)
Assuming that her new brand, Rose Inc., continues to be successful, her already high net worth will likely skyrocket in the coming years as a business owner.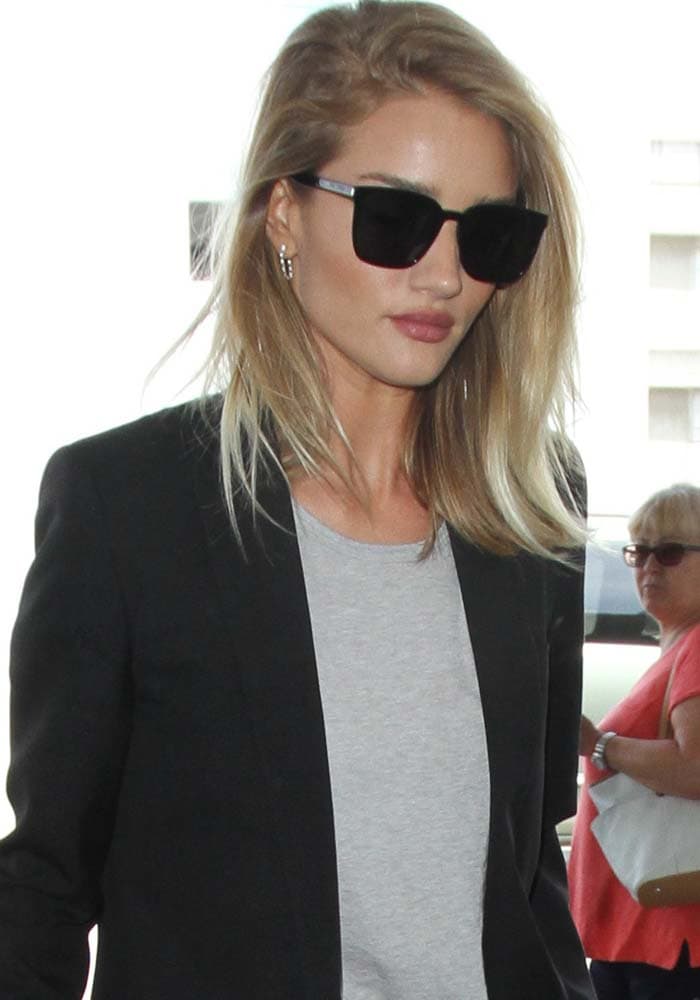 Rosie Huntington-Whiteley wears her hair down as she prepares to depart from the Los Angeles International Airport on April 5, 2016 (Credit: WENN)
Not only is Rosie Huntington-Whiteley a model on the clock… she's also a model off the clock.
In April 2016, Rosie wasn't very accommodating to her fans that followed her around during a trip to the airport. As it turns out, it wasn't personal.
The model was actually trying to pose for photos to use with her new column in online beauty magazine Violet Gray.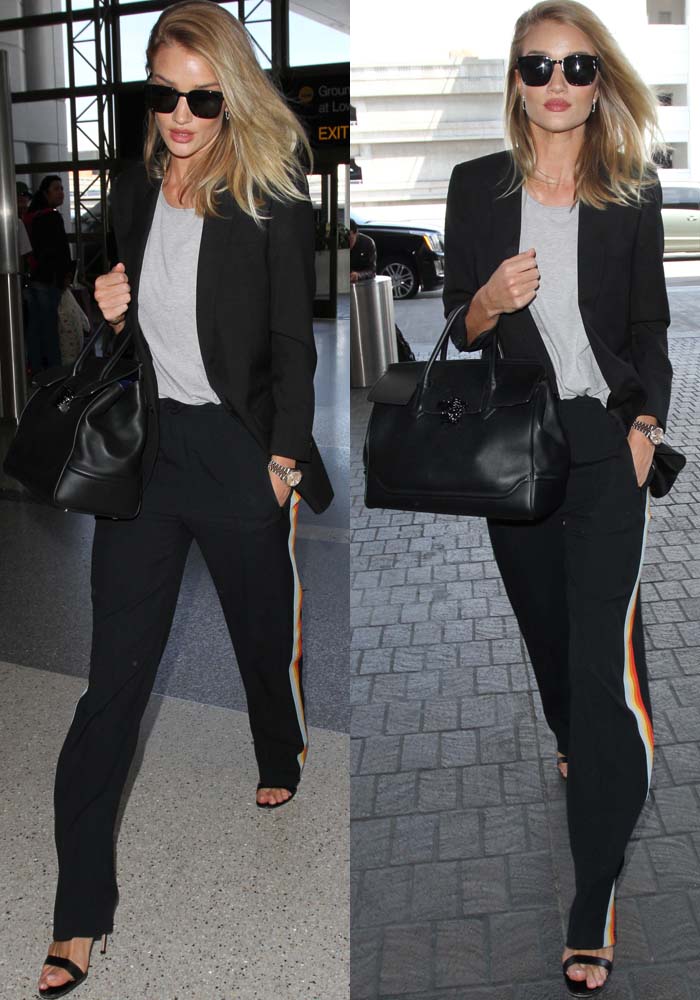 Rosie Huntington-Whiteley wears Chloé pants and a Saint Laurent blazer at LAX (Credit: WENN)
The English actress was spotted strutting her stuff at Los Angeles International Airport as she made her way to the check-in counter.
Rosie wore a casual gray tee from Frame paired with striped pants from Chloé and layered under a Saint Laurent blazer.
The model-turned-actress styled her chic ensemble with a top handle tote from Versace and sunglasses from Saint Laurent.
She finished up her airport look with black Manolo Blahnik sandals.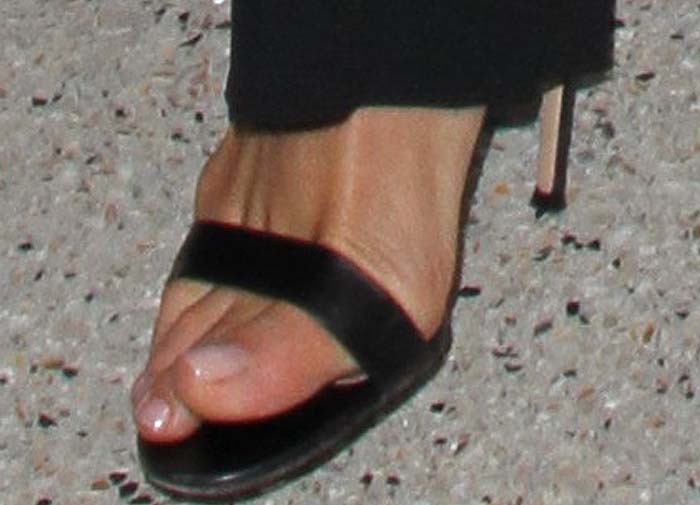 Rosie Huntington-Whiteley's feet in Manolo Blahnik sandals (Credit: WENN)
Rosie took her quest to get good paparazzi photos seriously. She ignored all fan requests for autographs and brushed past all the photographers.
You can order Rosie's airport footwear, Manolo Blahnik's "Chaos" sandals, at Nordstrom and Farfetch.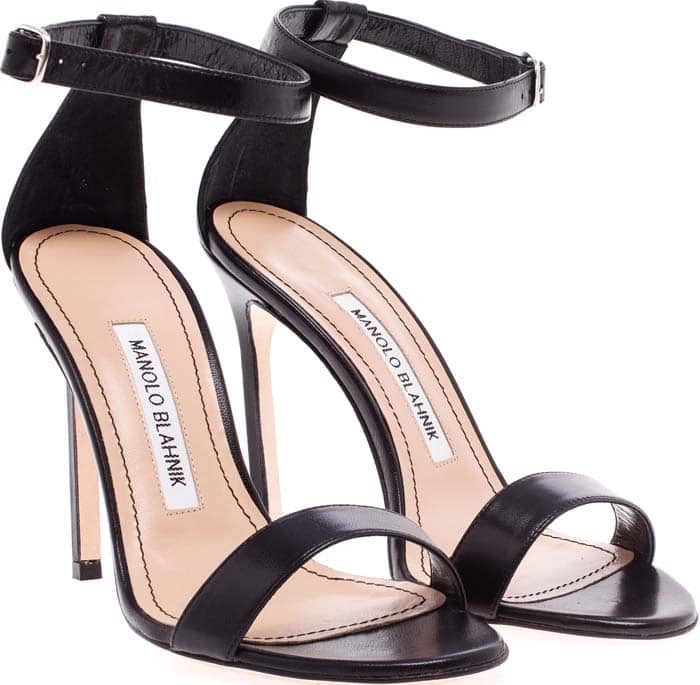 Black Manolo Blahnik "Chaos" Leather Sandals, $725
In 2018, Rosie Huntington-Whiteley launched a new venture called Rose Inc. that is dedicated to her "insider" beauty content. In a December 2019 interview with Jimmy Choo, she called it her most daring achievement.
"I think my most daring achievement was deciding to set up my own business, Rose Inc. about 18 months ago. Every day there's a new challenge, but every day is equally as rewarding. "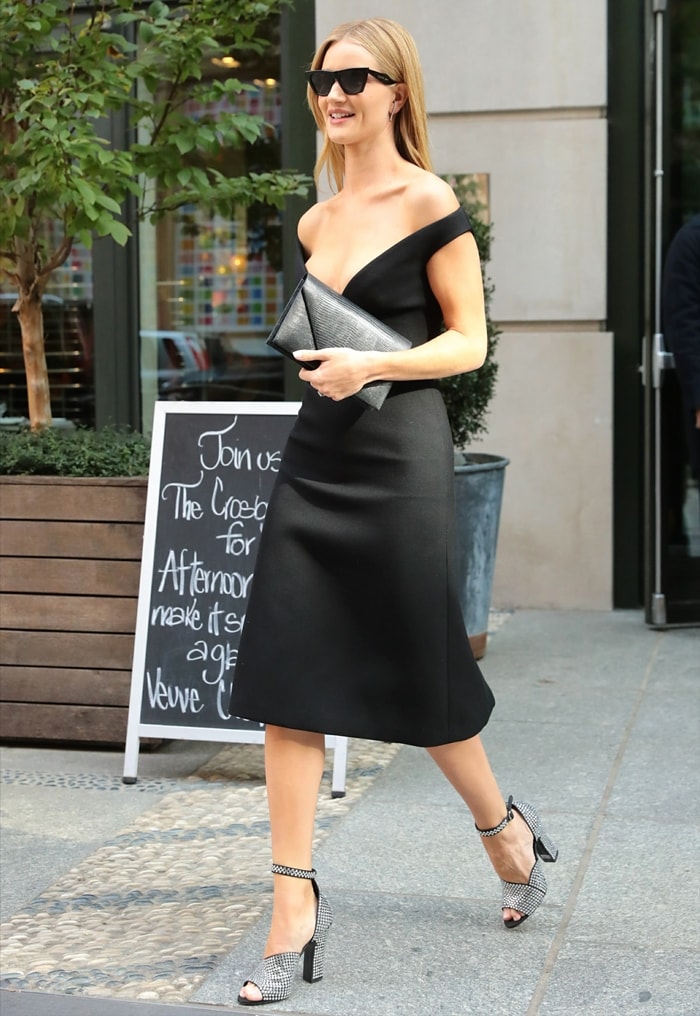 Rosie Inc. beauty company founder Rosie Huntington-Whiteley wearing a black Prada off-the-shoulder wool dress and crystal-embellished leather sandals in New York City on November 9, 2019 (Credit: Instar / WENN)
Growing up on a farm in Devon, a county part of South West England, before being discovered by Profile Model Management at the age of 16, Rosie created the website to share her passion for beauty.
"It was really about creating a community of people who love beauty. Beauty has been a passion of mine since I can remember and I started to observe how positively friends and followers across my social platforms responded and engaged when I shared anything that was beauty-related. I'm always being asked for tips—which products I use—and tricks from the industry. So, I really wanted to create a platform where people could come and learn, and I could share all of the things that I've picked up over the past 16 years as a model."
In September 2015, Rosie Huntington-Whiteley brought a designer touch to an early morning gym session in Los Angeles.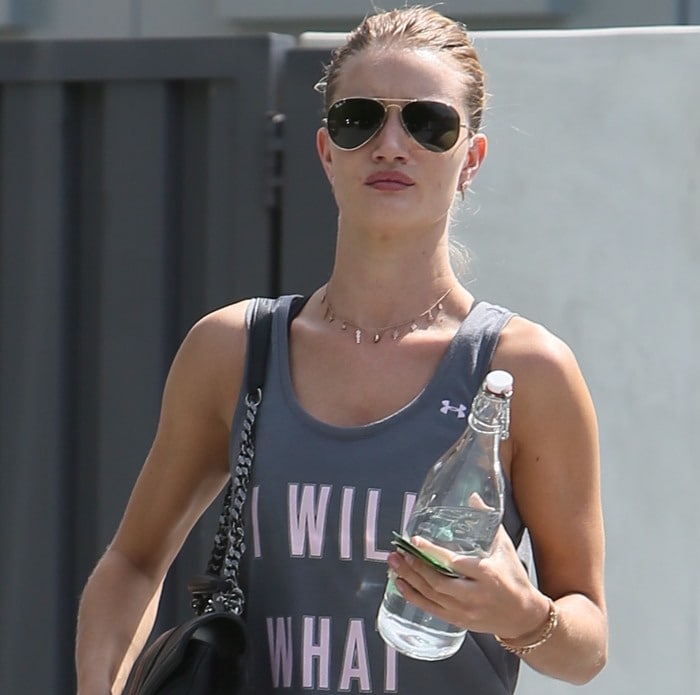 Rosie Huntington-Whiteley leaves a yoga class in Los Angeles on September 21, 2015 (Credit: WENN / Michael Wright)
The then 28-year-old English model and actress kicked off her week in Adidas by Stella McCartney running tights paired with an Under Armour tank top printed with the phrase "I Will What I Want."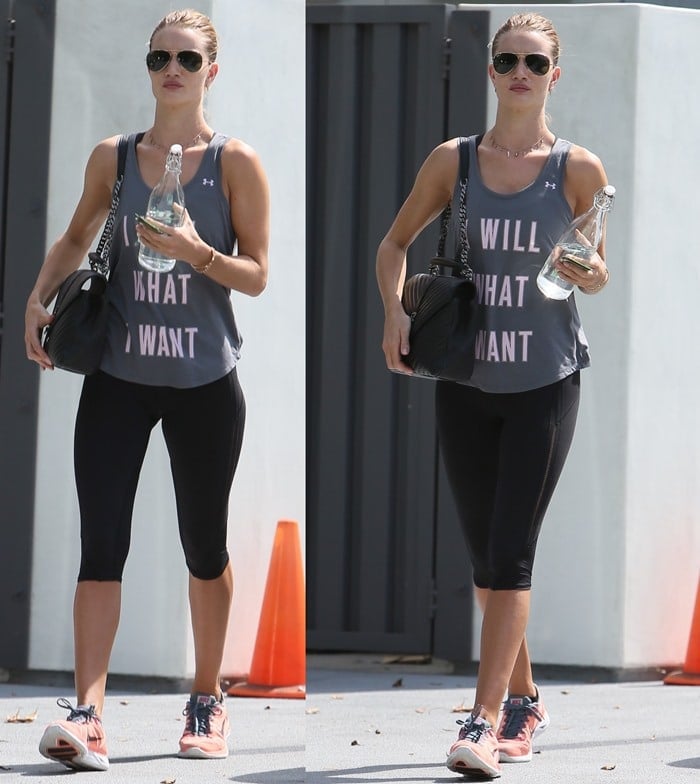 Rosie Huntington-Whiteley wears a pair of Nike shoes as she leaves a yoga class (Credit: WENN / Michael Wright)
She carried a Saint Laurent chevron-quilted sheepskin leather tote bag and accessorized with jewelry from Jacquie Aiche, Anita Ko (including a $17,225.00 diamond bracelet), and Cartier.
The ensemble was completed with classic Ray-Ban sunglasses and pink "Lunarglide+ 5" running shoes from Nike.
You can find Rosie's highly breathable mesh running shoes at Amazon. They feature secure-fitting arch support and Lunarlon cushioning.
Nike Lunarglide+ 5 Running Shoe, $61.99 – $159.95