Possibly feeling the stress from house hunting with boyfriend Jason Statham, Rosie Huntington-Whiteley got some much-needed pampering at a salon in LA yesterday.
We need to get the name of that salon because Rosie looked so good as she left the place. In the photos below, she looks like she has just walked right out of a magazine. Aside from having perfectly blown-out hair, Rosie also achieved a perfect summer chic outfit with the Isabel Marant "Maryloe" dress, a croc-embossed clutch, a braided belt, and Chloe braided sandals.
Rosie Huntington-Whiteley leaving a salon in Los Angeles, California, on July 25, 2013
Rosie Huntington-Whiteley's never-fail nude sandals
We know for a fact that Rosie Huntington-Whiteley absolutely loves these Chloe sandals. They're definitely her never-go-wrong nude heels as she has worn them with practically everything (she's been spotted in them no less than six times before).
She has even shared a couple of snaps of herself wearing the sandals on Instagram, in one of which she's wearing an outfit very similar to the one she wore to the salon yesterday!
Rosie Huntington-Whiteley's Instagram pic, which she tweeted with the caption "Loving my @chercoulter jeans for @agjeans"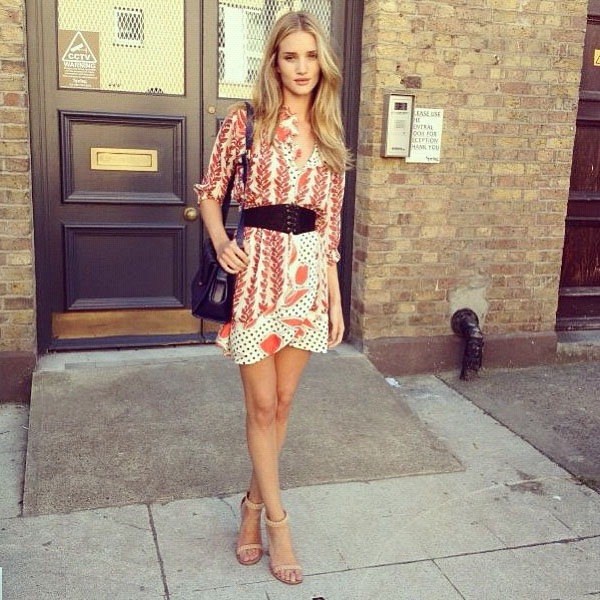 Rosie Huntington-Whiteley wearing a very similar outfit in this pic she shared on Instagram with the caption "My fav vintage dress on a beautiful London evening"
Rosie Huntington-Whiteley is onto something here: nude sandals are no doubt one of the most versatile shoe styles you can own. Once you find the right shade of nude that flatters your skin tone, you've got yourself one timeless pair of shoes that you can keep coming back to for years to come.
Do you have go-to nude shoes, too, like Rosie Huntington-Whiteley? If you don't have a pair in your closet yet, you might find it among the following three styles in the same thick-heeled design as Rosie's own pair: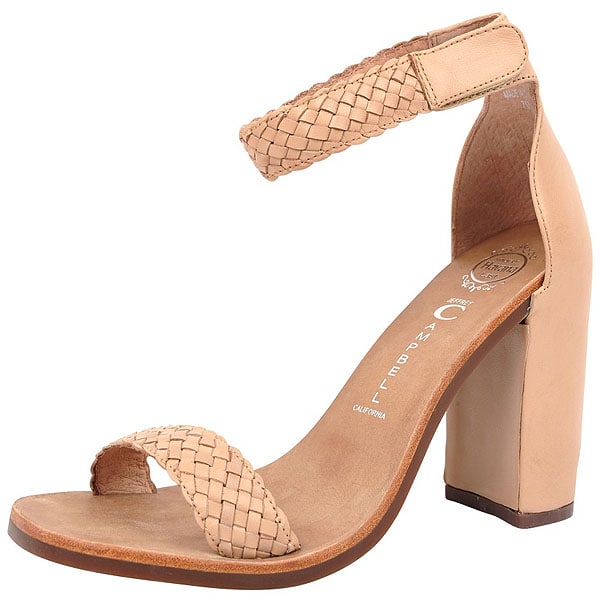 Jeffrey Campbell "Favor" Sandals, $134.95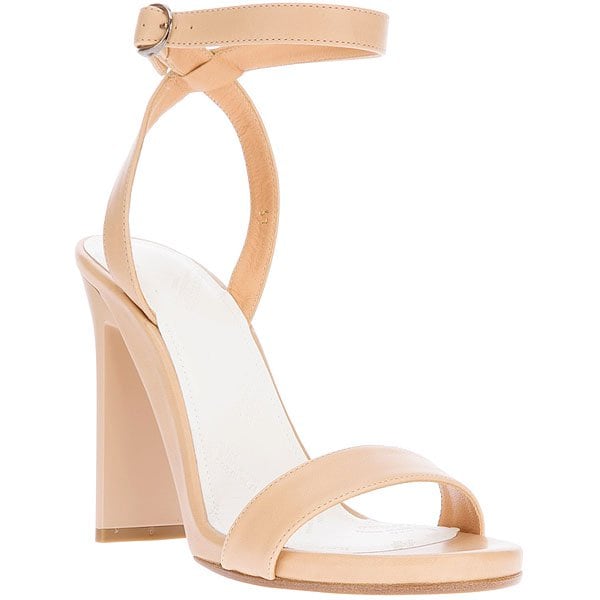 Maison Martin Margiela High-Heel Sandals, $624
Michael Antonio "July" Sandals, $49.31 – $60
Credit: Ryan/WENN