While neither Carrie Brownstein nor Taylor Schilling have confirmed or denied that they are romantically involved, rumors have circulated for a number of years that they have been dating for a long time. It's even possible that they've married in secret.
Unfortunately, details about the Orange Is The New Black star and the Portlandia actress are hard to come by as both women are very secretive about their relationship.
Taylor Schilling poses at the opening night of the new play The Sound Inside on Broadway at Studio 54 Theatre on October 17, 2019, in New York City
In addition to being a vocalist and lead guitarist with cult rock band Sleater-Kinney, Carrie Brownstein wrote and appeared in a series of comedy sketches alongside Fred Armisen. They were developed into the satirical comedy TV series Portlandia, which eighth and final season concluded on March 22, 2018.
Taylor Schilling's rumored girlfriend/wife Carrie Brownstein attends the 70th Emmy Awards at Microsoft Theater on September 17, 2018, in Los Angeles, California
In a 2017 interview with the Evening Standard, Schilling said of her sexuality: "'I've had very serious relationships with lots of people, and I'm a very expansive human."
The actress added: "There's no part of me that can be put under a label." In the profile interview, she described herself as single, saying: "I'm working all the time – I don't really have anything else going on.
Taylor Schilling attends Broadway Opening Night After Party for Hadestown at Guastavino's on April 17, 2019, in New York City
Do you think Carrie Brownstein is Taylor Schilling's wife? In September 2015, grandma called and said she wanted her curtains back.
Taylor Schilling's Emmy's red carpet look went over pretty well with the general public – and to give due credit to the then 31-year-old — the color yellow seems to work wonders for her.
Taylor Schilling attends the 67th Annual Primetime Emmy Awards held at the Microsoft Theater in Los Angeles on September 20, 2015
However, the cut of the dress itself? It's a bit too drape-y for us… pun intended.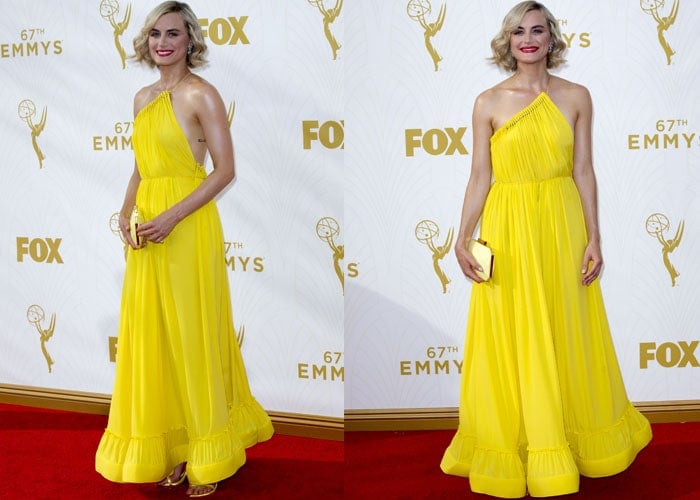 Taylor Schilling's blonde hair matches the gold backdrop of the Emmy Awards and her yellow curtain-like dress
We won't argue that Taylor looks absolutely stunning, but her dress looks like something that was yanked out of a living room and slung around her neck.
Taylor Schilling's feet peeking out from a pair of Stuart Weitzman sandals
This frock looks great from the sides, but the front looks quite frumpy.
The silver lining is that this look brought out a pair of the infamous Stuart Weitzman "Nudist" heels in an interesting yellow satin color.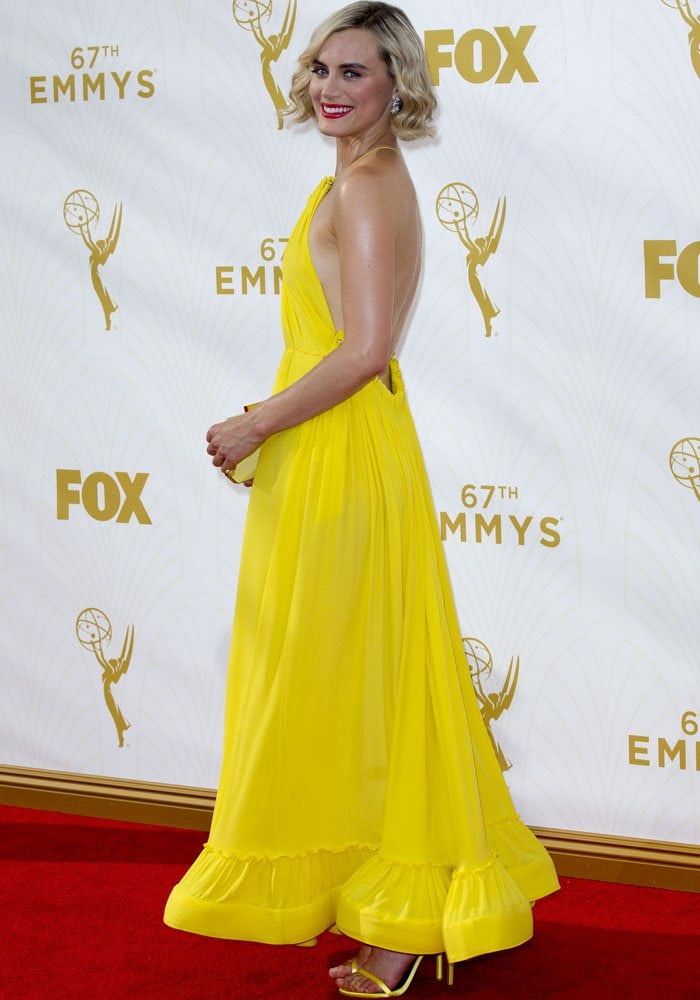 Taylor Schilling smiles and shows off the side view of her Stella McCartney dress on the red carpet at the Emmys
The yellow satin version of the "Nudist" sandals was custom-made for Taylor's Emmys look, but other satin looks from Stuart Weitzman are available at Zappos and Nordstrom:
Stuart Weitzman Nudist Sandal, $244.99 – $415.00
Stuart Weitzman Nudist in White Satin, $244.99 – $415.00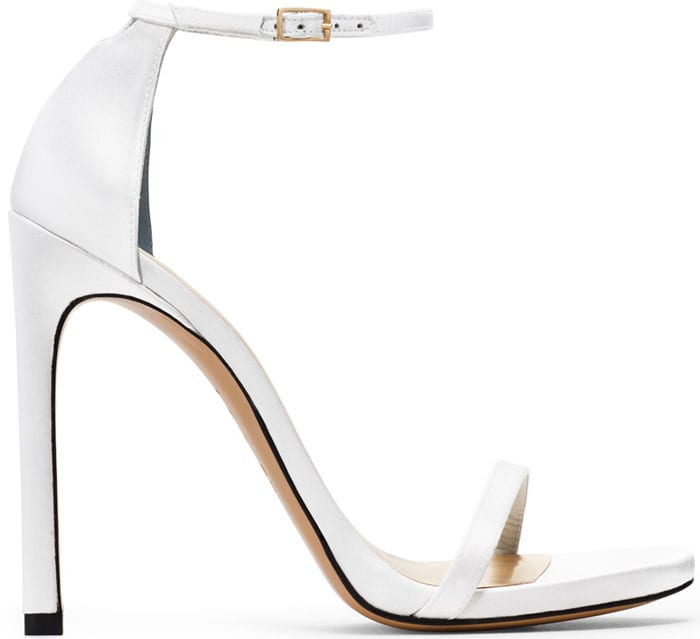 Stuart Weitzman Nudist Sandal in Adobe Satin, $244.99 – $415.00
Credit: Brian To / WENN / Adriana M. Barraza / Instar