Photos are now available of Katherine Schwarzenegger's second child. The 32-year-old author took to Instagram to post a photo dump from "May and June", and the star of the show was baby Eloise Christina.
Photos included snapshots of her life with her newest child.
View this post on Instagram
Schwarzenegger and her husband Chris Pratt, 42, welcomed Eloise on May 21st. Married in June 2019, the couple are also parents to their daughter Lyla Maria, who is now almost 2.
Just a day later Schwarzenegger posted a Father's Day tribute featuring the two leading men in her life. The first photo is of her husband and famous father, Arnold Schwarzenegger, 74, posing with cigars.
"My guys! Happy Father's Day to my wonderful dad/fun filled Opa, and to my amazing and loving husband. I am so grateful. We are all so lucky to have you both! ♥️" Katherine captioned the post.
View this post on Instagram
Pratt has another child, Jack, 9, with ex-wife Anna Faris.
On June 8 the actor made an appearance on Jimmy Kimmel Live! where he joked about finally learning how to spell his wife's name after the birth of their second daughter.
"I've learned now," he joked. "It's a long name."
He then went on to discuss how he and his wife decided to pass on their last names to their children.
Katherine Eunice Schwarzenegger Pratt has written several self-help books, including the bestselling "The Gift of Forgiveness: Inspiring Stories from Those Who Have Overcome the Unforgivable," and a children's book about adopting her dog (Credit: Michael Simon/ Startraksphoto)
"There's a lot of letters in these children's names," Pratt said. "Schwarzenegger is the second middle name. We didn't hyphenate our names. It's a middle name."
Jimmy asked if Katherine's father had a say in their naming decisions.
"That was Katherine," he answered. "She's got his strength. What Mama says goes."
Pratt has been vocal about his admiration for his wife.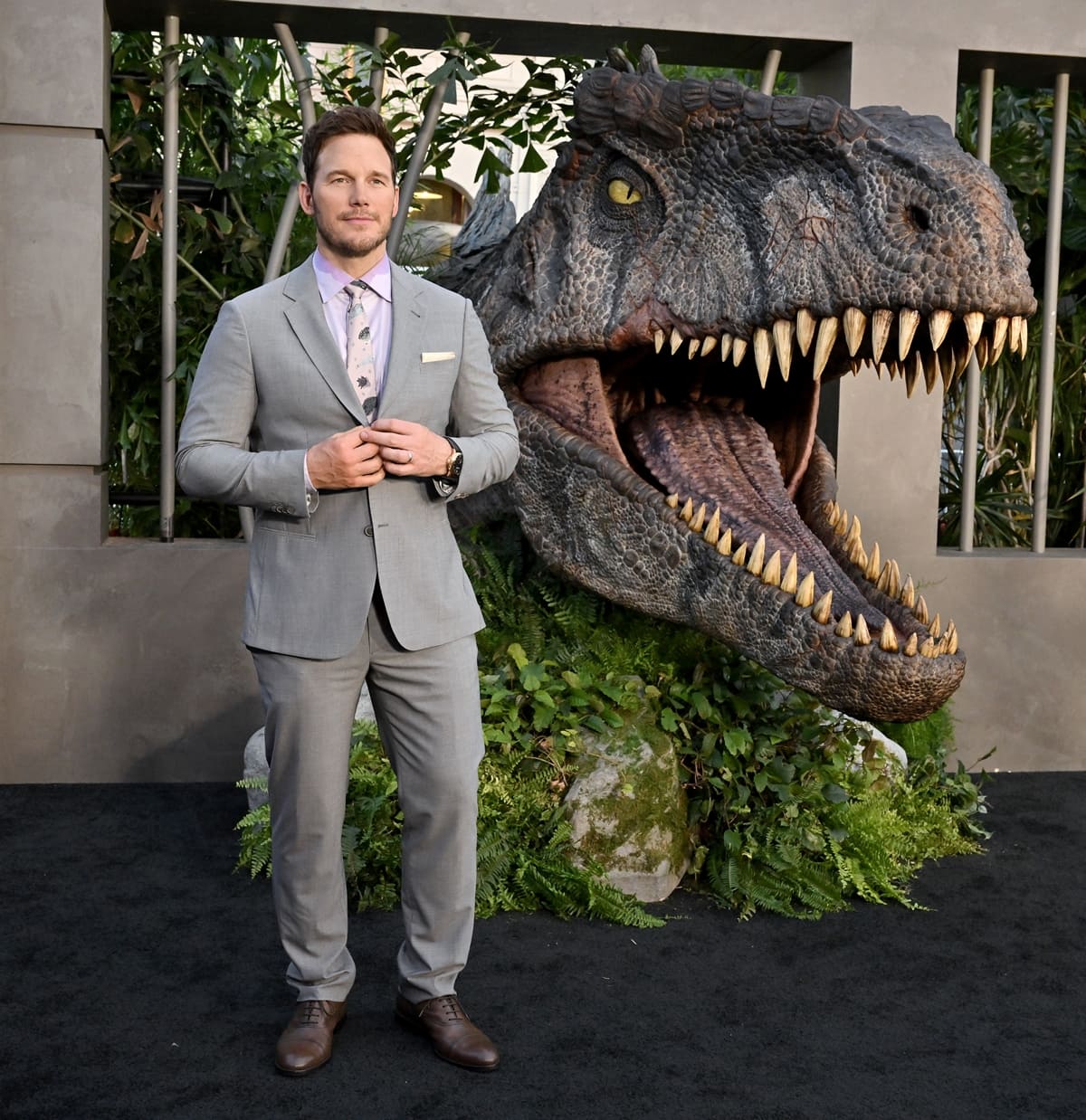 Chris Pratt attends the Los Angeles Premiere of Universal Pictures' "Jurassic World Dominion" on June 6, 2022, in Hollywood, California (Credit: BauerGriffin / INSTARimages)
On his first outing as a father of three Pratt made sure to talk about the love he has for Katherine. He shared details about his family while on the red carpet promoting his latest film Jurassic World: Dominion on June 5.
Speaking with E!, he said, "Katherine just has the most amazing maternal instincts. She just really knows what to do. I'll follow her lead."
"Luckily they smell worse than dino droppings, but they're much smaller," Chris joked about diaper duty compared to Jurassic World. "They are much more manageable."
Anna Faris in a Reem Acra dress, Jimmy Choo shoes, and Le Vian jewelry supports her husband Chris Pratt in a navy blue Dolce & Gabbana suit at the movie premiere of "Passengers" on December 15, 2016, in Westwood, Los Angeles (Credit: Nicky Nelson/ FayesVision/ Adriana M. Barraza/ WENN)
Anna Faris is one of few celebrities that can show off a lot of skin in a sheer dress and still look cute.
We're not sure why — maybe it's her quirky personality or her petite frame? Regardless, she looks adorable in whatever she wears, especially when standing next to Chris Pratt, with whom she was married from 2009 to 2018.
Anna Faris styled her nude Jimmy Choo pumps with a lavender Reem Acra sheer lace dress (Credit: WENN)
In December 2016, the actress looked stunning on the red carpet at the "Passengers" premiere as she walked alongside her then-hubby.
"It is cold, but doesn't Anna look amazing?" Pratt asked ET's Carly Steel on the red carpet.
"I was at the house when they were doing the fitting for the dresses, and it was a really easy pick on this one. It's so nice, plunging neckline — it's very, very sexy."
Anna Faris in a dress from renowned international designer Reem Acra featuring a rhinestone harness and illusion neckline (Credit: WENN)
She wore a gorgeous grey lace midi Reem Acra dress with beading and patch details that flaunted her assets.
Typically, a cut like this would make a small girl like Anna look stout. However, we think the dress really suited her.
Anna Faris is a vision in her embellished midi dress with open side panels (Credit: WENN)
The then-40-year-old finished her look with nude suede Jimmy Choo "Anouk" pumps.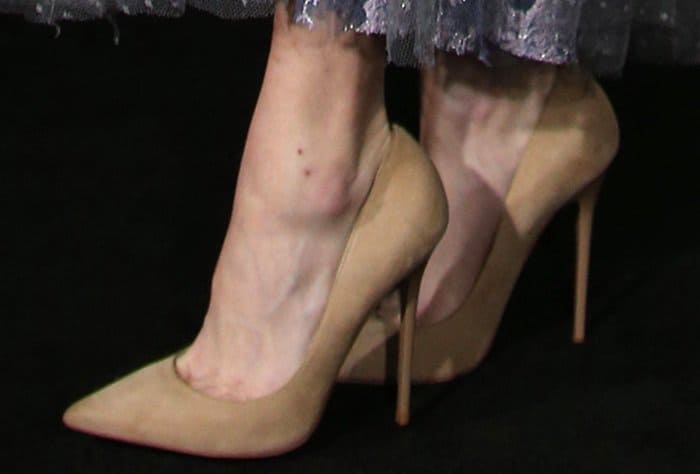 Anna Faris shows off her feet in nude suede Jimmy Choo "Anouk" pumps (Credit: WENN)
She kept her shoes classic and simple to complement her intricate dress. Even though the night was all about Chris, we couldn't help but gawk at his wife. We're certain he was staring too.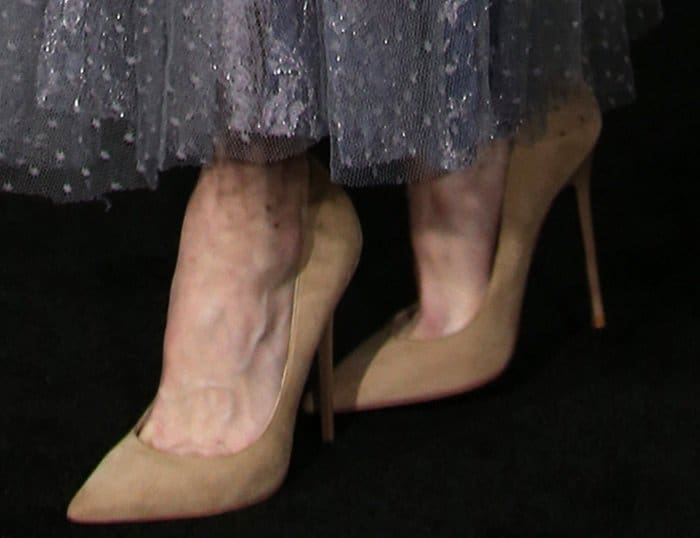 Anna Faris picks nude, suede Jimmy Choo 'Anouk' pumps for the "Passengers" premiere (Credit: WENN)
Christmas came a few days early for the "The Hot Chick" star with an upgraded engagement ring from the Mr.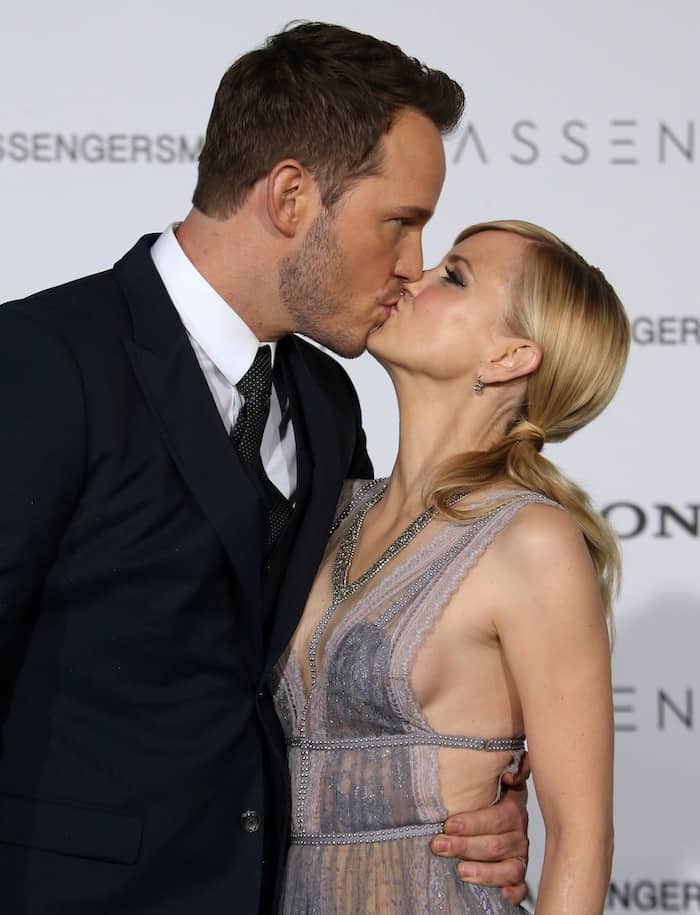 Anna Faris kisses Chris Pratt on the red carpet (Credit: WENN)
The actress proudly wore her holiday present on the carpet and even gushed to E! News about how lucky she is to have such a romantic spouse.
"He just got me this ring. I know. Like two days ago," Faris said about Pratt while flashing her new diamond ring.
"I look [at it] and I'm like, 'I can't believe it either!' He's an incredibly romantic man and I'm very, very lucky."
"She got me a tractor," Pratt added, "so we're kind of even!"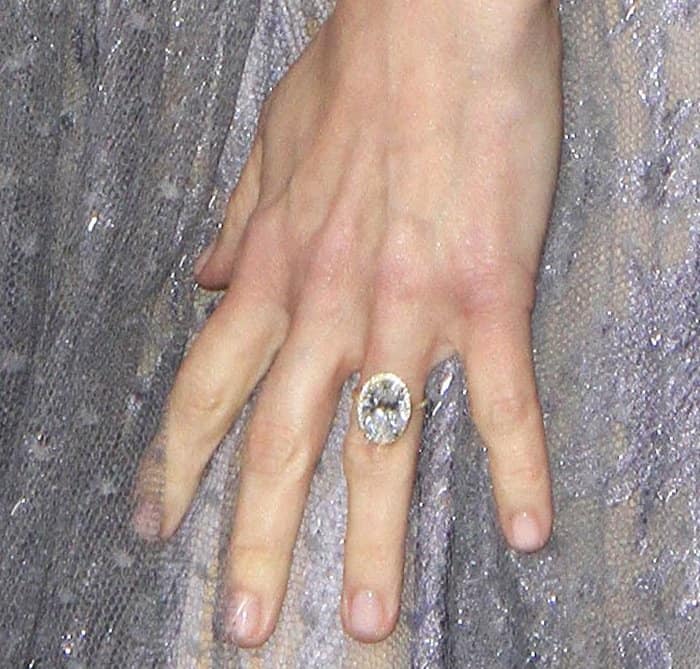 Anna Faris proudly wears her early Christmas present from her husband Chris Pratt — an upgraded engagement ring (Credit: WENN)
She even shared some thoughts on the subject over Twitter.
Anna Faris tweets she was lucky to avoid a nipple slip at the premiere of Passengers (Credit: Anna Faris' Twitter)
We're happy your boob didn't fall out, too.
You can purchase the suede "Anouk" pumps from Farfetch and Mytheresa.
Jimmy Choo "Anouk" Pumps in Nude Suede, $451 – $595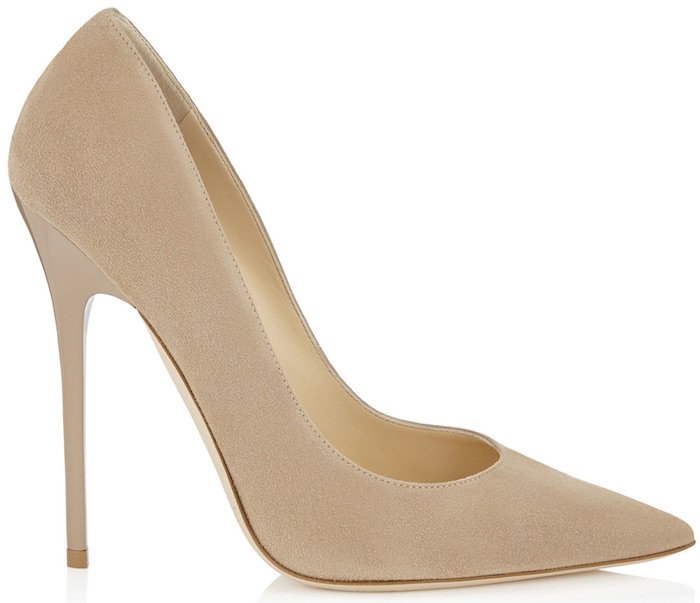 The Anouk pointy toe pump is characterized by its clean, simple silhouette