Bryan Cranston's relationship and career history make him one of the most interesting actors out there. He is well known for his role in Breaking Bad as Walter White, but many forget that he also played the role of the dentist Tim Whatley in Seinfeld.
He is an Emmy award winner, a father, and a devoted husband, but it hasn't always been this way.
Early Life
Cranston was born in Hollywood, California on March 7, 1956. His mother was a radio actress and his father was an actor and an amateur boxer, so he was always destined for stardom. He was the middle child, with an older brother and a younger sister.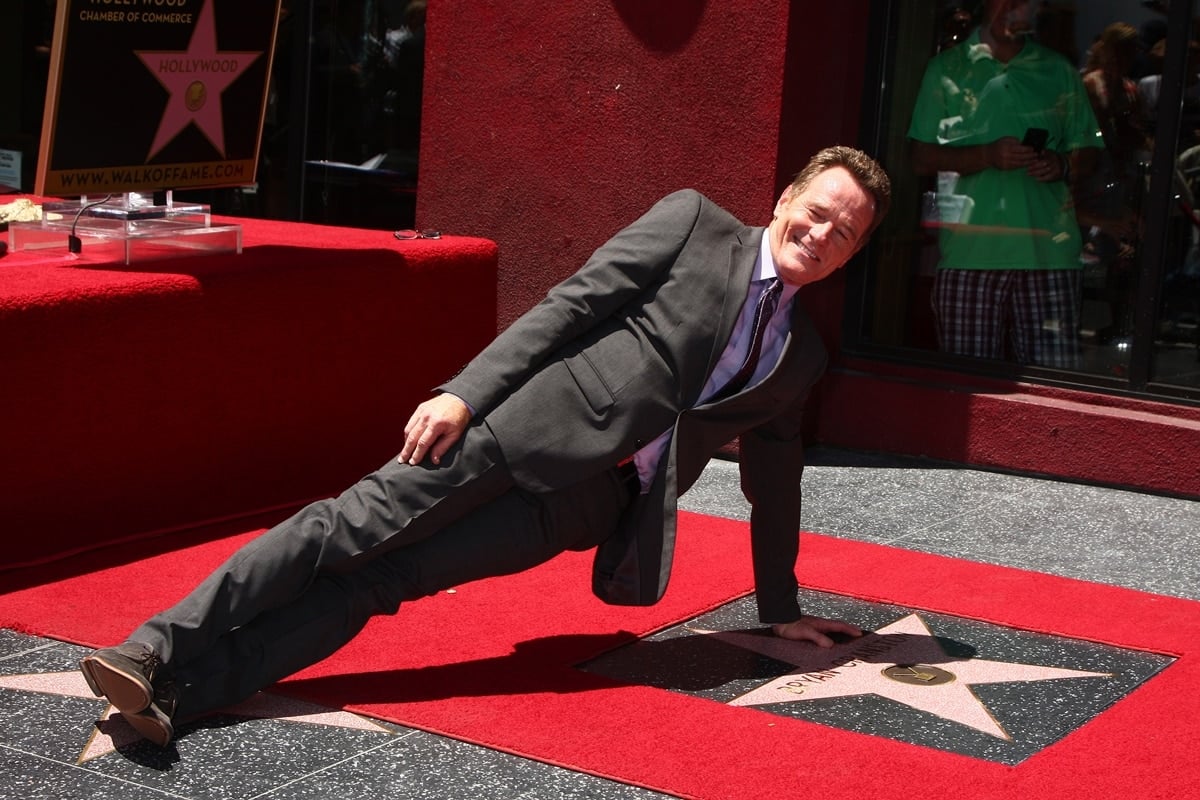 Award-winning actor Bryan Cranston was honored with the 2,502nd star on the Hollywood Walk of Fame on July 16, 2013 (Credit: Nikki Nelson / WENN)
His father left their family when he was eleven years old and never returned, after not being able to make enough money acting to support them. Cranston tracked him down later in life when he was twenty-two.
Marriage with Mickey Middleton
Mickey Middleton and Bryan Cranston were married in 1977, but the marriage only lasted 5 years. They divorced in 1982.
Cranston has gone on record to say that "they loved each other as people but they weren't in love with each other." They had a civil breakup and kept everything pretty hush-hush.
It was a classic case of getting married too young before having a chance to really get to experience life or figure out who you are as a person. Cranston didn't remarry for 7 years after the divorce.
Marriage with Robin Dearden
In 1986 Cranston was working on a military drama called Airwolf and was captivated with one of his costars, whom he later married.
The way that they met seems like it came straight off of, well, a television show!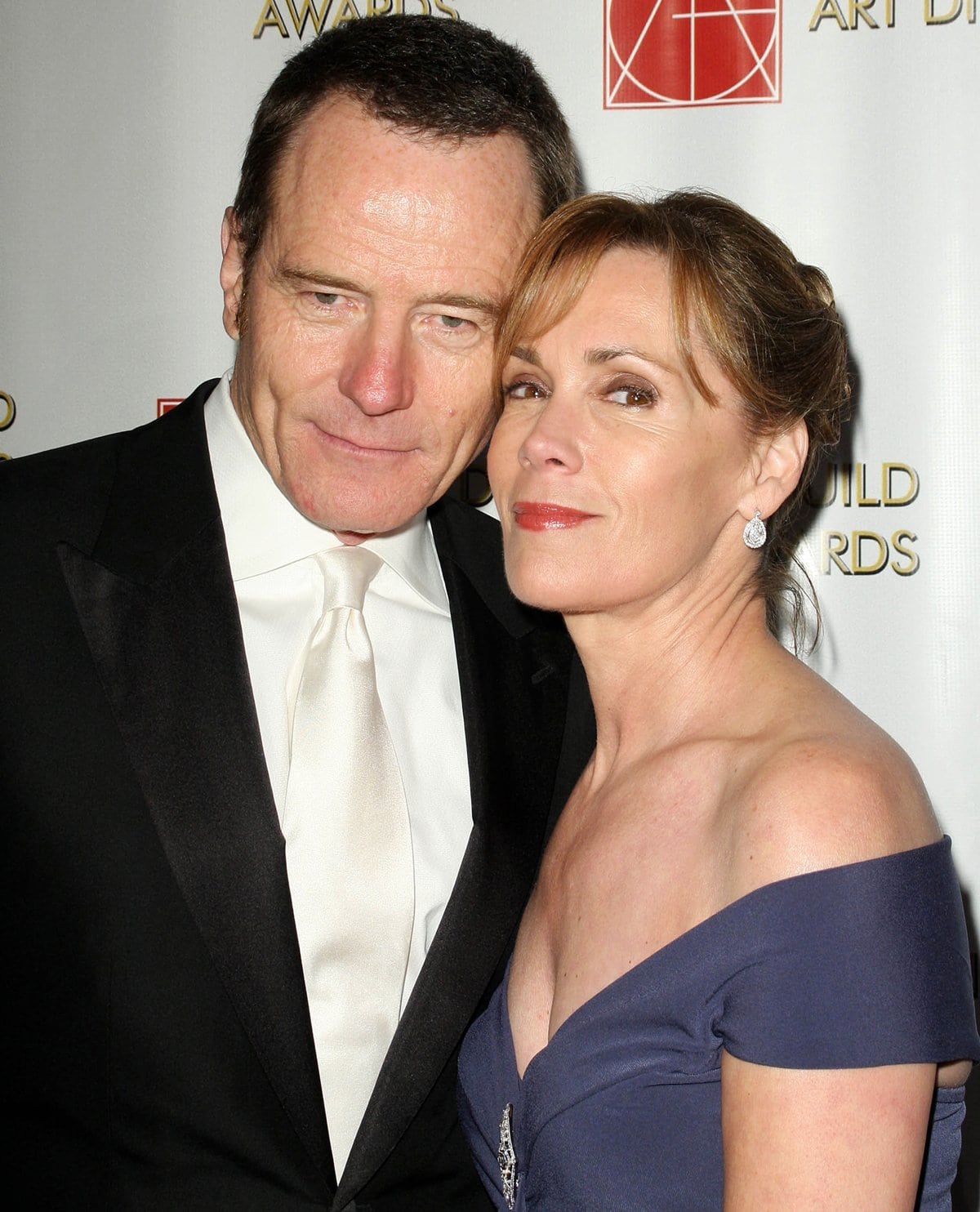 Bryan Cranston met his wife Robin Dearden in 1986 on the set of the American action military drama television series Airwolf (Credit: FayesVision / WENN)
In the episode, Cranston was playing the role of an evil villain who hijacked a sorority cruise. Robin Dearden played the role of a sorority sister who, coincidentally enough, had a gun held to her head by Cranston's character. It was love at first hijack!
All of their costars rave about their intense sexual chemistry and how hot and heavy it was during all of their interactions. Though they were both in other relationships at the time and they both swear nothing happened between them during the show, the tension could be cut with a knife.
"My wife was the victim of the week, and I was the bad guy of the week, and I literally held her captive by gunpoint," Cranston told Liza Powel's husband Conan O'Brien about meeting his wife filming Airwolf. "It's also very sexy, I think, though. It's like she thought I was very dangerous. Ooooh!"
Cranston and Dearden went their separate ways after the show ended and didn't reconnect until a year later. When asked about it, Dearden stated that she's glad they didn't start dating then because "she doesn't think that [they] would've stayed together."
Bryan Cranston and Robin Dearden married in 1989 after meeting 5 years earlier on the set of the series Airwolf (Credit: WENN)
Cranston proposed to Dearden in the bathtub one night, as he knew he couldn't face her during the proposal or he would cry.
He told Dearden to take the ring off of his toe, and the rest was history. She swears it was super romantic and like a dream. But, his toe? Why did he put it on his toe?
"I needed to propose but didn't quite know how. I thought, taking a bath together we could straddle each other, but I was busy changing the music and candles. My problem was, I didn't know where to put the ring," he told Page Six about the proposal.
"I decided to put it on my big toe. Then we cuddled. Then I got her to ask for the ring. She started to turn around, and I'm looking at the back of her neck and whatever happened with our positions I had to take the ring off my toe."
The pair married on July 8, 1989, in a sweet ceremony and they have been together ever since. They have one daughter together who is named Taylor Dearden.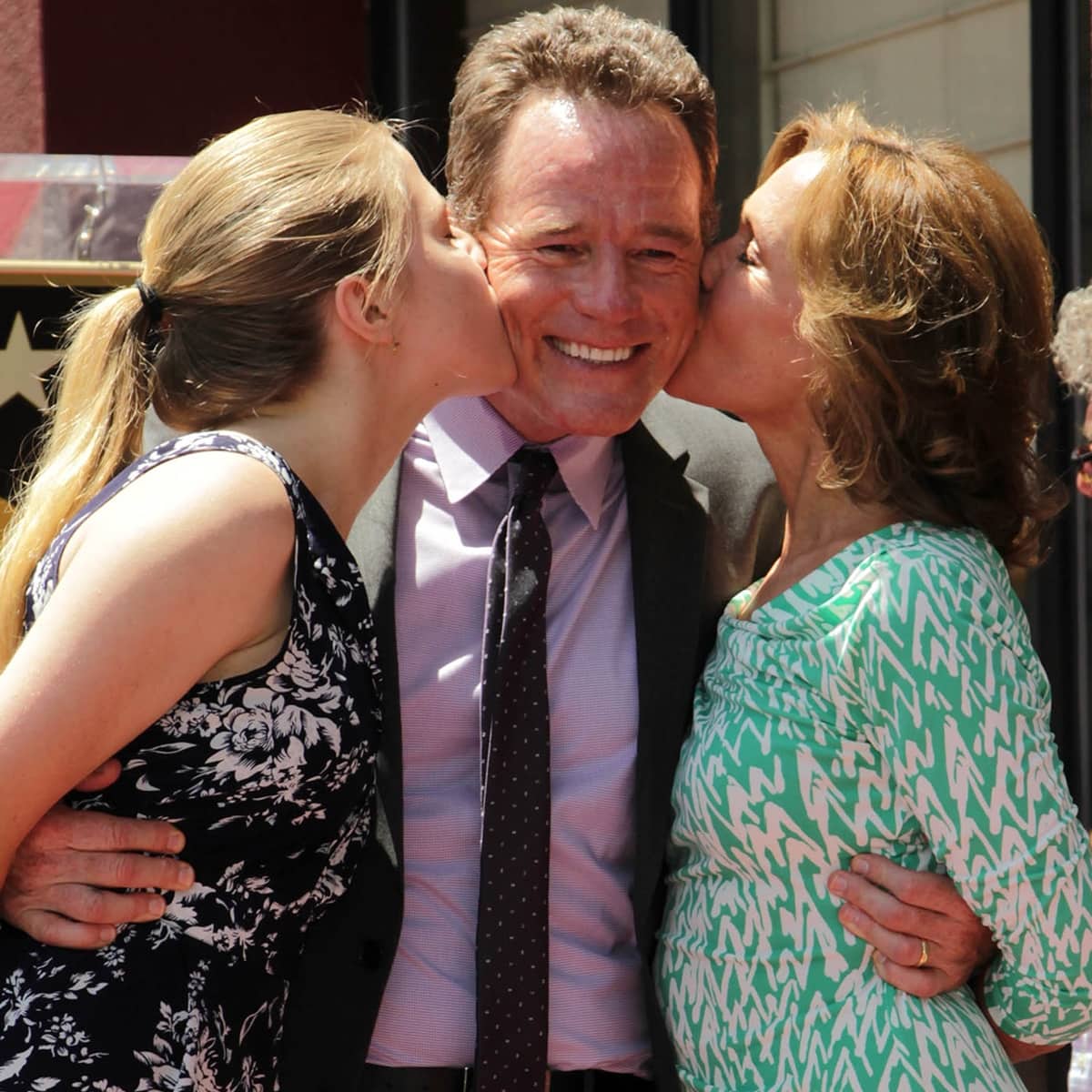 Bryan Cranston gets kissed by his wife Robin Dearden (R) and his daughter Taylor Dearden Cranston (Credit: FayesVision / WENN
Yes, she kept her mother's last name! She was on an episode of Breaking Bad that her mother also starred in and is also an actress.
Career
Cranston is an actor, writer, director, and voice actor. He was the dad on Malcolm in the Middle, Walter White on Seinfeld, and has been in various other shows like How I Met Your Mother, King of Queens, Robot Chicken, and Family Guy.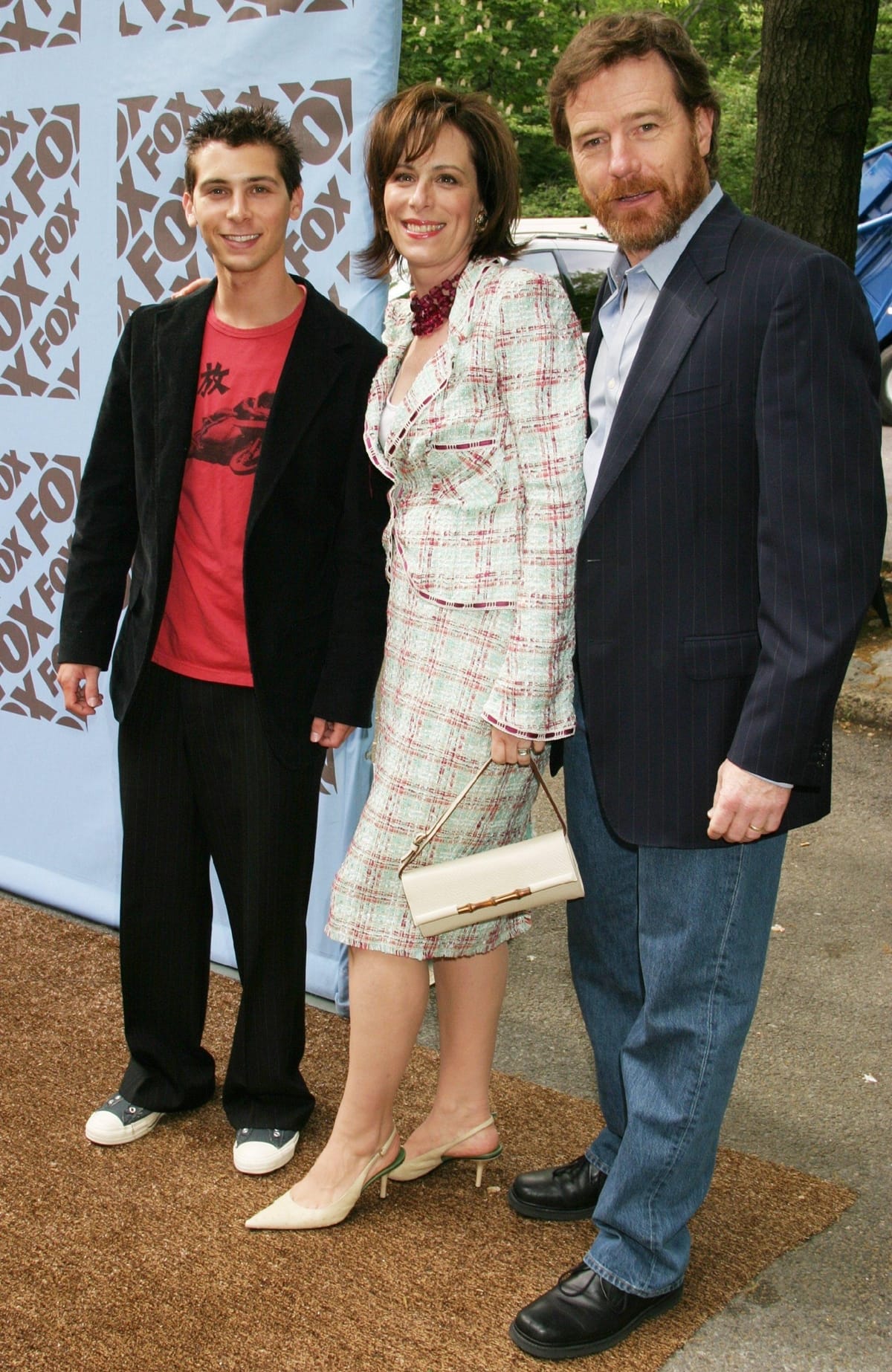 Bryan Cranston with his Malcolm in the Middle co-stars Frankie Muniz and Jane Kaczmarek in 2005 (Credit: LK / WENN)
Many people don't remember, however, that he was the dentist Tim Whatley in Seinfeld.
Bryan Cranston in Seinfeld
Cranston's role in Seinfeld was small but impactful. Many people that watch Breaking Bad saw the first episode and instantly said, "That's the dentist!" The ones that didn't remember who he was within seconds of being shown a picture.
Cranston was in five episodes of Seinfeld, and they were arguably some of the best. He was in the "The Yada Yada" episode where Kramer made up the phrase "anti-dentite," and "The Mom & Pop Store" episode where George brought in Jon Voight's pencil for the dentist to look at.
Bryan Cranston played Dr. Tim Whatley in the American sitcom television series Seinfeld (Credit: NBC)
The most memorable was the episode in which he made Jerry Seinfeld laugh. If you've seen the show, you know this is a seemingly impossible task. But Cranston starred in one of the few episodes that Seinfeld cracked a smile and for that, he is memorable.
The episode, "The Jimmy" as it's titled, was full of real laughs. Cranston actually pretended to take a hit of laughing gas before doing work on Jerry. This was suggested by one of the lighting guys and was meant to make everyone smile.
Jerry thought it was hilarious, which caused him to crack up laughing. Soon everyone on set was dying laughing as well.
"It was so much fun, we had to stop rolling the tape often because Jerry would be laughing," Cranston revealed during an edition of The Jess Cagle Interview.
"He was the one who cannot keep a straight face," Cranston added. "When you watch the show now, you'll see him smiling constantly — that's the best take they had of him not actually laughing, just smiling and trying to contain himself. It was a blast."
Bryan Cranston, The Legend
Bryan Cranston has been around for years making us laugh, making us smile, and making us feel things. He is an impactful actor and has made his mark on many generations and will continue for years to come.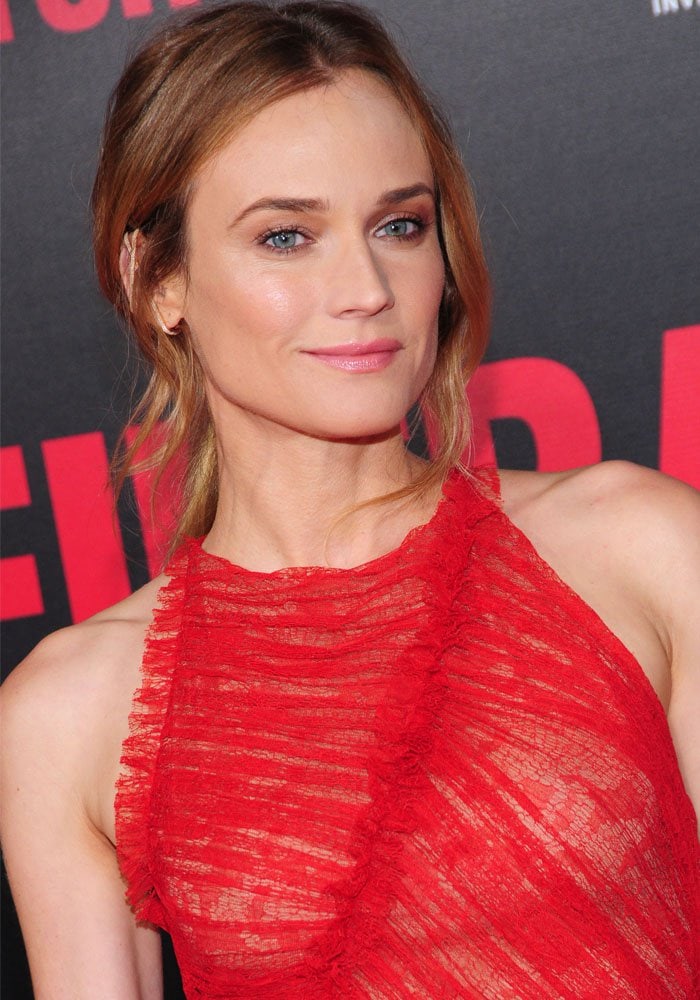 Diane Kruger in a red sheer pleated dress by Jason Wu (Credit: Dan Jackman / WENN)
In July 2016, Diane Kruger revealed that "Breaking Bad" actor Bryan Cranston was one of the reasons she decided to star in "The Infiltrator."
Diane Kruger wears a Jason Wu dress and Repossi rings and earrings at the "The Infiltrator" New York premiere at AMC Loews Lincoln Square 13 theater on July 11, 2016, in New York City (Credit: Ivan Nikolov / WENN)
Diane had nothing but good things to say about her co-star at the New York red carpet premiere of their film.
The Troy actress wore a sheer pleated dress by Jason Wu, which was custom-made and inspired by a piece from his Pre-Fall 2016 collection.
Diane Kruger shows off her feet in Christian Louboutin "Paris Ete" sandals on the red carpet (Credit: WENN)
Diane styled her red carpet look with Repossi earrings and rings, a quilted clutch from Chanel, and a pair of Christian Louboutin "Paris Ete: sandals.
We think Diane nailed it with this gorgeous look — especially considering she doesn't use a stylist!
Diane Kruger and her "The Infiltrator" co-star Bryan Cranston pose together at the red carpet premiere (Credit: Dan Jackman / WENN)
Diane praised her co-star in the thriller film based on the eponymous autobiography by Robert Mazur, stating that she admires the way he is able to disappear and let his film character shine through.
"So excited 😍😍😍😍😍😍 !!!! You guys won't be disappointed, I promise and I can honestly watch Bryan Cranston read the phone book to me… Ha," Kruger wrote on Instagram.
Christian Louboutin's "Paris Ete" sandals are sold out online but you can get a similar pair from the iconic British luxury brand Burberry at Nordstrom.
Christian Louboutin "Paris Ete" Sandals
Burberry London Metallic Leather Sandals, $750