As the face of Burberry, you'd think Cara Delevingne would always want to be clad in designer stilettos and silken dresses, even when running errands or having lunch out with friends.
But the now 21-year old model (she just had her birthday a few days ago) prefers statement shirts over lace tops and skinny pants over skirts. Cara has definitely mastered the art of '90s fashion as evidenced in her numerous ensembles inspired by this decade.
Although she has an avid penchant for casual '90s style, eyes still zero in on her. This is true even when she is surrounded by equally stylish friends such as Rihanna, Rita Ora, and Georgia May Jagger.
Cara is a hardcore fan of statement shirts. She is often seen wearing one. Let's take a look at some of her photographed outfits wearing interesting tops:
1. "Squeeze This" Statement Tee
With her "Squeeze This" statement tee, Cara created a buzz in the fashion world by arriving in this dressed down outfit to a formal event.
Everyone else was dressed to the nines but Cara simply went for this racy tee from ASOS and capped off the look with red satin pumps, tailored pants, and a clutch, all from Burberry.
Cara Delevingne at the Glamour Women of The Year Awards held at Berkeley Square Gardens in London on June 4, 2013

Copy her Look:
Asos Squeeze This! T-Shirt, £12.00
Vince Slim Trousers, $295.00
10 Crosby Derek Lam Ynez Choked Wedge Pumps, $330.00
2. Lamis Khamis T-Shirt
She looked every inch the model-off-duty in this look complete with a Lamis Khamis T-shirt, oversized jacket, skinny jeans, and army boots. The English model even threw on a colorful beanie and a pair of cats eye sunnies for good measure.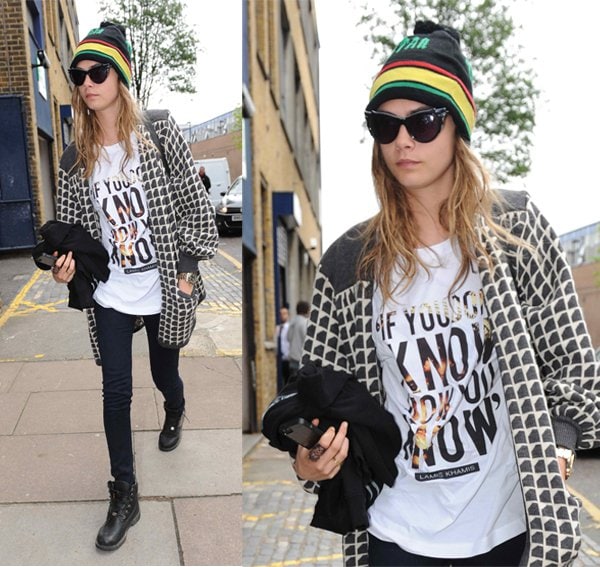 Cara Delevingne in London casually dressed in a beanie hat and a trendy Lamis Khamis T-shirt with the words 'If You Don't Know Now You know" in London on June 13, 2013

Copy her Look: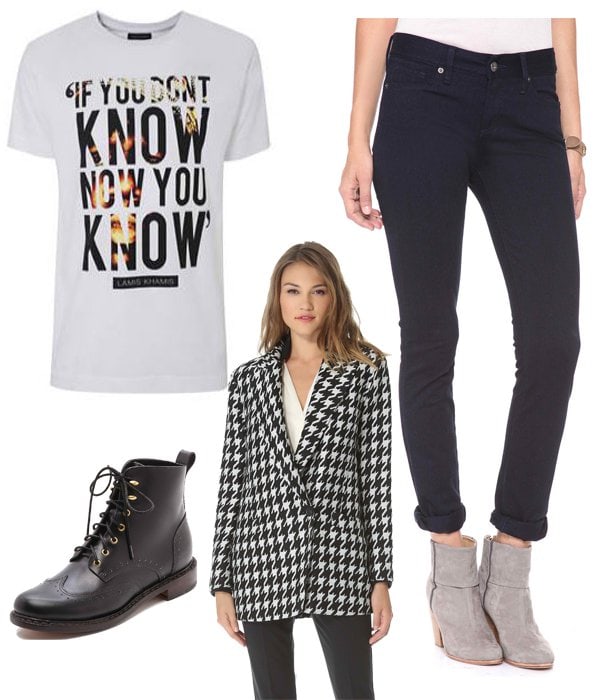 Lamis Khan If You Don't Know T-Shirt, £30.00
Modern Saints Pencil Leg Jeans, $182.00
Theory Danvey Coat, $695.00
Rag & Bone Cozen Lace Up Booties, $595.00
3. KESH x American Apparel Eye Le New Big Tee
Her recipe for a cute lunch date outfit is pretty similar – a statement tee, skinny pants, a jacket, lace-up footwear and a pair of sunnies. Cara sported an interesting KESH x American Apparel Eye Le New Big Tee that reminded us of a Picasso creation.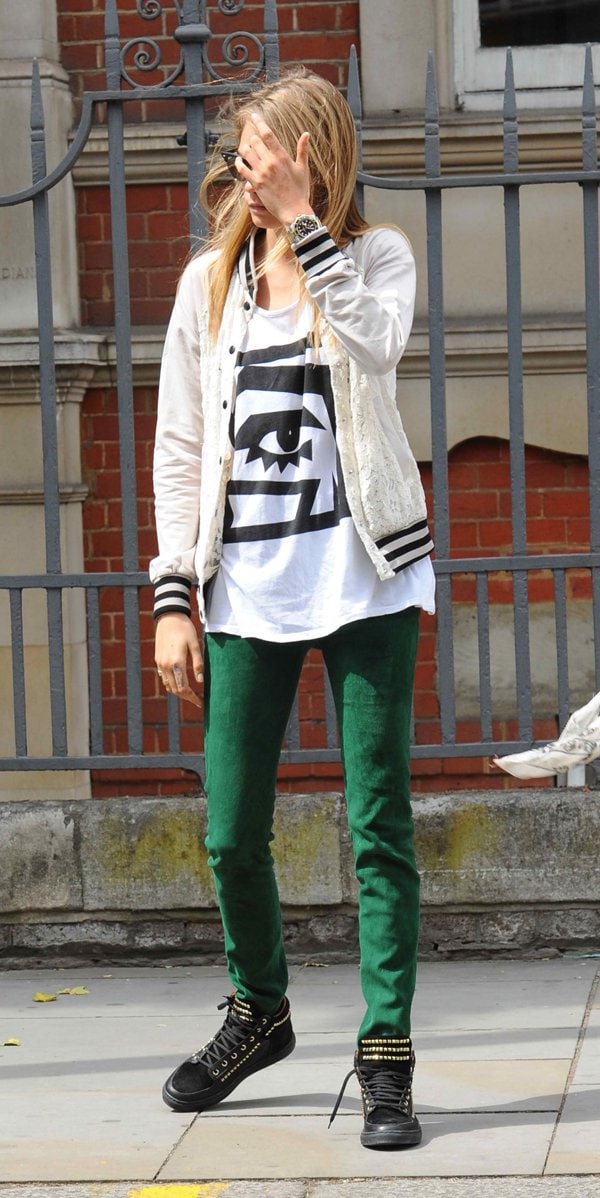 Cara Delevingne goes for lunch with her sister in Chelsea, London on July 10, 2013

Copy her Look:
KESH x American Apparel Eye Le New Big Tee, $35.00
Marc by Marc Jacobs Standard Supply Stick Jeans, $100.80
Giuseppe Zanotti London Plated Zip Sneakers, $1295.00
Townsen Leather Jacket, $330.00
4. Scary Unidentified Jumper
Cara spearheaded the shark trend with this scary unidentified jumper teamed with a pair of tribal-printed pants.
Cara Delevingne arrives at Cirque Le Soir in London on July 20, 2013

Copy her Look:
Asos Minimarket Shark Sweater, £63.00
Sass & Bide To There & Back Jeans, $108.00
Giuseppe Zanotti London Plated Zip Sneakers, $1295.00
5. Chicago Bulls 33 Cropped Muscle Tee
She isn't one to flaunt too much skin. But when she does, she looks stunning. Cara sported a Chicago Bulls 33 cropped muscle tee paired with yet another pair of skinny pants and wedge sneakers.
Cara Delevingne leaving her house showing a midriff as she wears a Chicago Bulls 33 shirt in London on July 22, 2013

Copy her Look:
New Jack City Timberwolves Laettner Jersey, $88.00
Dickies Girl The 5pkt Skinny Stretch Twill Pant in Khaki, $25.00
Adidas x Opening Ceremony Honey Wedge Sneakers, $63.00
6. Tourne de Transmission Shirt
For a shopping spree at Vivienne Westwood, the gorgeous model wears a Tourne de Transmission shirt with the words Yes Please and a big exclamation point printed on it. She has her staple jacket, skinny pants, sneakers and sunglasses on.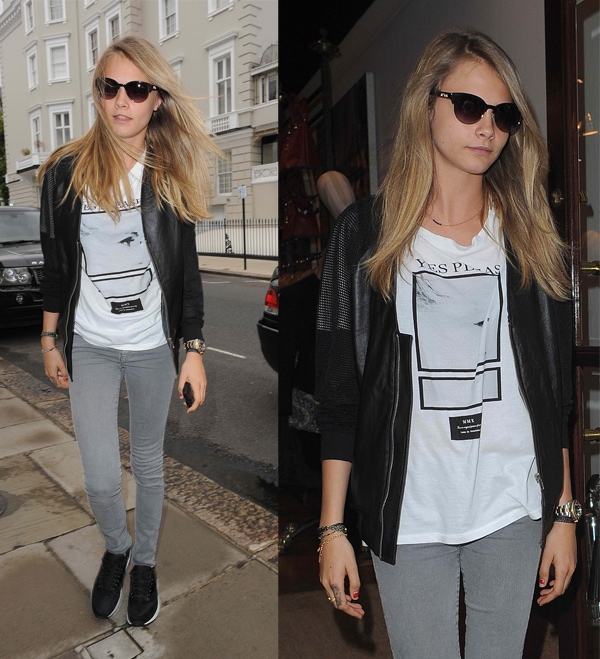 Cara Delevingne celebrates her 21st a few days late, by having a big shopping spree in Vivienne Westwood. The model spent just over an hour in the store and was driven home with her large bags full of clothing in London on August 14, 2013

Copy her Look: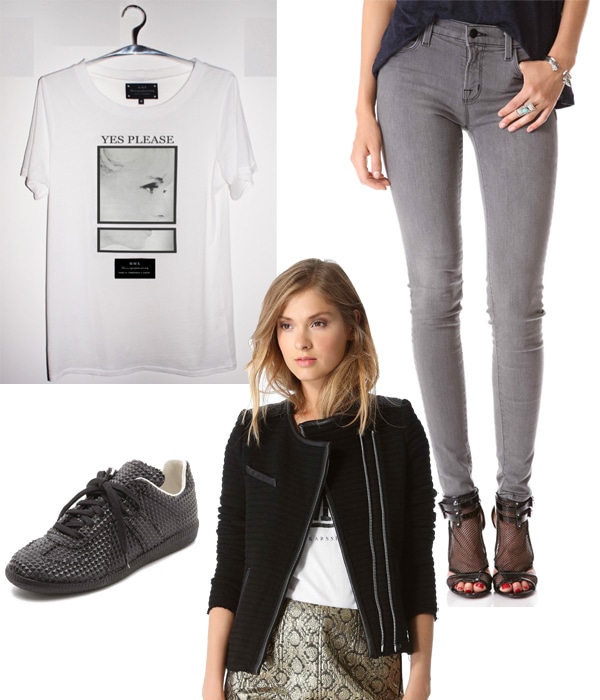 Tourne De Transmission Yes Please T-Shirt, £90.00
J Brand 620 Photo Ready Super Skinny Jeans, $274.80
Maison Martin Margiela Cube Detail Sneakers, $595.00
IRO Maiden Ribbed Jacket, $789.00
What we really love about Cara Delevingne's style is that it is so wearable. It's an elevated everyday style that does not compromise on comfort. It is also experimental, edgy and quirky – something many of us can relate to. So we say go ahead and copy her style! We approve!
Credit: Daniel Deme / WENN / Craig Harris / Will Alexander / Manuil Yamalyan