The Havana hitmaker is embracing every inch of her body!
On Friday, Camila Cabello was spotted getting excessive with her mom, Sinuhe Estrabao, at a park in Beverly Hills. For the workout session, she decided to keep things real.
Camila Cabello exercising with her mom, Sinuhe Estrabao, at an LA park on July 16, 2021 (Credit: Mega / WENN)
Never one to shy away from flashing some flesh, the 24-year-old Señorita singer put her untucked tummy on display in a black Alo Yoga "Delight" bralette that you can buy at Alo Yoga.
She teamed the $58 sports bra with $118 two-tone high-waist "Legit" leggings, also from the celebrity-favorite activewear brand. You can purchase them in many colors at Alo Yoga.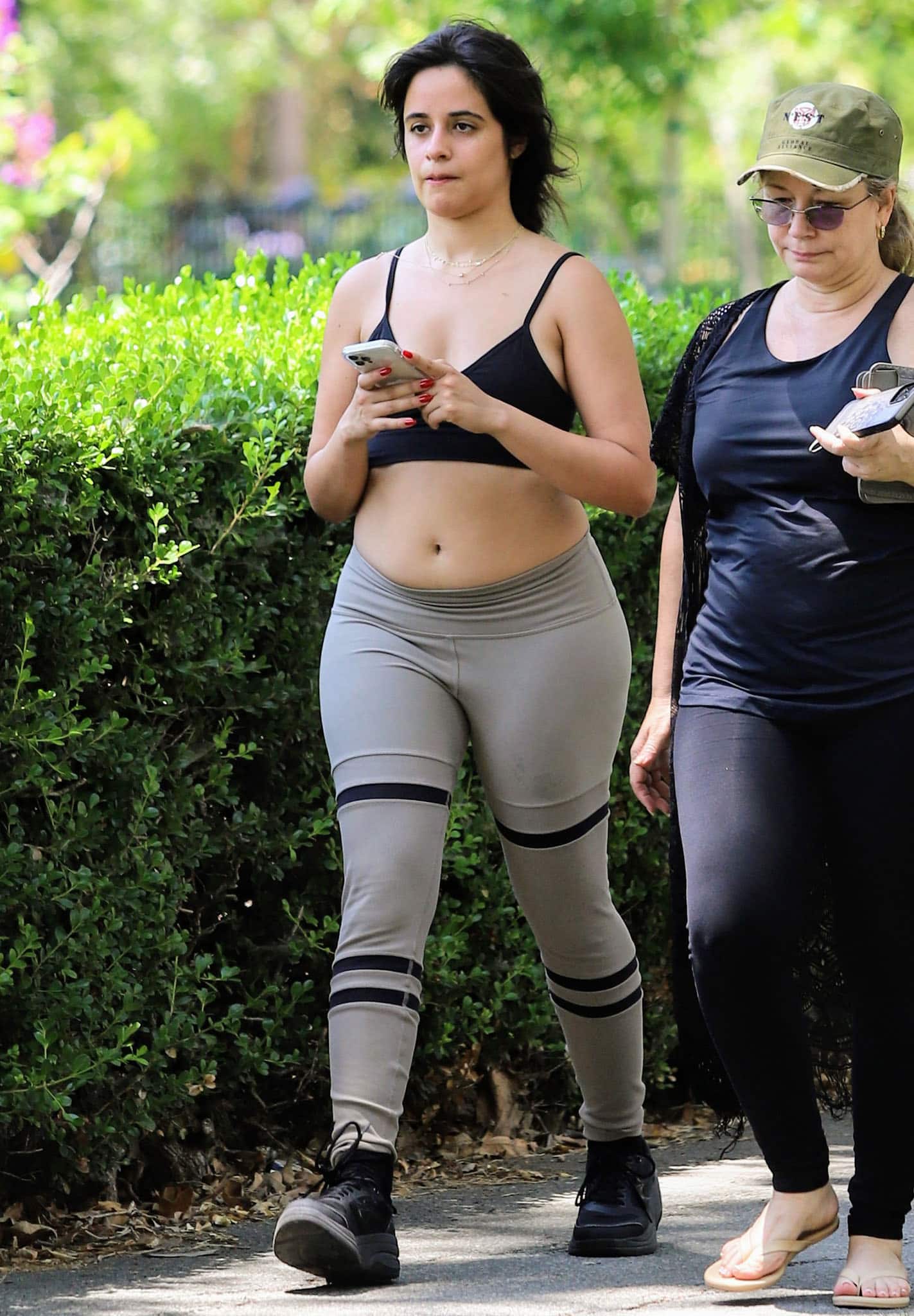 Camila Cabello shows her untucked belly in Alo Yoga Delight bralette and Legit leggings (Credit: Mega / WENN)
Shawn Mendes' half-Mexican, half-Cuban girlfriend appeared barefaced with her brunette locks pulled back into a messy low bun with a Burgundy Velvet scrunchie.
She then jazzed up her workout look a bit by layering several dainty gold necklaces around her neck and painting her nails red.
Camila Cabello looks barefaced with her brunette hair tied back into a low bun (Credit: Mega / WENN)
A pair of black socks with all-black chunky sneakers completed Camila's running outfit.
Camila Cabello completes her running outfit with black socks and chunky platform running shoes (Credit: Mega / WENN)
Her mom, meanwhile, kept it low-key with a navy tank top, black leggings, and a black laced cardigan. She styled her look with a baseball cap, a pair of sunnies, and tan-colored flip-flops.
Camila's Cuban mom Sinuhe Estrabao wears a tank top, leggings, and a laced cardigan (Credit: Mega / WENN)
Following her outdoor sweat session, Camila took to TikTok to slam body shamers and send out a body-positive message to her fans.
In the video clip, captioned "I luv my body," the multi-platinum award-winning singer reminded her followers to own their bodies—from their curves to their cellulite, stretch marks, and fat.
"I was just running in the park, minding my own business, trying to be fit, trying to keep it healthy. And I'm wearing a top that shows my belly," she said while pointing the camera to her bare belly.
"And I wasn't tucking it in… cause I was running and existing, like a normal person that doesn't tuck it in all the time," she added.
"And I was like, 'damn.' But then I reminded myself, being at war with your body is so last season. I am grateful for this body that lets me do what I need to do. We are real women with curves and cellulite and stretch marks and fat, and we gotta own that, baby!"