If you're looking for a new pair of utility boots, particularly high-quality boots that are perfect for work, you're probably already scouring the internet. A popular one-stop-shop for both shoe collectors and shoe minimalists alike is Zappos.
Zappos is a superstore for clothing, footwear, and accessories with operations solely found online. They pride themselves on delivering high-quality items with free, easy, and fast shipping. Unfortunately, they no longer offer price matching.
Out of the sea of popular footwear on the Zappos site, which includes some of our favorite high heels and evening shoes, one boot reigns supreme on their list of women's boots: the Skechers Mccoll composite ("comp") toe work boots.
The McColl comp toe work boots from Skechers are the most popular boots at Zappos
These popular, technical work boots are top of the Zappos charts when it comes to boots for women. But why?
Here's what you need to know about the Skechers Mccoll comp toe work boots, and why they're the most popular boots on the Zappos website.
Why the Skechers Mccoll comp toe boots are number 1
Available in black and black/navy for $94.95 at Zappos, the Skechers Mccoll comp toe work boots are the cream of the crop when it comes to all the tactical women's work shoes on the online marketplace.
These lug sole, lace-up boots feature water and stain-resistant upper build with comfortable, memory foam soles for lasting comfort. The Mccoll comp toe work boot is made for durability and ease throughout the entire working day.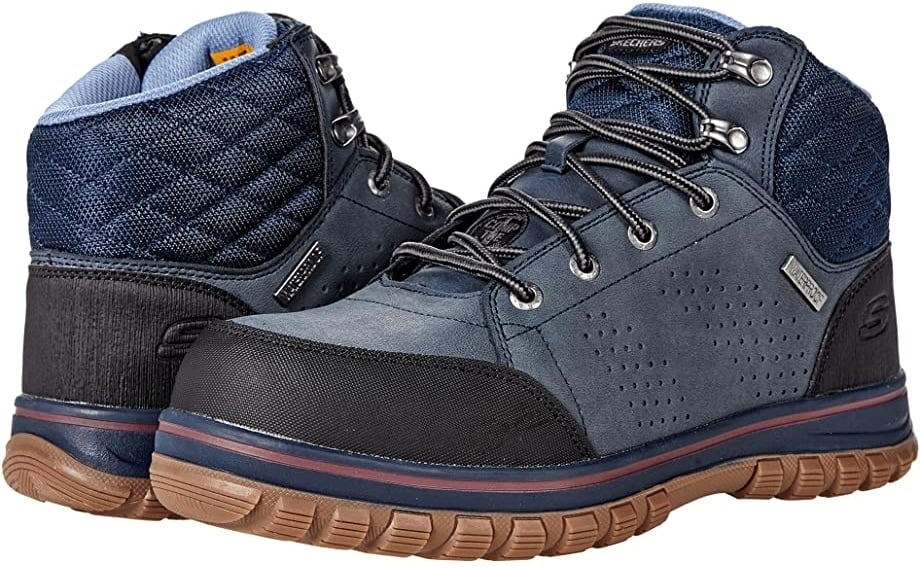 The popular Skechers work boot features a waterproof and stain-resistant leather upper
You work hard, and these boots do too. They're also rated well for safety: with an ASTM F2412/2413-2011 I/75 C/75 rating, the Mccoll comp toe boots keep your feet secure as you get through your shift.
All the while, the rubber soles keep you safe from wet surfaces and the fabric lining lets your feet breathe. In reading the Zappos buyers' reviews, it's clear to see why the Mccoll boots are the top offering.
Reviewers tout the comfort and durability of the boots, and one buyer even reports that they are "like walking on pillows."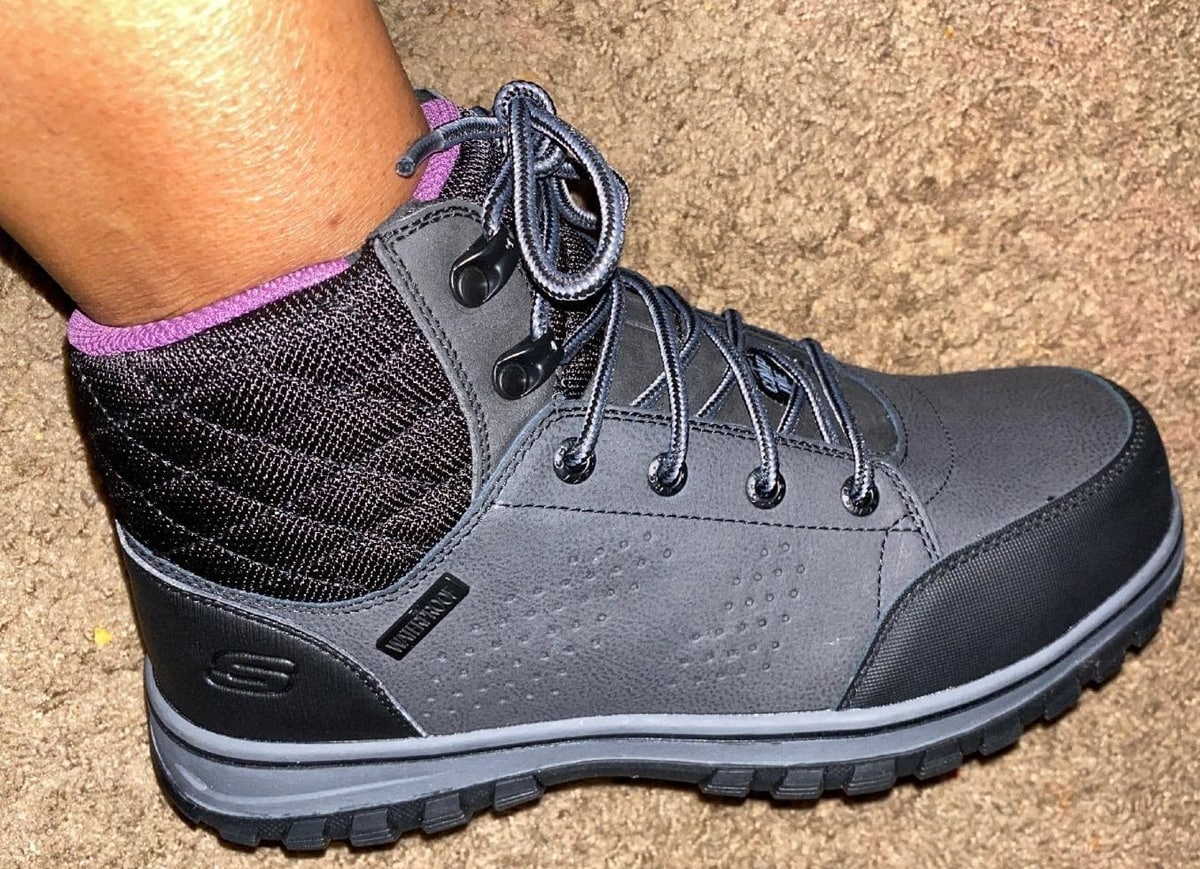 The safety toe protection provides long-lasting durability and comfort that will keep you safe while you're on the job
Those who have purchased the Mccoll comp toe boots also report that these Skechers work shoes are lightweight to wear, despite having a durable and secure comp toe.
Plus, at a price tag under $100, Skechers work shoes are a more budget-friendly option. Please note that Skechers shoes are not manufactured in the USA. Luckily, there are many alternatives if you're looking for boots made in the USA.
Best Mccoll comp toe work boot alternatives
While the Skechers Mccoll comp toe work boots are the most popular sellers in women's boots on Zappos right now, there are work shoe alternatives, and work boot alternatives.
The next best sellers on the Zappos website are the Timberland Pro Drivetrain mid composite safety toe ESD boots. These Timberland work boots for women are similar to the Skechers Mccoll boots, but retail for just over $100 at Timberland and Zappos.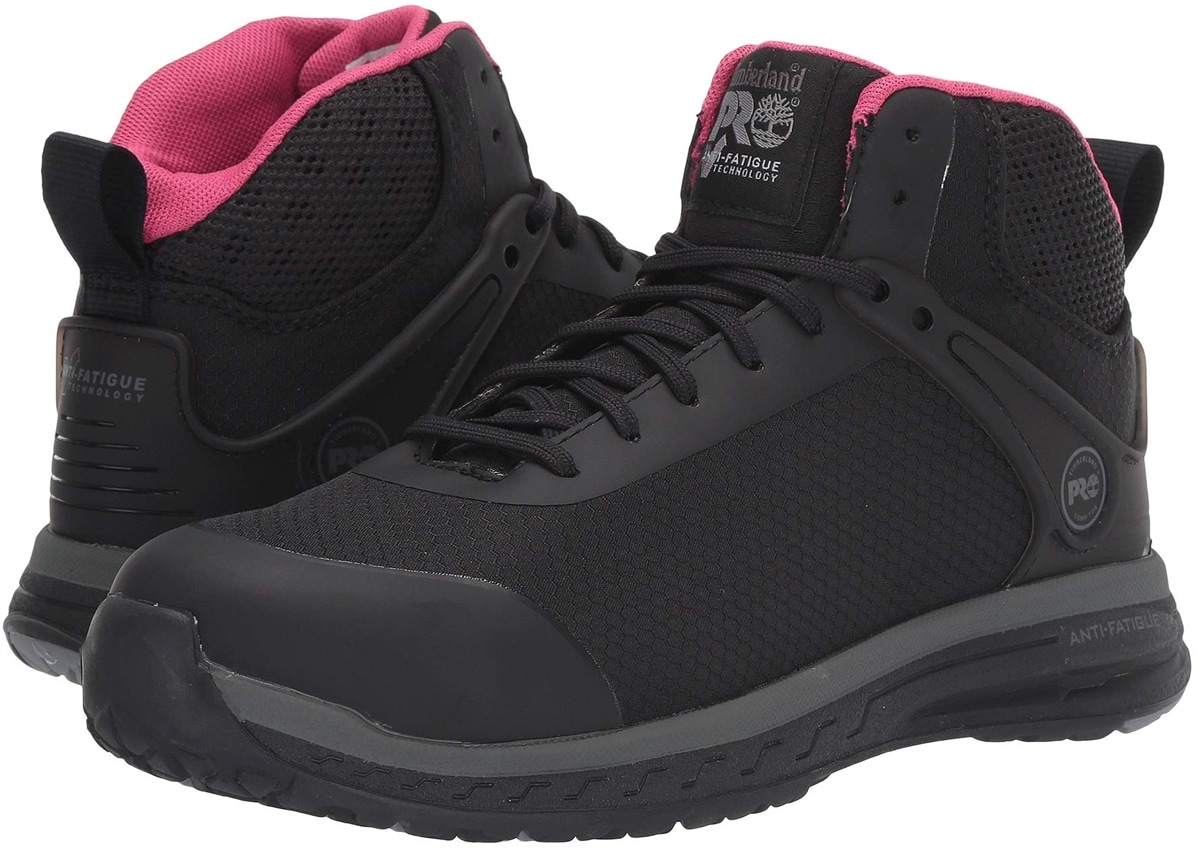 This work boot from Timberland promotes a mid-profile style that will keep you protected, comfortable, and supported all workday long
These women's work boots have a mid-cut silhouette, meaning they hit above the ankle, and have a breathable mesh upper so feet don't get constricted for a full day's work.
They also feature a composite safety toe featuring CarbonShield™ technology and electrostatic dissipative protection, so you can work hard without worrying about the safety of your feet.
You won't need to worry about comfort, either, as the Timberland Pro work boots have a dynamic, supportive footbed to keep your arches safe and healthy.
Abrasion-resistant mesh upper for long-lasting durability and breathability
When you're working hard at a physically demanding job in a warehouse or at a worksite, the last thing you want to worry about is whether your feet are safe and protected.
As someone who is on their feet for a whole day, you also don't want to have to worry about whether your feet are comfortable or if they're being constricted by your footwear.
The Skechers Mccoll comp toe work boots and the Timberland Pro Drivetrain mid composite safety toe work boots are both great footwear options that will keep your feet safe, protected, and comfortable all day long.
These boots are bestsellers, and reviewers agree that having a good pair of work boots like these ones makes a huge difference in the quality of your work and the quality of your days.