There are shoes that just call for a specific look to be worn with them. But we didn't think that would include the Alaia 'Bombe' sandals in a versatile ankle-strap style and goes-with-everything beige.
Sofia Vergara and Dutch model Lilly Becker were both inspired to wear the same Alaia sandals in almost the exact same feminine style within days of each other. Who do you think looked better?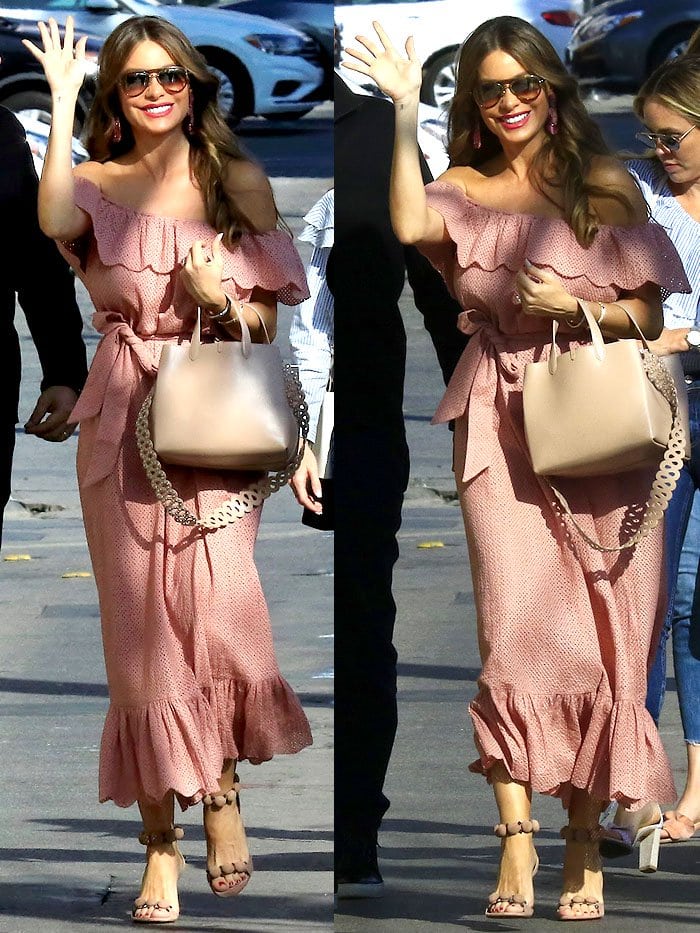 Sofia Vergara wearing a Lisa Marie Fernandez pink scalloped-edge off-shoulder dress with Alaia 'Bombe' beige-suede sandals and an Alaia beige-leather studded-strap handbag
Sofia Vergara arrived for her recent guest appearance on "Jimmy Kimmel Live!" looking as pretty as a petal in a pink off-shoulder maxi dress.
The pale rosy hue of her Lisa Marie Fernandez frock was the perfect tone to pair the beige-suede Alaia heels and a matching Alaia studded-strap handbag. You can buy them at Net-A-Porter and Farfetch.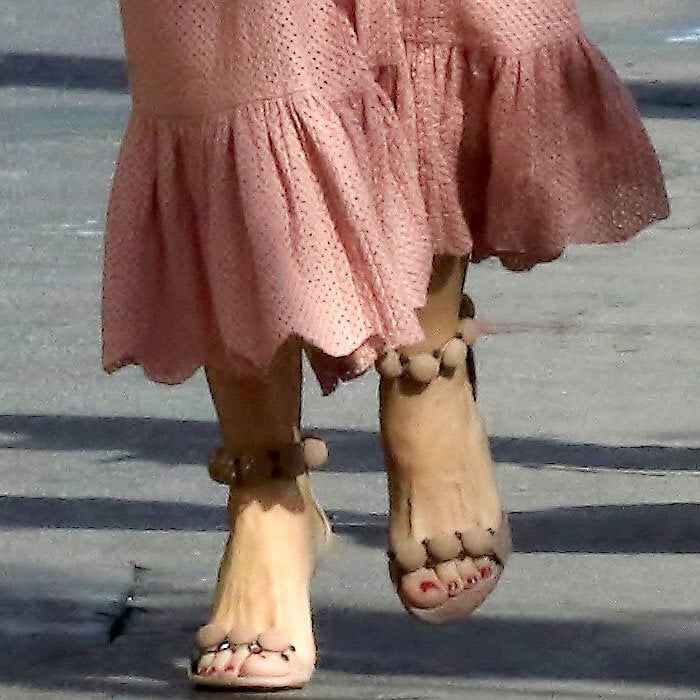 Sofia Vergara's feet in Alaia 'Bombe' studded suede sandals
The 46-year-old actress rounded out her feminine ensemble with oversized aviator sunglasses, pink dangling earrings, and a swipe of cherry pink on her lips.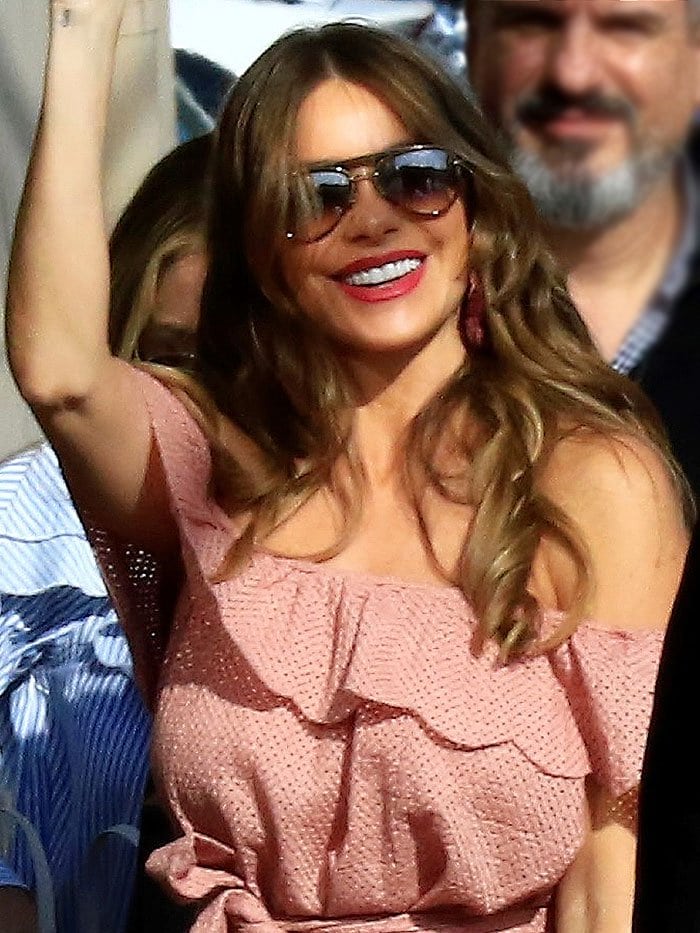 Sofia Vergara arriving for her appearance on "Jimmy Kimmel Live!" at the ABC Studios in Hollywood, California, on September 25, 2018
A couple of days later across the pond in London, the fashion fates also prompted Dutch model Lilly Becker to bust out her Alaia 'Bombe' sandals for a charity event.
Like Sofia, Lilly also paired her heels with a pink maxi dress featuring floral embroidery and the same off-shoulder style.
Lilly Becker styling her Alaia 'Bombe' beige-suede sandals in the same fashion as Sofia Vergara with a pink off-shoulder dress, giant sunglasses, and a Chanel quilted handbag
The 42-year-old stunner accessorized in a similar fashion as well — with oversized sunglasses, pink lip gloss, and an expensive designer bag in her hand.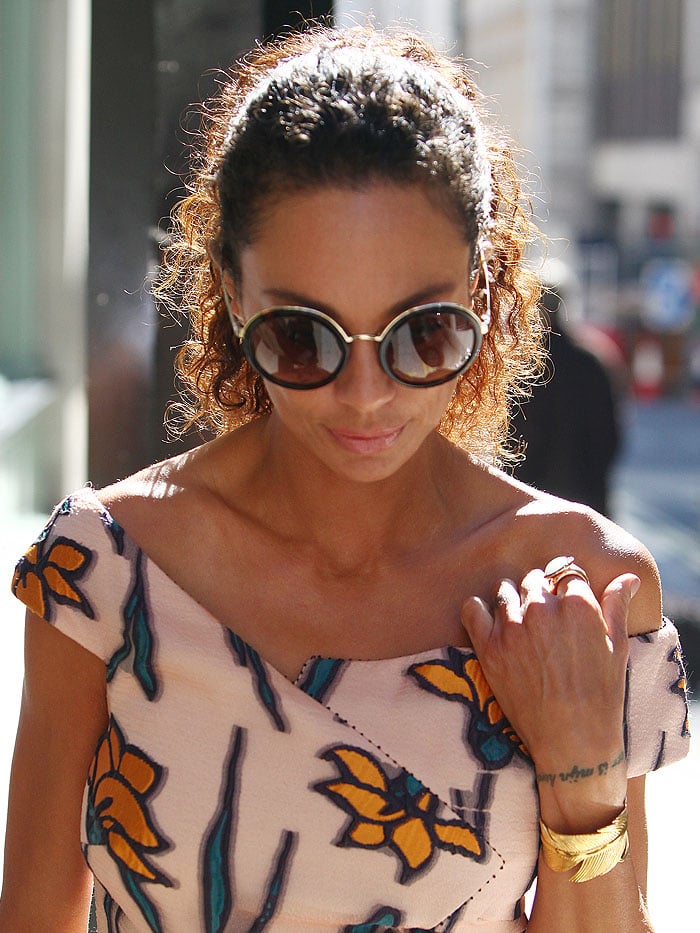 Dutch model Lilly Becker arriving for the Lady Garden charity lunch held at Fortnum & Mason in London, England, on September 27, 2018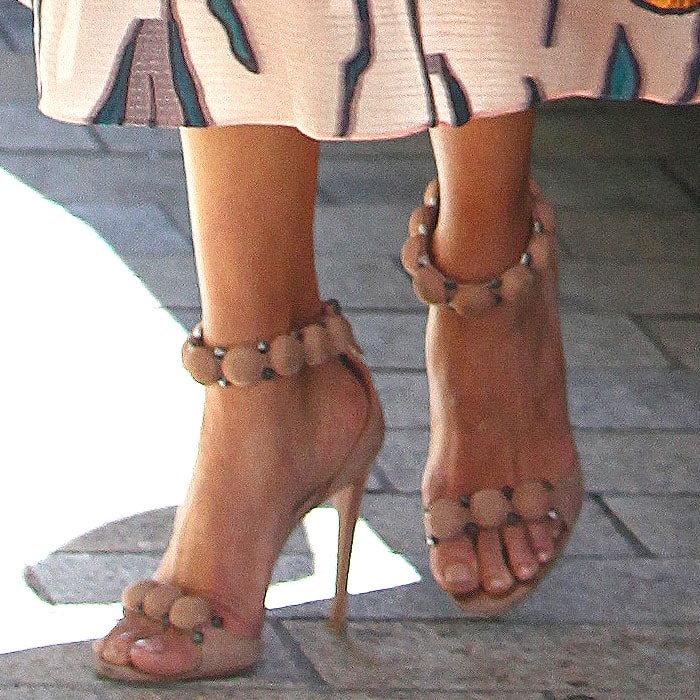 Lilly Becker's sexy feet in Alaia 'Bombe' beige-suede sandals
Could it have been the warm early fall temperatures that prompted these two ladies to wear their Alaia heels with pretty, summery looks?
If you want to see these sandals styled in a different way, check out how Blac Chyna, Khloe Kardashian, Eva Longoria, and Karrueche Tran wore their pairs.
Alaia 'Bombe' Sandals in Pink Blush Satin, $1,290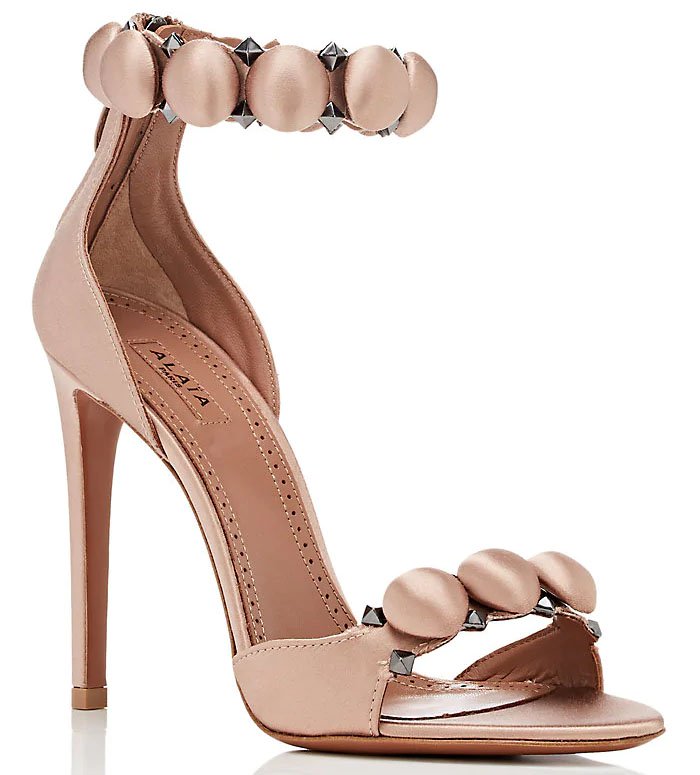 Alaia 'Bombe' Sandals in Navy Suede, $1,295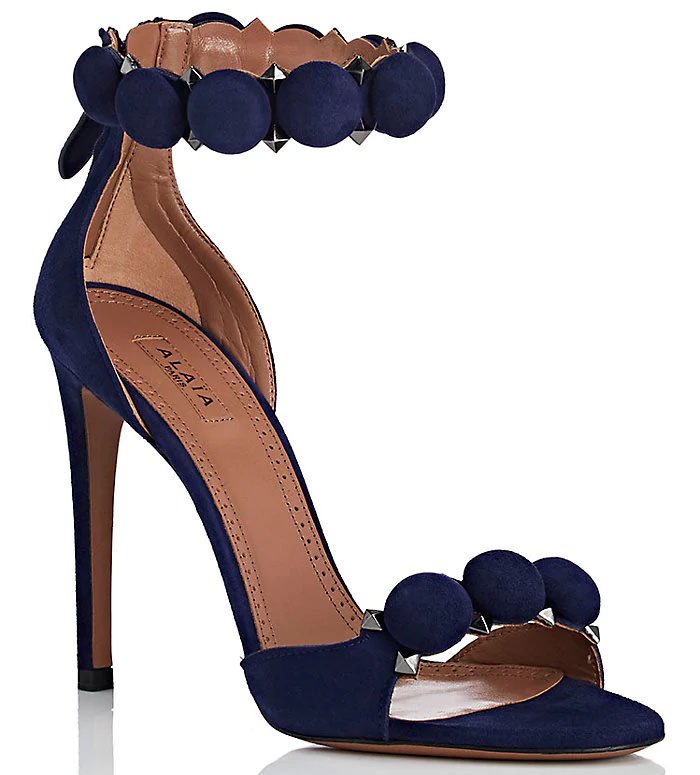 Alaia 'Bombe' Sandals in Burgundy Satin, $1,225
Alaia 'Bombe' Sandals in Violet Velour, $1,220
Alaia 'Bombe' Sandals in Green Velvet, $1,290
Credit: WENN