AnnaSophia Robb did not do all of her surfing in the 2011 American biographical drama film Soul Surfer.
The biographical drama film directed by Sean McNamara is based on the 2004 autobiography Soul Surfer: A True Story of Faith, Family, and Fighting to Get Back on the Board by Bethany Hamilton, about her life as a surfer after losing her left arm in a shark attack at age 13.
The book tells the story of her life, from her early days as a surfer to her recovery from the attack and her return to the sport, and is available on Amazon.
When filming for Soul Surfer started in Hawaii in early 2010, AnnaSophia Robb was 16 years old. She celebrated her 17th birthday on December 8, 2010.
In a powerful display of resilience, Bethany Hamilton, who lost her arm to a shark attack, inspired surfers as she fearlessly tackled large waves at the 2019 Nissan Super Girl Pro, an all-women surfing event held in Oceanside, California, on July 27, 2019 (Credit: Chris Rubino / Shutterstock)
In the movie portraying the inspiring story of Bethany Hamilton, the real Bethany herself played a significant role in the production.
She contributed to the film as a surf double, performing most of the surf scenes for her character. Remarkably, the attack scene was filmed on the beach where the incident occurred.
Despite losing her left limb in a shark attack in 2003, Bethany Hamilton has achieved remarkable milestones, including becoming a mother of three, conquering massive waves, winning competitions, producing two films chronicling her inspiring journey, and establishing her non-profit organization, the Beautifully Flawed Foundation (Credit: Brian A. Witkin / Shutterstock)
Bethany Hamilton's involvement extended beyond her on-screen contributions. She actively participated in the film's editing process and shared her insights.
There is a significant difference in height between Bethany Hamilton and AnnaSophia Robb. Bethany Hamilton stands at a height of 5 ft 11 in (180 cm), while AnnaSophia Robb is comparatively shorter, measuring 5 ft 0 in (152.4 cm) in height.
Surfer Bethany Hamilton, who stands tall at 5 ft 11 in (180 cm), and the notably shorter AnnaSophia Robb, measuring 5 ft 0 in (152.4 cm), attended the "Soul Surfer" Los Angeles Premiere at ArcLight Cinemas on March 30, 2011,, in Hollywood, California (Credit: TinaKaawaloa / INFevents)
Recognizing that the shark attack scene might be too intense, she suggested toning it down to ensure a more accurate representation of the event.
Bethany emphasized that a sense of calm prevailed during the actual incident—an incredible testament to her strength and resilience.
"I love how in the movie that moment is portrayed very spot on with the way it happened. That was one thing I was nervous about because I didn't want them to make the shark attack into this vicious experience and overly dramatize it. People are really scared of sharks because they're intimidating, but at the same time I just hope this film doesn't cause shark phobia that so many people have and that they will just enjoy the ocean. Shark attacks are uncommon and it's actually more dangerous to drive to the beach than to get in the ocean," Hamilton told Santa Monica Mirror.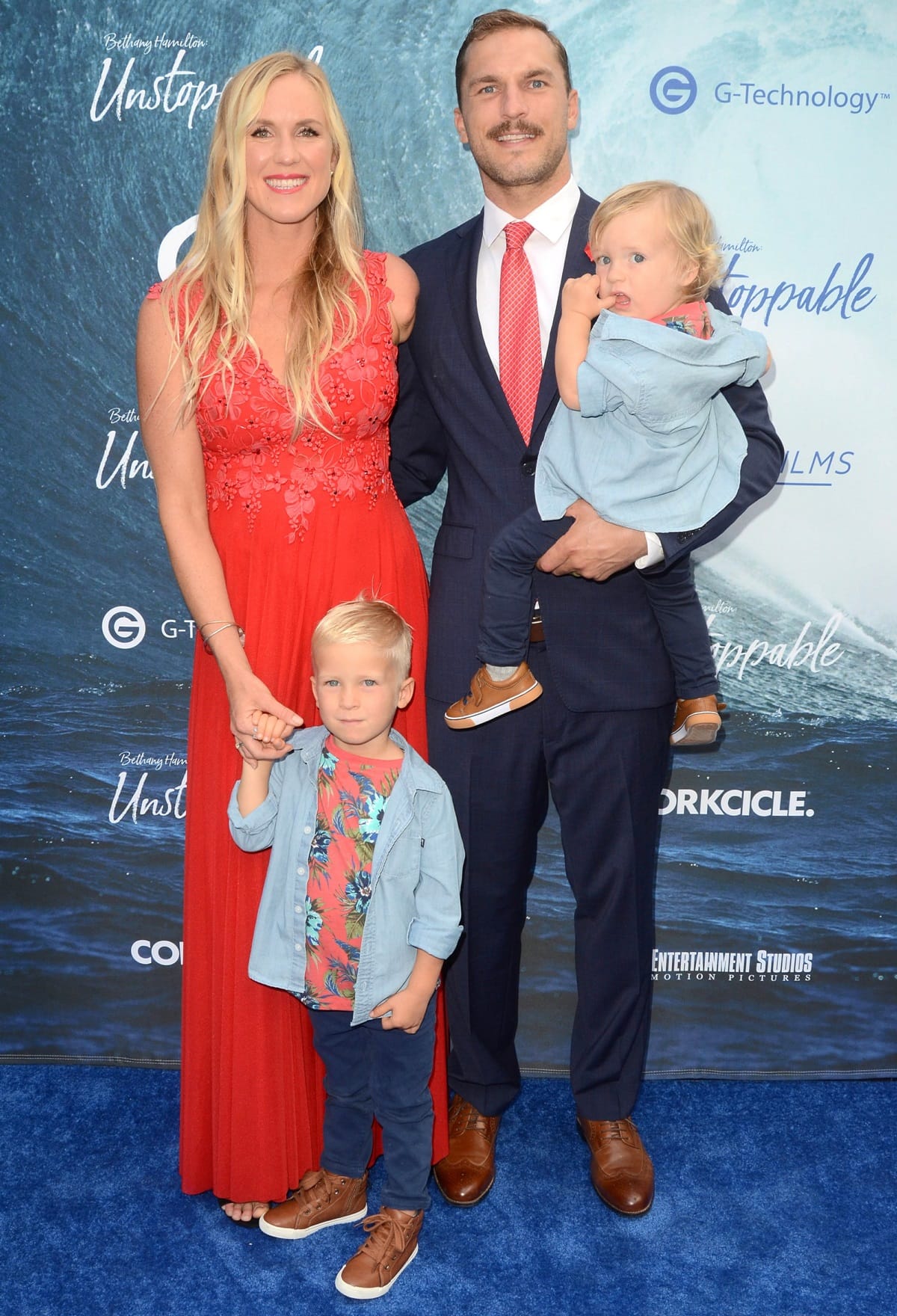 After meeting in early 2012, Bethany Hamilton and Adam Dirks exchanged vows on August 18, 2013, and joyfully embraced parenthood, raising three sons together (Credit: Media Punch / INSTARimages)
"Bethany taught me a ton of things and we had some fantastic water guys," Robb added.
"Her surf coach Russell Lewis and my surf coach Noah Johnson really helped me figure out where the channel is and how to look for waves and what to do. They gave me a general knowledge of the sea and being comfortable in it."
For scenes depicting the aftermath of the attack, AnnaSophia Robb, who portrayed Bethany in the movie, wore a green sleeve on her left arm during filming. The sleeve was digitally removed in post-production to reflect Bethany's physical journey accurately.
The shark responsible for the attack on Bethany Hamilton was a formidable 14ft (4.3M) tiger shark, underscoring the magnitude of the challenge she faced and overcame.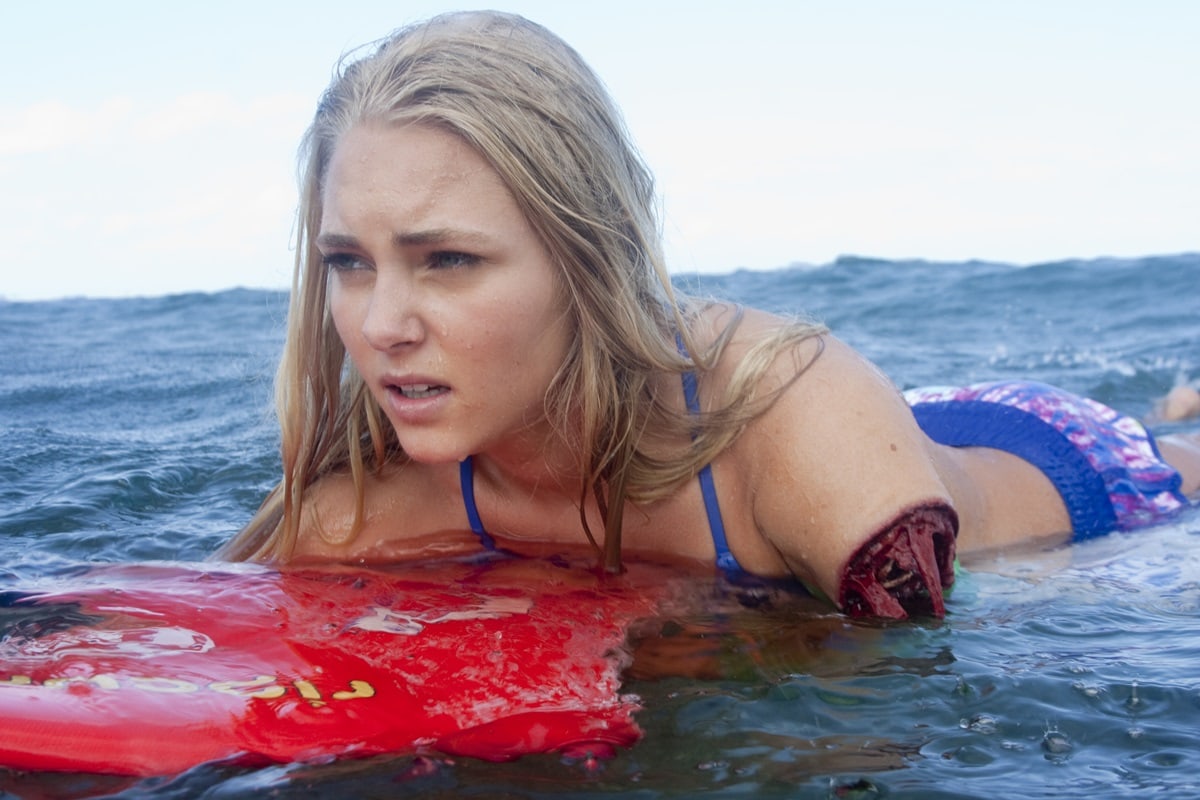 AnnaSophia Robb skillfully portrayed the surfing scenes of Bethany Hamilton with great authenticity and grace in the 2011 American biographical drama film Soul Surfer (Credit: Sony Pictures Releasing)
For the scenes after the shark attack, Hamilton herself did the surfing. Robb did train for several months to learn how to surf before filming began. She also worked with a stunt double for some difficult surfing scenes.
The film's director, Sean McNamara, wanted to ensure the surfing scenes were as realistic as possible. He said he was impressed with Robb's commitment to learning to surf and that she could do many of the surfing scenes herself.
"I didn't really understand it before, at all. Surfing is something I just crave. I wish I was out there right now, even if I'm just sitting on a board. It's one thing where you just forget about everything else that's going on, on land. You're unreachable. You're untouched. You're out in this place made by God," Robb told Collider about surfing in an interview.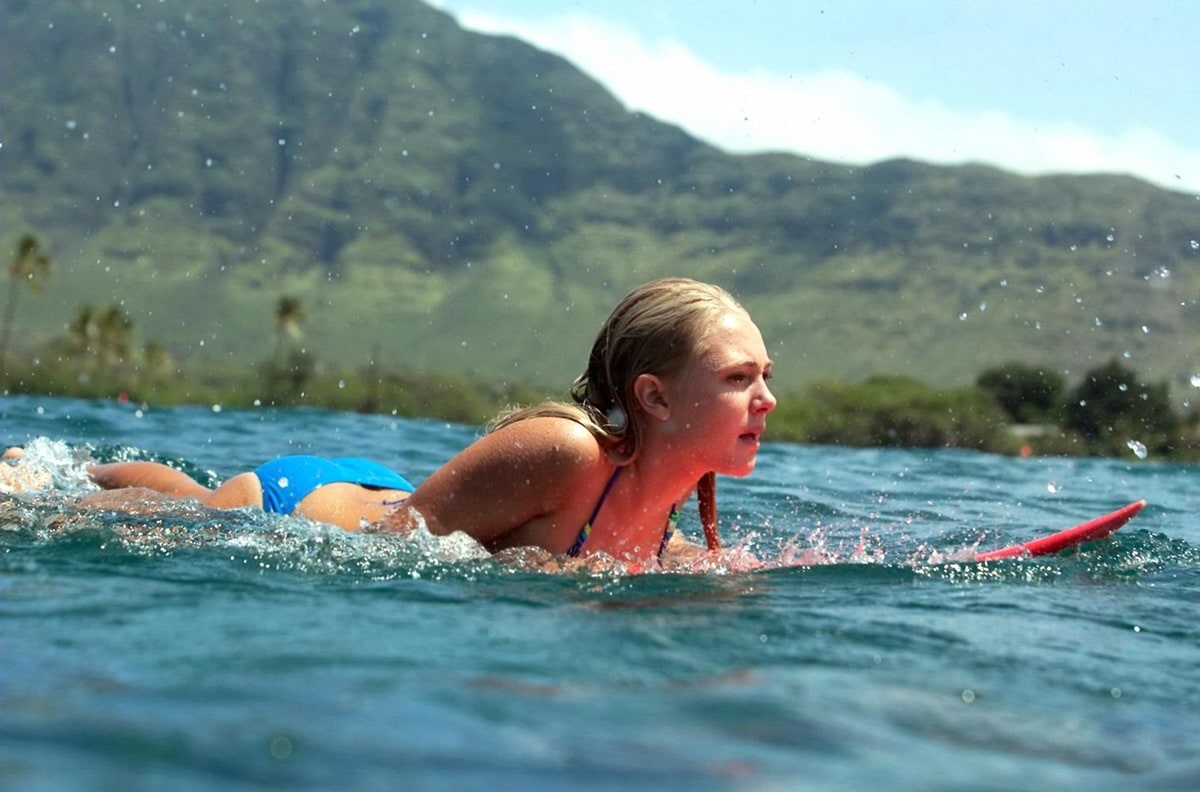 AnnaSophia Robb expressed her enthusiasm for surfing, despite having only taken one brief lesson previously and embraced the new experience wholeheartedly (Credit: Sony Pictures Releasing)
"You have to be really in the moment because you have to be aware of the waves that are behind you and in front of you. You have to be aware of where your position is. Your main goal is to catch a wave. You have to look for the perfect wave and, once you catch that, it's just this exhilarating feeling of freedom. Something bigger than yourself is surging and you're just pushing through. It's just a beautiful thing."
AnnaSophia Robb Sizzles in Little Black Dress at John Frieda Party
AnnaSophia Robb flaunts her legs in a black strapless "I Am A Walrus" playsuit from Alice McCall (Credit: WENN)
In February 2015, AnnaSophia Robb sizzled in a little black dress while attending the John Frieda Hair Care Beach Blonde Collection Party at the Garage in New York City.
The then-21-year-old American actress and model sported a black strapless "I Am A Walrus" playsuit from Alice McCall and accessorized with a bracelet from Eddie Borgo.
She carried a purple leather "Tatiana" shoulder bag from Paula Cademartori and completed the ensemble with a pair of aqua suede "Portia" pumps from Dee Keller.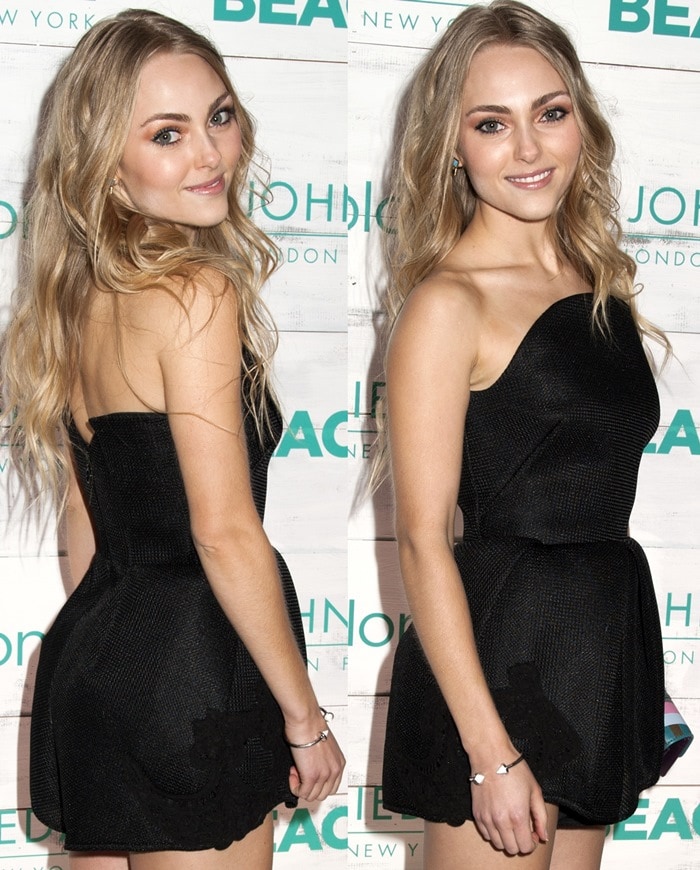 AnnaSophia Robb accessorized with a bracelet from Eddie Borgo at the John Frieda Hair Care Beach Blonde Collection Party at the Garage in New York City on February 5, 2015
How do you like AnnaSophia's black playsuit and aqua blue pointy-toe pumps? You can find the latter in three different color variations on Amazon.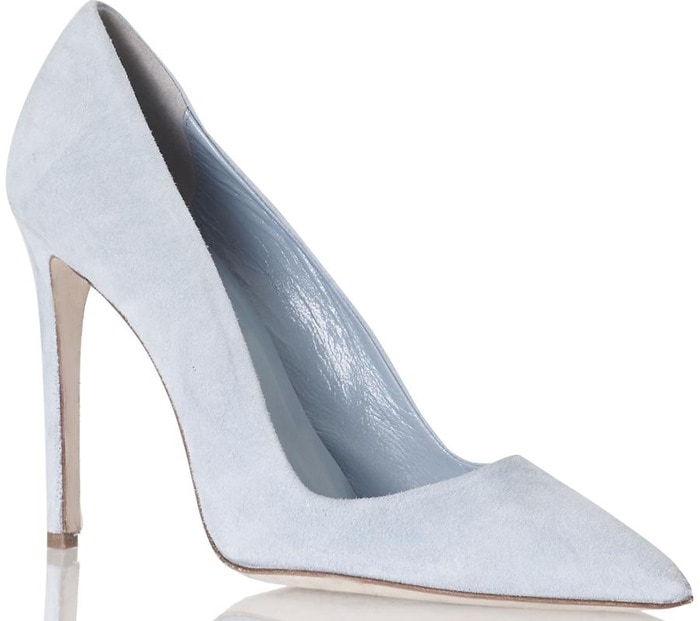 Dee Keller 'Portia' Pointy-Toe Pumps, $298