In an article written for PopSugar in September 2016, La La Anthony confirmed she's able to speak Spanish. Her parents, who are of Puerto Rican heritage, were born and raised in New York City.
La La Anthony, her son Kiyan Carmelo Anthony, and her Nuyorican mother Carmen Surillo arrive at VH1's 2nd Annual 'Dear Mama: An Event To Honor Moms' at The Huntington Library on May 6, 2017, in Pasadena, California
I am incredibly proud of my Puerto Rican heritage. A lot of people don't realize that I'm Puerto Rican or when they do, they think that means I can't be black. I identify as an Afro-Puerto Rican woman, and my Puerto Rican culture is in my blood and ingrained into my life. I speak Spanish fluently!

Both my parents are Nuyorican, born in New York, and they raised my brother and me there too and later in New Jersey and Atlanta, where we grew up eating arroz con gandules, plátanos and pasteles. I learned so much from my parents about Puerto Rican cuisine and culture. To this day, I still love visiting my mother's house because I know the best food will be waiting for me!
In June 2020, fans got to see a TikTok video of La La Anthony and her good friend Ciara reciting Juhn El All Star's "In My Feelings" in Spanish.
"MamaCita + Duet with my bestie [La La Anthony] This was a good one," Ciara wrote in the caption of her post while also hashtagging, "Spanish." Other celebrities who're proud of their Spanish skills include Eva Longoria, Sofia Carson, and Christina Milian.
"I definitely don't feel like I'm what Hollywood thinks of when they think of a Latina actress at all," Anthony told Latina magazine in June 2017 about the challenges she's faced as an Afro-Latina in Hollywood.
"They are imagining a different look, a different vibe. People still tell me, 'You speak Spanish? You're Spanish? You're Puerto Rican?' They can't wrap their minds around it."
"The industry just hasn't been thinking outside the box when it comes to Latina women," she said. "We come in all colors. My grandfather was extremely dark and from Puerto Rico, but his brother had blond hair and blue eyes. There are so many different shades, and I think Hollywood has yet to realize that."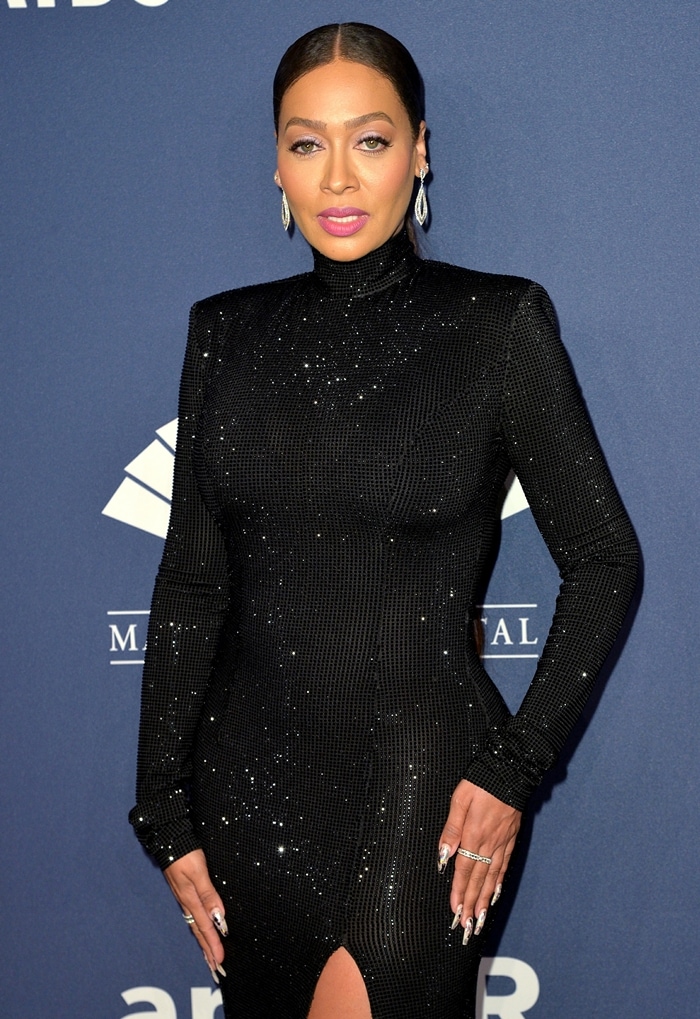 Spanish-speaking television personality La La Anthony attends the 2020 amfAR New York Gala on February 5, 2020, in New York City
"It is challenging, but all I can continue to do is try out for the roles and show them, 'Hey, we come in all shades and with all hair textures and all colors and all everything!'," the New York Times best-selling author added.
In December 2015, La La Anthony pulled out all the stops when she arrived at New York City's AOL Build studios to promote her A&E TV series "Unforgettable."
La La Anthony wears her hair back as she visits AOL Build in New York City on December 3, 2015
The then 36-year-old actress, businesswoman and New York Times best-selling author gave her BFF Kim Kardashian a run for her money in the booty department in a skintight green leather dress.
La La Anthony wears a skintight green leather dress out in New York City
La La, who was born Alani Nicole Vázquez, accentuated her hourglass curves with a black-and-metal belt and elongated her legs with a pair of strappy booties from Christian Louboutin.
La La Anthony shows off her leg tattoo in a pair of Christian Louboutin booties
She pulled her hair back into a sleek center-parted bun to show off her statement earrings and finished off her look with minimal makeup.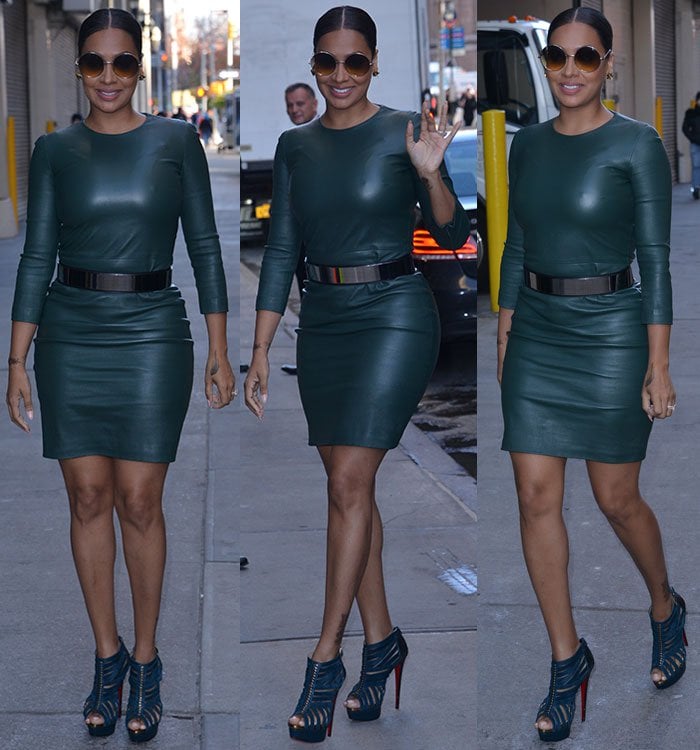 La La Anthony waves while wearing a skintight leather dress
La La showed off her sexy feet in Christian Louboutin "Karina" booties from the designer's Fall 2013 collection.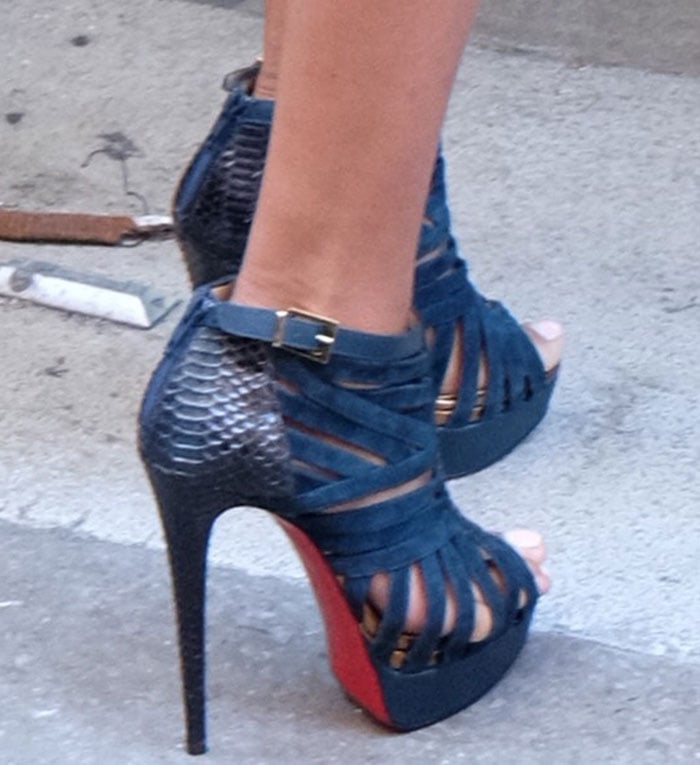 La La Anthony's feet in Christian Louboutin booties
These blue kohl suede sandals are accented with gold metal details and feature multiple interwoven straps, back zip fastenings, leather ankle straps with buckle fastenings, about 2-inch platforms, and 5.9-inch watersnake heels.
La La Anthony displays her sexy toes in "Karina" booties
These are no longer available online, but you can purchase new styles at Nordstrom and Saks Fifth Avenue.
Credit: TNYF / WENN / FayesVision / Instar