The main cast of Spice World, also known as the Spice Girls, were in their early to mid-twenties when the 1997 British musical comedy film premiered in December 1997.
The five members of the Spice Girls were between 21 and 24 years old in 1997 when Spice World premiered (Credit: PolyGram Filmed Entertainment)
Melanie Brown, who played Scary Spice, was 22 years old, while Emma Bunton, who played Baby Spice, was 21. Melanie Chisholm, who played Sporty Spice, was 23, and Geri Halliwell, who played Ginger Spice, was 25. Victoria Beckham, who played Posh Spice, was 23 years old at the time of the film's release.
The film also had several notable cameo appearances. Elton John, Bob Geldof, Hugh Laurie, Richard E. Grant, Roger Moore, Stephen Fry, Elvis Costello, Meat Loaf, Jennifer Saunders, and Alan Cumming all appeared in the film either as themselves or in various roles, contributing to the movie's star-studded lineup.
Spice World is a 1997 British musical comedy film directed by Bob Spiers, starring the pop girl group the Spice Girls as themselves, and follows a series of fictional events leading up to a major concert at London's Royal Albert Hall (Credit: PolyGram Filmed Entertainment)
In a 2003 episode of QI, Stephen Fry revealed that he accepted a part in the movie to obtain autographed posters of the Spice Girls for his nephews, which he described as akin to "ten Christmases" for them.
Victoria Beckham wears her hair down with oversized sunglasses at Los Angeles International Airport on August 1, 2016 (Credit: Adriana M. Barraza / FayesVision / WENN)
After news broke out that the Spice Girls' 20th-anniversary reunion may not happen after Victoria Beckham and Mel Chisholm (known as Posh Spice and Sporty Spice, respectively) declined to join, Spice fans all over the world had been hoping for a change of heart.
Victoria had been consistently representing her eponymous brand as of late, and this time was no exception. She picked a gorgeous v-neck "Cami" blouse with a matching pleated printed crepe de chine midi skirt.
The singer-turned-designer paired her outfit with a Victoria Beckham Collection half-moon bag and "D-Frame" acetate sunglasses.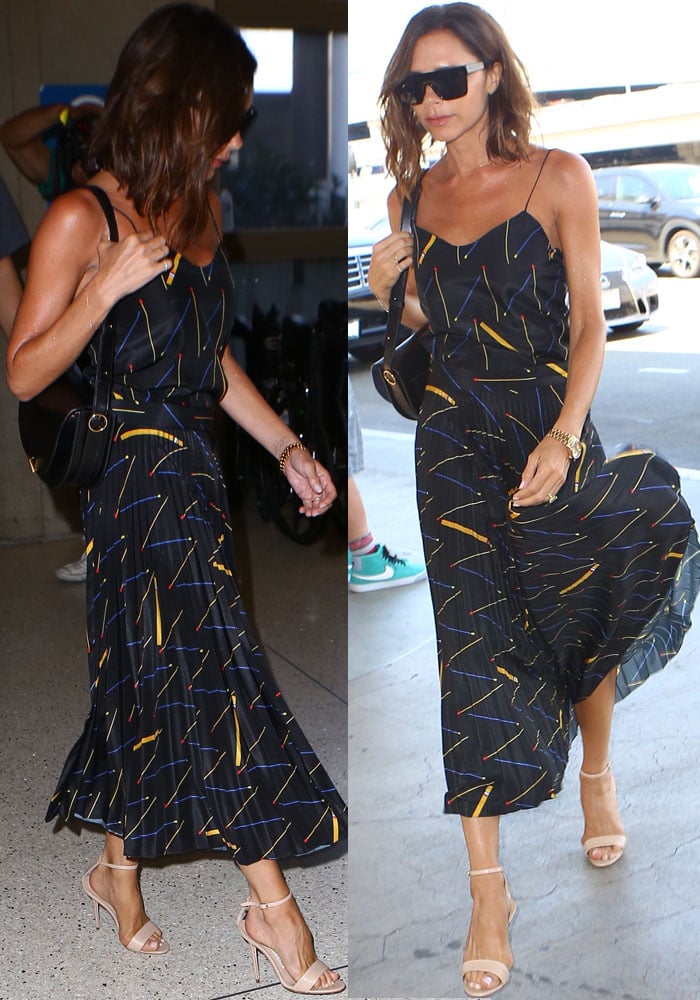 Victoria Beckham's outfit featured a unique poppy color palette and a matchstick graphic print (Credit: Adriana M. Barraza / FayesVision / WENN)
The former Posh Spice wore a pair of Manolo Blahnik sandals similar to the "Chaos" design. This pair has a slimmer ankle strap and a wider toe strap.
It wouldn't be a stretch to think that Manolo might have created customized heels for THE Victoria Beckham.
Victoria Beckham's feet in nude Manolo Blahnik heels (Credit: Adriana M. Barraza / FayesVision / WENN)
As always, Victoria Beckham refused to comment on the Spice Girls reunion. However, she gave a little smile of thanks as she got into the elevator — something rarely seen from Posh.
We must admit, though, we see why Victoria refuses to return to the stage. She has, indeed, found her new home in fashion. Her creations are gorgeous.
You can order the Manolo Blahnik "Chaos" sandals at Nordstrom and Farfetch.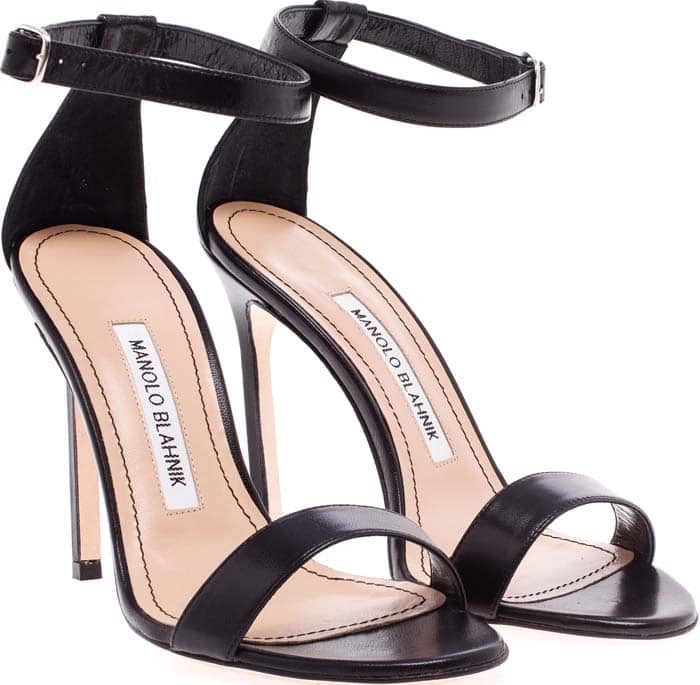 Manolo Blahnik "Chaos" Sandals, $725-$765