25-year-old Sydney Sweeney has popped up almost everywhere since her breakout role as Cassie Howard in Euphoria. When the series premiered in 2019, the show—along with Sweeney herself—became an overnight sensation.
Despite Euphoria serving as Sydney Sweeney's star-studded avenue into the public eye, it was not her first appearance in a major television show.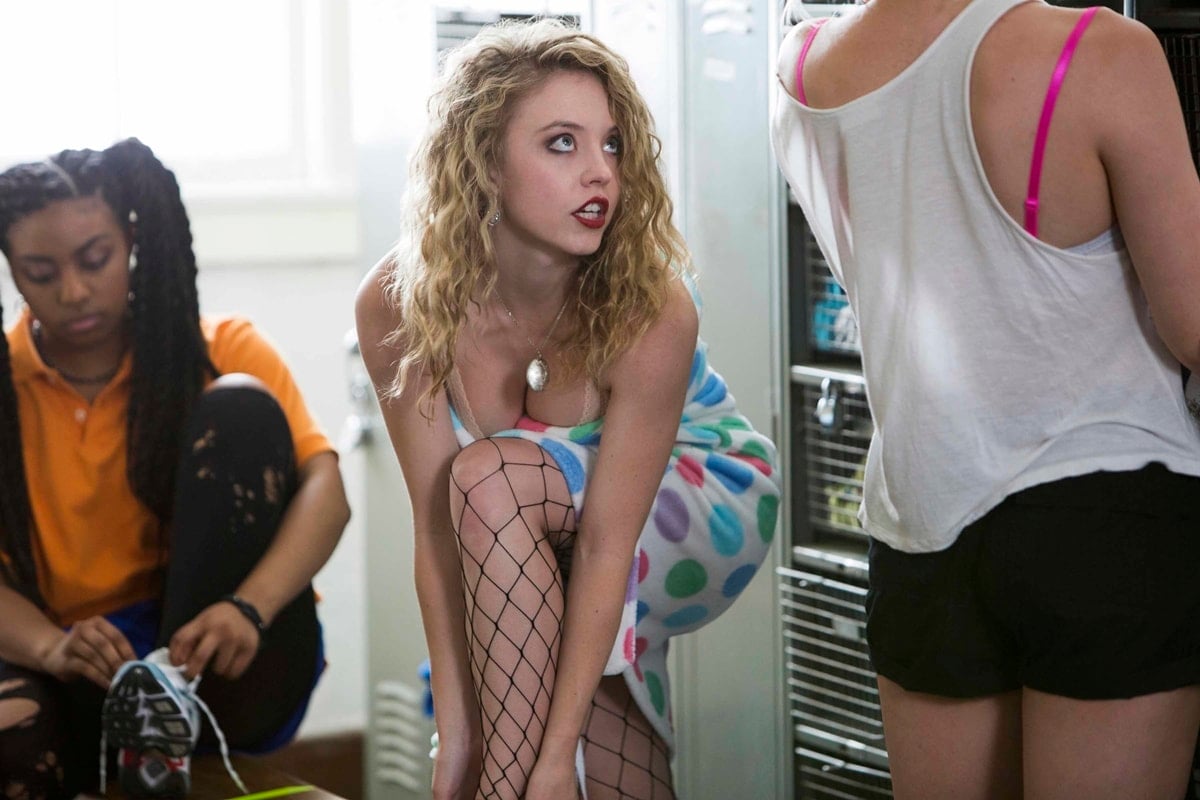 Sydney Sweeney as Boring High School student Emaline Addario in Netflix's comedy-drama streaming television series Everything Sucks! (Credit: Netflix)
She made small appearances in The Middle and Pretty Little Liars, even appearing as a main character in the extremely short-lived Netflix series, Everything Sucks!
However, one of Sydney Sweeney's most iconic roles was one that many people forgot.
Sydney Sweeney was a major character in the second season of The Handmaid's Tale
Hulu's The Handmaid's Tale is one of the most critically acclaimed series in recent years. Led by Elisabeth Moss, the show has earned a whopping fifteen Primetime Emmy Awards.
Though many people have completely forgotten—likely due to the fact that it was during season two, which was released a full year before Euphoria debuted—Sydney Sweeney played Eden Blaine on The Handmaid's Tale.
This wasn't just a small feature either, as Sweeney's character appeared in seven out of the thirteen episodes in season two.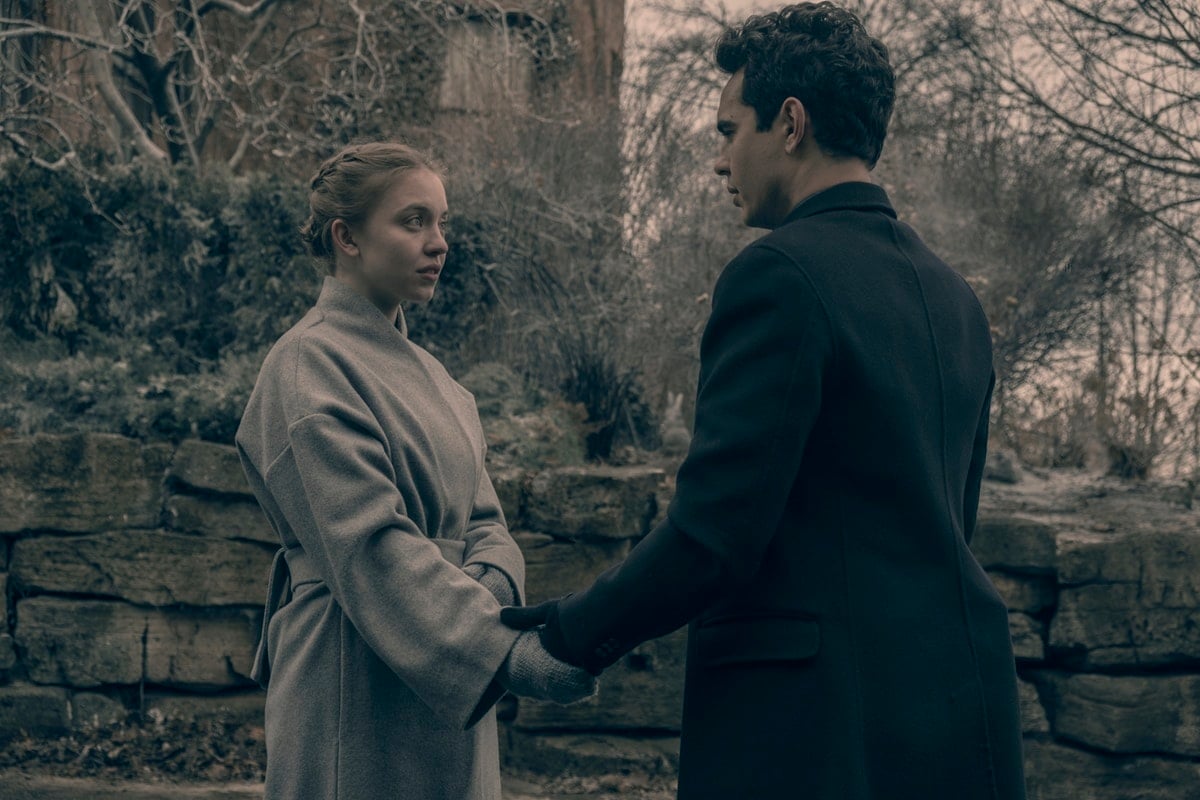 Sydney Sweeney portrays Eden Blaine, an obedient young girl who is assigned to be a child bride for Nick Blaine (Max Minghella) in the American dystopian television series The Handmaid's Tale (Credit: Hulu)
Eden Blaine was a tragic figure, even in terms of a heartbreaking show like The Handmaid's Tale. Sweeney's character is extremely young but is still meant to be a bride for Nick Blaine, portrayed by Max Minghella.
Due to the age difference (and the forced nature of the marriage, of course), Eden falls in love with someone else—Isaac, a young Guardian portrayed by Rohan Mead.
Eden and Isaac try to flee Gilead to live their lives together outside of the authoritarian regime. Unfortunately, they are caught and sentenced to be executed, with infidelity in violation of Exodus 20:14 cited. Sweeney's Eden is given a chance to repent and "renounce her sins" but chooses to die a martyr.
Eden and Isaac's deaths are horrific, as they have weights tied to their bodies before being unceremoniously tossed off a diving board into a swimming pool. Like Romeo and Juliet before them, the star-crossed lovers die together.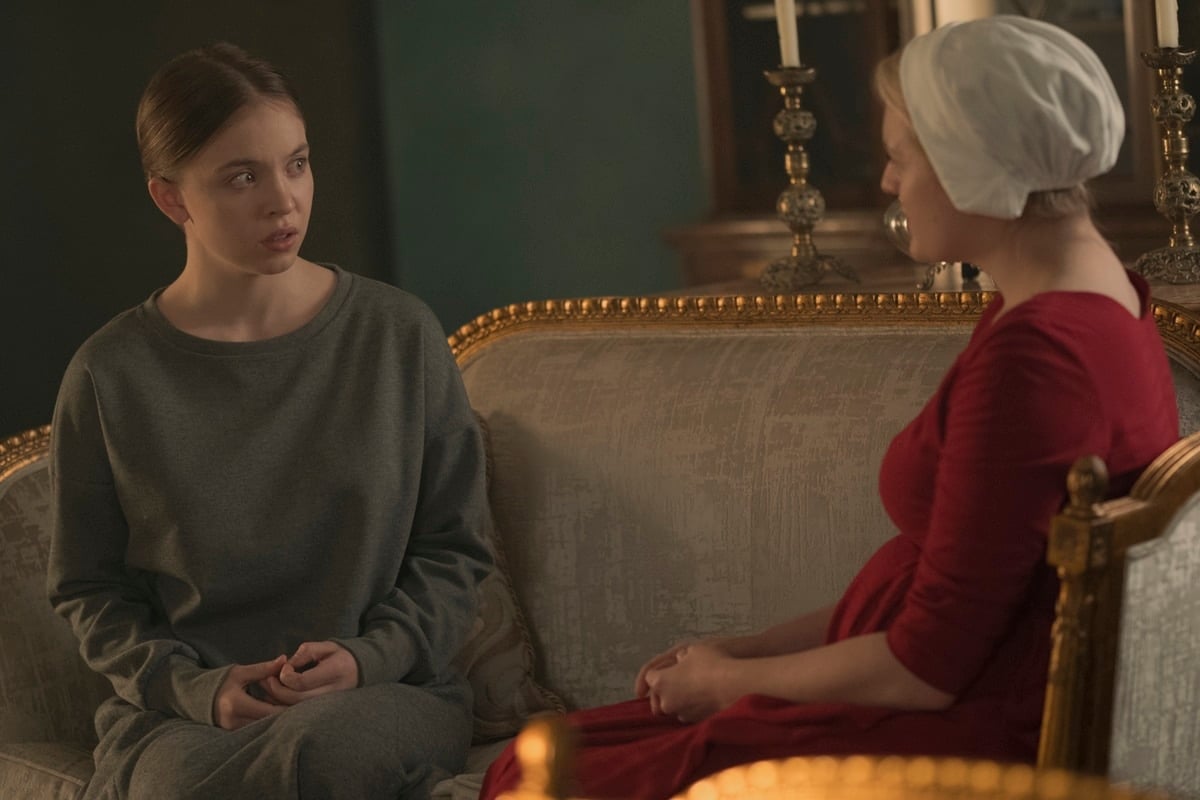 Sydney Sweeney as Eden Blaine (née Spencer) and Elisabeth Moss as June Osborne / Offred / Ofjoseph in the American dystopian television series The Handmaid's Tale (Credit: Hulu)
This was a huge moment in season two of The Handmaid's Tale, but also marked a milestone in Sydney Sweeney's own career.
Sweeney said that leaving the set after the last episode was hard for her, telling Three If By Space, "There were many tears and lots of hugs given. There are so many great times that I will take with me. Not being able to work with these people anymore was so sad."
Actress Sydney Sweeney in Carolina Herrera color-block tulle dress and Schutz sandals at the premiere of Hulu's "The Handmaid's Tale" season 2 at TCL Chinese Theatre on April 19, 2018, in Hollywood, California (Credit: Sara De Boer / Startraksphoto)
Sydney Sweeney's career has skyrocketed since her role in The Handmaid's Tale
Just one year after her role as Eden Blaine, Sydney Sweeney found her ultimate breakout role in Euphoria.
Since then, the 25-year-old actress has been a mainstay in a number of HBO's original series, such as Sharp Objects and the first season of The White Lotus.
Sydney Sweeney as Pippa in Michael Mohan's 2021 American erotic thriller film The Voyeurs (Credit: Amazon Studios)
She has also ventured from the small screen to the silver screen, appearing in titles like Big Time Adolescence, Once Upon a Time in Hollywood, Nocturne, and The Voyeurs.