Sydney Sweeney has been in the spotlight several times this year. The Euphoria actress has caught the attention of millions thanks to her superb acting and daring yet gorgeous outfits.
Sydney Sweeney flaunts her legs in a feathered black Ralph Lauren mini dress at the 2019 ELLE Women In Hollywood at the Beverly Wilshire Four Seasons Hotel on October 14, 2019, in Beverly Hills, California (Credit: DFree / Shutterstock)
Unfortunately, not all of this attention has been positive. Sweeney has struggled in 2022 with fans harassing her family members, and the things that they were sending them will shock you.
Harassment Due to Euphoria
Euphoria is an extremely popular HBO series about teenagers coming of age in the modern world. It deals with heavy themes that are not always family-friendly, and Sydney Sweeney's character Cassie is usually wrapped up in the drama one way or another.
In an episode of Euphoria, Cassie has naked videos of herself that she sent to someone else circulated through school.
This episode touched on the very real reality of revenge porn that a lot of teenagers and adults alike deal with today, but unfortunately, some fans did not like this.
Sydney Sweeney has several topless and nude scenes as Cassie Howard in Sam Levinson's popular HBO teen drama series Euphoria (Credit: HBO)
Since the episode aired, these "fans" have sent videos and images to Sydney Sweeney's family to ensure they saw what their relative was up to.
Sweeney replied in a GQ interview stating, "I think it's ridiculous. I'm an artist, I play characters. It makes me want to play characters that piss people off more."
Sweeney added, "It got to the point where they were tagging my family. My cousins don't need that. It's completely disgusting and unfair."
"You have a character that goes through the scrutiny of being a sexualized person at school and then an audience that does the same thing."
Sydney Sweeney flashes her boobs in a strapless lace Reem Acra ballgown at HBO's Post-Emmy Awards Reception at The Plaza at the Pacific Design Center on September 17, 2018, in Los Angeles, California (Credit: Eugene Powers / Shutterstock)
While celebrities and actresses alike have dealt with a lot from fans, this is a lot for anyone to deal with. Though the naked images of Sweeney are out there, it can be assumed that her family members do their best to avoid them.
The fact that individuals are taking it upon themselves to send these out specifically to her family members is disturbing, to say the least.
Sydney Sweeney's Best Look of 2022
Sydney Sweeney is nothing if not fashionable. Though she has been written out by many as an adorable actress, Sweeney brings the fire when needed.
This is especially true of her outfit for the GQ Men of the Year Awards, where she rocked a LaQuan Smith dress that dropped jaws.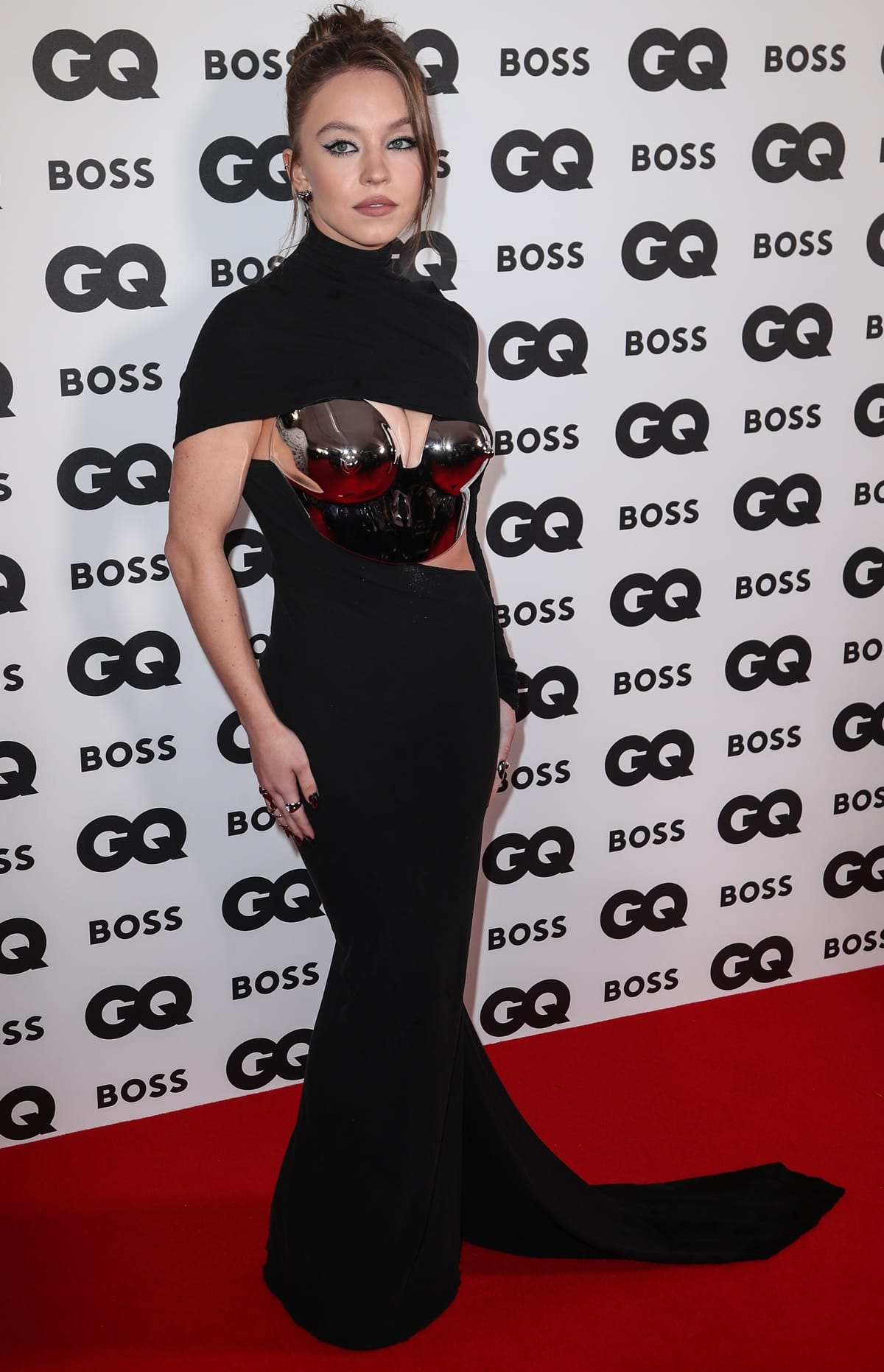 Sydney Sweeney in a black armored breastplate dress by LaQuan Smith at the GQ Men Of The Year Awards 2022 at Mandarin Oriental Hyde Park on November 16, 2022, in London, England (Credit: John Rainford / Cover Images)
The dress was a new version of the little black dress, as it featured a long sleek turtle neck dress that was interrupted by a metallic breastplate.
This long and body con-Esque gown featured asymmetrical cut-outs. Sweeney's simple but sultry makeup contributed just the right amount of attitude to the ensemble.
Euphoria actress Sydney Sweeney covered her breasts with a metallic breastplate (Credit: PA Images / INSTARimages / Cover Images)
Actress Sydney Sweeney is doing her best to navigate fame while juggling her personal relationships and family life. Though many have tried to target her and cause issues, she remains above the chaos and keeps a cool head.