Like many Euphoria fans, we became absolutely obsessed with Elliot, played by Dominic Fike, when he made his debut in the show's second season.
Elliot quickly became a main staple in the season's story arc, serving as a wonderful third wheel to Jules and Rue's relationship, endearing himself to fans through 26-year-old Dominic Fike's soft-spoken, sensitive mannerisms.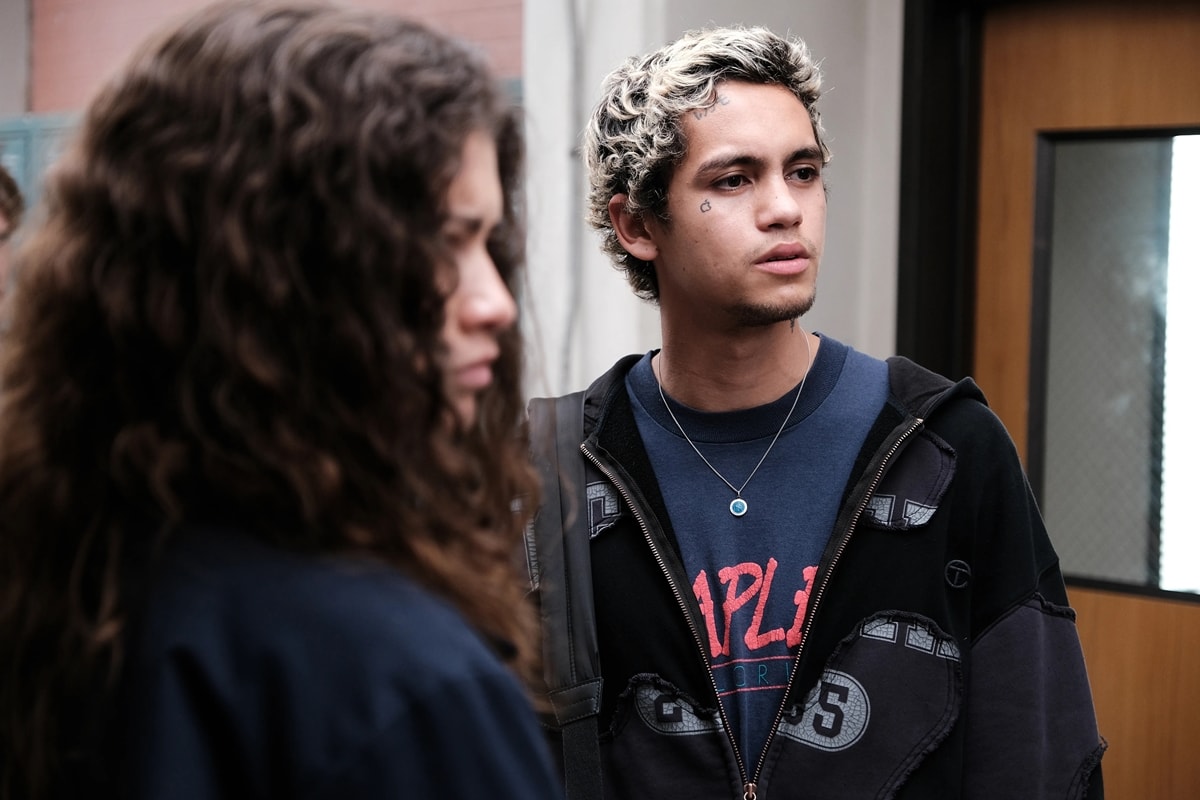 Zendaya as Rue Bennett and Dominic Fike as Elliot in the American teen drama television series Euphoria (Credit: HBO)
Maybe we're just suckers for a pretty face, but we were shocked to hear some of the fan theories that Elliot is actually the bad guy in season two of Euphoria and that he may become the ultimate villain by season three.
[Warning: major Euphoria season two spoilers ahead.]
Is Elliot from Euphoria the show's villain, or is he just another troubled teen?
It's hard to name just one "villain" on a show like Euphoria. Each character has many layers to their humanity, making mistakes and doing their best to right their wrongs, just like real people in the real world.
Even Cal Jacobs, who seems like a shining example of pure evil in the form of a suburban mid-life crisis, was able to gain sympathy from viewers when it was revealed that he has been repressing his true identity and has lived a lie for decades.
Eric William Dane, who stars as Cal Jacobs in the HBO series Euphoria, was by many believed to be the villain of the series (Credit: HBO)
Still, as much as we don't want to believe it, some fans—like this detailed and well-written post by Reddit user u/supermerlion—make a strong case that the delightful Elliot is actually not the good guy we want to believe he is.
Dominic David Fike made his acting debut as Elliot in the second season of Euphoria (Credit: Aurore Marechal / ABACA / INSTARimages)
"Elliot meets Rue and immediately likes her," u/supermerlion writes. "She pretty much ODs on their first encounter but he continues to enable her drug abuse because he likes hanging out with her."
However, with such rampant drug use from the majority of Euphoria's characters, it begs the question: is Elliot an enabler, or is he a victim, too?
"I don't see him as this villain, I think he is just a 17-year-old drug addict," one user comments. "Sure, he is a bad influence [to Rue] but he's said that himself… I just think he got caught up into all of their mess and is just going with it."
"He ain't no addict, he was able to decide not to take the line already set up for him," another commenter retorts, referencing a moment where Elliot refused drugs, something Rue has rarely been able to do.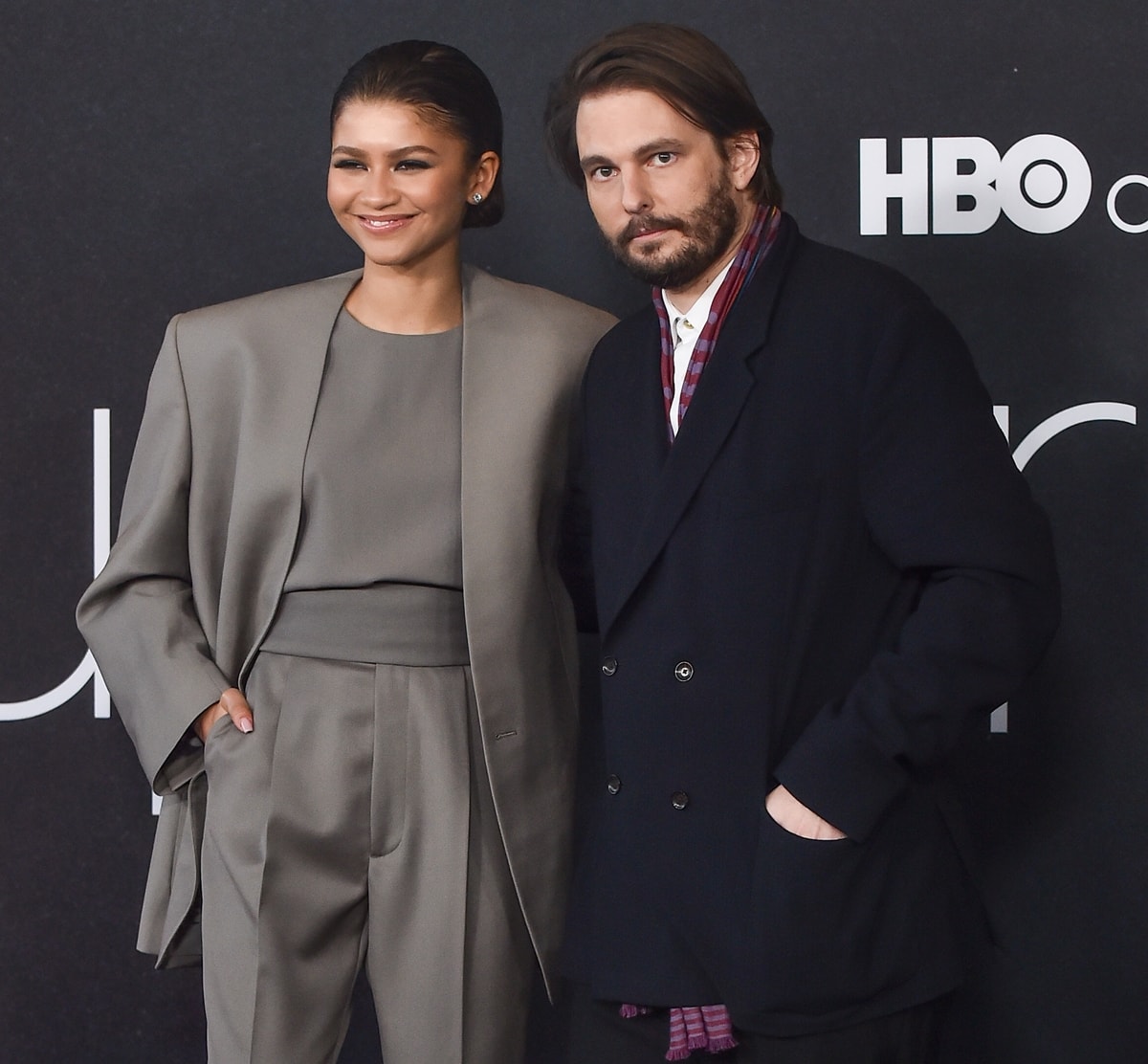 Zendaya in a gray Fear of God suit and Sam Levinson attend the HBO Max FYC event for "Euphoria" at the Academy Museum of Motion Pictures on April 20, 2022, in Los Angeles, California (Credit: DFree / Shutterstock)
While there is some room for doubt that Elliot is an enabler, events later in Euphoria's season two certainly don't portray Dominic Fike's character in a positive light. Namely: hooking up with Jules when he knows she is in a relationship with his friend, Rue.
"Anyone else not like Elliot?" one user asks. "It feels like he was only on the show to cause problems between Rue and Jules."
Another agrees, saying, "His only purpose this season was to cause the break up of Rue and Jules and even that was done in a terrible way because most of it served as nothing. For example, the cheating has led to nothing so far and hasn't been mentioned at all."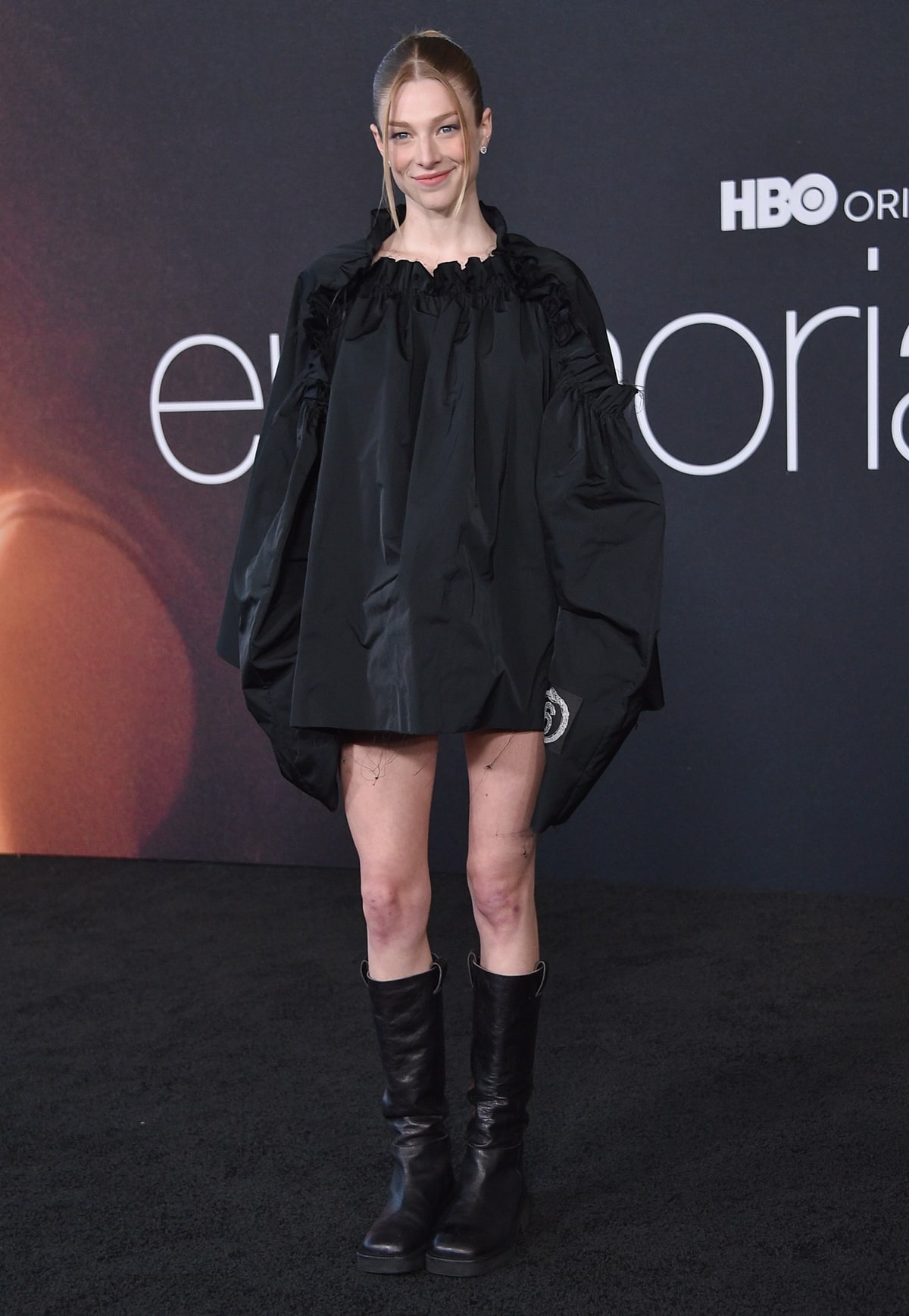 Hunter Schafer flaunts her legs in a black mini dress and matching boots at the HBO Max FYC event for "Euphoria" at the Academy Museum of Motion Pictures on April 20, 2022, in Los Angeles, California (Credit: DFree / Shutterstock)
Others felt that Elliot wasn't necessarily a villain, but that they hated the character.
"Who likes Elliot? Like, seriously, did anyone want a whole a** song from him?" one user replies, referencing the song Elliot plays for Rue (which, unlike this commenter, we enjoyed), continuing to say, "No hate to the actor, but the character is so deeply unlikeable and I felt like [the show's creators] kept wanting me to like him."
Not every Euphoria fan thinks Elliot is the bad guy, though
Though they are in the minority (at least according to social media), some fans genuinely like Elliot. Or, as noted by this wonderfully worded post by Reddit user u/yungtulip, simply concede that he is just OK.
"He's no worse than Jules, Maddy (Alexa Demie), Rue (Zendaya), anyone," u/yungtulip writes. "His crime was as bad as Jules, who I also just see as a broken kid… He didn't ask for Rue to come in and use [drugs] with him. He didn't ask Jules to corner and interrogate him. He let Jules cheat with him, and was an active participant, which was wrong. He lied by omission to Jules for Rue. Do you see the common denominator? Jules was willing to cheat, and Rue was willing to lie, and [Elliot] was the vessel for those things."
Jacob Elordi, Maude Apatow, Barbie Ferreira, Hunter Schafer, Sydney Sweeney, Alexa Demie, Storm Reid, and Algee Smith attend HBO's "Euphoria" premiere at the Arclight Pacific Theatres' Cinerama Dome on June 4, 2019, in Los Angeles, California (Credit: Kathy Hutchins / Shutterstock)
We couldn't have said it better ourselves, u/yungtulip.
However, we still have one burning question: is actor Dominic Fike anything like his polarizing on-screen counterpart?
Dominic Fike first auditioned for Euphoria while tripping on mushrooms
We already know that Euphoria director Sam Levinson is serious about working extensively with his actors on character work—he and Maude Apatow, who plays Lexi Howard, spent two years crafting Lexi's second season story arc, basing it on her real life experiences as a teenager.
While the Euphoria cast may not share the exact same struggles as the characters they portray—at least, we hope not—Dominic Fike may have helped shape his character, Elliot.
Elliot is introduced to viewers while on drugs, and according to his interview with GQ, Dominic Fike introduced himself to Sam Levinson in the same way.
Hunter Schafer as Jules Vaughn and Zendaya as Rue Bennett in Euphoria (Credit: HBO)
The actor tells GQ that since Euphoria is about a bunch of teenagers on drugs, he decided to do a bit of method acting and take a handful of shrooms before attending his audition for the show's first season. Unfortunately, this was a bad decision.
"I started peaking right when me and Barbie were reading," Dominic Fike tells the magazine, explaining that the drug's hallucinogenic effects began to take hold, making it difficult for him to read his script.
He then hallucinated that the show's creator was wearing a dress, leading him to burst into a fit of giggles. "I looked at [Sam Levinson] and I was like, 'Are you wearing a dress right now?' It was crazy. I started making fun of everybody in the room. [My agents called later and] they were like, 'What. The. F*ck.'"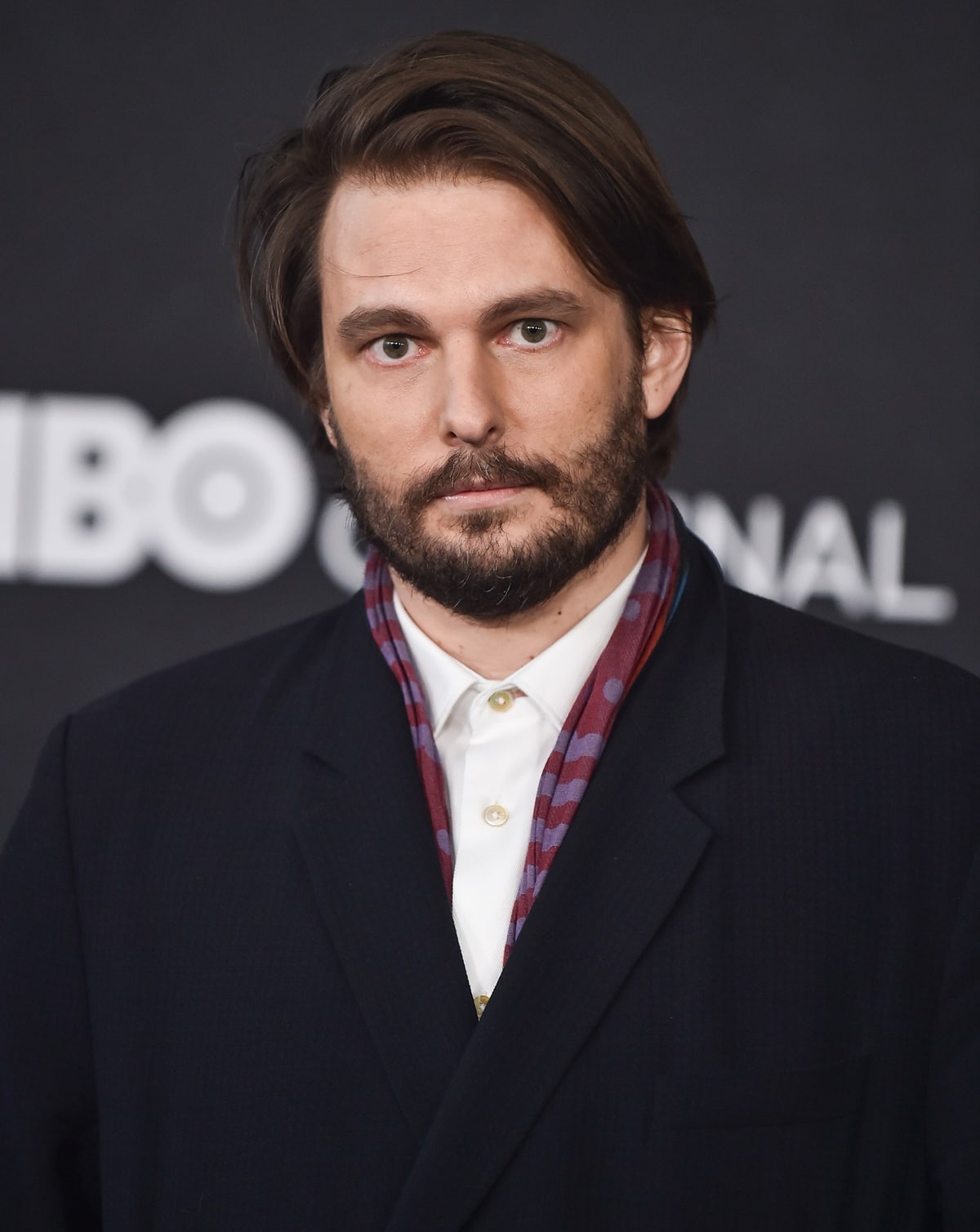 "Euphoria" creator Sam Levinson has given Dominic Fike the option to exit the show (Credit: DFree / Shutterstock)
Understandably, Dominic Fike was not surprised when he didn't make the cut for Euphoria season one. Luckily, the show's creator wasn't too offended by his mushroom-fueled roast session and invited the actor to join the cast for the show's second season.
"Sam was always giving me the option to leave. He was like, 'Whenever you want to go be a musician, dude, you let me know, I'll kill you [and write you off the show],'" Dominic said about not feeling trapped in the role.
While the jury's still out about whether Elliot is the villain on Euphoria, actor Dominic Fike doesn't seem to be evil—even if he doesn't make the best choices concerning his pre-audition rituals.
He told Jimmy Fallon in February 2022 that he will "absolutely" be back for season 3.