Known for her beautifully bronzed complexion and glowing summer tan, in June 2013 Victoria Beckham was spotted making her way through LAX airport to catch a flight with her kids.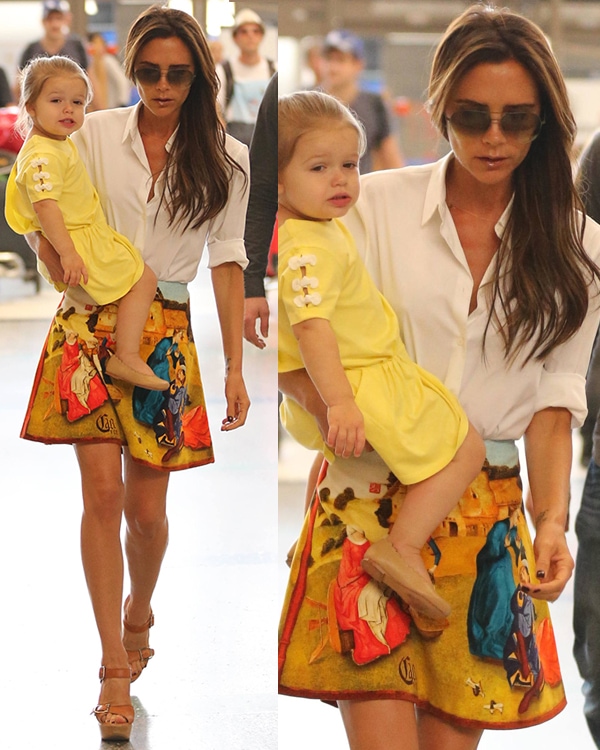 Victoria Beckham and Harper Seven Beckham arriving at LAX airport on June 1, 2013 (Credit: WENN)
In an interview with the beauty website Into The Gloss, she revealed that she uses Weleda Skin Food to help prolong her tan.
"My body secret is Weleda Skin Food. What I love about it is that it's not particularly expensive and you can find it anywhere. The formula is so thick and buttery," Victoria revealed about her nourishing beauty secret that is available at Amazon.
Victoria Beckham celebrated International Women's Day in 2021 by telling female fans to 'burn your bras' (Credit: Avalon / WENN)
"When I have a tan, I'll mix it with coconut oil—the same you use to cook with—and cover my entire body with it. I suppose some people may not like the greasiness, but it helps me hold on to the color. And by the time I leave the house, I feel as if it's really sunk in. Like my skin's had a good drink. I go through so many of these…I wish they had bigger ones."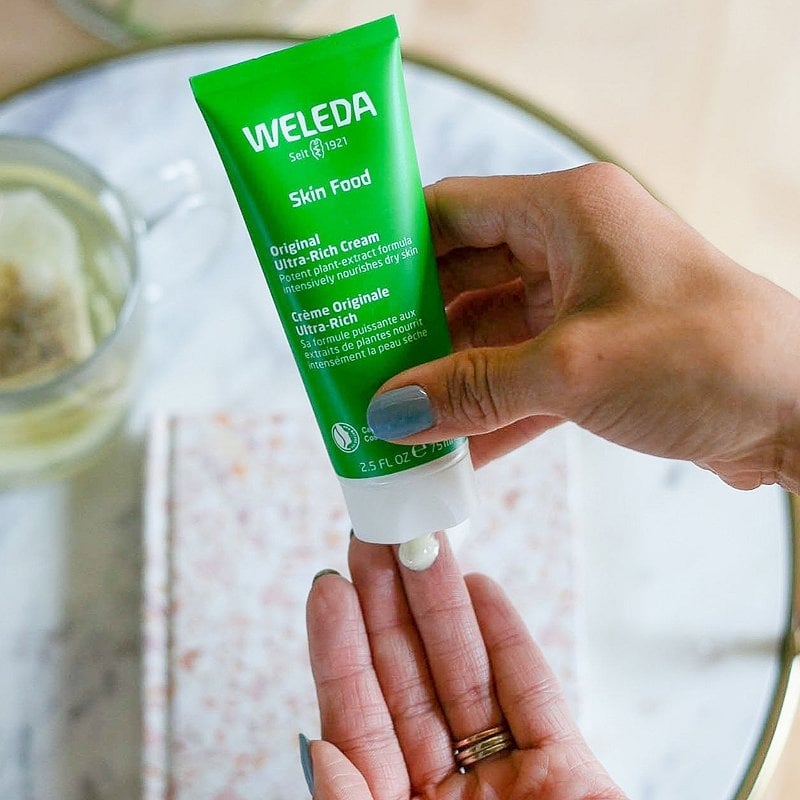 Victoria Beckham uses Weleda Skin Food to maintain and extend the life of her summer tan
"It keeps your skin so hydrated and moisturized. It's really, really thick and I love how it feels all over the body. It's a really great product," Beckham added about the affordable skincare cream in a video on Instagram in 2019.
Rosie Huntington-Whiteley, Adele, Julia Roberts, and Alexa Chung are also known to be fans of the Weleda Skin Food cream that is packed with plant extracts and essential oils.
"I put it on my hands after I wash the dishes, and wind up putting it on my elbows and feet," Roberts told InStyle about the versatile Weleda moisturizer in an interview. "Before you know it, I've squeezed this poor little green tube into a twist."
Victoria Beckham shows off her bronzed complexion with her daughter Harper Beckham and her son Romeo Beckham (Credit: WENN)
Posh Spice looked summery chic in a printed miniskirt from Carven's Fall 2012 collection. She let the skirt do the talking by pairing it up with basic colors via her white button-down top and tan Chloe wedges.
The wedges added a stylish summer vibe to Victoria's look. One of her favorite pairs of shoes, a few months earlier she showed off her feet in the same wedges paired with an all-black outfit.
The wedges added a stylish summer vibe to Victoria Beckham's look (Credit: WENN)
Back then, she paired the shoes with a high-waisted mini skirt and a black knit sweater, but I personally like her summery look more.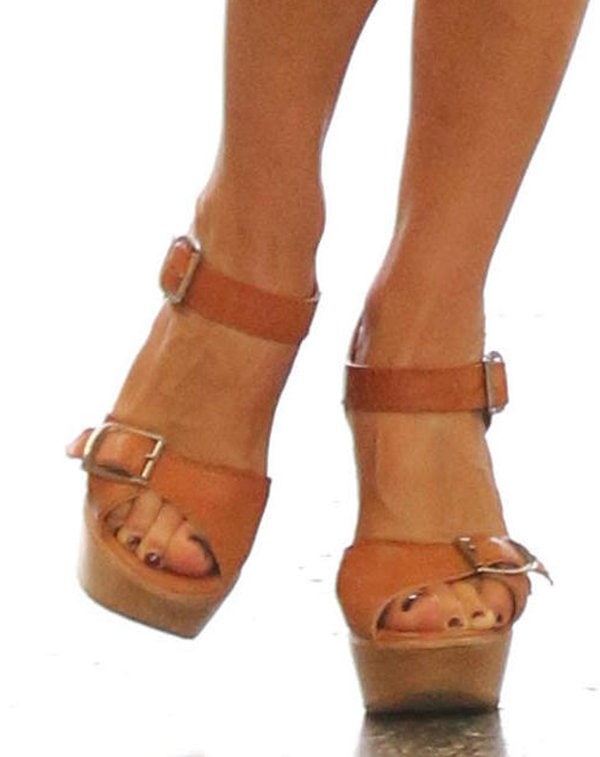 Victoria Beckham shows off her feet in Chloe buckle-strap wedge sandals (Credit: WENN)
The wedges were the perfect pair to finish her season-appropriate look. They're made of tan leather styled with tonal stitch trimming.
The two-piece sandal design features adjustable straps with aged silver-tone metal buckles. Of course, these summer-perfect sandals wouldn't be complete without the wooden wedge heels that measure 5.25 inches.
Love them? Get them now to finish an on-trend look!