By now, you're probably well-acquainted with the captivating presence of Taye Diggs, who has made waves and left his mark on the TikTok scene.
Since his arrival on TikTok in December 2021, the actor has unwittingly set the internet ablaze, captivating audiences with his charm, wit, and undeniable talent.
In just a few weeks, Taye's TikTok following skyrocketed to over 1 million and counting – a meteoric rise he credits to someone who brought a touch of stardust to his digital realm.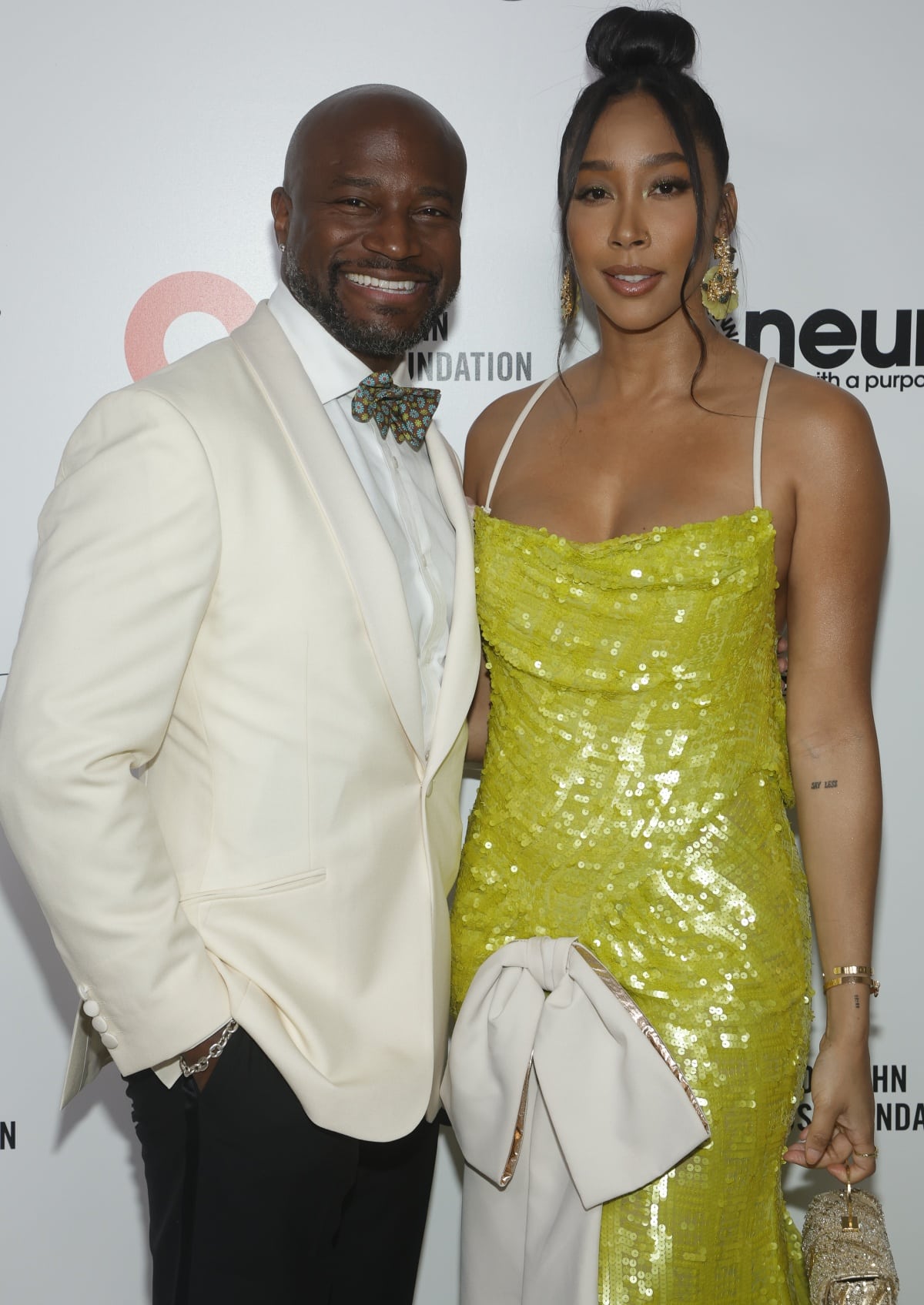 Taye Diggs in a white suit with a printed bowtie and Apryl Jones in an embellished gown with bow detail at the 31st Annual Elton John AIDS Foundation Academy Awards Viewing Party in Los Angeles, California on March 13, 2023 (Credit: Faye's Vision / Cover Images)
Enter Apryl Jones, known for her appearances on the reality TV show Love and Hip Hop, who made her dazzling debut on Taye's TikTok. Little did they know, this seemingly harmless collaboration would ignite dating rumors, propelling them into the spotlight as a potential couple.
Join us on an exhilarating journey as we delve into the remarkable love story that unfolded amid the pixels and algorithms of TikTok. Against all odds, Taye Diggs and Apryl Jones discovered an undeniable connection, transcending age and expectations.
How Did Taye Diggs and Apryl Jones Meet?
Taye Diggs and Apryl Jones' love story began through the power of a social media platform. It all started when the actor joined TikTok in December 2021, making this decision change his life forever.
In an interview with Distractify in March 2022, Taye shared, "I literally saw one of her Instagrams or TikToks, and I just texted, or whatever it's called, and said that she was hilarious. She helped me get a million followers. I love that stuff like that just kind of comes organically."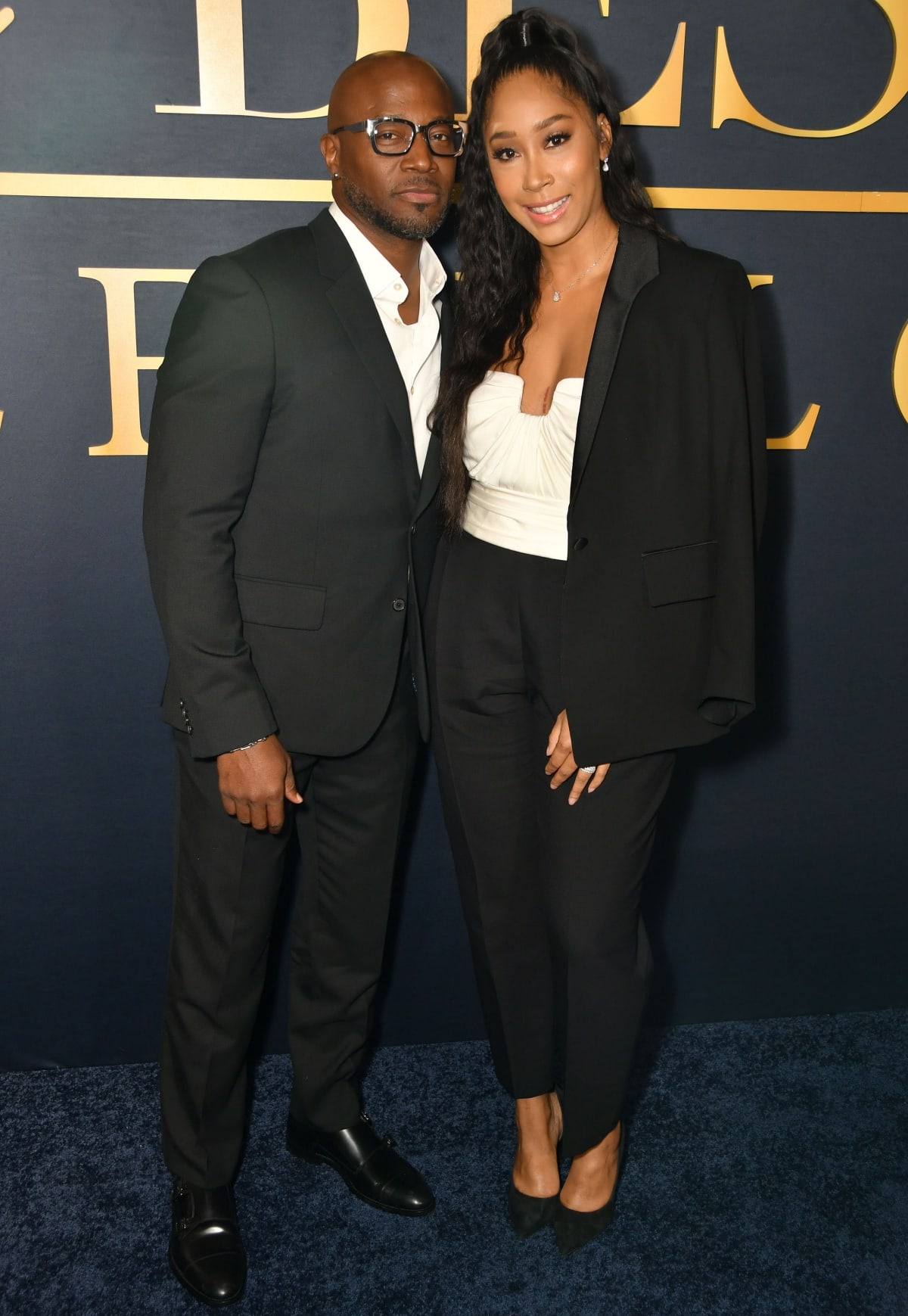 Taye Diggs and Apryl Jones making an appearance at Peacock's The Best Man: The Final Chapters premiere event held at The Hollywood Athletic Club in Los Angeles, California on December 8, 2022 (Credit: KOI SOJER / Startraksphoto / Cover Images)
Their connection grew stronger as they continued to share their love story online, organically attracting a large following. But their friendship didn't stay confined to the virtual world of social media.
Taye soon discovered that Apryl was not only talented but also an actress. Intrigued by her abilities, he expressed his desire to collaborate with her on-screen, adding, "I didn't know that she was an actress. But she is, and … we're gonna try to figure something out."
The duo's first public appearance as a couple occurred one month before the interview when they made their red carpet debut at Taye's film, Incarnation, premiere in February 2022.
View this post on Instagram
Apryl took to Instagram, expressing her adoration for Taye and their incredible connection, stating, "I LAUGH MY ASS OFF WITH YOU! YOU'RE SO F'ING DOPE!!!!!"
Taye reciprocated the love, responding playfully, "@aprylsjones Who? Me? I'm the lucky one," highlighting their joy in each other's company.
As their relationship blossomed, Taye and Apryl took an essential step by introducing their respective children to one another. Taye, who shares a son named Walker, born in 2009 with his ex-wife Idina Menzel, gladly welcomed Apryl's children into his life.
On the other hand, Apryl has two children, Megaa, born in 2014, and A'mei, born in 2016, from her previous relationship with Omarion.
Apryl Jones with children Megaa and A'mei at the premiere of TRUE and the RAINBOW KINGDOM hosted by Pharrell Williams in Los Angeles, California on August 10, 2017 (Credit: Michael Simon / Startraksphoto)
In July 2022, during an interview with Fox 5 New York, Taye shared their perspective on their relationship, saying, "We're cool, we're enjoying ourselves. We're having a lot of fun. These are crazy times, so we're just trying to have as much fun as we can, and that kind of helps us out."
One month later, Taye couldn't contain his happiness as he shared a heartfelt video on Instagram, declaring how lucky he felt to have Apryl as his girlfriend. He marveled at the blessings life had bestowed upon him, both in his successful career and finding a woman like Apryl to share his life with.
View this post on Instagram
In the emotional clip, Taye expressed his disbelief and gratitude, saying, "There are um, you know, as an adult, there are times in life where you can't believe what you are blessed with. I feel really lucky to have the career I have, coming from nothing and then getting to be where I am."
He added, "And then, the fact that this woman is in love with me. Like, I don't [understand], I can't, there – that's how I know, praise you Lord Jesus or Buddha or Universe, 'cause somehow she's next to me."
Apryl joined Taye in the video, sitting beside him as he continued to express his amazement, saying, "She's with me. Oh, my lord."
Taye's final words emphasized his belief in a higher power, adding, "So, for all you people out there who don't think there's God or no higher being or no higher force, y'all I know there is 'cause someone's lookin' out after me, boy!"
Taye Diggs and Apryl Jones' 16-Year Age Gap
Taye Diggs, born on January 2, 1971, is a renowned American actor who has left an indelible mark on Broadway and the silver screen. His impressive resume includes unforgettable performances in hit Broadway musicals such as Rent and Hedwig and the Angry Inch. He has also graced our television screens in popular series like Private Practice and All American.
Taye Diggs suited up for Peacock's The Best Man: The Final Chapters premiere event held at The Hollywood Athletic Club in Los Angeles, California on December 8, 2022 (Credit: KOI SOJER / Startraksphoto / Cover Images)
At 52, Taye's charismatic presence has also shone brightly in films such as How Stella Got Her Groove Back, Brown Sugar, The Best Man, and The Best Man Holiday.
Meanwhile, Apryl Jones, born on December 15, 1986, has made a name for herself as a beloved television personality in America. Apryl, at the age of 36, has established herself as a multifaceted entertainer, captivating audiences with her musical talents as a celebrated singer and songwriter.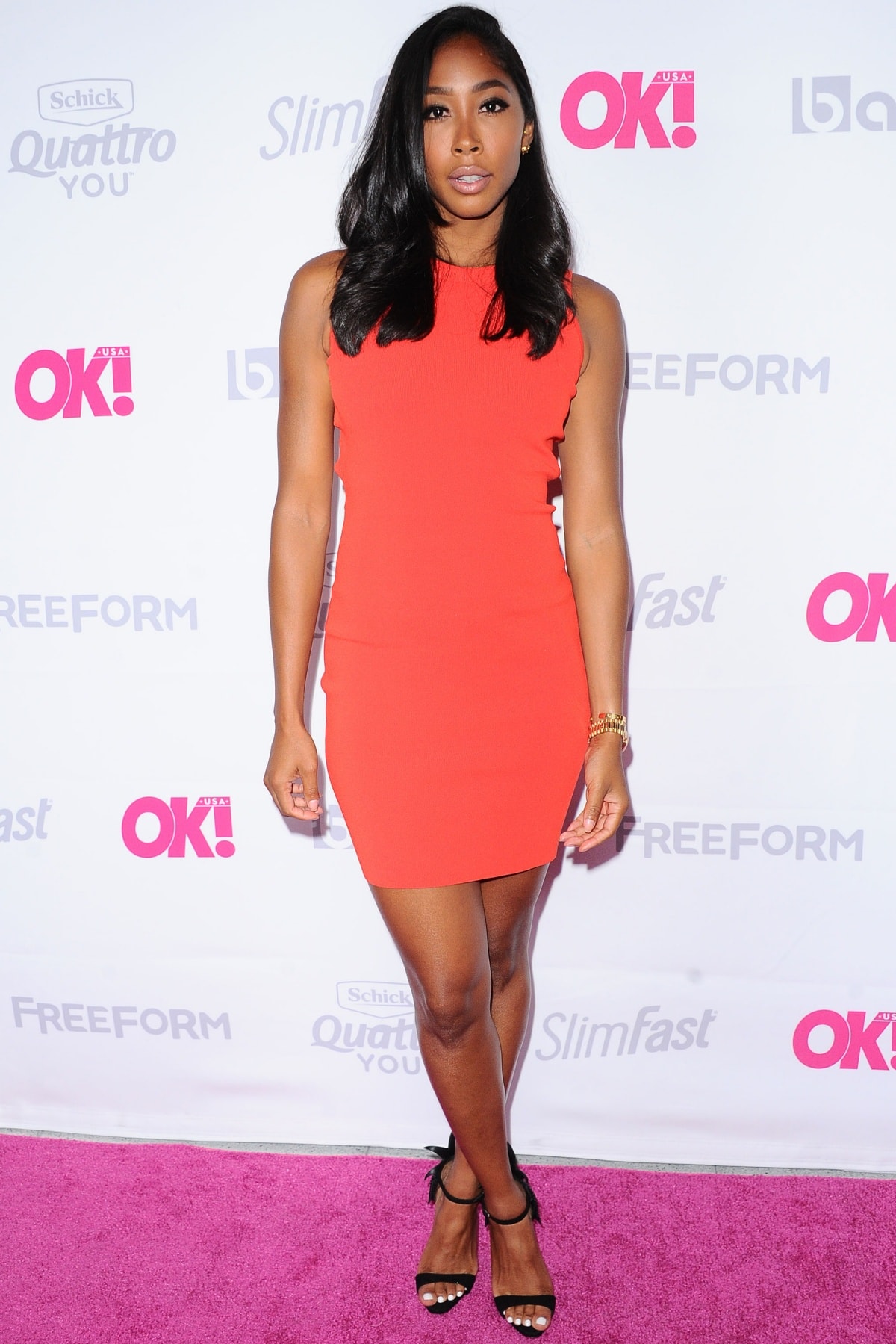 Apryl Jones wearing a red dress and black ankle-strap heels at OK! Magazine's 2017 Summer Kick-off held at the W Hotel Hollywood in Los Angeles, California, on May 18, 2017 (Credit: Startraksphoto)
Despite their 16-year age gap, Taye Diggs and Apryl Jones found a connection that transcended age, and their bond flourished, bringing them together in a relationship filled with mutual admiration and love.
Is Apryl Jones Taller Than Taye Diggs?
Contrary to popular perception based on their public appearances, Apryl Jones is not taller than Taye Diggs. Taye has a slight height advantage of 1 inch (3 cm) over his girlfriend, standing at a solid 5 feet 10 inches (178 cm). On the other hand, Apryl is 5 feet 9 inches (175 cm) tall.
Apryl Jones in high heels appearing taller than Taye Diggs in glossy black dress shoes at the 27th Annual Critics Choice Awards in Los Angeles, California on March 13, 2022 (Credit: Xavier Collin / ABACA / INSTARimages)
However, it is worth noting that in many of their pictures together, Apryl appears taller than Taye, primarily due to her choice of footwear, often opting for high-heeled sandals. It creates an illusion of her being taller than she is when compared to Taye.
Taye Diggs' Famous Past Relationships
Taye Diggs has skillfully maintained a private personal and romantic life alongside his successful career. One of the most notable chapters in his love story unfolded with his former wife, the accomplished actress Idina Menzel.
Their relationship blossomed when fate brought them together on the set of the renowned Broadway production, Rent in 1996. Sparks flew between Taye and Idina as they publicly appeared at The Best Man premiere in 1998, signaling the start of their journey as a couple.
Idina Menzel and Taye Diggs attending the Los Angeles premiere of Ask the Dust held at The Egyptian Theatre in Hollywood, California on March 2, 2006 (Credit: Devan / INFGoff)
Taye and Idina took their love to the next level by exchanging vows in a private ceremony held in Jamaica in January 2003. In September 2009, their joy multiplied as they welcomed their first child, a son named Walker Nathaniel Diggs.
However, despite their unwavering dedication to their son, the couple encountered challenges in their relationship. Taye and Idina announced their separation in December 2013, ending their decade-long union.
Following the end of his marriage, Taye Diggs embarked on a new romantic journey five months later. In the summer of 2014, he found companionship with Amanza Smith, a prominent figure in the real estate industry and a star of the hit show Selling Sunset.
Taye Diggs and Amanza Smith at the 2017 Tony Awards held at Radio City Music Hall in New York City on June 11, 2017 (Credit: Jennifer Graylock / INSTARimages)
Their relationship brought warmth and joy into Taye's life, and they remained a couple for the next four years. However, as time passed, Taye and Amanza found themselves on different paths. The complexities of life led them to make the difficult decision to part ways in 2018.
Who Did Apryl Jones Date Before Taye Diggs?
Apryl Jones has had her fair share of high-profile relationships before her connection with Taye Diggs. One of her most notable romantic involvements was with singer Omarion in 2014. Their relationship blossomed into a passionate love affair.
However, their journey together encountered a rocky road, and in 2016, the couple experienced a devastating breakup, marking the end of their romantic chapter. Despite the emotional turmoil, Apryl Jones and Omarion's bond extended beyond their time together, as they were blessed with two beautiful children.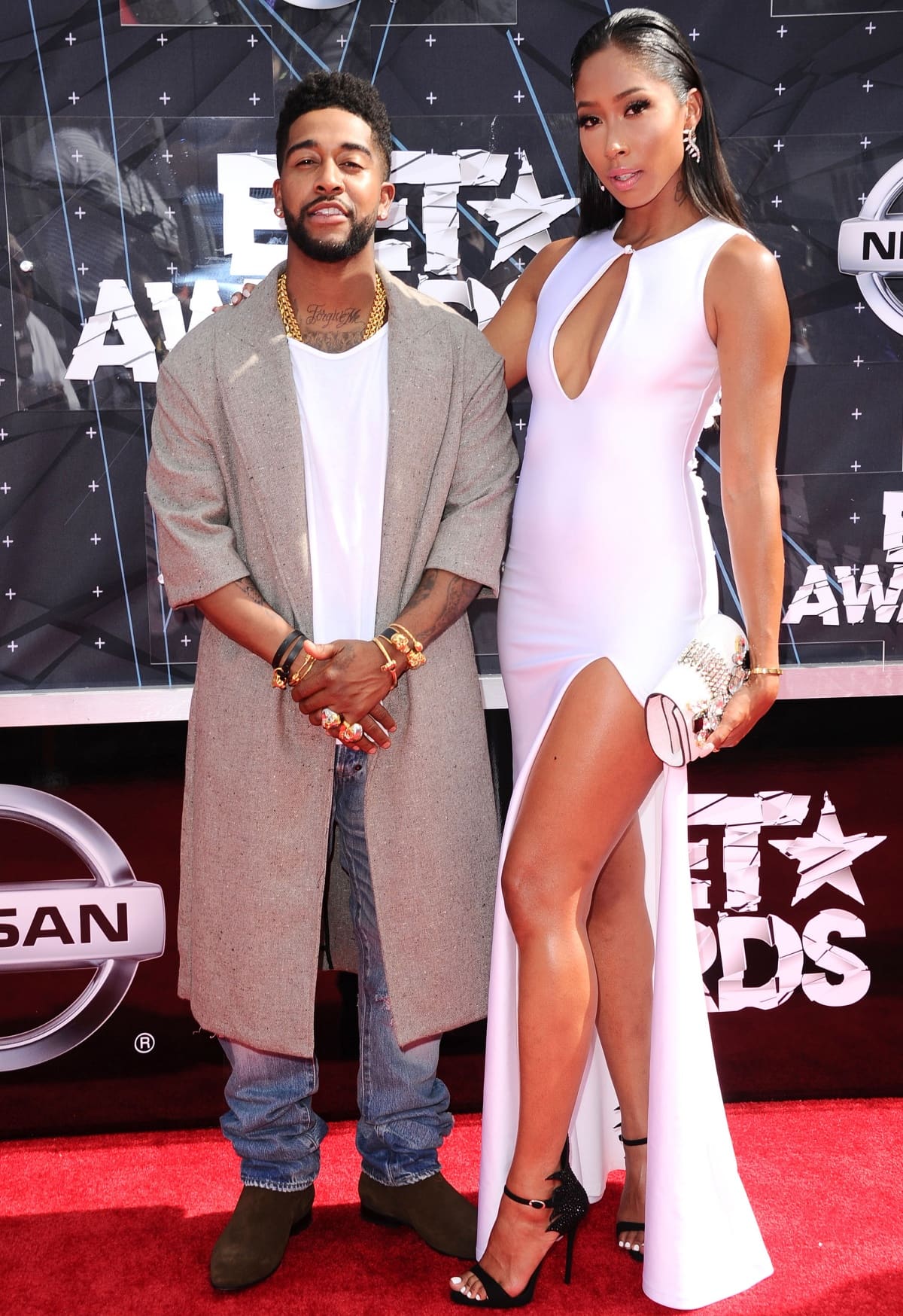 Omarion and Apryl Jones making an appearance at the 2015 BET Awards in Los Angeles, California on June 28, 2015 (Credit: Sara De Boer / Startraksphoto)
In 2018, Apryl Jones was entangled in another high-profile relationship with Lil Fizz, a fellow member of the boy band B2K, which he and Omarion were part of.
Due to the intricate dynamics, their relationship stirred up quite a commotion within the entertainment industry. However, their love story eventually ended in 2020, as the couple decided to part ways, bidding farewell to a chapter filled with public scrutiny.