Taylor Swift has got new pink hair and she gave her fans the first look.
The pop superstar shared on Instagram a pic of the pink streaks in her blonde ponytail and said, "Bout to walk out on the @iheartradio carpet, thought I'd show you first 🥰."
Taylor Swift showing her new pink hair featuring fuchsia streaks in her blonde ponytail
Taylor kept the unicorn-slash-mermaid theme throughout and wore an iridescent purple-and-pink Rosa Bloom romper.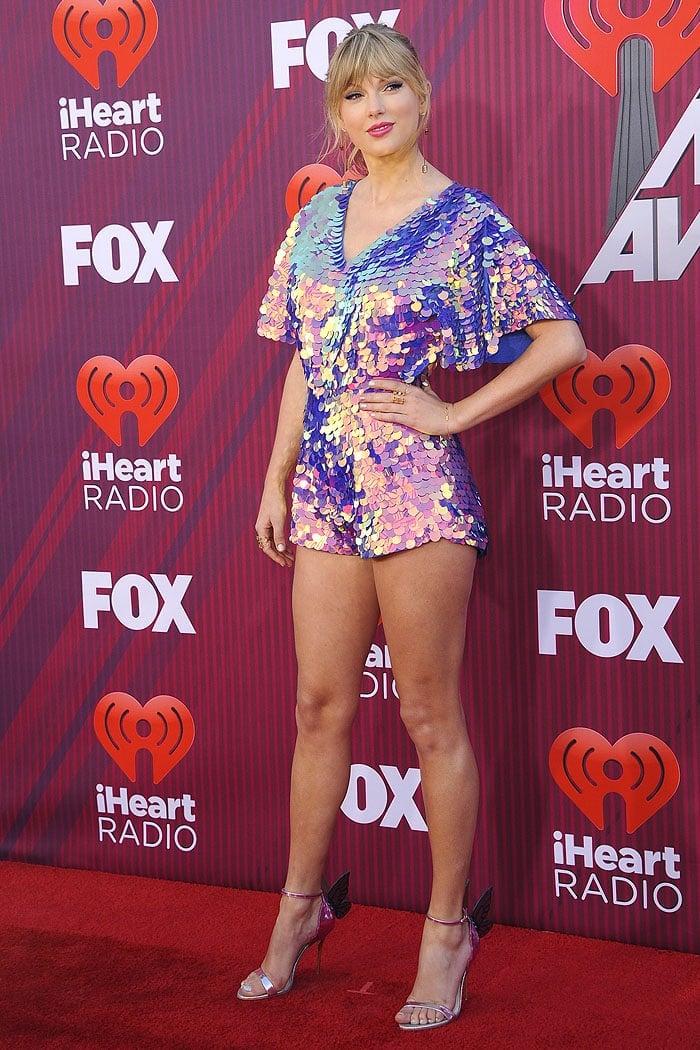 Taylor Swift wearing a Rosa Bloom 'Mella' cape-sleeved playsuit in Amethyst and Sophia Webster butterfly heels
She also went whimsical for her shoes and finished with the butterfly-heeled Sophia Webster 'Chiara' sandals.
Closeup of the Sophia Webster 'Chiara' sandal on Taylor Swift
As dazzling as everything is on Taylor, what we find the most eye-catching are her gorgeous square suspension earrings.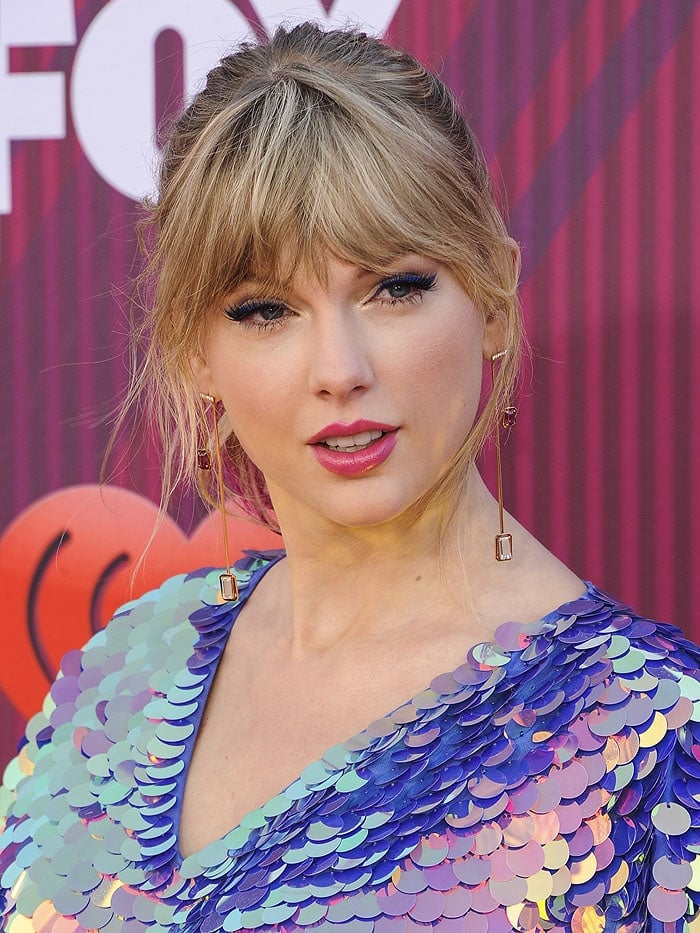 Taylor Swift wearing State Property 'Acapella' earrings featuring two square-shaped gemstones suspended from diamond-set gold bars
The State Property Fine Jewelry creation supposedly symbolizes the "suspension of time," but we're just really digging the uneven balance of the square-shaped pink tourmaline, aquamarine, and pavé diamonds.
The earrings are a price-upon-request piece as State Property believes that no two of their jewelry are the same.
State Property Fine Jewelry 'Acapella' earrings from their Cosmic Orchestra collection
How are you liking Taylor Swift's new pink hair and unicorn/mermaid-inspired look?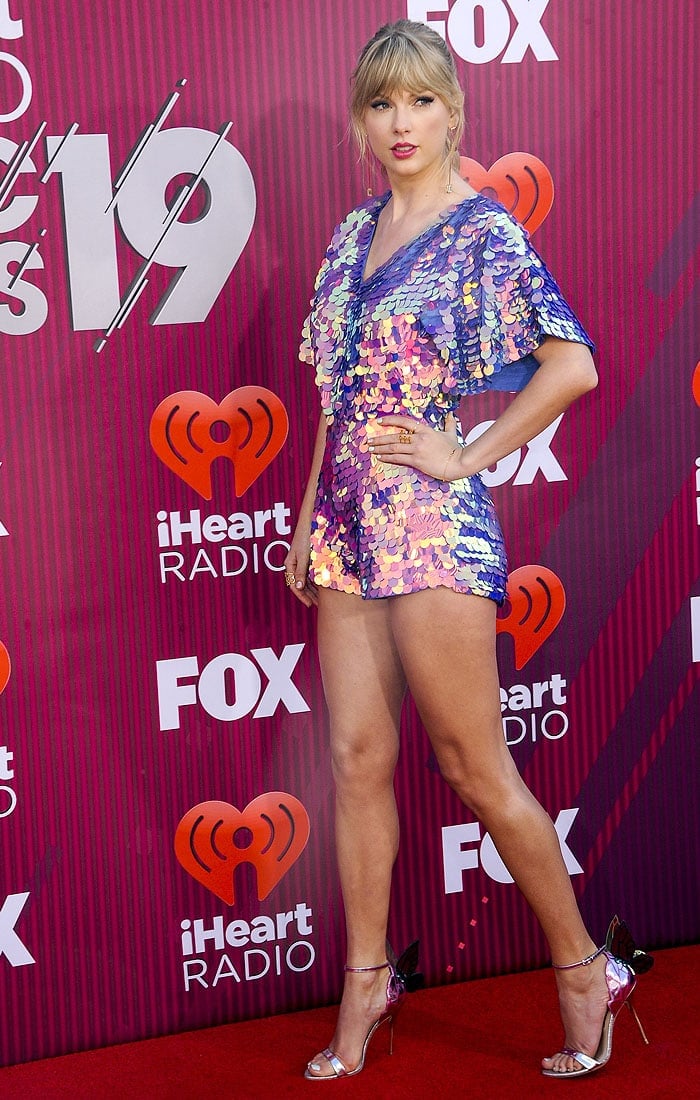 Taylor Swift arriving at the 2019 iHeartRadio Music Awards at the Microsoft Theater in Los Angeles, California, on March 14, 2019
The first time we saw Sophia Webster's 'Chiara' sandals on a celebrity was back in 2014. We're still seeing them on the red carpet five years later! These beloved heels have also been spotted on butterfly-lover Mariah Carey, Emmy Rossum, and Nicole Scherzinger.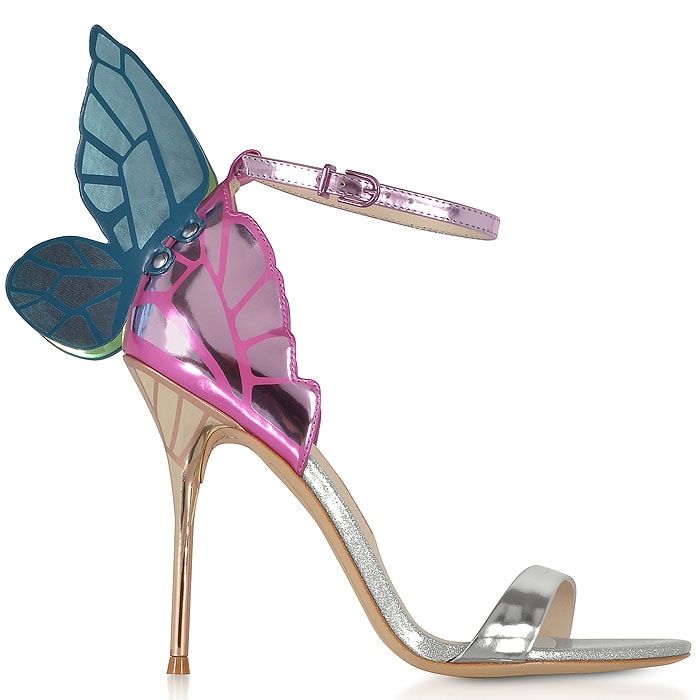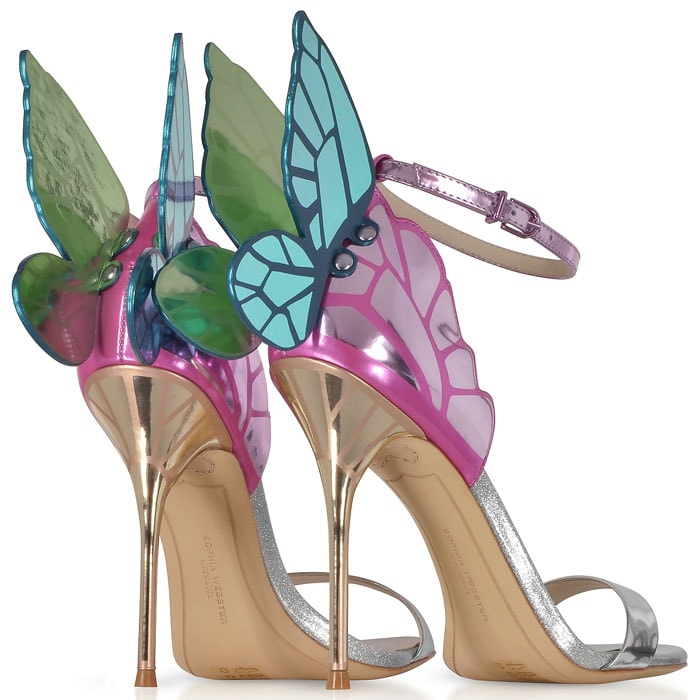 Credit: Apega / WENN