While Anya Taylor-Joy wore this leopard-print outfit for an appearance on Good Morning America on Monday, it looked like she was auditioning for Cats. Don't you think her dress looks like a trash bag?
Anya Taylor-Joy wears a trash bag and leopard tights for an appearance on Good Morning America in New York City on February 17, 2020
The American-born Argentine and English actress is currently promoting her new movie Emma, which will be released in the United States on February 21, 2020, by Focus Features.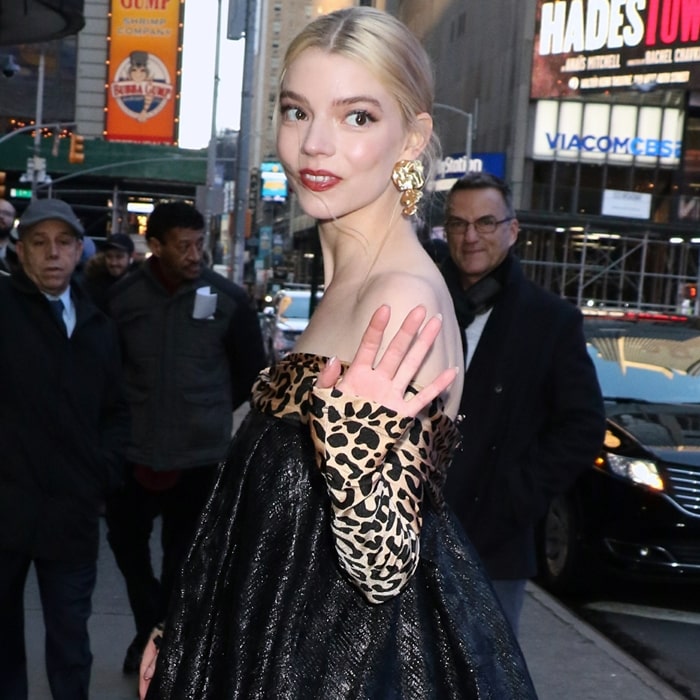 Anya Taylor-Joy plays Emma Woodhouse, the 21-year-old protagonist of Jane Austen's novel Emma
Directed by Autumn de Wilde and written by Eleanor Catton, the comedy-drama film is based on the 1815 novel of the same name by Jane Austen that you can buy on Amazon.
Director Autumn de Wilde told The Mirror that Anya Taylor-Joy and her co-star Mia Goth were part of her pitch for the film from the start.
"Anya was part of my pitch and I didn't want to be in a situation where I was being pressured to make her more likeable, more likeable, more likeable," she shared.
"I wanted an actress who could portray someone who is struggling to be good or is misguided in her attempts to be good, is extremely selfish and cruel at times."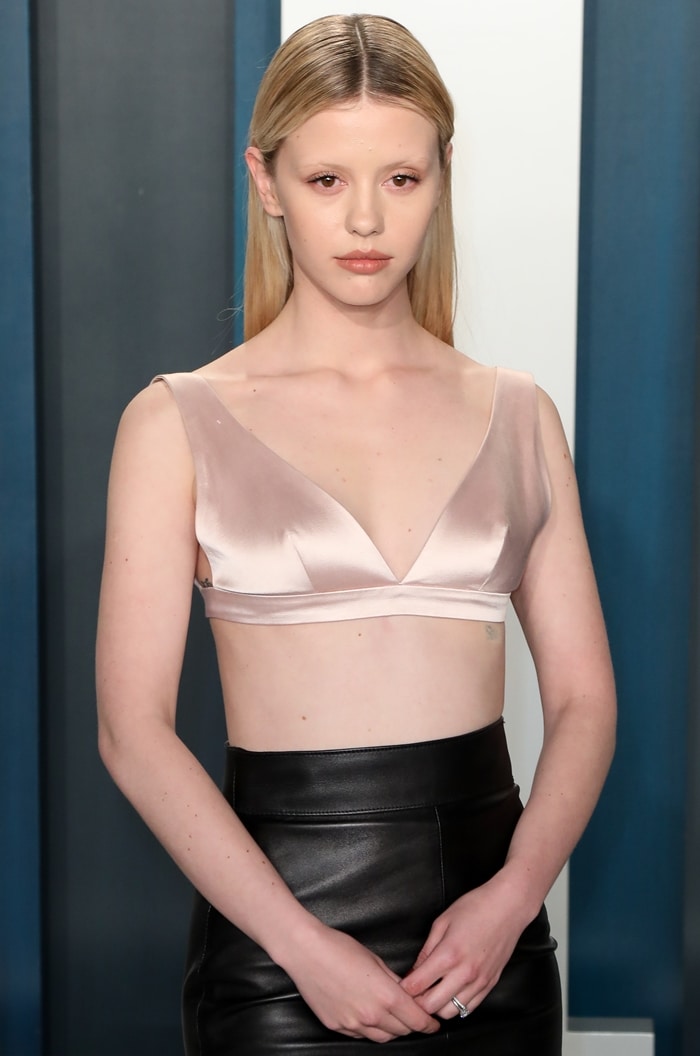 Mia Goth, pictured at the Vanity Fair Oscar Party at Wallis Annenberg Center for the Performing Arts on February 9, 2020, stars as Harriet Smith in Emma
The filmmaker added, "I needed an actor that could create a sympathetic figure – the Emma in themselves and the Emmas that they've known."
"Mia Goth was a perfect Harriet," she also shared about Mia Goth's role as Harriet Smith, saying that "she was part of my pitch as well."
Autumn also shared, "I liked the way that Mia and Anya can both play awkward and bloom in front of your eyes and both characters have to have moments where they're completely lovable in different ways."
Anya Taylor-Joy wore a leopard jumpsuit with a black dress from Halpern's Spring 2020 Collection
Styled by Law Roach, Anya Taylor-Joy stepped out in a black bare-shoulder balloon hem dress paired with a leopard jersey jumpsuit and matching bow-embellished shoes from Halpern's Spring 2020 Collection.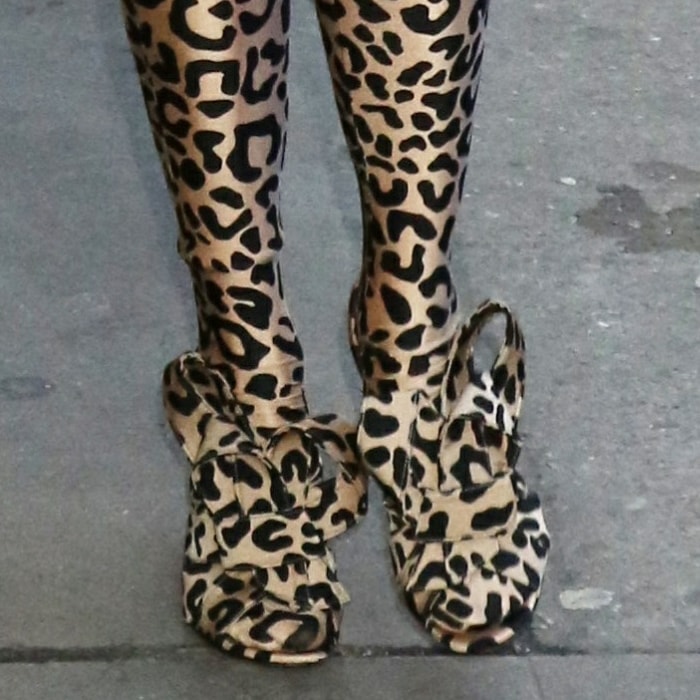 Anya Taylor-Joy completed her look with bow-detailed leopard heels
Before taping her appearance on Good Morning America, she changed into a floral print Prabal Gurung Fall 2020 dress under a purple Sentaler coat and Roger Vivier platform sandals.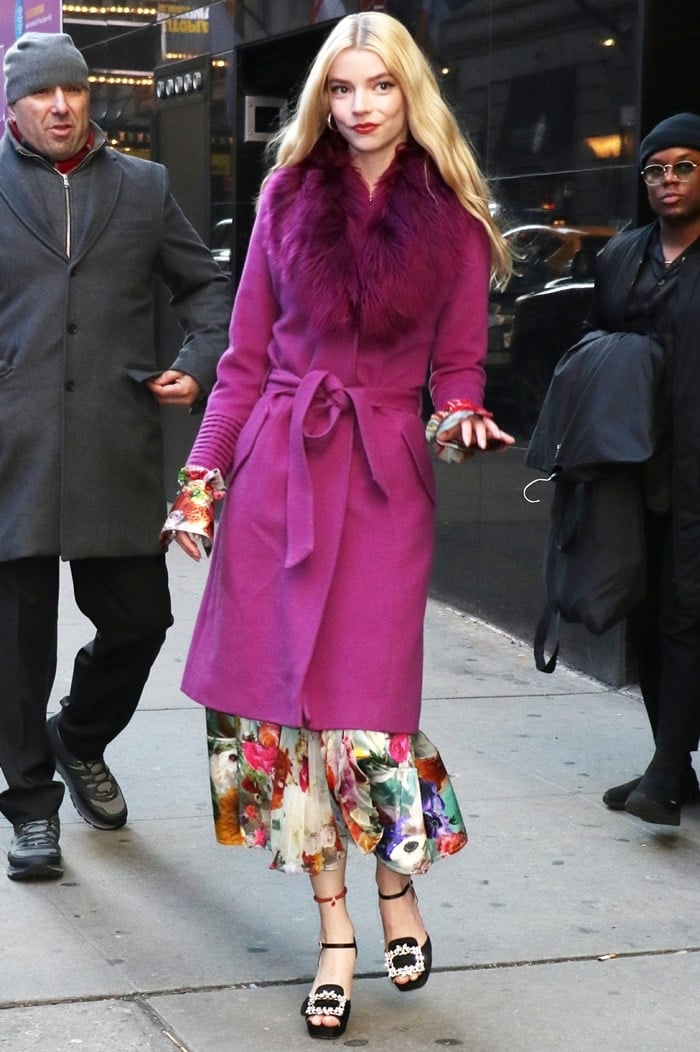 Anya Taylor-Joy outside the studios of Good Morning America in a Prabal Gurung dress and a long coat from Sentaler
Inspired by the Versailles Gardens, her silk satin ankle-strap sandals feature a front buckle with Swarovski crystals.
Broche Roger Vivier Platform Sandal, $2,050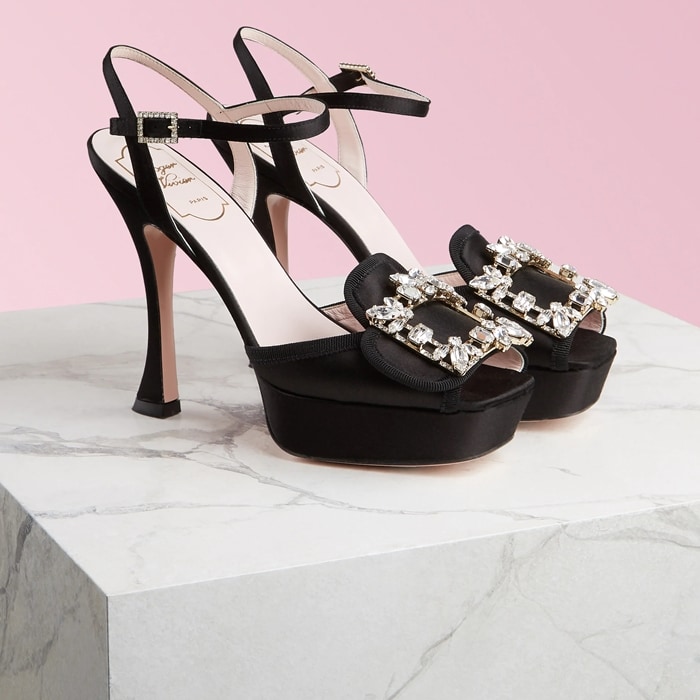 Credit: Instar / WENN / Sheri Determan