Scott Disick, Travis Barker, and Pete Davidson were recently pictured at a baseball game together. Everyone assumed that the three were getting along well, but apparently, Scott and Travis aren't on the best terms.
A source told Us Weekly that Scott "can't stand to be around him", and that he "despises" Travis. Scott only sees the Blink 182 drummer because "he adores his kids and would do anything to make them happy."
View this post on Instagram
Scott and Kourtney had an on-off relationship for 10 years and have had three children together.
The pair broke up in July 2015, and Scott has continued to co-parent with Kourtney and remain a part of her family's reality show Keeping Up with the Kardashians.
Scott Disick and Kourtney Kardashian never married but share three children together (Credit: s_bukley / Shutterstock)
After her breakup with Scott, Kourtney was single for a long time. She said she was "good friends" and neighbors with Travis for years, before dating in 2019. The pair are now engaged and are also trying to have a child together.
Disick seems to be very much still in love with Kourtney and he "still can't wrap his head around the fact that [Kourtney and Travis] are getting married soon."
The source added that "it's going to take time for him to fully accept that Travis is the one for her."
Travis Barker and his kids Alabama and Landon and his step-daughter Atiana De La Hoya at the 2019 iHeartRadio Music Awards on March 14, 2019, at the Microsoft Theater in Los Angeles (Credit: Kathy Hutchins / Shutterstock)
The Kardashians and the Jenners are always in the headlines! And whether you like it or not, nothing can stop this controversial brood from appearing in the news.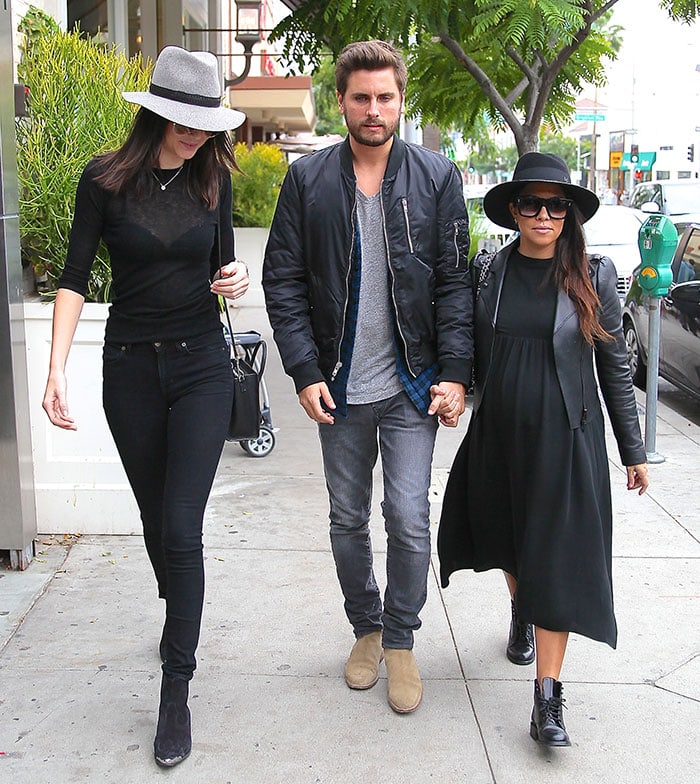 Kendall Jenner, Scott Disick, and Kourtney Kardashian together for lunch in Beverly Hills on December 5, 2014 (Credit: Michael Wright / WENN)
What we love most about them, aside from their attention-grabbing style statement, is that they are very family-oriented. You almost always see them together, attending events, or even just dining out.
In December 2014, Kendall Jenner joined Kourtney Kardashian and Scott Disick to lunch out in Beverly Hills. The trio seemed to be having a great time, and they looked effortlessly chic in their black ensembles!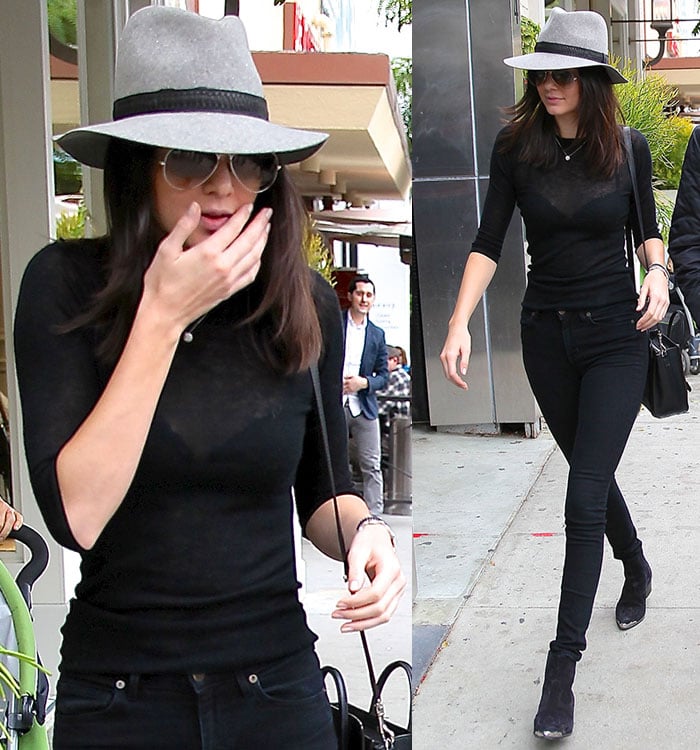 Kendall Jenner wearing a sheer black top with dark skinny jeans (Credit: Michael Wright / WENN)
Kendall Jenner is one of today's most in-demand models. And even if she's not on the catwalk, she continues to show off her style credentials.
Her statuesque beauty never fails to catch attention no matter what she's wearing.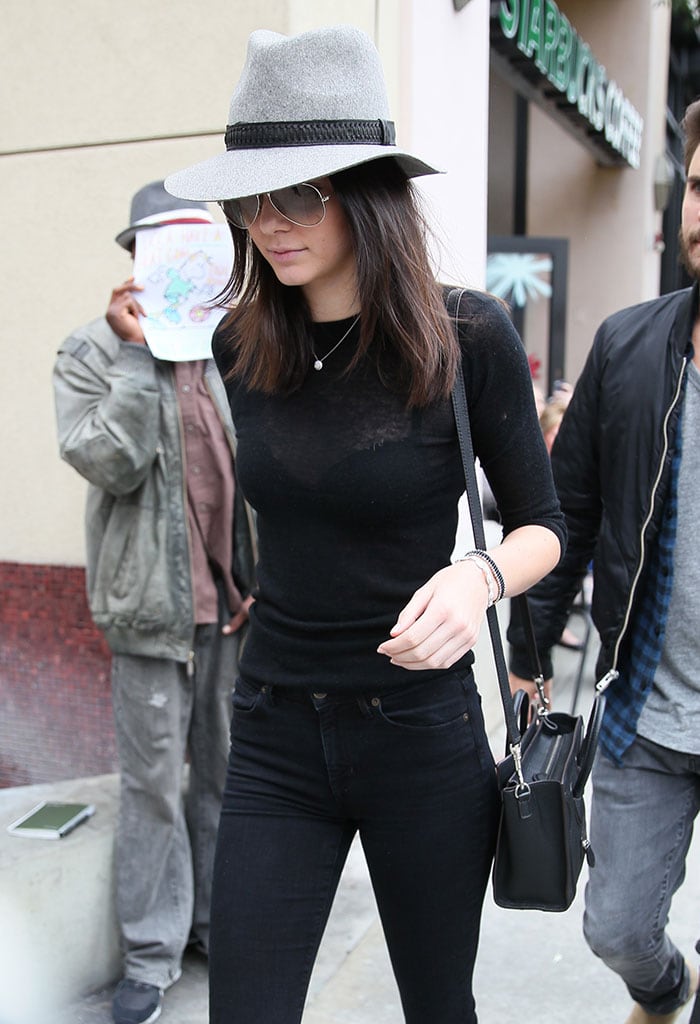 Kendall Jenner rocks a gray fedora hat while carrying a sling bag (Credit: Michael Wright / WENN)
For the lunch out, she put together a laid-back yet stylish outfit that still turned heads.
Pairing a sheer black top with dark skinny jeans, Kendall accessorized with a gray fedora hat, a sling bag, and a pair of ankle boots that amped up the entire look.
Kendall Jenner's Western-style boots (Credit: Michael Wright / WENN)
The then 19-year-old model wore the "Duckies" suede boots by Saint Laurent that you can buy at Farfetch and Nordstrom.
They are inspired by cowboy boots and feature pointed toes accented with silver-tone metal-engraved toe panels, cutout appliques, elasticated side panels, and stacked wooden heels about 1.5 inches high.
Saint Laurent Duckies Western Suede Boots, $1,229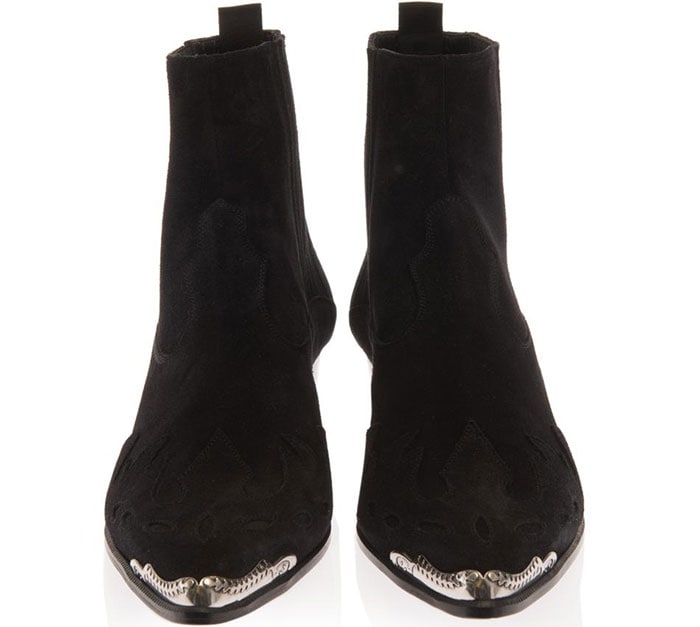 The couple, who had been arguing a lot in their reality TV show, looked sweet as they walked hand in hand for their lunch outing.
Scott also kept it casual, layering a black jacket over a plaid shirt and a gray t-shirt underneath with gray jeans and a pair of tan suede boots.
Scott Disick layering a black jacket over a plaid shirt (Credit: Michael Wright / WENN)
His long-time girlfriend, on the other hand, once again proved that she had mastered chic maternity style.
After all the buzz generated by her nude magazine photoshoot for Dujour magazine, Kourtney displayed a reserved look in a black dress and a leather jacket.
Kourtney Kardashian styled her all-black outfit with a hat and boots (Credit: Michael Wright / WENN)
Like Kendall, she styled her all-black outfit with a hat and boots. Hers was a pair of lace-up combat boots that are made of leather and feature short heels measuring about an inch.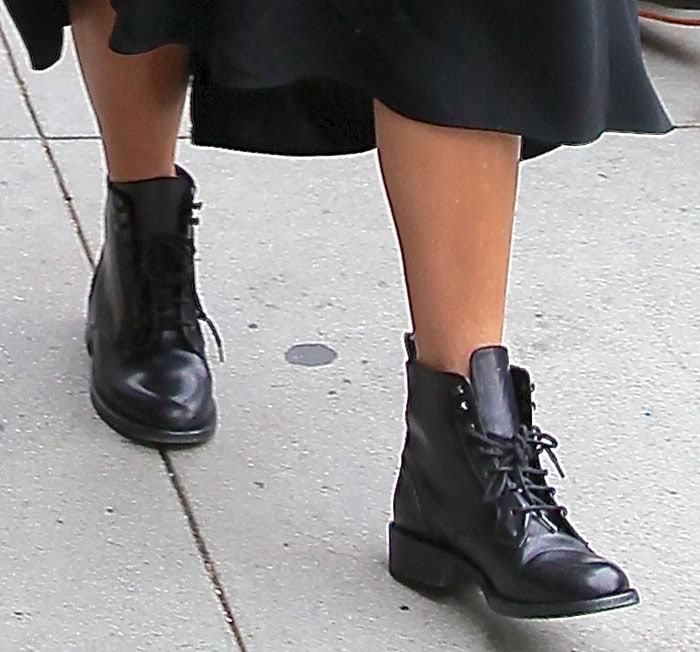 Kourtney Kardashian shows off her hot legs in black boots (Credit: Michael Wright / WENN)