When you have curls like Vanessa Hudgens, taking care of them is a full-time job.
In June 2016, the "High School Musical" star and Bandslam actress was spotted leaving Alfred's Cafe and disappearing into her go-to salon in Los Angeles.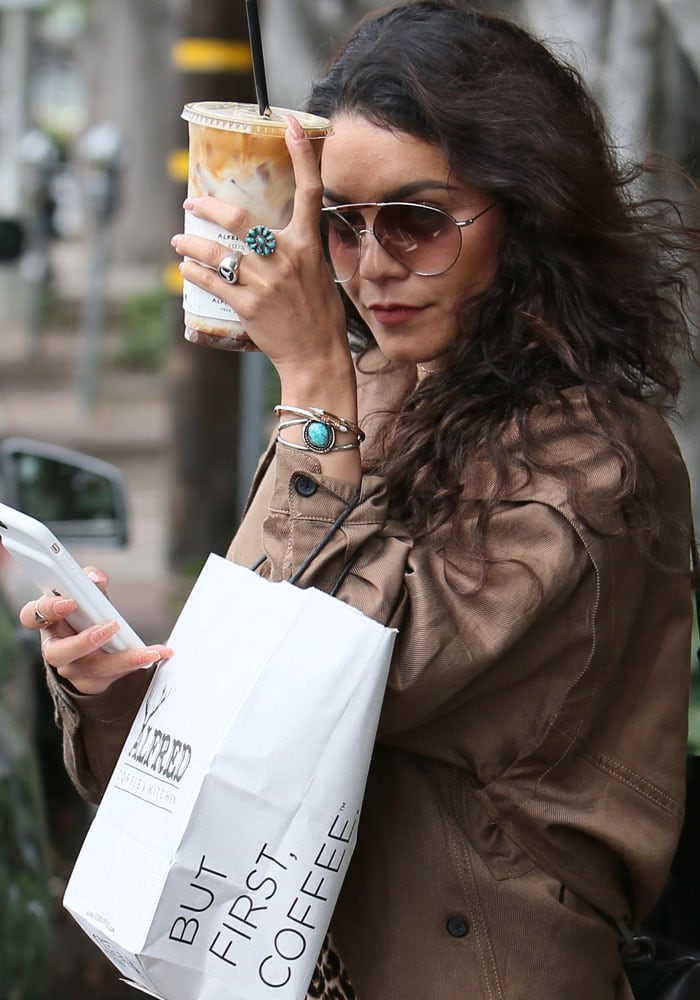 A camera-shy Vanessa Hudgens leaves Alfred Cafe with a coffee as she heads to a hair appointment on June 9, 2016, in Los Angeles
Seven years earlier, she starred as high school student Sa5m (pronounced Sam; the 5 is silent) in Todd Graff's 2009 American musical romantic comedy-drama film Bandslam.
Bandslam premiered in Westwood on August 6, 2009, and was released in theaters across the United States on August 14, 2009. At the time, Vanessa Hudgens was 20 years old and celebrated her 21st birthday on December 14, 2009, shortly after the film's release.
Does Vanessa Hudgens play guitar?
Yes, she learned to play the guitar for Bandslam. The cast members were responsible for recording their own singing and instrument performances, with the exception of Vanessa Hudgens, Scott Porter, and Lisa Chung's guitar and piano parts.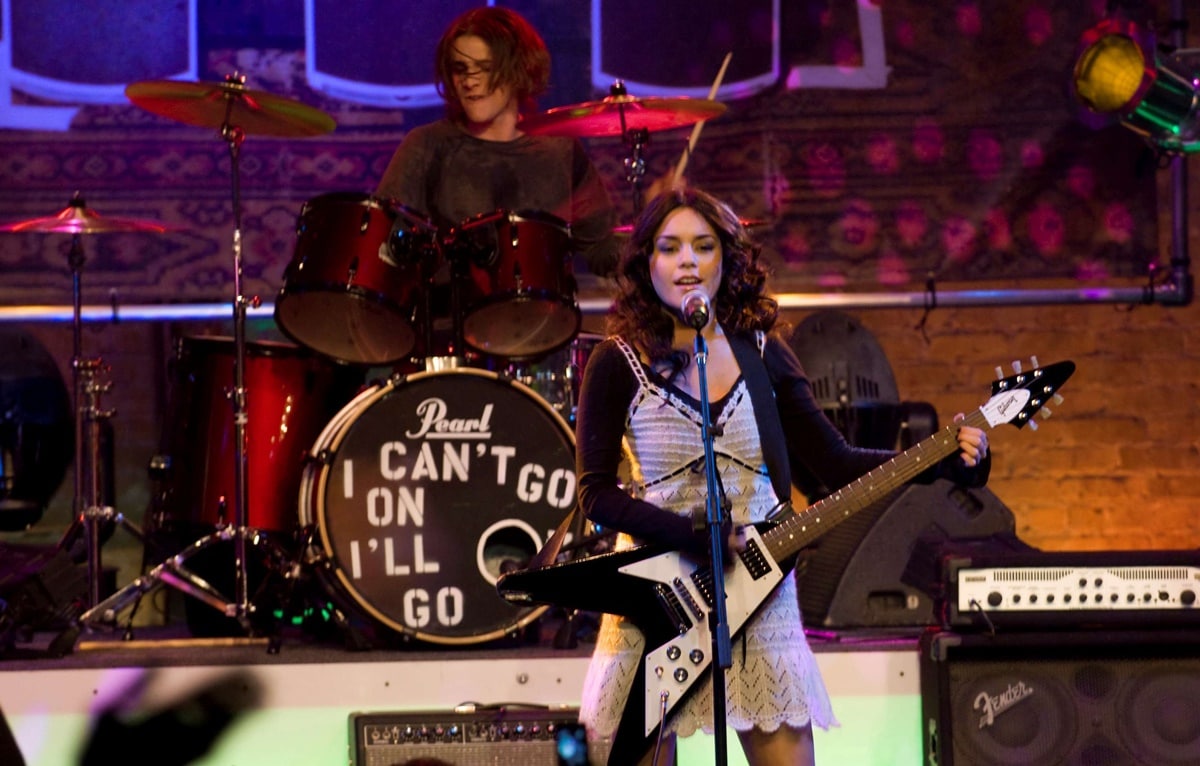 Vanessa Hudgens plays the guitar as Sa5m in the 2009 American musical romantic comedy-drama film Bandslam (Credit: Summit Entertainment)
While Vanessa Hudgens and Scott Porter did learn to play their guitar parts, they were ultimately dubbed over by professional musician Jason Mozersky. However, all the cast members performed their own vocals.
Vanessa Hudgens impressed the casting team with her rendition of "Rehab" by Amy Winehouse during her audition, where she had her sights set on the role of Charlotte. However, despite her impressive performance, the role ultimately went to Aly Michalka.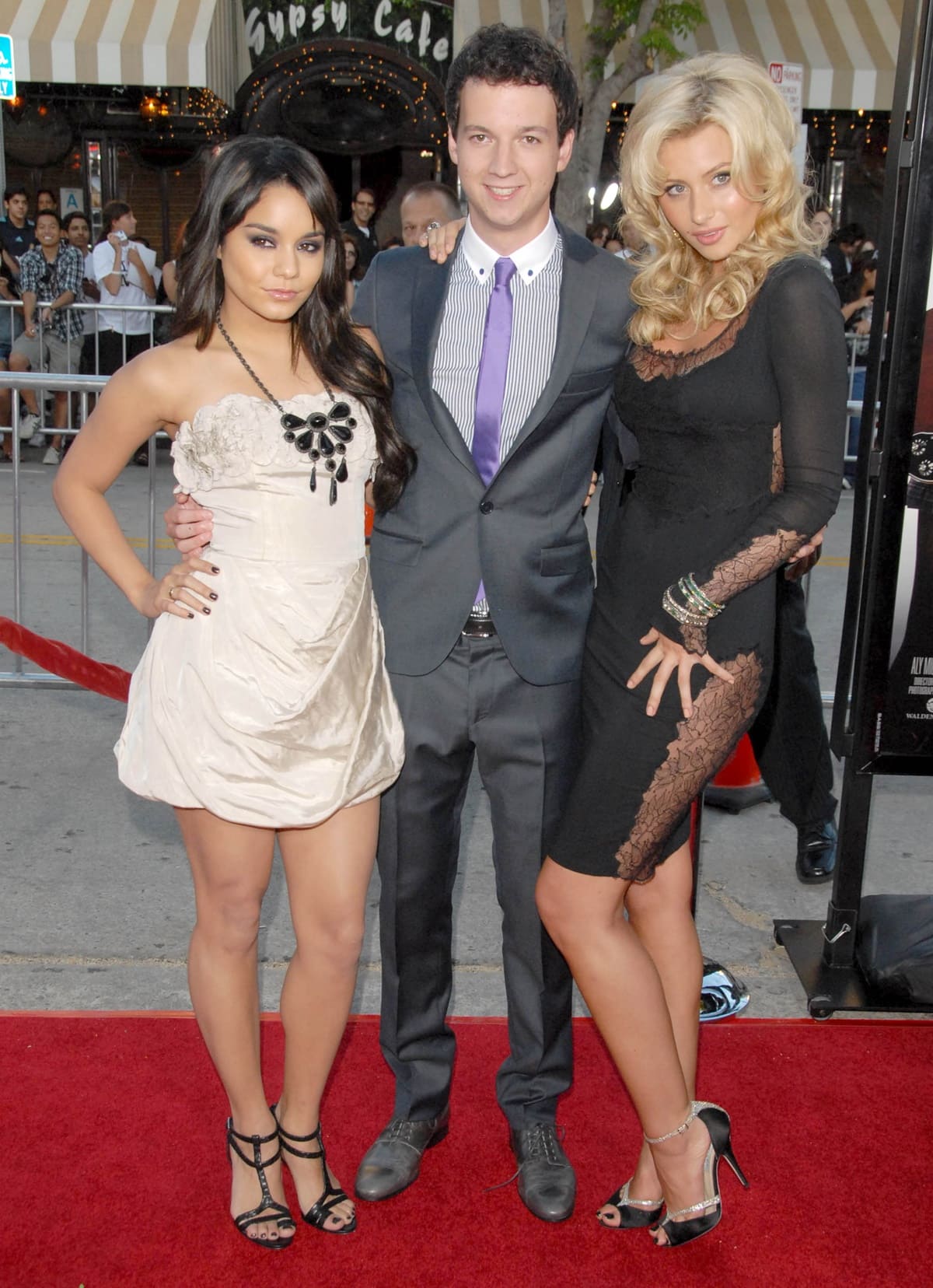 Vanessa Hudgens, Gaelan Connell, and Aly Michalka arrive at Summit Entertainment's premiere of Bandslam held at Mann Village Theatre on August 6, 2009, in Westwood, Los Angeles, California (Credit: S_Bukley / Shutterstock)
The passing of David Bowie on January 11, 2016, makes "Bandslam" his final film appearance.
He agreed to participate in the film as he was a fan of Todd Graff's previous film, the 2003 American musical comedy-drama film Camp.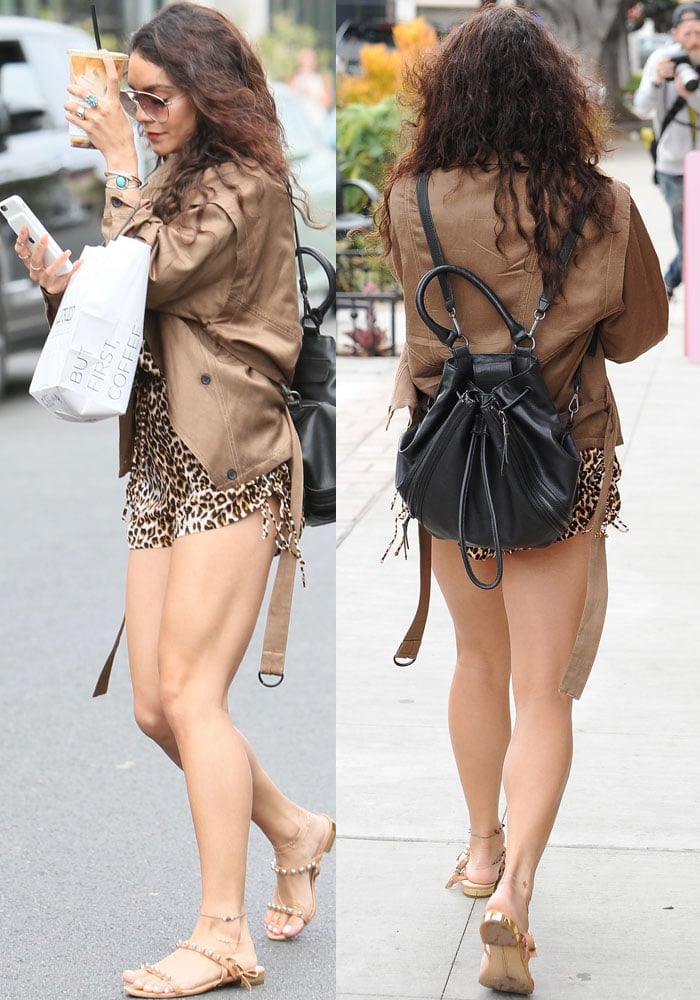 Vanessa Hudgens flaunts her legs in a leopard-print romper and brown jacket while running errands in Los Angeles (Credit: Michael Wright / WENN)
When leaving Alfred's Cafe, Vanessa wore a leopard-print romper underneath a brown jacket, which she adorned with numerous pieces of Southwest-inspired jewelry.
The actress also styled her look with a black backpack and an oversized pair of Valentino aviator sunglasses.
Vanessa Hudgens's feet in studded Vince Camuto sandals (Credit: Michael Wright / WENN)
For her feet, Vanessa wore a simple pair of embellished "Hopper" sandals by Vince Camuto. These simple strappy sandals gave us a decent look at the multiple ankle bracelets and toe charms she sported.
Vanessa Hudgens, who appeared to be unusually camera-shy, covered her face with her iced coffee as she made her way into the salon.
Hours later, she emerged with her hair styled in defined, bouncy curls that looked refreshed and revitalized, a clear indication of a successful salon visit. You can order Vanessa's "Hopper" sandals by Vince Camuto at Zappos.
Vince Camuto "Hopper" Round Stud Embellished Flat Sandal, $49.99 – $105.45