They are known for acting flirty with each other on social media. And on Thursday, Bachelor in Paradise's Wells Adams and Modern Family's Sarah Hyland upped the flirting ante over their Christmas Instagram photo.
Sarah posted a photo with her fiancé, captioned: "Third Christmas with you but first one engaged. You'd think we'd know how to take a proper picture at this point."
In the said holiday photo, the two were seen standing in front of a Christmas tree, with Wells in a Game of Thrones blue knit sweater and Sarah in a cleavage-baring black dress and an antler headband.
They were hugging each other, which created an illusion that the wolf on Wells' sweater is aiming at Sarah's breast.
Wells quickly left a flirty yet funny comment on Sarah's post, "My dire wolf really loves breast meat apparently…" to which Sarah replied, "@wellsadams I apologize for there not being enough meat to feed your wolf."
Wells Adams and Sarah Hyland exchange flirty comments on their Christmas photo
A few days prior, Sarah was spotted leaving a Pilates class with a friend in Los Angeles. She showed off the fruits of her labor in a pair of black Alo yoga leggings, featuring see-through mesh panels that put her toned legs on display.
The "Modern Family" actress paired the look with an off-white shearling pullover, furry knee-high socks, and heavy-duty rain boots by Hunter.
Sarah Hyland wears yoga pants while leaving a Pilates class in Los Angeles on December 23, 2019
Wearing her bob in a messy bun, Sarah completed her after-Pilates look with hoop earrings, sunnies, and a Lady Dior bag ($3,495 at Shopbop).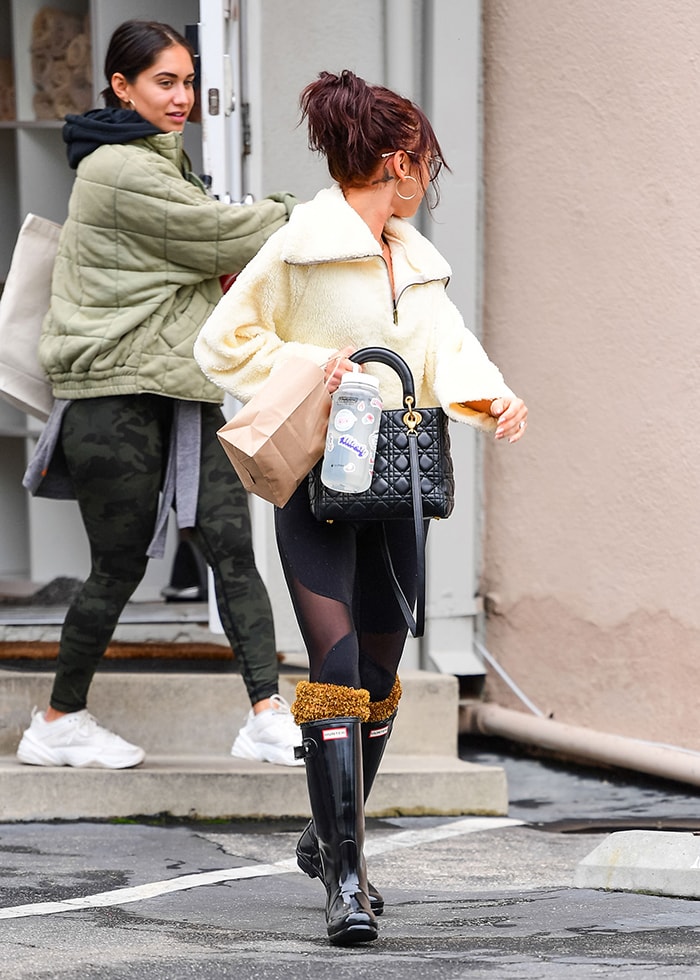 Sarah Hyland in Alo mesh-paneled leggings and Hunter rain boots
Hunter Original Tall Gloss Rain Boots, $150 at Hunter Boots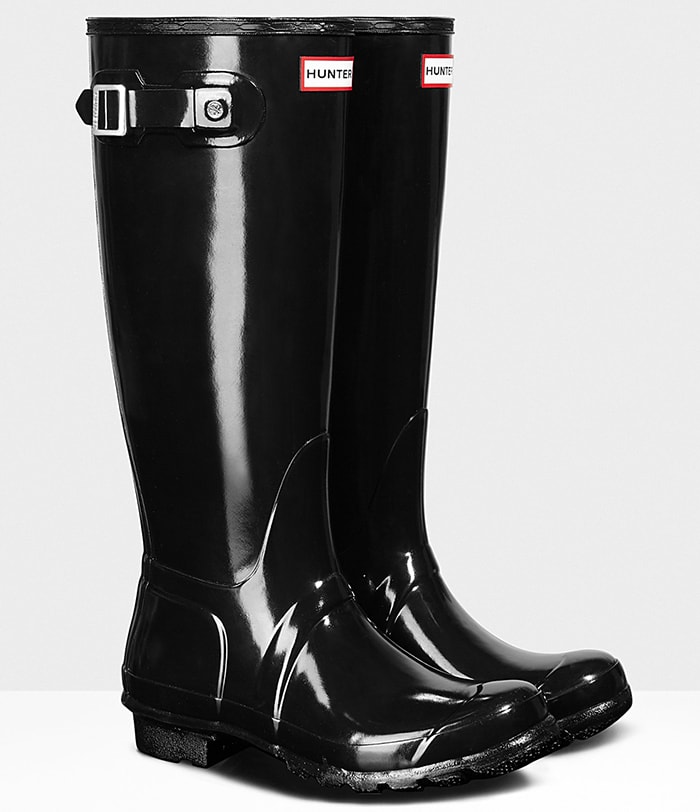 Later that evening, Wells Adams shared an Instagram story of Sarah playing with their Bloodhound dog, Carl. She was dressed in the same Pilates outfit, except for her pullover, which she took off. Wells captioned the post, "Merry Christmas to me!"
Before spending their first Christmas as an engaged couple, Wells and Sarah were spotted walking arm-in-arm at a farmer's market in Los Angeles.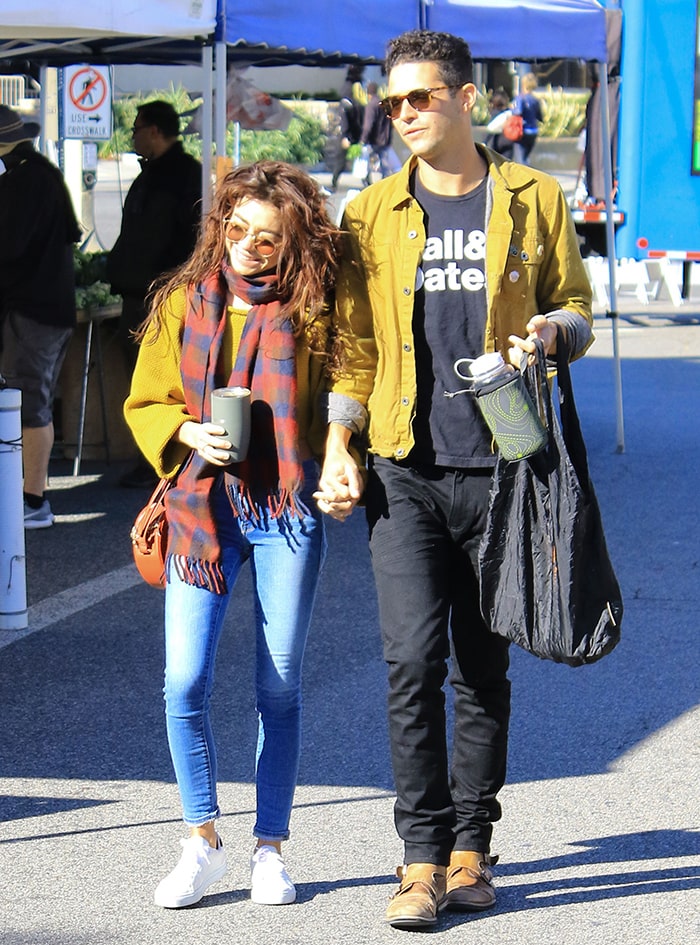 Sarah Hyland and Wells Adams walk arm-in-arm at a Los Angeles farmer's market on December 15, 2019
The loved-up couple dressed comfortably in matching ensemble. Sarah wore a mustard yellow sweater with denim jeans, a red plaid scarf, and white sneakers, while Wells had a mustard yellow jacket worn over a black tee.
Sarah Hyland and Wells Adams in matching mustard yellow top
How did Sarah Hyland and Wells Adams meet?
Sarah Hyland and Wells Adams are proof that the internet can be the start of a love story.
The 29-year-old actress was vocal about her crush on Wells since the 12th season of The Bachelorette in 2016.


Sarah Hyland has shown interest in Wells Adams since The Bachelorette in 2016
When she heard that he will be the bartender in Bachelor in Paradise, Sarah immediately took to Twitter and shared her excitement.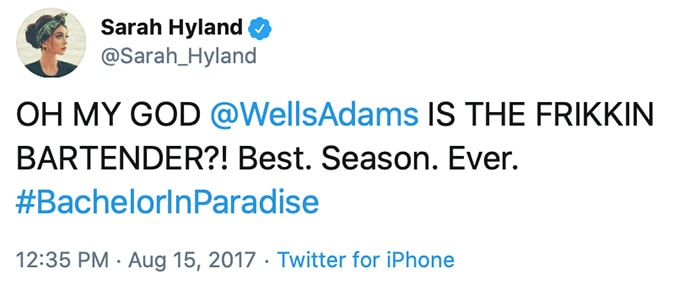 Sarah Hyland took her excitement to Twitter about Wells Adams appearing in Bachelor in Paradise
Wells replied to Sarah, and their first flirty exchange started. After that, Wells sent a private message to Sarah, and the rest is history.
Wells Adams and Sarah Hyland began exchanging flirty tweets
Sarah and Wells sparked romance rumors over Halloween
Sarah and Wells sparked romance rumors after attending Brandi Cyrus' Halloween party, wearing "couple" costumes based on Stranger Things characters.
Wells dressed up as Eleven, while Sarah as Dustin Henderson. The event took place just a few months after she called it quits with her boyfriend of two years, Dominic Sherwood.
View this post on Instagram

A week later, a source told E! News that "Sarah and Wells have been seeing each other for a couple months now."
Another insider said: "It's true. They are a couple. She has been spending time with him in Nashville and he is showing her around and doing fun activities with her. Wells is proudly introducing her to all of his friends and is really happy that they connected. They are taking it slow but are not seeing other people."
Sarah and Wells made their relationship Instagram official
Less than a week after Brandi Cyrus' Halloween party, the two made their relationship Instagram official by posting sweet photos together.
View this post on Instagram

A month later, Sarah shared a photo of them in matching onesies, revealing that she spent the holiday with Wells and his family in Nashville.
Wells supported Sarah amid health issues
In a December 2018 interview with Self magazine, Sarah credited Wells for staying by her side while battling kidney dysplasia.
"He was texting me in the morning before I went into surgery, and we were FaceTiming the entire time I was in the hospital." She also said he was there for her during her recovery.
"He's seen me at my worst… I think that's why I feel the most beautiful in his eyes, because he still finds me beautiful after seeing all that. It was a really intimate start to a relationship to have to go through those hurdles at the very, very, very beginning when you're just even getting to know a person," she added.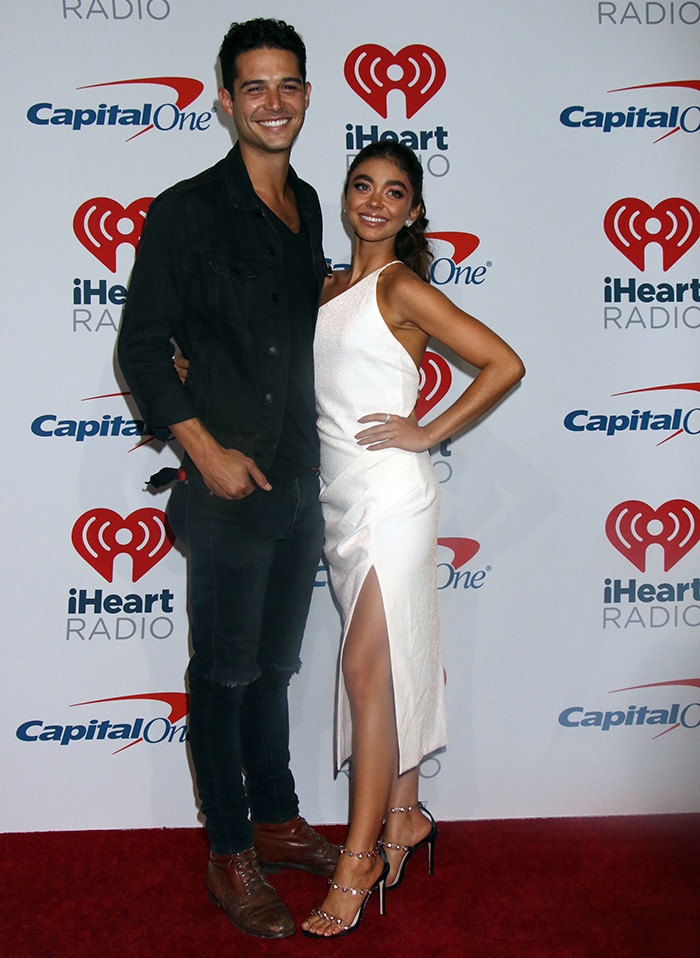 Sarah Hyland looks radiant in Manning Cartell dress and Sophia Webster heels while posing with Wells Adams at the iHeart Radio Music Festival 2018 in Las Vegas on September 22, 2018
Wells also spoke to US Weekly about Sarah's health struggles, calling her the real-life version of Wonder Woman.
He said: "Imagine having a vital organ replaced. Imagine having 16 surgeries, going to hundreds of doctors' visits and taking thousands of pills. Imagine losing crazy weight because of dialysis, medication side effects, and stress. Then imagine, having to do it all over again. This time keeping it quiet while you recovered, all while trolls on the internet judged you for your appearance."
"Oh, and throw in filming the funniest show on TV and executive producing and starring in a movie … and never breaking down. Never losing it. I know Gal Gadot is Wonder Woman on film, but Sarah is the real-life version," he added.
Sarah and Wells moved in together
Ten months into dating, Sarah and Wells moved in together in Los Angeles in August 2018.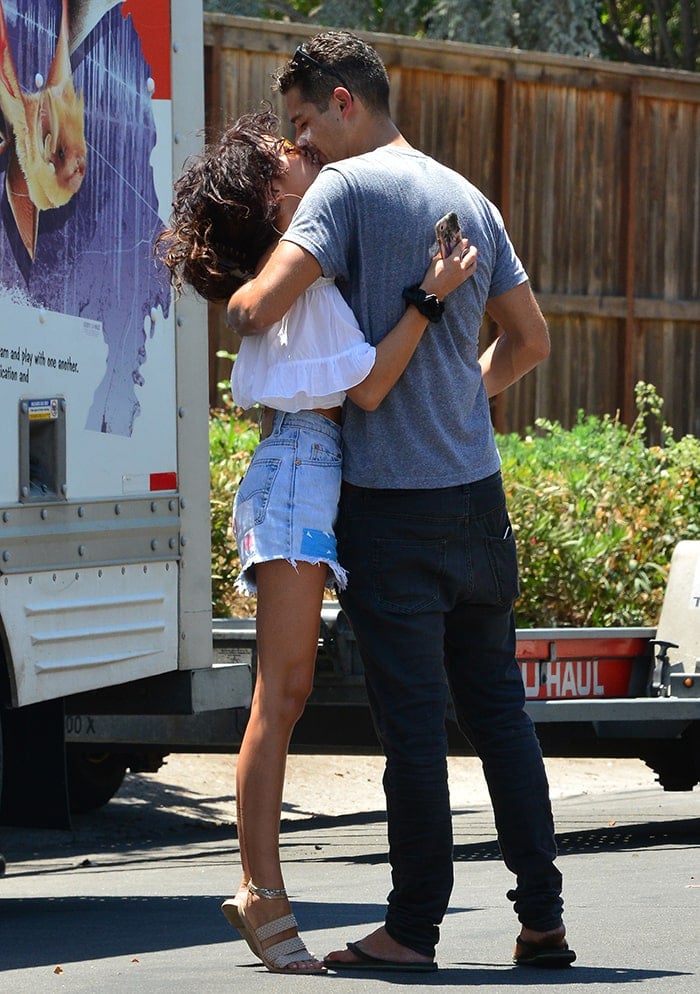 Sarah Hyland welcomes Wells Adams with a kiss after moving in together on August 3, 2018
Wells and Sarah are engaged
Nearly two years after being together, Wells popped the question with a sparkling engagement ring on a beach vacation in Fiji.

The couple announced their engagement via Instagram in July. Sarah captioned her post, "That can't eat, can't sleep, reach for the stars, over the fence, world series kind of stuff ✨❤ @wellsadams." Wells, on the other hand, said, "I'll be Johnny, you be June. But forever. 🎶- Drew Holcomb & The Neighbors."
View this post on Instagram

The newly engaged threw an engagement party three months later with people close to their hearts.
Credit: DJDM / Instar / WENN