While many stars, including Sasha Calle, Dove Cameron, and Hollywood power couple Jennifer Lopez and Ben Affleck, at The Flash premiere opted for all-black looks, Xochitl Gomez decided to stand out with a burst of color.
How do you pronounce Xochitl Gomez?
Xochitl Gomez is pronounced, "show-chee goh-mez." Xochitl is of Nahuatl (also known as Aztec or Mexicano) origin and means "flower." Gomez is of Spanish origin and means "son of Gomez."
Xochitl Gomez, whose name originates from the Nahuatl language, is pronounced as "so-chee" and holds the lovely meaning of "flower" (Credit: Kathy Hutchins / Shutterstock)
Xochitl Gomez is pronounced /ˈsoʊtʃi/ SOH-chee in American English. The "X" is pronounced like the "sh" in "ship." The "O" is pronounced like the "o" in "hot." The "Ch" is pronounced like the "ch" in "church." The "I" is pronounced like the "i" in "hit." The "T" is pronounced like the "t" in "top." The "L" is silent.
She says her name at the beginning of this video, showcasing her expertise in creating adorable and effortless double Dutch braids:
The name Xochitl, bestowed upon girls in Mexico, carries a profound meaning tied to the enchanting flowers found in the southern regions of the country. Beyond its floral association, Xochitl holds significance within the Aztec calendar.
It represents a day dedicated to the benevolent goddess of youth, love, and pleasure, Xochiquetzal, who watches over artists during their creative endeavors. This auspicious occasion inspires individuals to craft masterpieces that deeply resonate with their souls.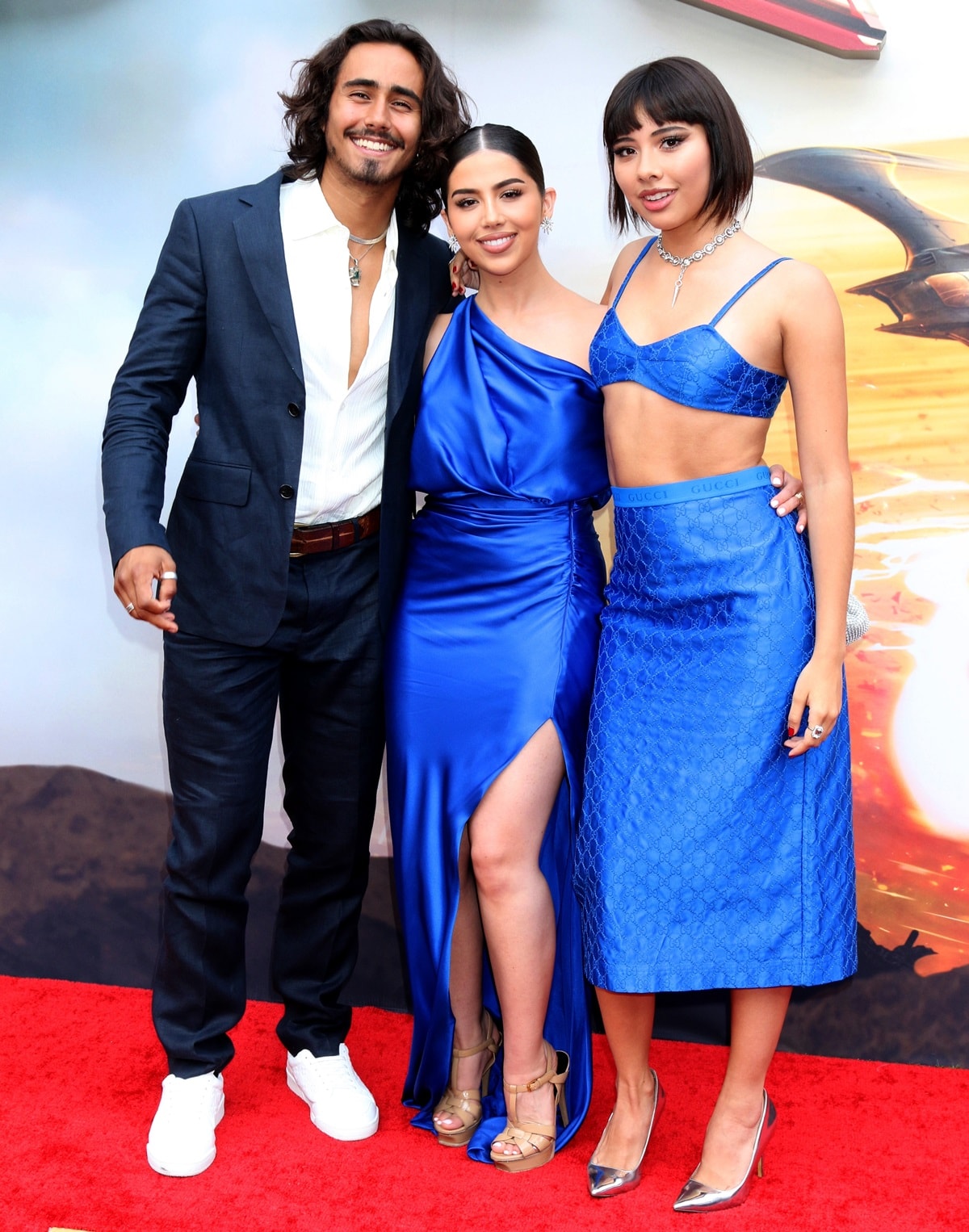 Michael Cimino, Amanda Diaz, and Xochitl Gomez at the premiere of "The Flash" held at TCL Chinese Theatre IMAX on June 12, 2023, in Los Angeles, California (Credit: Kathy Hutchins / Shutterstock)
Whether one perceives a baby named Xochitl as precious as a delicate flower or as a beacon of creativity, this name embodies a compelling choice, imbued with cultural richness and a nod to the captivating beauty of nature.
The 17-year-old actress, known for her roles in Doctor Strange in the Multiverse of Madness and The Baby-Sitters Club, wowed the crowd on Monday evening at Ovation Hollywood with her stunning ensemble.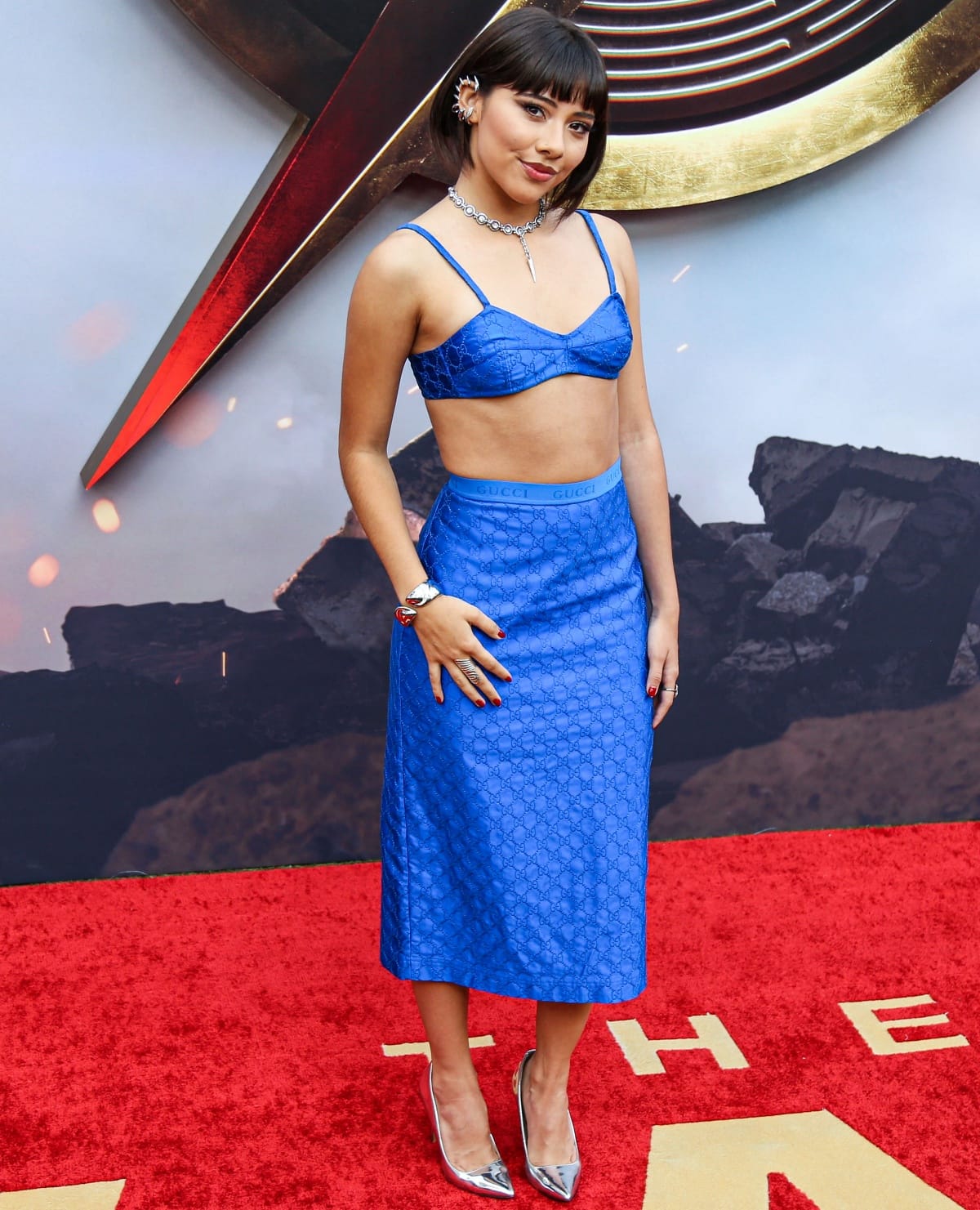 Xochitl Gomez, whose height of 5 feet 4 ¼ inches (163.2 cm) falls within the range of an average height for an American female, makes quite the entrance in a vibrant blue ensemble at the premiere of The Flash (Credit: Abaca Press / INSTARimages)
Gomez stole the spotlight in a striking two-piece set from Gucci that showcased her toned abs. The vibrant blue outfit perfectly complemented her youthful energy and lively personality.
To keep herself warm on a chilly night, she draped a bedazzled Burberry jacket over her shoulders, adding a touch of glamour to her look.
But the real showstopper was Gomez's daring new hairstyle. She debuted a chic bob cut, with her dark hair chopped into layers that framed her face beautifully.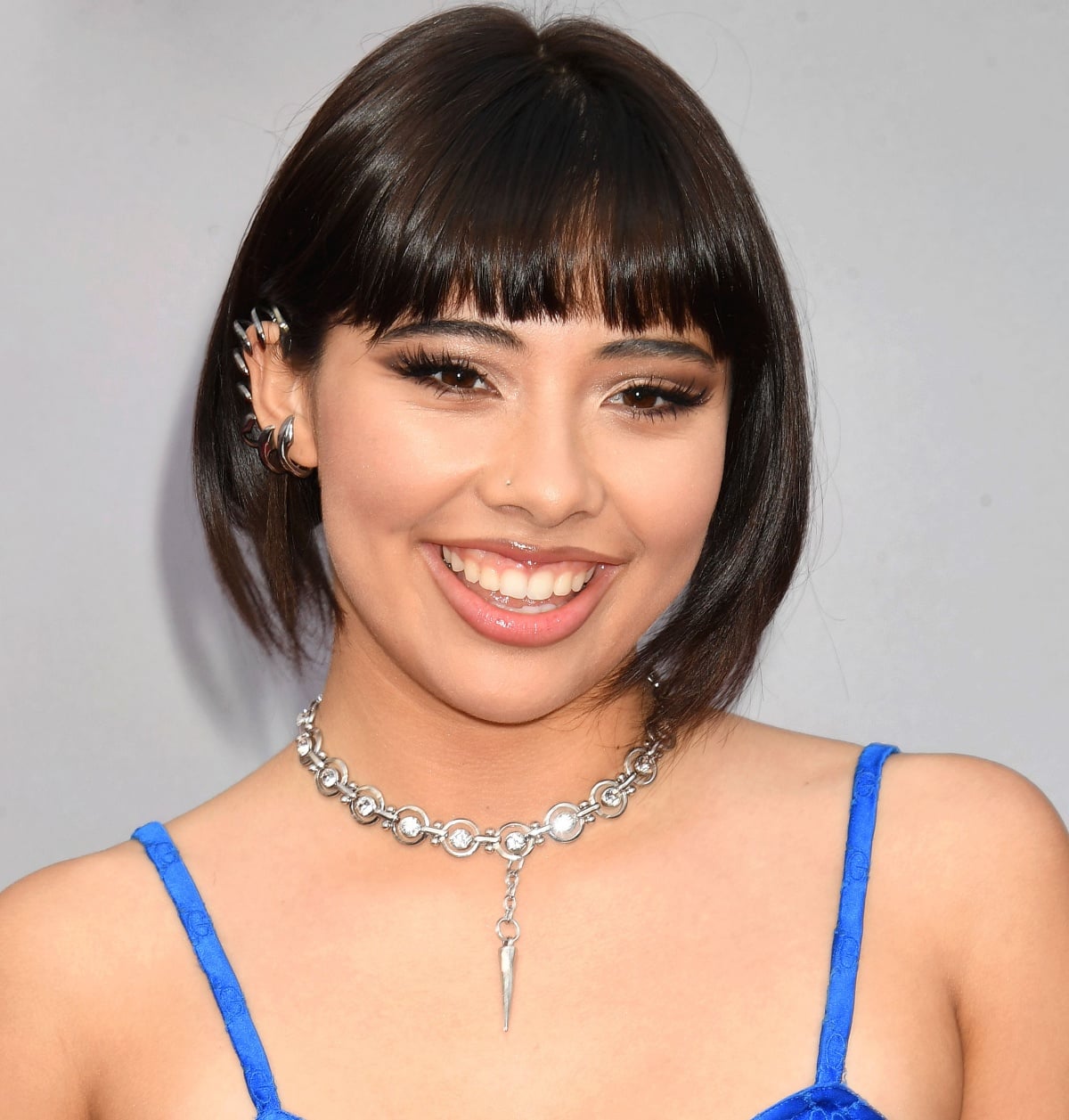 Xochitl Gomez debuting a chic bob with blunt bangs and an asymmetric style for a dose of cool edge (Credit: Media Punch / INSTARimages)
The shorter sections at the back gracefully grazed the nape of her neck, giving her a modern and edgy appearance. Her bangs, styled bluntly, sat just above her eyebrows, accentuating her stunning features and arches.
Gomez accessorized her red-carpet look with an array of silver jewelry. She adorned her right wrist with a stylish bracelet and enriched her fingers with stacked rings.
A delicate spike necklace with crystal embellishment from OHT added a touch of elegance to her neckline. At the same time, multiple earrings from Vitaly decked out her ears, creating a unique and fashionable ensemble.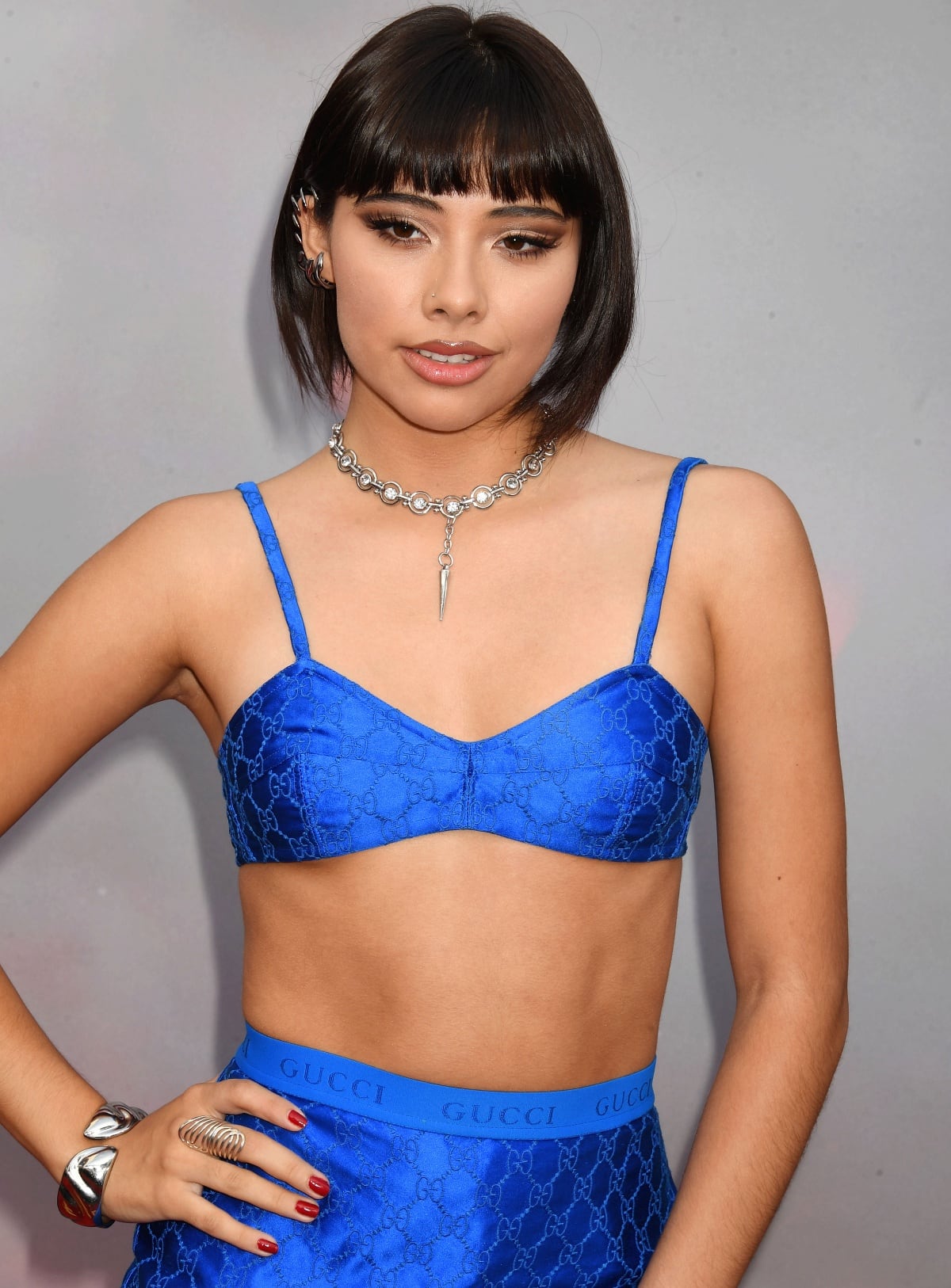 Xochitl Gomez had loads of fun accessorizing her look with stacked rings, a bracelet, multiple earrings, and a spike necklace (Credit: Media Punch / INSTARimages)
To complete her look for the occasion, she slung a white Kate Spade handbag over her shoulder, ensuring she had all her essentials.
Behind the scenes, hairstylist and makeup artist Brittany Gharring worked magic to create Xochitl Gomez's stunning appearance.
View this post on Instagram
In a short clip shared on social media, we glimpse Gomez getting ready, with Gharring expertly snipping her hair and perfecting her makeup.
Keeping the makeup minimal and neutral, Gharring focused on accentuating Gomez's eyes. Darker pigments were skillfully blended to create a crease-cutting shape, while beige tints adorned her lids, adding a touch of softness.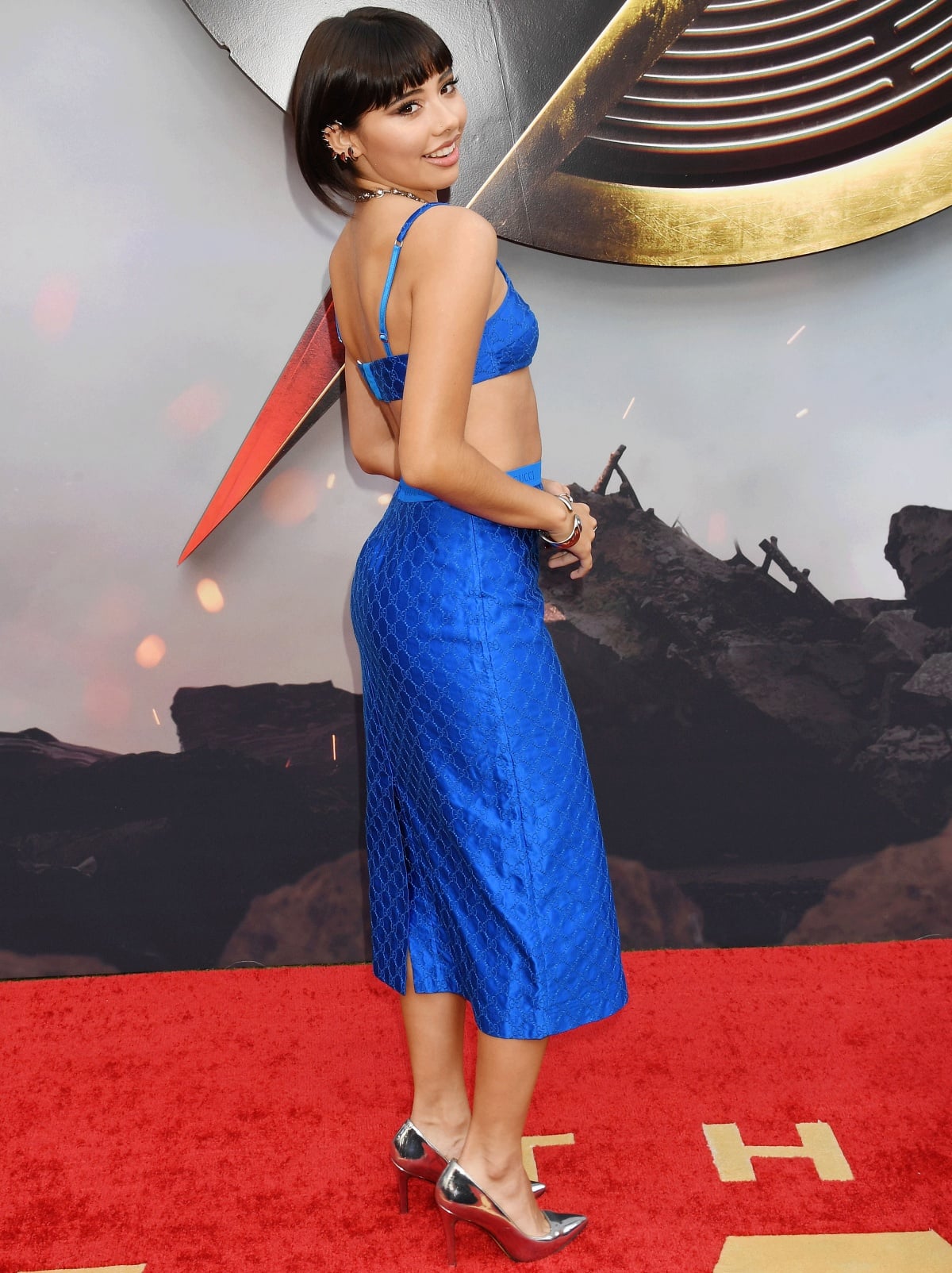 Xochitl Gomez showing off her toned figure in a vibrant blue two-piece set from Gucci with metallic silver heels (Credit: Media Punch / INSTARimages)
She added a dark liner that expertly defined Gomez's lips, which were then filled with a glossy finish. Notably, Gomez took charge of her manicure, showcasing bright red nails that added color to her overall look.
How tall is Xochitl Gomez?
Adding a few inches to her petite frame, Gomez slipped into a pair of silver metallic heels.
Standing at a cute height of 5 feet and 4 ¼ inches (163.2 cm), she confidently strutted her stuff, exuding grace and poise. Her shoe size is believed to be a size 6 (US).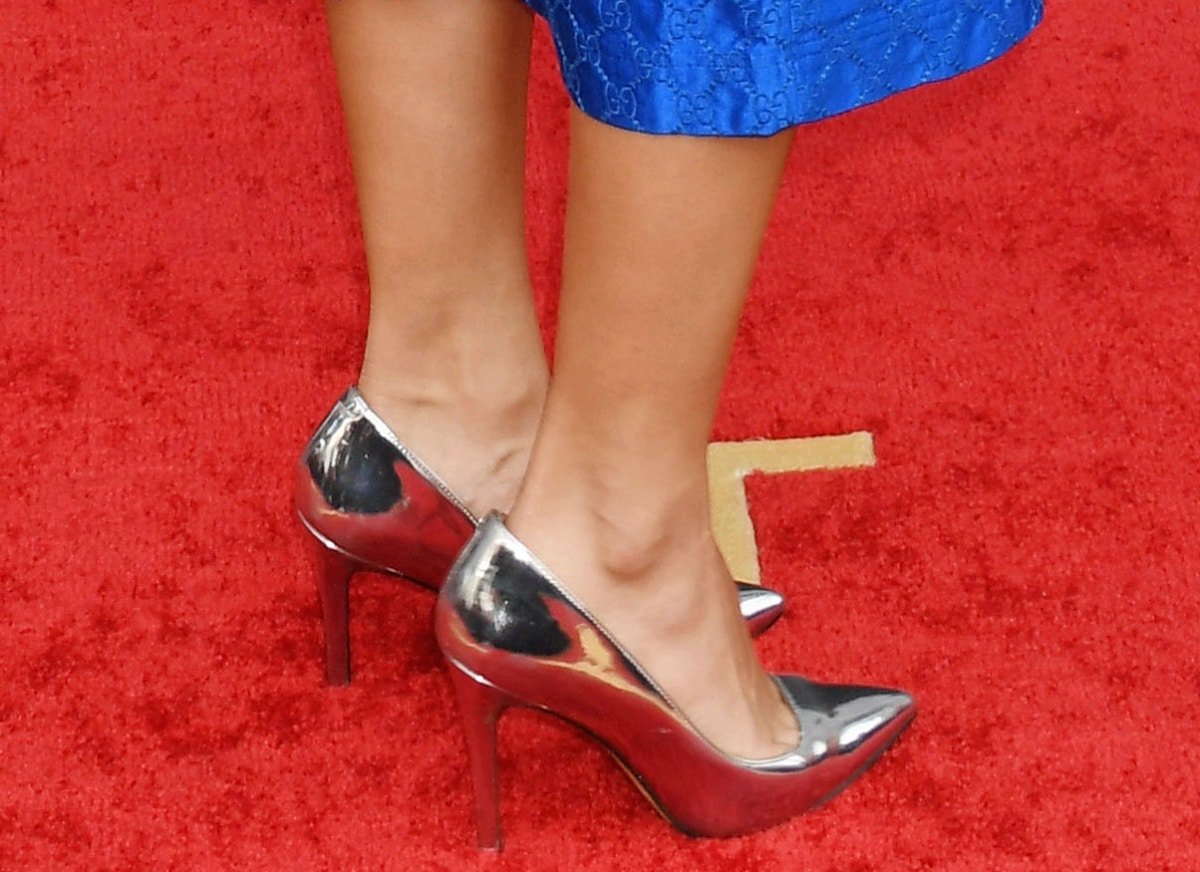 Xochitl Gomez displays her feet and legs in metallic silver heels (Credit: Media Punch / INSTARimages)
Born on April 29, 2006, in Los Angeles, California, Xochitl Gomez's career in the entertainment industry began at the tender age of five when she performed in local musicals. She will celebrate her 18th birthday on April 29, 2024.
Since then, she has continued to impress audiences with her talent, securing roles in popular television series like Gentefied, Raven's Home, and You're the Worst.
Her remarkable performance in the 2019 film Shadow Wolves earned her a Young Artist Award for Supporting Teen Artist in 2020.
In 2022, Gomez debuted in the Marvel Cinematic Universe as America Chavez in Doctor Strange in the Multiverse of Madness.
Xochitl Gomez as America Chavez in the 2022 superhero film Doctor Strange in the Multiverse of Madness (Credit: Marvel Studios / Walt Disney Studios Motion Pictures)
Her commitment to her craft led to a recasting of her role as Dawn Schafer in season 2 of the television series The Baby-Sitters Club due to scheduling conflicts with her Marvel project.
At The Flash premiere, Xochitl Gomez supported her friend Sasha Calle, who is set to portray the first Latina Supergirl in the DC Comics movie.
View this post on Instagram
Sharing her excitement on Instagram, Gomez captioned a post with, "It's official, Supergirl's a badass Xx."
The post also included a heartwarming video of her surprising Calle with Michael Cimino.
Is Xochitl Gomez dyslexic?
Yes, she is. In a candid interview discussing her preparation for Doctor Strange 2, Xochitl Gomez bravely opened up about her personal experience with dyslexia.
"It's kind of the same preparation I do for all my auditions. I get the slides and go over them and over them because I have dyslexia, so in order for me to not fumble around, I have to really actually know the material," she told People Chica.
Xochitl Gomez in a studded Burberry jacket with Amanda Diaz, Michael Cimino, and Sasha Calle at the Los Angeles premiere of The Flash (Credit: Media Punch / INSTARimages)