Wow, really? Difficult People actress Julie Klausner body-shamed Zendaya after seeing the 19-year-old's thin appearance at the 2016 Kids Choice Awards.
The 37-year-old comedienne took to Twitter to share her insightful criticisms. Some gems include calling Zendaya "a thinspo model for your impressionable tweens" and, for some reason, a Jew hater. Klausner also implied that the Sole of Daya founder is "starving herself down to the size of one of her elbowz" and even dredged up the old "patchouli oil" feud with Giuliana Rancic.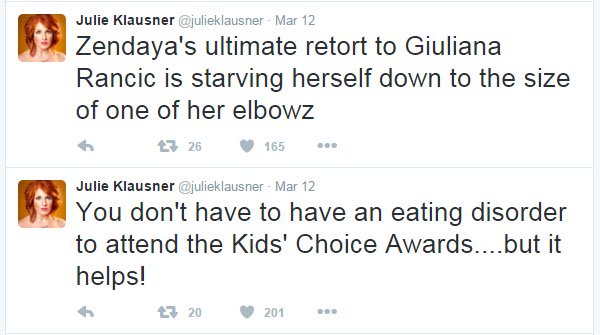 The Disney teen star fired back the very next morning.
"Do you find this funny? I will write another paragraph to educate you aswell #youreallywannabenext?" she tweeted.
Zendaya, who has always had a slim frame, followed it up with an inspirational statement about loving your body no matter how it is shaped.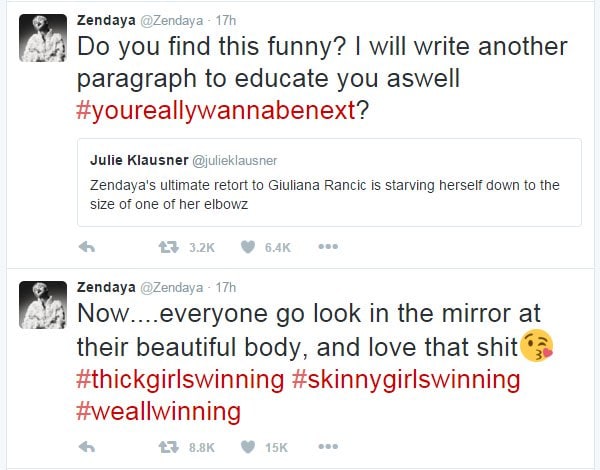 Check out Zendaya's tall and slim frame absolutely killing it in an old-fashioned look. She picked an Ulyana Sergeenko fall 2015 couture midi dress to wear to the 2016 Kids Choice Awards:
Zendaya giving the cameras a smoldering over-the-shoulder look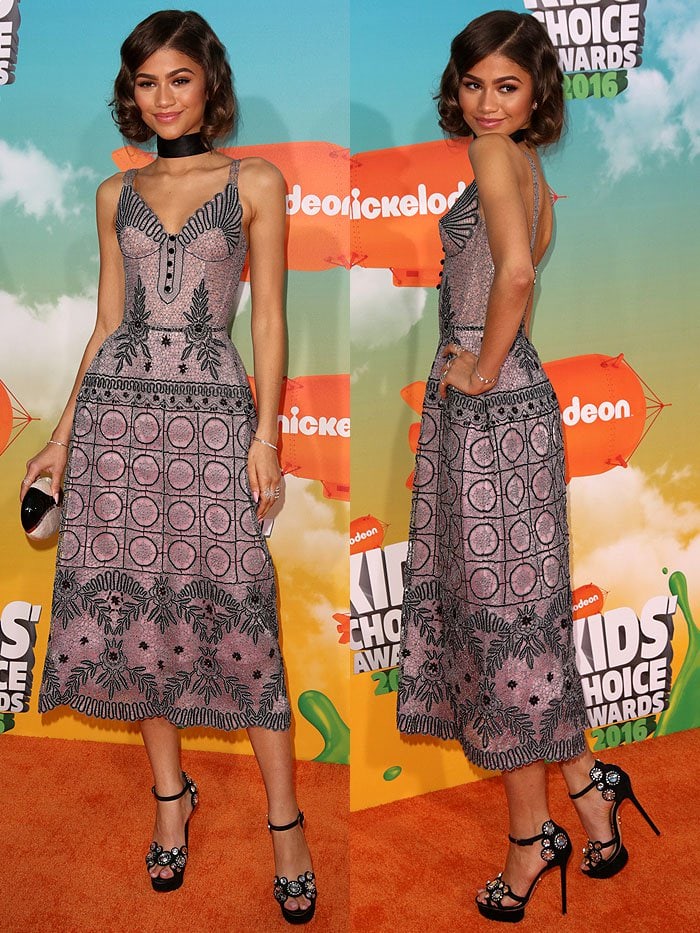 Zendaya Coleman arriving at the 2016 Kids' Choice Awards held at The Forum in Los Angeles, California, on March 12, 2016
The 19-year-old showing off the details of her Ulyana Sergeenko fall 2015 couture midi dress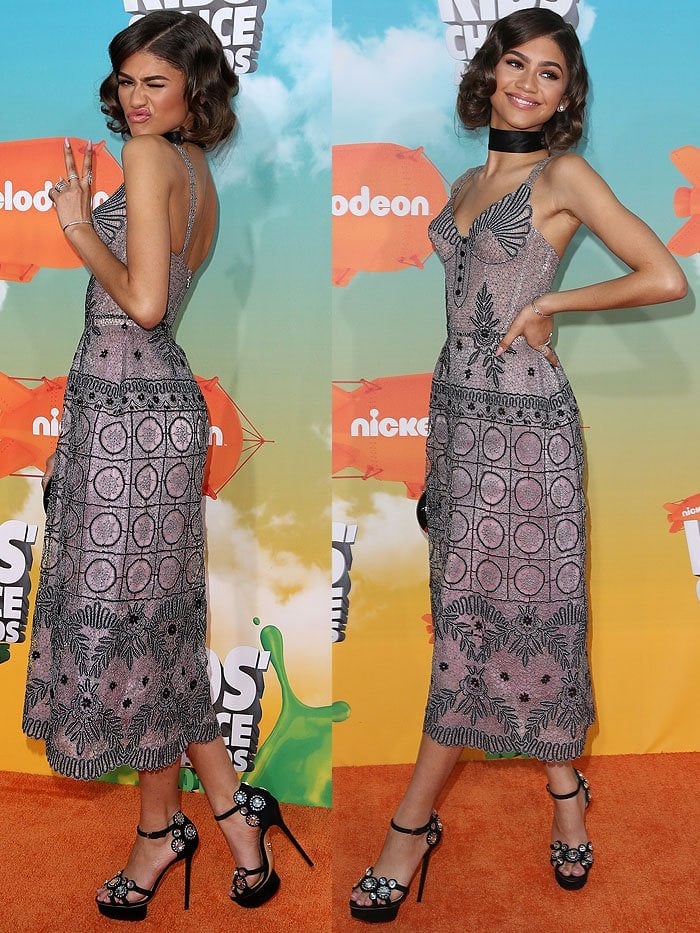 The Disney star striking her favorite silly faces and peace sign pose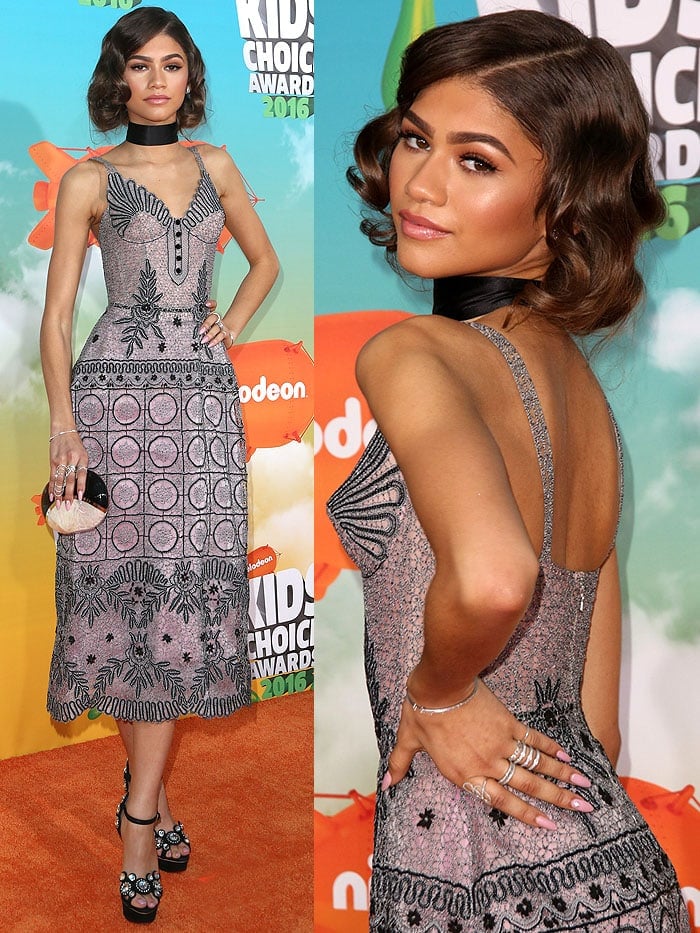 The "K.C. Undercover" lead actress walking the orange carpet prior to picking up the Favorite Female TV Star – Kids Show blimp award at the 2016 Kids' Choice Awards
Why the hate, Julie Klausner? Because all we see from those Zendaya photos above is perfection. Klausner just couldn't to let the issue go and refused to make either an apology or a non-apology, so she herself was attacked on Twitter.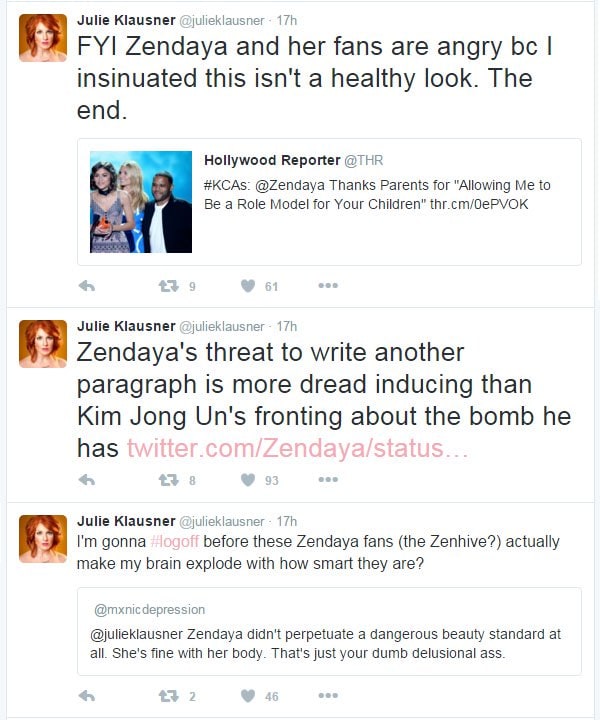 The perfection extended down to Zendaya's footwear. She chose to wear a pair of Charlotte Olympia "Precious" platform sandals, which get their name from the large crystal embellishments on the toes and heels.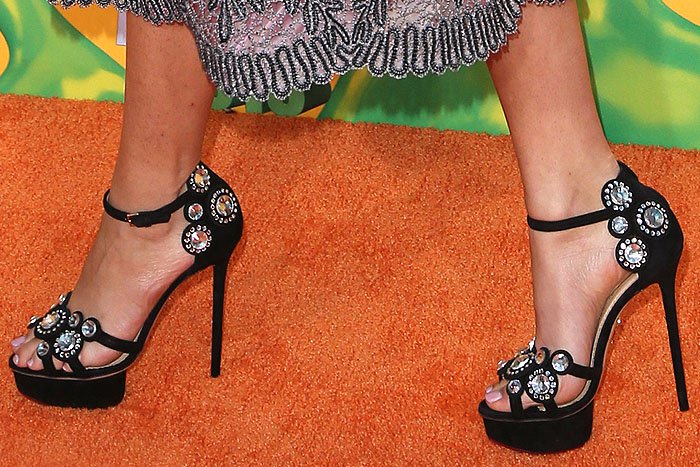 Closeups of the Charlotte Olympia 'Precious' platform sandals on Zendaya
Get Zendaya's exact sandals:
Charlotte Olympia "Precious" Platform Sandals, $1,895 at Charlotte Olympia
Credit: Apega/Brian To/FayesVision/WENN/Julie Klausner and Zendaya's Twitter