Zoe Saldana and Marco Perego, who secretly wed in 2013, appeared to still be on their honeymoon as they graced the Taormina Film Festival premiere of their new movie, The Absence of Eden, Friday.
Zaldana plays an illegal immigrant in the upcoming drama that centers on the terrifying experiences of migrants who cross the US southern border. The political thriller marks the feature directorial debut of her husband, Marco.
Arriving at the Ancient Greek Teatrico Antico theater in Sicily, Italy, the couple walked hand-in-hand while clad in coordinating black ensembles.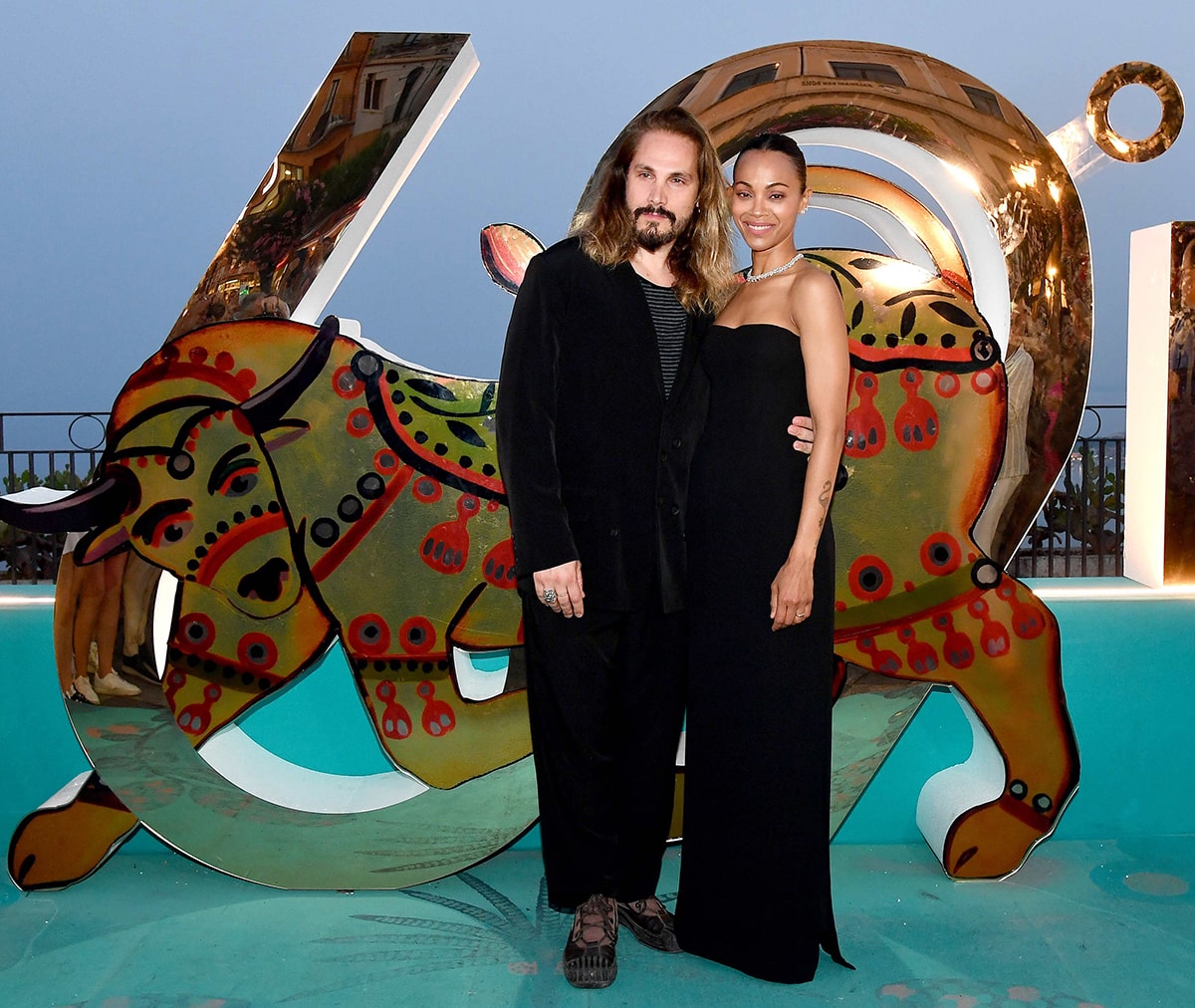 Marco Perego and wife Zoe Saldana at the Taormina Film Festival premiere of their latest movie, The Absence of Eden, which marks Perego's directorial debut film (Credit: IPA / INSTARimages)
With his arm wrapped around his actress wife's tiny waist, Perego smiled for photos in a black suit with a gray and black striped tee underneath and chunky brown shoes.
The two were fixated on each other, with Saldana even gently combing Perego's stray hairs down before showing the cameras her pearly whites.
Embodying quiet luxury, the Guardians of the Galaxy actress opted for an understated Giorgio Armani strapless black dress with a flattering fitted bodice and a straight floor-length skirt perfectly highlighting her svelte frame.
The elegant number also had a daring thigh-high slit on one side to give the otherwise modest silhouette a sexy element and showcase her equally minimalist Christian Louboutin heels.
Zoe Saldana embodies quiet elegance in a black Giorgio Armani dress and Christian Louboutin heels as she fixes Marco Perego's hair at the 69th Taormina Film Festival on June 30, 2023 in Taormina, Italy (Credit: IPA / INSTARimages)
Under Petra Flannery's expert styling, the Avatar star maintained a sophisticated look by accessorizing her classy dress with glistening diamond jewelry from Damiani.
Her stunning diamond necklace complemented her strapless dress elegantly, and the addition of diamond stud earrings and rings completed her refined, classic style. Flannery's other high-profile clients include Amy Adams, Emilia Clarke, Emma Stone, Claire Danes, and Reese Witherspoon.
Allowing her natural beauty to shine, Thandie Newton's look-alike wore complementary pale pink makeup applied by Vera Steimberg and pulled her tresses back into a sleek, center-parted braided ponytail.
Zoe Saldana pairs her classy strapless black dress with statement diamond jewelry from Damiani and glams up with soft makeup and a braided ponytail (Credit: IPA / INSTARimages)
What Is The Absence of Eden About?
The Absence of Eden is said to be an extension of Marco Perego's 2016 work as an artist, featuring a collection of sculptures of concrete-filled children's shoes that were meant to represent the plight of children feeling Syria for Italy.
"I saw a universal question about humanity. After the sculpture, I wanted to complete the conversation about humanity and that's why I wrote this film," Perego told Variety of his directorial debut film.
Set on the US southern border, The Absence of Eden follows "an ICE Agent struggling with the moral dilemmas of border security and an undocumented woman fighting to escape a ruthless cartel cross paths and work together to save the life of an innocent girl."

The immigration theme of the movie has a personal connection to Saldana, whose grandmother immigrated to the United States from the Dominican Republic in the early 1960s.
Zoe Saldaña's Mixed Ethnicity: A Celebration of Diversity
"My family's from the Caribbean. So our wave of immigration was from the east side of the States, from the Atlantic," Saldana told Variety.
Zoe Saldaña's ethnicity is a mix of Dominican, Puerto Rican, Lebanese, and Haitian. Her father, Aridio Saldaña, was from the Dominican Republic, and her mother, Asalia Nazario, was from Puerto Rico. Saldaña has also said that she has some Lebanese and Haitian ancestry.
"It was a different experience. My grandmother immigrated for political purposes. Right after the assassination of Rafael Trujillo in the Dominican Republic, a lot more visas were granted to Dominicans. She arrived in '61. The conversation of immigration has always been a universal conversation in my life."
Zoe Saldana admits a personal connection to the immigration theme of The Absence of Eden as her grandmother immigrated from the Dominican Republic to the United States in 1961 (Credit: IPA / INSTARimages)
Seeking to dispel the common misconceptions about immigration, Zoe added: "I think invisible lines create a lot of judgment and division between us as a human race. And it pains me to know my community is judged much more harshly than other communities, when in reality, Latinos compose a great fucking portion of the American economy. And they're, and you were over-exceeding, in so many economic regions, like we're, you know, our children are enlisting into the military quicker than any other community."
"We are buying our own homes. We're borrowing from banks, starting our own businesses and enrolling in school at a much higher rate than so many communities in America, and yet the narrative of us in the news and media is negative."